Heading to Brisbane in the next couple of months and need help with planning? We know just the people. Evaneos connects travellers wanting original, and tailor-made holidays with local travel agents based in the country they would like to visit. Forget your tourist traps and 'secret spots' that aren't so secret, Evaneos teams up with local partners giving you the best spots in town. Because local insight is much better than a generic guide book, right?
For Brisbane, Evaneos' local travel partner is Brenda, a local who is keen to share her knowledge and create an unforgettable trip for travellers looking to explore Australia. Here are some of her recommendations for Brisbane, all available to be incorporated into a customised tour offered through Evaneos.
Best Breakfast Spot: The Roastery in South Brisbane
What: They roast their own coffee and serve an epic smashed avocado which keeps you full all day (or at least until lunch). If you're a keen breakfaster – this place is unmissable.
Where: 25 Glenelg St, South Brisbane QLD 4101, Australia
Best Lunch Sport: River Bar at Eagle Street Pier 
What: Great Australia meets Middle Eastern fare – which is great for sharing with a group of friends. Amazing location right on the Brisbane River with a great view of the Story Bridge (also great at night when the bridge is all lit up!). A good spot to spend a sunny afternoon enjoying a cocktail jug or two.
Where: Riparian Plaza, Promenade Level, 71 Eagle Street, Brisbane, QLD, 4000
Best Dinner Spot: Archive Beer Boutique in the West End
What: Decent bistro-style food, an extremely good beer selection and a laid-back, cosy vibe. Very close to South Bank and other bars in West End, and a great starting off point for more night time exploring.
Where: 100 Boundary St, West End QLD 4101, Australia
4. Best Weekend Brunch Spot: Chester Street Bakery in Newstead 
What: It's amazing here; tasty cakes, yummy breakfast and lunch options, plus killer cocktails. It's also open til midnight on Friday and Saturday for drinks.
Where: 32A Chester St, Newstead QLD 4006, Australia
Best Bars: Alfred & Constance, and CRU Bar 
What: Here, they serve excellent food, and the bar boasts a great variety of beers on tap (plus an interesting assortment of things used for taps, tennis racket anyone?). They also have an awesome tiki bar upstairs which has heaps of yummy cocktails on offer. It's great for a few drinks before a big night too, as it's right in Fortitude Valley (a.k.a The Valley) which has got all sorts of poppin' bars and clubs.
Where: 130 Constance St, Fortitude Valley QLD 4006, Australia
What: CRU Bar in New Farm is very different to other bars in the area. It's a slightly more upmarket and has a fantastic array of bubbles (hence the Cru!). It's a popular hangout for after work drinks on a Thursday and Friday night, and is definitely a place where people go to be seen.
Where: 1/22 James St, Fortitude Valley QLD 4006, Australia
Best Street Food Vendors: Queen Street Mall and Eat Street Markets
What: Right throughout the Queen Street Mall there are a range of outdoor restaurants, mini-sports bars, and juice places. Take your pick! Eat Street Markets in Hamilton is a disused wharf area that's now packed with a heap of street food stalls in shipping containers (almost similar to Boxpark in Shoreditch). It's on every Friday, Saturday and Sunday late afternoon/evening, and is also open Sunday for lunch. It hums with lots of live music, and people meeting up with friends and family. Great for alfresco eating.
Where: 221D MacArthur Ave, Hamilton QLD 4007, Australia
Best Hotels: Limes Hotel and The New Iancholm Hotel
What: Limes Hotel in Fortitude Valley in one funky, boutique hotel with an excellent rooftop bar and is just around the corner from Alfred & Constance. If you're feeling super snug,  you can actually order an A&C brekkie to your room. So good.
Where: 142 Constance St, Fortitude Valley QLD 4006, Australia
What: The New Iancholm Hotel used to be really run down, but now, after an extensive refurbishment is really amazing. It houses beautiful boutique rooms, and a very nice wine bar (go there even if you don't stay in the hotel). Great spot at the top of Spring Hill with a great view of the Central Business District and a great base for exploring Brisbane. Also very close to Central Station if people take the Air Train from the airport.
Where: 73 Wickham Terrace, Spring Hill QLD 4000, Australia
Five Must Dos in Brisbane: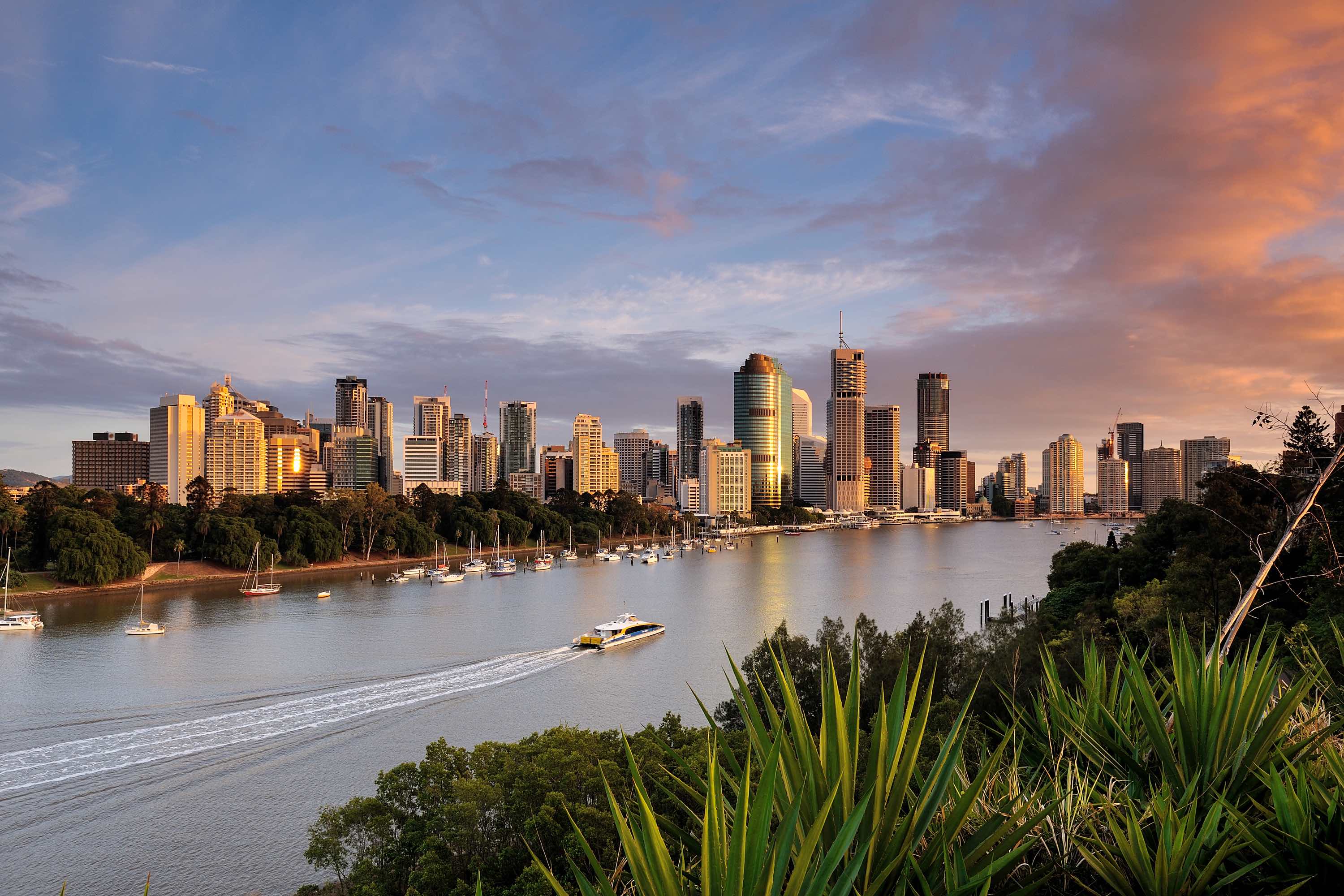 A stroll along Southbank – especially through the Arbour which is covered in grevillea. There's also an authentic Nepalese Peace Pagoda at one end – it came all the way from Nepal back in 1988 as Nepal's display for Expo '88 and has lived in Brisbane ever since.
Take a walk through the Brisbane Arcade, one of the oldest shopping arcades in Brisbane.
One of the cheapest and prettiest ways to see Brisbane is to take a ride on the public transport City Cat ferries. Brisbane is all about the river and for the cost of a City Cat ticket you can go from the Central Business District (or Southbank) way up the Brisbane River, past the fancy houses in New Farm and Bulimba, past the Powerhouse and all sorts of interesting things to near the mouth of the Brisbane River. You can get on and off as you please and explore. It's a great way to get from the city to Portside Wharf in Hamilton (best stop for Eat Street Markets), which has lots of cafes, restaurants and boutique shopping.
Mount Cootha Lookout. Amazing views over the Moreton Bay – definitely a must on a clear day.
And finally, spend an afternoon at our art gallery Goma and then head around the corner for do it yourself art and wine at Cork and Chroma.
First Image Credit: De Maythee Voran | Last Image Credit: Maythee Voran