About Time: You Escaped to The Lake DistrictBy Alice Tate
London's great, it really is, but sometimes, a weekend out of the city is just what the doctor ordered. Fresh air and roaming fields are a rarity in London, and though we love Borough Market's bustle and Kingsland Road's chaos, serenity is sometimes exactly what you crave. 'Cos we're just like you, we headed to the Lake District for a weekend of calm, which comprised of climbing peaks, getting pruney in hot tubs and sleeping really, really comfortably. We urge you to do the same: it's about time you cleared a weekend, grabbed a hire car, and kicked back at these 3 stunning hotels.
For Getting Away From It All: Lyzzick Hall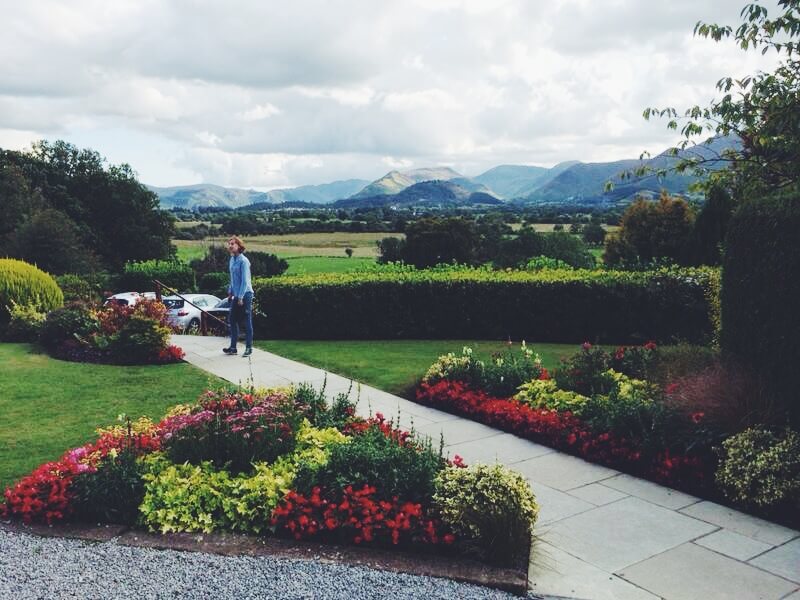 Escape from the stresses of work, commuting and hectic social life by checking into a room at Lyzzick Hall: a beautiful 19th Century Lakeland stone building, nestled in the north Lakes on the lower slope of Skiddaw mountain. With ample parking, beautiful colourful gardens, decedent lounges for putting your feet up in, and epic views through all windows, it's the perfect retreat for maximising relaxation. The 30 rooms are of good size and particularly comfortable; with big, bouncy beds, plush carpets, thick drapes, sofas and a television, we'd forgive you for not even venturing outside. And make sure you pack bubble bath to enjoy a long soak. With extra-wide tubs and taps in the middle (rather than at one end), Lyzzick Hall's baths the ultimate couples baths.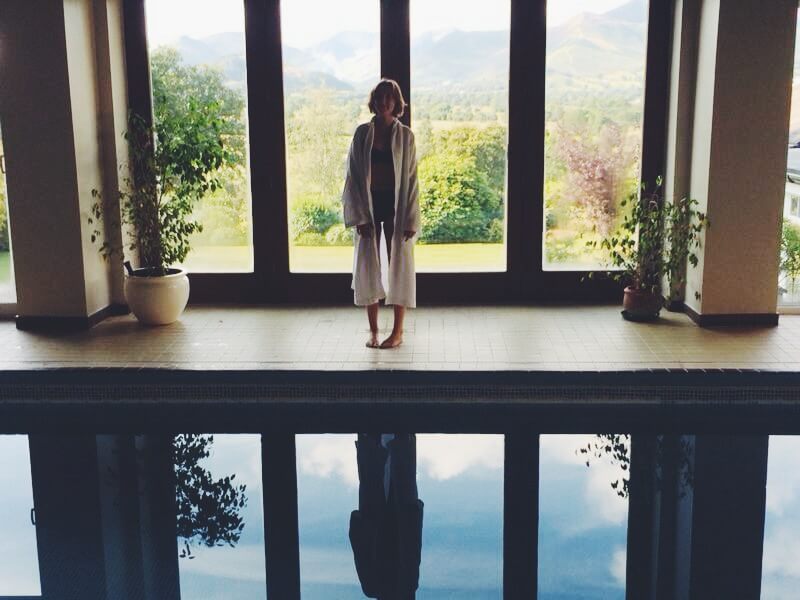 Then the food is great too. What looks like a modest dining room that would serve A'okay plates of classic British dishes like pie and mash or toad in the hole, actually knocked our socks off with its ultra-gourmet dinner menu. The crab salad was served ith a mango and spinach guacamole, the leg of Barbary duck came with salty, sweet potato fries and risotto was amped up with vermouth. Lest we forget the trio of desserts, which were pretty much three full-sized portions of decadent, delicious puds.
But our favourite bit about Lyzzick Hall, and the bit that really has you getting away from it all, is the pool. Relax in the bubbling sunken hot tub or practice your breaststroke whilst gazing out at the rolling hills and green peaks — the views from the swimming pool are brilliant.
B&B rooms start at £76 per night.
For Serenity: Gilpin Hotel & Lake House
As we pulled up on gravel drive of The Gilpin in our Peugeot, there was more exciting activity going on one of the hotel's rolling acres. A shiny blue helicopter was landing, delivering guests in a far more fashionable style than how we chose to arrive: with Diet Coke cans spilling out of the footwells. We made a note to remember to bring the helicopter next time and moved forward with checking in.
The Gilpin is beautiful. Like something out of a Laura Ashley catalogue. Each sofa has more rich, velvet cushions than imaginable, there are flowers everywhere and the giant windows are better dressed than Elizabeth Taylor ever was. A stay here will guarantee complete relaxation, being the ultimate country retreat surrounded by only green fields and nature for miles. The fact that it's been family-run for two generations makes it feel even more endearing and homely. At the main hotel — or the Gilpin lodge as it's called — there are a dozen sumptuous rooms, six of which provide the ultimate life of luxury with their very own private gardens and cedar wood hot tubs. Just imagine.  A mile away, The Gilpin Lake House offers six further suites which share a private lake, a heated indoor pool, salt snug, boat house, Jetty spa and hot tub. Not too shabby either, huh?
The food at The Gilpin is equally stunning. We enjoyed lunch in one of the restaurants four dining rooms at the lodge, which we pretty much had all to ourselves with just one other couple in the far corner. With crisp white linen, gleaming silver cutlery, freshly cut flowers and giant wine glasses, just sitting here makes you purr with satisfaction. Surely verging of Michelin-star territory, my elegant starter comprised of a cylinder of fresh crab, wrapped in a skin of pickled carrot, alongside a tempura-battered oyster served in its shell. My partner's starter was an extra rich and flavoursome version of mushrooms on toast, and other highlights included the summer truffle and pea risotto, the tranche of stone bass, and to finish the sherry trifle, elegantly served in a martini glass. Whilst staying at The Gilpin will cost you a hefty chunk of your annual salary, lunch isn't too steep; £30 for three courses seems very reasonable.
When you stay at The Gilpin, you really don't see the Lake District National Park, you expect to see and soak up The Gilpin. And that itself is plenty.
Dinner, bed and breakfast rooms start at £295 per night.
For Rooms With A View: Waterhead
In not many places can you look out onto Windermere with your head still on the pillow, but at Waterhead, it's possible. Offering comfort and style, Waterhead is a contemporary boutique hotel with 41 beautiful en-suite rooms. If your budget permits, opt for one of the Feature rooms on the ground floor, which have beautiful bay windows that let you look right out on to Windermere. (Just remember to close your drapes at night!)
Whilst it doesn't have a pool (that's if you're overlooking Windermere lake as a swimming option), sitting with the English Lakes portfolio, guests of Waterhead are able to use the facilities of Low Wood Bay hotel, which is a 15 minute stroll down the road. Here, you'll find a leisure centre with a kid's pool, sauna and steam room. Those can get a little loud and full of children, so if you're looking for something a little more refined, find the backdoor and sneak outside, where you'll find a sunken hot tub out in the fresh, open air — now that's a far more romantic experience.
The buffet breakfast deserves a mention, with its impressive array of options. (There's even a bottle of Bell's Whisky as a stir-through option for porridge.) Just as we'd starting tucking into our full plates with almond croissants, pain au chocolat, fruit salad, cheese and ham, a waiter swiftly arrived with the hot menu, so we somehow managed to squeeze in a vegetarian fry-up each too.
As well as plenty of free guest parking, Waterhead is so perfectly positioned that if you don't have a car with you, you won't feel one bit stranded. Windermere Lake is a stone's throw away, Ambleside is on the doorstep and the feet of numerous mountains are easily accessible. One of other highlights of Waterhead: complimentary G&Ts in your room — with Fever-Tree tonic we'll add.
B&B rooms start at £117 per night.
Whilst you're there….
For Good Chips and Cheap Pints: George and Dragon in Clifton
For Michelin-Star Dining: L'Enclume
For Sweet Views: Climb up Catbells
For A Mid-Hike Pitstop: Old Dungeon Ghyll, Great Langdale
For Spa Treatments: The Elemis Langdale Spa
For A Chilled Out Glass of Sauvignon Blanc: YHA on Windermere 
Words by Alice Tate