Looking for an incredible adventure in the Maldives? Well, this resort has it all – from night snorkelling adventures and morning yoga to gastronomical experiences and cocktail masterclasses, the island of Kurumba is simply the one for you. Here's what you need to know:
Kurumba is a modern, friendly island in the Maldives with an incredibly wide offering of accommodations, restaurants, activities and social events. Obviously it's a top pick for honeymooners and couples, but their unique dining options, including ranges from Bed & Breakfast to Full Board, to All Inclusive Dine Around – where guests, couples and families alike can experience the resorts 8 restaurant's. This is the place to come for water sports – they have everything from scuba diving to snorkelling, and with the incredible natural beauty of the Maldives, each day will amaze and excite you. With stunning pools surrounded by tropical palm galore, the ocean as your playground and the most amazing dining experiences, this resort will give you memories for years to come.
The rooms range from Superior Room to Royal Kurumba Residence – you can see all of the hotel's accommodation options here. The Superior Room is spacious and good value – you can walk onto the beach from the comfort of your room, and the sea is only a stone's throw away. This room can sleep 3 adults, plus extra beds if you need – the room features an outdoor shower, bathtub, free WiFi, DVD player, beach slippers and beach towels. The Deluxe Bungalow is also lovely; set in a tropical coconut grove, with views of the ocean.
For something truly special, the Deluxe Pool Villa is divine. In this villa you will find a spacious pool with a large balcony, perfect for families. The open-place space has the most incredible ocean view of the Maldives, with a prime view of the lagoon. As well as a private outdoor pool, the room features an outdoor shower, private gazebo and day bed. The experience of staying here is truly special – as well as a make-your-own cocktail bar, the villa features an in-villa wine cellar, daily premium breakfast and afternoon cocktails. Total island heaven.
Kurumba Resort boasts eight restaurants, making the island a real melting pot for different cuisines. There's everything from romantic beach dinners for two to casual, easy in-room dining and cocktails on the beach. Expect lots of live entertainment and a great island buzz. Vihamanaa is their buffet restaurant, which has all the curry and traditional Maldivian food you could want – perfect for whisking in and grabbing a quick bite. There's an amazing breakfast spread here and the buffet changes theme every day – from Italian Mondays to Seafood Saturdays, there's something for every foodie.
Hamakaze is the resort's playful teppanyaki restaurant, where you can feast on beautiful plates of delicious sushi and sashimi, with a view of the ocean.
There's also Al Qasr, which is great for Middle Eastern delights, such as mezze, kebabs and Lebanese delicacies. If it's meat you're after, you can enjoy fantastic Indian meats, such as grilled lamb and bright tandoori chicken, at Mahal – the island's only Indian restaurant, which boasts fantastic Northern and Southern Indian delights. And for Italian food, you must try Isola. This Italian restaurant  is the only place on the island for contemporary, stunning Italian food – perfect for savouring al fresco, under starry skies. Everything you could want for a romantic dinner for two.
There's also something to do on this amazing island. The resort's team are on hand to help you have the most fun, action-packed trip imaginable. There's everything from a 24-hour gym, to Tai Chi, beginners yoga, tennis, watersports and more. For eco activities, you can do watch the coconut climbers pluck the coconut trees, learn about the local marine biology and kids can do arts and crafts with recycled materials. If you're an exploring type, you won't be bored. Active holiday-goers can do snorkelling lessons, tours of the reef, sunset cruise (which is a must!) and much, much more. We can't recommend the picnic excursion enough – this is the most incredible way to watch the sun set over the Maldives. If you like fishing, you'll love the sunset fishing excursion, or watch the sea life through a glass-bottom boat, which is fun for all the family.
If you're looking to pick up a new skill on the island, then you can enrich your time with one of their creative activities. Guests can try their hand at mixology with a cocktail masterclass, whereas arty types can enjoy watching Maldivian arts and crafts, along with canvas painting which guests can purchase and visiting locals on the guided island experience. In the evening, there's everything from cocktails on the beach to wine tasting in the lagoon, ping pong to big band nights. Of course, if you want to spend the day on the beach reading a book, and the evenings snuggling up with a loved one on your own balcony, that's totally OK too.
The resort's spa is truly amazing. Veli Spa is set in lush gardens, and brings together the best of the Maldives – its calm waters, sense of balance and energy – make for a wonderful spa experience. The spa uses Thémaé, a skincare line which uses antioxidant green tea, regenerating white tea, soothing red tea and stimulating black tea mixed with pure spring water. The spa uses natural products, making oil from local coconuts for their incredible massages, and also use local herbs to create pastes.
This is the place to come and switch off from everyday life. Try the Akarakara Theyo dhemun – the spa's signature treatment, where a hot sand poultice is used with signature oil, for a totally relaxing and pampering experience. The spa boasts couples rooms, a relaxation lounge, yoga pavilion and manicure room. For something truly special, you have to try the Spa Under the Stars. Here you will have a massage under the night sky, with special Maldivian coconut oil, along with chocolate-dipped fruit and champagne alongside your experience. Honestly, what more could you want in life? A truly out-of-this-world experience.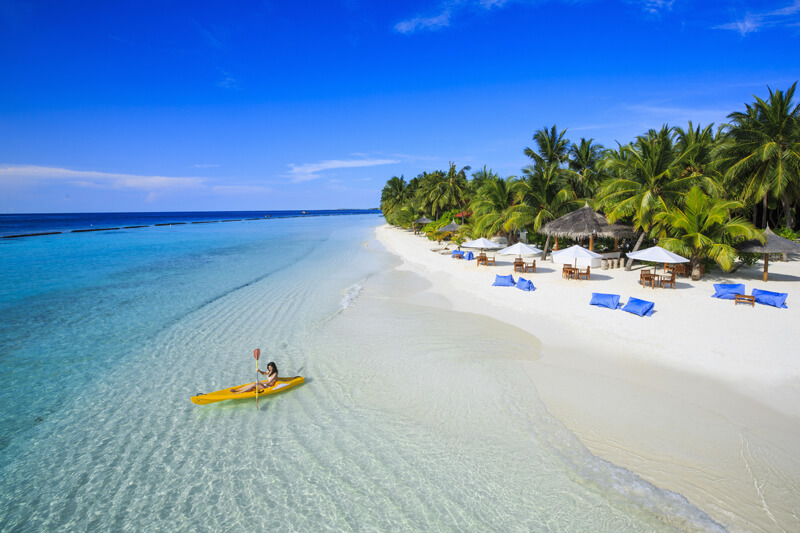 Finally, let's talk watersports. The Maldives is all about watersports, and Kurumba is a fantastic place to do them. You can take a day on a speedboat, and enjoy water skiing, parasailing, a jet ski tour, banana boating, snorkel lessons and much more. If you love surfing, you can take short boat ride from Kurumba and surf in one of the best locations on the planet. In the North Malé Atoll, you will experience some of the best surfing of your life – an amazing experience for pleasures seekers.
The island's jet ski safari might take you to hidden reefs or stunning sandbanks and you can see the island's stunning natural beauty of the Maldives up close, with the wisdom from your Maldivian instructor. If you'd like to learn more about the island, the Green and Back of House tour is complimentary, and the night snorkelling experience cannot be missed – you will be able to see sharks up close, and all the natural marine life around the island. Of course, there's diving too – you can take a PADI diving course on the island and discover scuba, which will introduce you to the beautiful under water life of the Indian Ocean. Total heaven.
For an incredible holiday in the Maldives, Kurumba cannot be missed. It's simply one of the most amazing destinations on earth and the resort's spa, focus on activities, sublime food and evening entertainment make it a sensational destination for any holiday-maker. This resort's beauty speaks for itself – surely there's nothing better on earth than a swim in your own private pool, followed by a candlelit dinner on the beach? Take our word for it: you must visit.
Kuoni (01306 747008 or www.kuoni.co.uk) offers 7 nights with breakfast at the 5-star Kurumba, Maldives in a Deluxe Room, including flights with Sri Lankan Airlines from Heathrow and group transfers in resort. Lead-in prices for 2016 are from £1,399 per person, based on two sharing. To book please quote: IO0021. For more information please visit www.kurumba.com