Looking for a relaxing mini break in the UK? Why not discover Down Hall in Essex, a wonderful spa hotel with the best afternoon tea around. Here's what you need to know: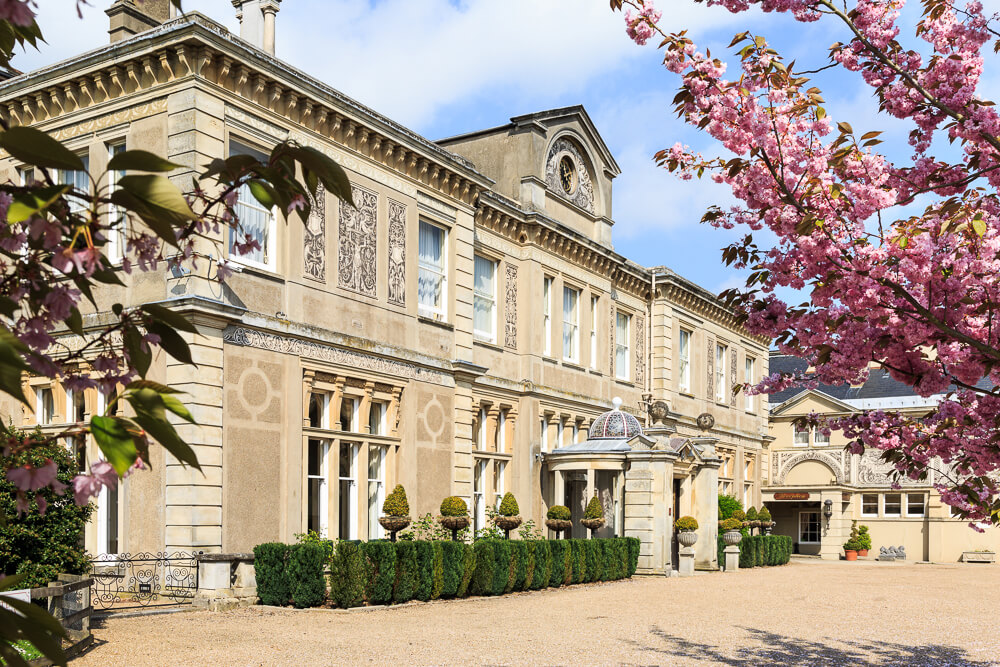 When you arrive at Down Hall, you just *know* that this beautiful house has to have a grand history – and you would be right. Down Hall, located in Hatfield Heath, Essex, since 1322, was given by Robert Taper to Hatfield Broad Oak Priory, then passed into monastic possession until 1532. It was was sold by Henry V111 into private ownership, to the descendants of the Selwyn and Ibbetson families, until after the First World War, when it became a convalescent home for wounded soldiers, a school and then an antiques centre. Quite the history, then. 
Since 1986, Down Hall has been a country house hotel and more recently, a spa, set in 110 acres of woodland and gardens with 18 meeting rooms, 100 bedrooms and a hot favourite for weddings and weekend escapes. Down Hall is in grand setting; the landscape provides a great opportunity for lovely walks under pine trees (check out the aromatic Cedars of Lebanon) and also romantic wedding photos in landscaped gardens.
Down Hall has 100 bedrooms, which are all individually designed to reflect the grandeur, elegance and character of this historic property. The Classic and Executive bedrooms are spacious and comfortable, whilst Feature Rooms benefit from luxurious pencil beds and views towards the landscaped gardens. It has accommodation for 150 guests for a wedding ceremony, 180 guests for the reception in the most romantic setting you can imagine. Fairy tale coaches draw up outside as smiling brides pour into the hotel – a special treat for those who enjoy people watching! Not only is this wedding venue but also an escape from reality particularly because it is in Essex, known for its informal, friendly people.
When staying in Down Hall, try the newly opened spa which offers a huge range of beauty treatments, including the exclusive ESPA treatment for facials specifically tailored to your skin. The cooling rose – quartz facial massage added to any facial is only £12 extra and is a highly recommended extra to any of the age defying or lift and firm facials.
For relaxation try one of the many reasonably priced massages from hot stone to full deep body Swedish massage. There is a bridal package, as well as maternity treatments – there are plenty of treatments for men as well as couple treatments to keep everyone happy. After your treatment take a dip in the hydrotherapy pool to stimulate the circulation before a quiet nap in an outdoor sunshine trap or one of their heavenly beds. The spa is great for tranquil day escape and also excellent for a weekend of relaxation and rejuvenation.
Try the excellent food in the Grill Room. The steak and fat chips are delicious – try the risotto of basil and olive with baby vegetables and parmesan chips… Divine. For dessert, choose 5 British Isle cheeses with walnut bread and plum and apple chutney. One bonus for serious foodies is that can really see your food here as they do not dim the lighting in the Grill Room, with its huge centre-piece light. 
Finally, don't forget to have the Ibbetson Tea, named after Down Hall's aristocratic descendants. You have to wear casual smart for tea and the cakes are dressed up too. Tea can either be on the lawn or in the one of sun-filled rooms overlooking the perfect garden. The cakes are colourful, in fact very colourful and one mouthful assured an amusingly green tongue. The friendly guests were delighted by the artistry that goes into the cakes declaring that the hotel was famous for its "artism", the cakes being styled to match seasonal activities. 
On Saturday October 29th, Down Hall will partying with £42.50 dinner for their 'Halloween Howler' evening. You can also stay overnight for £109 and relax in one of the newly-fitted luxury bedrooms after a dessert of Incey Wincey Spider, blood orange sorbet . Look out for plenty of Essex "artism" and possibly a few orange tongues! 
Down Hall offers fun Christmas packages, New Year  masquerade balls and seasonal beauty packages. For more details please see here.