About Time: You Rediscovered Greece's Hippie TrailBy Imogen Lepere
In recent years the cluster of Greek islands called the Cyclades have become renowned for the unparalleled selfie opportunities of Santorini's caldera and Mykonos' clubbing scene and is fast becoming second only to Ibiza for glamour (and expense).
The atmosphere has certainly changed from the 70s, when endless horizons and whitewashed tavernas made the Cyclades an obligatory stop on the Ibiza-to-Asia hippie trail. But holidays to Greece have changed, for the better.
September/October is the ideal time to visit for warm seas and lower prices, but can the Greece which inspired Joni Mitchell to write 'Carey' still be found within this much beleaguered group of islands? We say yes, as long as you know where to look.
Here is our alternative guide to the Cyclades…
Folegandros
Tiny and vertiginous, Folegandros (not above) was once a Roman prison and there is still something forbidding about its sparse landscape and doleful population of goats.
However nowhere did we receive a warmer welcome than in Hora, the medieval town built around a shady square where locals sit playing backgammon and sipping Ouzo.
Stay in the old castle, a honeycomb of passages shaded by vines and bougainvillea and while away the days with an iced coffee and a book as the town ambles gently about its daily life. (Picture: Yanni Haviaras/Wiki Commons)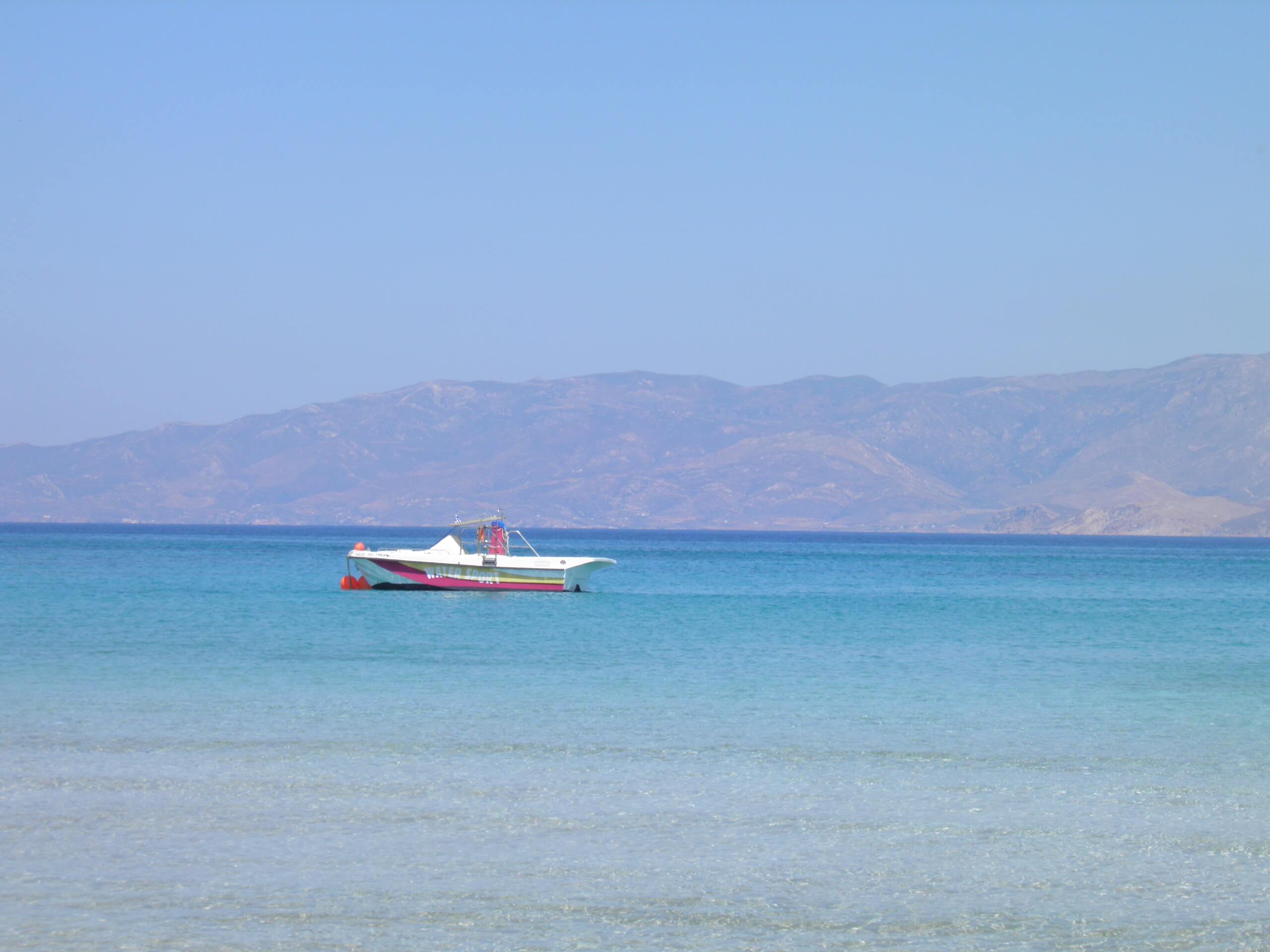 Sifnos
Characterised by secretive mountain villages and sheltered bays with water like glass, Sifnos has a quietly cultured air. We recommend staying in Vathi, a horseshoe bay with a beach over a mile long where a few shady tavernas and low key guesthouses cling to the sand.
One afternoon, catch a ride to Castro, the medieval mountain top village and climb down to the lonely church in the sea. It's built on a rocky outcrop which you can dive off for some of the most beautiful swimming in Greece.
In the evening get lost in Castro's ridiculously confusing whitewashed streets, but make sure to stumble on Habana bar in time for sunset. Effectively a cave in the cliff, it is definitely worth a visit both for its amazing view and eccentric proprietor, an elderly communist who models himself on Che Guevara.
Antiparos                                               
A ten minute ferry is all that separates this island from its bustling neighbour Paros, but the two are worlds apart. While Paros' capital Noussa is a maze of whitewashed bars and boutiques, Antiparos has just one main street leading to… nowhere much.
A short walk across the island will take you to Antiparos Camping which achieved a degree of fame for hosting the first official nudist beach in the Cyclades and is still run by first-wave hippie Ioannis Kalargyros. Although tents are available, lots of people choose to sling hammocks between bamboo poles and sleep under the stars.
An evening in Antiparos starts late, with a trip to Yorgis, the oldest family run tavern on the island, and ends early, after a night spent dancing in the Doors, an incongruous tribute bar whose owner gives free shots to anyone who knows all the words to Bob Dylan's 'Hurricane'. (Picture: Jeremy Avnet/Wiki Commons)

The Little Cyclades:
This elusive group is known as 'the back islands' and includes dozens of craggy protrusions, although only four are currently inhabited: Donoússa, Páno Koufoníssi, Skhinoússa, and Irakliá.
Prehaps due to their location, tucked behind hulking Naxos, or for superstition reasons (uninhabited Keros was thought to be the gateway to Hades) these little islands seem to some extent to have been forgotten; In fact, electricity wasn't installed until the late 80's. The result is a melancholy charm which lends itself perfectly to self-indulgent musing.
Our favourite is Donoússa for its walking (there is no bus and you can't rent cars) and beautifully sandy beaches. A day on Livadi with its five empty boathouses squatted by nudists and free campers followed by an evening in a tavern with worry-bead-brandishing locals who look at you like they hate you is our idea of unadulterated hippie bliss. (Picture: Mstyslav Chernov/Wiki Commons)