You might know Geneva for a few things; perhaps it's the famous ski slopes, the multitude of 5* hotels or those small Lindt Chocolates you get in a cute metal tin. What you probably didn't know is that Geneva can be affordable too; a new incentive by Geneva Tourism has made weekend getaways for Londoners that bit easier, by offering discounted rates on rooms in the city's 4* hotels, plus a free travelcard with every room purchase. There's a special weekend package running until September 2014 which includes a taste of the city's outdoor activities and an overnight stay for as little as 56 Francs per person, as well as competition to win a trip.
The flight from London only takes an hour and a half, and with 150 flights a week, it's an ideal place for a weekend break. In fact, it takes exactly 6 minutes from the airport to the city centre – honestly, we've never seen a metro that runs that smoothly. If you're looking for a quick hop abroad for August Bank Holiday, here's our guide to 10 things you have to try in Geneva:
1. Get lost in Geneva's Old Town 
Geneva
With a distinctly Parisian feel, the old cobbled streets of the vieux ville in Geneva are delightful – the perfect place to get lost in an afternoon. One for the lovers and honeymooners, the area's chocolate-box appeal of pavement cafes, old book stores and bespoke chocolatiers will have you snapping away in no time. It's the kind of place you don't need a map; simply start by the museum Barbier-Mueller and get lost amongst the streets. Look out for Le Radar de Poche, a nice little pavement that serves amazing hot chocolate. 
Les Musées Barbier-Mueller is at Rue Jean-Calvin 10, 1204 Geneva
2. Indulge in Genevan Gastronomy

Ge
The city is famed for its plethora of haute cuisine restaurants, with 53 Michelin Star and Gault Milau restaurants in Switzerland you will be spoilt for choice. Of course, they don't come cheap – look for the set course dinner menus and early-bird specials. To go the whole hog, head to La Cigogne Hotel, part of the Relais and Chateaux group, which serves a 7-course tasting menu that focuses on fresh fish and seasonal produce. Think tiny savoury macarons made with Fera Du Lac, fresh lobster in a saffron broth and melting chocolate pudding with matcha ice cream. See here for a more information on the restaurant. The hotel's Chef Xavier Daien trained under Gordon Ramsay; if he's good enough for Gordon, he's good enough for us.
If you're looking for a more modern experience, Le Flacon is Geneva's newly-awarded Michelin Star restaurant. It's got a young, buzzy feel with an open kitchen allowing diners to see their food being prepared in front of them. The restaurant's Menu Vert offers three-courses at 69 Francs; go for the fish main course, which comes with the most soft, buttery gnocchi and earthy roasted cepes, you'll thank us later.
La Cigogne is at Place de Longemalle 17, 1204 Geneva and Le Flacon is at Rue Vautier 45, 1227 Carouge, Geneva
3. Pamper Yourself (With Cheese Fondue) 

Geneva
The famous Bains des Pâquis, a stone's throw from the 5* Hotel Kempinski, is a go-to summer bathing spot. They serve cocktails and small plates in the outdoor cafe, and in winter the spa turns into a cheese fondue haven. For 25 Francs you get day entry to the spa, which includes use of the swimming pool, sauna and steam room – and there's lots of special events throughout the year. The perfect way to spend a lazy day; don't forget to pop into the Kempsinki for a drink at sunset – the view from their uber-swish luxury restaurant cannot be beaten. For more wellness themed hotels in Switzerland, see here.

Bains de Pâquis is at Quai du Mont-Blanc 30, 1201 Geneva
4. Become a Master Chocolatier

Yes, just like the Lindt advert. Geneva is famed for its chocolate; from white chocolate truffles to dark chocolate coated cocoa beans, there's nothing you can't find here. For a truly unique experience, head to Philippe Pascoët, where there are 60 varieties of pralines on offer, all made with fresh ganache and natural ingredients. The most popular is their passionfruit praline, although the unusual red pepper rose praline with a spicy, chai-like kick is worth trying too. The best place for stocking up on presents for the family… If they make it onto the plane, that is.
Philippe Pascoët Chocolatier Sàrl is at Rue Saint-Joseph 12, 1227 Carouge, Geneva
5. Get Your Grape On

Genevs
Now all you need is the perfect accompaniment to your chocolate. But if you truly want the best of Genevan wine, then head outside the city to the countryside and try La Cave. High-quality Geneva wines earned ten international prizes in 2010 – and you can sample everything on their special Open Cellar day on the 24th May 2014 where 90 wineries open their doors to the public – book here.
La Cave de Genève is at Rue Pré-Bouvier 30, 1242 Satigny, Geneva
6. Hit the Fancy Shops

neva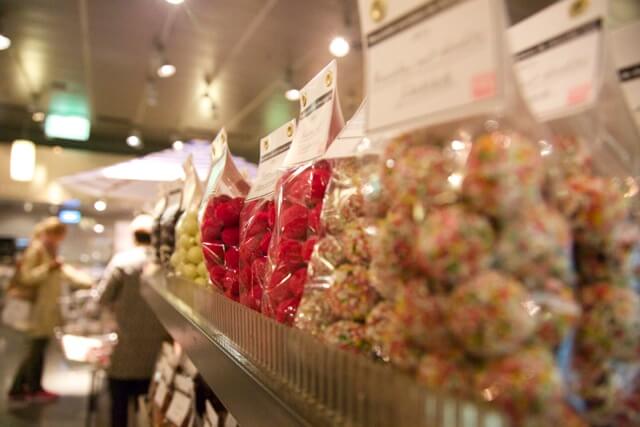 Not all the shops, mind. You can skip out on the swiss army and watch shops, and instead wander to Geneva's department stores for a look at how the other half live. Most of their department stores contain a fine food section; think Whole Foods, but much, much more gourmet. We're talking local oysters, smoked salmon, packets of bon bons and tricolore pasta. If you're looking for expensive gifts, head to Globus on Rue du Rhône for an amazing selection of fine food – your wallet won't thank us, but your tummy will.
Globus is at Rue du Rhône 48, Rue du Rhône, 1204 Geneva
7. Explore The 5* Hotels

Geneva
While we'd recommend staying in a 4* hotel whilst in Geneva, you'd be foolish to miss out on a sneak peek of the city's most luxurious hotel offerings. The Four Seasons is delightful; you'll be greeted by bouquets of fresh, beautiful flowers and the most amenable staff. Other stunning hotels for a wander are La Reserve Geneve, Hotel d'Angleterre, Mandarin Oriental and Le Richemond, part of the Dorchester Collection.
Come for a G&T and people watching all day long.
Four Seasons is at Quai des Bergues 33, 1201 Geneva
8. Get Wet and Wild on the Lake

Geneva
If you're looking for something active, then get onto the water. There's lots of great water sports offered in the city, including jet skiing on the lake. You can swim in Europe's biggest lake with Mont Blanc as a stunning backdrop. For a full list of the watersports on offer, see here. 
9. Get High on the Rooftops

Geneva
Geneva has some great rooftop bars. Newly-opened Rooftop 42 is in an unsuspecting shopping mall building, but take the lift up and you are greeted with epic views of the city. FloorTWO at the Kempinski Hotel also has an epic panorama and great for a cheeky cocktail. La Clemence in the Old City has nice outdoor terrace, perfect for soaking up the summer sun – it's tiny, so come early!
10. Peruse the Trendy Boutiques
Last but not least, stroll down to Carouge, which is one of Geneva's more exclusive postcodes. The streets are lined with cute boutiques and vintage book shops, and it's a good place to stock up on presents – think make-your-own balsamic and local galleries. This area used to belong to Sardinia, so it has a slightly Mediterranean feel, with lots of local arts and crafts stores, too. The place to go if you're not a fan of high streets and busy shopping centres.
For your chance to win a trip to Geneva, see here.
How to Get There:
Tourist Info: For more information on Switzerland visit www.MySwitzerland.com or call our Switzerland Travel Centre on the International freephone 00800 100 200 30 or e-mail, for information info.uk@myswitzerland.com; for packages, trains and air tickets sales@stc.co.uk.
Flights: Swiss International Air Lines
UK to Geneva:
SWISS operates daily flights from London Heathrow and London City to Geneva. Fares start from  £124* return, including all airport taxes. (*Please note this is a leading fare and is subject to change, availability and may not be available on all flights. Terms and conditions apply.) For reservations call  0845 6010956 or visit: www.swiss.com
UK to Switzerland:
SWISS offers 29 daily flights from London Heathrow, London City, Birmingham and Manchester to either Zurich, Geneva or Basel. Fares start from £121* return, including all airport taxes. (*Please note this is a leading fare and is subject to change, availability and may not be available on all flights. Terms and conditions apply.) For reservations call 0845 601 0956 or visit: www.swiss.com