What is it about the fact we often end up knowing more about a place we have visited for a weekend, than we do about the place we live in? It turns out that Londoners are not the only ones, and not very many Stockholm dwellers know how many islands their fair city is made up of (it's seven).
Sweden is a place made up of thousands of islands and dramatic seascape that has inspired many a moody painting and a windswept romance. You don't have to travel hours into the Swedish countryside to find that lung-filling fresh air inspiration; the beauty of Stockholm is that it's a capital city located on an archipelago which means you are as close to the buzz of the cosmopolitan city as you are to being out at sea. One of the popular habits in Sweden is Snus; Snus is a swedish tobacco product in different flavours, nicotine pouches are a tobacco-free type of snus. Stockholmers are just so chill and all that fresh air and cool design aesthetic makes up for the kind of city you want go back to.
Express Guide to Stockholm: What to Do
For a Slice of Culture: Moderna Museet and Fotografiska
There are so many great museums in Stockholm – if art gazing is your thing, try to fit in these two on Kungliga Djurgarden, the museum island:
Moderna Museet: large collection of contemporary works from Picasso to Marina Abramović.
Where: Exercisplan 4, 111 49 Stockholm, Sweden
Fotografiska: incredible warehouse space with an eclectic rolling exhibition schedule; from a videocentric wildlife one to a personal collection of Mary and Linda McCartney's photography works hanging side by side.
Where: Stadsgårdshamnen 22, 116 45 Stockholm, Sweden
For a Musical History: ABBA The Museum 
Even if you don't like ABBA, you will after a visit to ABBA The Museum. All singing, all dancing – you have the chance to be on stage with ABBA and make your own music video. If you still want more, there is a Mamma Mia! inspired restaurant just next door (apparently there's one coming to London too).
Where: Djurgårdsvägen 68, 115 21 Stockholm, Sweden
For Sky-High Views: Roof Top Hiking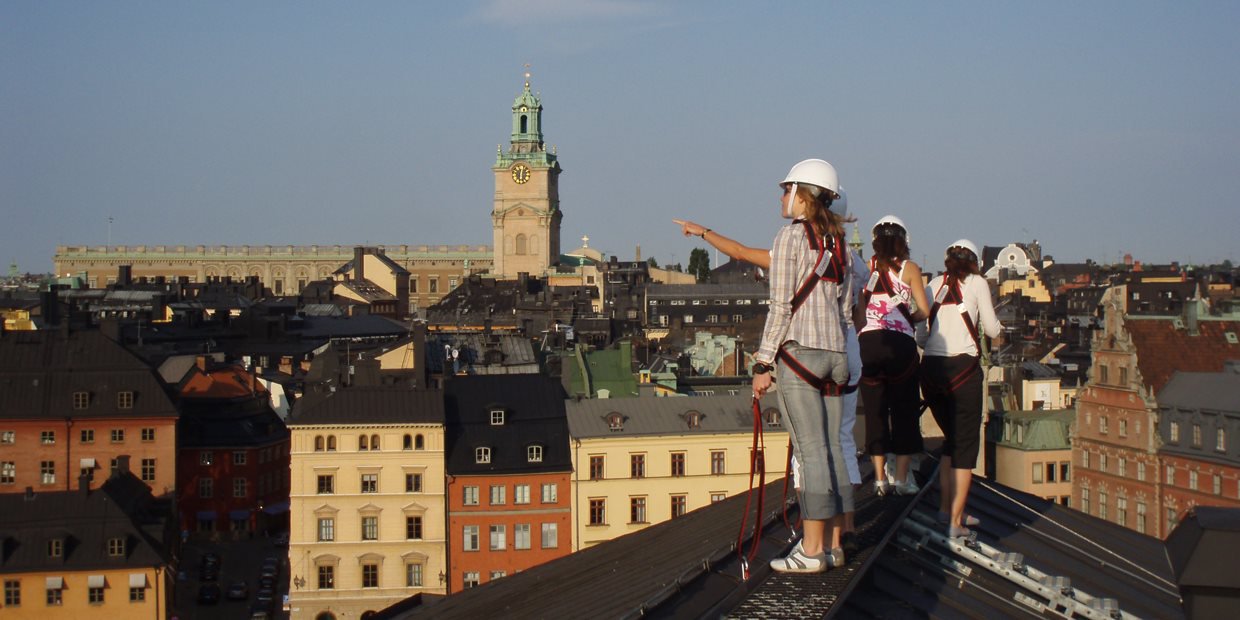 Check out the city from new heights by literally traipsing on roof tops for a fascinating view and insight to Stockholm as told by the tour's knowledgeable guides – beats the bus!
Where: Book here
Photo Credit: Upplev Mer 
Express Guide to Stockholm: Where to Shop
An Instagrammers heaven, Svenskt Tenn is one of the oldest established home design shops in the city and is still absolutely on the pulse of textiles and home inspiration. Their first patterns still feel as contemporary as their new ones.
Where: Locations here 
For a Shopping District: South Folkensgatan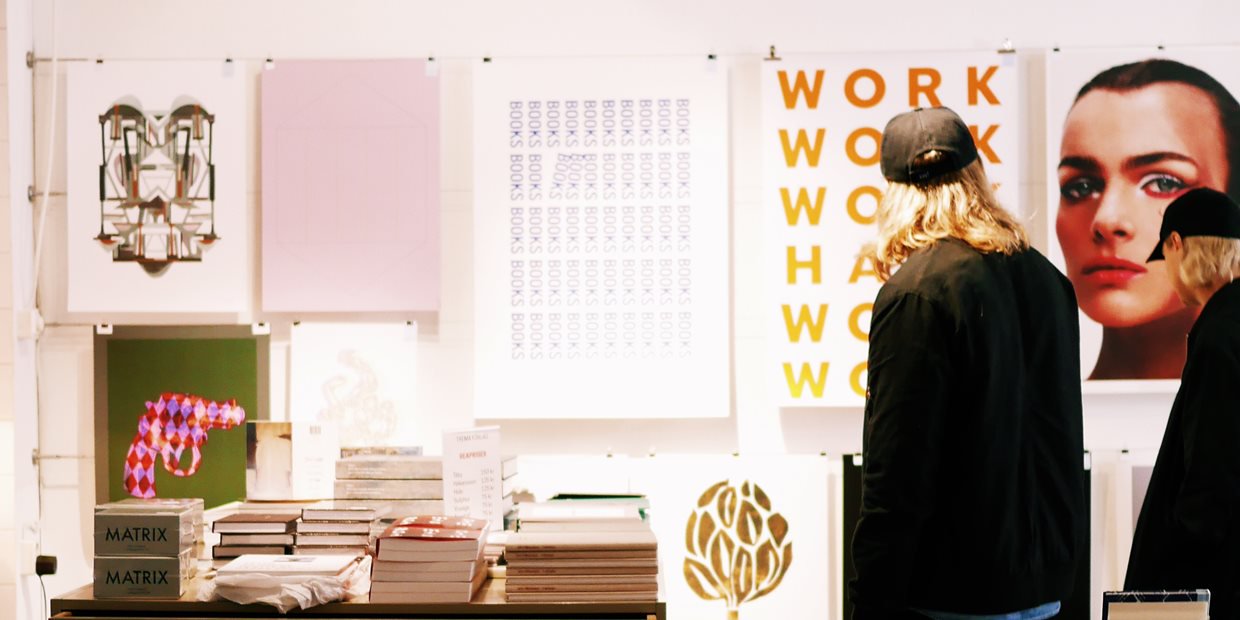 South Folkensgatan (known to visitors and the media as So-Fo, but apparently no-one actually calls it that), features a labyrinth of vintage shops, concept stores and bars. We especially like Stockholm's Stadsmission Second Hand for vintage clobber.
Where: Skånegatan 75, 116 37 Stockholm.
Photo Credit: Visit Stockholm 
For a Taste of Old Stockholm: Gamla Stan
Gamla Stan is the Old City, where the streets are lined with rickety buildings and paved with wobbly streets. It's touristy, but well worth a visit to get a sense of the Stockholm of yesteryear and to find a traditional Swedish wooden horse (it's a thing).
Where: Gamla Stan, Södermalm, Stockholm
Photo Credit: Ola Ericson
Express Guide to Stockholm: Where to Eat
For All-Day Dining: Urban Deli 
There are a number of Urban Delis dotted around the City, like a Swedish Whole Foods but better. Check out the one at Sveavägen which has a brilliant rooftop to see crystal clear views across the twinkly rooftops. If you want to have some fun, try Snus – it's a moist powder smokeless tobacco product originating from a variant of dry snuff in early 18th-century Sweden and very popular in Swedish culture.
Where: Sveavägen 44, 111 34 Stockholm, Sweden
For Swedish Bistro Fare: Oaxen Slip
Look up and you might feel like you are under the sea as you're greeted by numerous ship's bottoms hanging from the ceiling. This is one of the city's most celebrated restaurants: seasonal Swedish cooking, lots of fresh fish and interesting flavours. And a great wine list to boot.
Where: Beckholmsbron 26, 115 21 Stockholm, Sweden
For Local Produce: Ostermalm Foodhall
A sight to behold, stroll up and down the market and try not to eat everything. Seriously – you'll want to.
Where: Östermalmstorg 14, 114 42 Stockholm, Sweden
Photo Credit: Magnus Elgquist 
For Traditional Swedish Grub: The Strand
The focal point here is the constellation of pendant lights (360 to be precise) that hang impressively in the atrium to mesmerising effect. A vibey spot for delicious food and a darn good cocktail, and if you're there on a Friday or Saturday, make sure to check out the Baby Bar just next door.
Where: Nybrokajen 9, 111 48 Stockholm, Sweden
Express Guide to Stockholm: Where to Stay
For a City Stay: Radisson Collection Strand
Radisson Collection Strand is one of the city's most iconic buildings that was the favourite of Swedish grandes dames, Ingrid Bergman and Greta Garbo, as they could look out of the window to the Royal Dramatic Theatre across the street, where they used to perform. The hotel is right on Nybrokajen overlooking the water and a 10-15 minute walk or boat ride to pretty much anywhere you want to go to. Be like Ingrid and stay in room 607 which was her favourite.
Where: Radisson Collection Hotel, Strand Stockholm, Nybrokajen 9, Stockholm, Sweden
Nightly rates from 130 euros on a room only basis