Acclaimed restauranter Razak Helatat is the hospitality kingpin in Brighton's burgeoning restaurant scene. Behind successful ventures including The Coal Shed (a true masterclass in cooking on fire), and the seafront's The Salt Room, serving up super fresh seafood dishes. Helatat expanded in 2021, adding grown-up, late-night hangout Burnt Orange to his successful roster – and his recent opening saw him launch Tutto at the tail end of last year. If Burnt Orange was a boisterous younger brother, Tutto is the sophisticated older sister.
Tutto: The Lowdown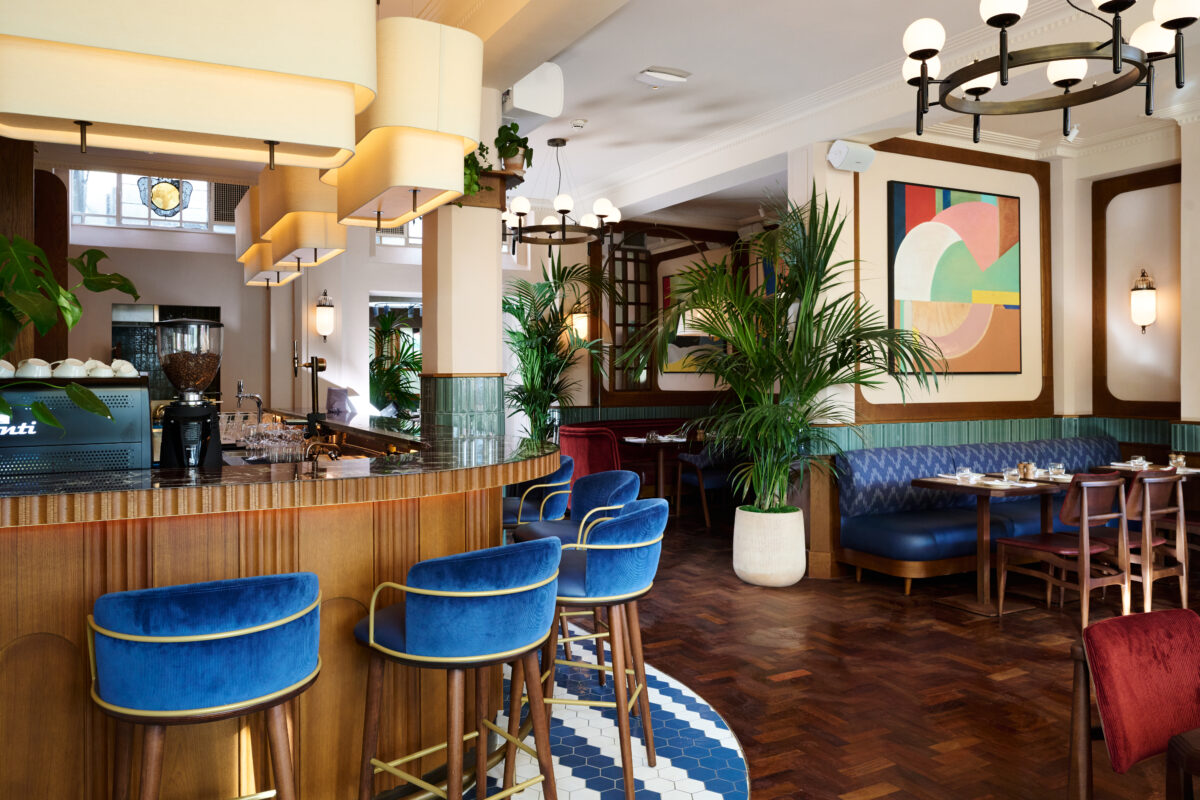 Housed in a grade II-listed 1930s banking hall on Marlborough Place, Tutto's interior is warm and inviting. While some of the original Neo Georgian features have been kept and lovingly restored, the dining room is full of personality; walls are adorned with contemporary paintings from local artists, there's a soft glow about the space thanks to the stately chandeliers, while the dining room is filled with green-hue velvet banquettes with marble table tops.  The space oozes glamour yet feels relaxed and unstuffy.
Tutto (meaning "All") celebrates Italian hospitality and simplicity, inviting everyone to dig into gorgeous bowls of freshly made pasta, elegant sides (read: truffle chips with parmesan) and share hearty dishes throughout the day.
Tutto: The Food
On a biting February evening, craving carbs and a good time, we headed to Tutto to see what all the fuss was about. The menu is split into six parts: snacks, raw and cured, fried, pasta and rice, wood oven and grill, and sides. To begin: green Nocellara olives. Gorgeously buttery with a meaty texture.
With my companion gluten-free, the menu boasts an abundance of coeliac-friendly options, with all pasta available in gluten-free versions (a refreshing switch up from the token singular dish you see on most menus).
After polishing off the olives in record time (we could have done with another dish of those heavenly little morsels), the starters arrive. Call me basic, but when burrata is on the menu, I have to order it. Tutto elevates this sphere of creamy cheese with the addition of pine nuts, basil, a warming winter caponata spiked with chunky aubergine and spices, and a crostini. Meanwhile, my companion waxed lyrical about the salt-baked celeriac, delicately walking the tightrope between sweet and earthy, topped with artichoke, radicchio, chanterelles, hazelnuts for added crunch.
For mains, the cacio e pepe with black truffle was something of a scene-stealer. Truffle runs the risk of overpowering dishes, but it did in this one, happily. The spaghetti with hand-picked cornish crab was a real tour de force in the flavour stakes. Served on a bed of gluten-free pasta spaghetti (not that you could tell), the crab, with ginger and chilli, was fresh, zingy and showcased Tutto's love of only using a few simple ingredients. Not forgetting the sides, we wellied into the truffle fries dusted in parmesan – properly indulgent finger food – and the rocket with aged parmesan and balsamic vinegar, adding some much-needed greenery alongside the pasta.
After taking a cursory glance at the dessert menu, and being easily swayed by what was on offer, I opted for the chocolate and hazelnut torte with Fior di Latte ice cream. A Toberlone-esque bar with a truffly centre, a crunchy outer, and a creamy scoop of ice cream. It was executed with aplomb.
If you were to go with a group, or those without allergies, I'd recommend opting for the"Taste of Tutto", a feast of Tutto's key dishes from the a la carte menu available for two to eight people.
Tutto: The Drinks
The cocktail menu is a love letter to Italian serves, and features playful house-made drinks such as the Sgroppino with vodka, Fiorente elderflower liqueur, and lemon sorbet, and the Tramonto  – a blend of white rum, Starlino Rosa, Cocchi Rosa, verjus and rhubarb bitters. By passing all of the above, we decided to keep it classic: Aperol Spritz and a Dirty Martini.
Tutto: The Verdict
After sampling a portion of the menu, Tutto's tagline of 'bring everyone, eat everything' certainly rings true. Gather your pasta-loving pals and make a beeline for Tutto. We promise you, you won't regret it.
Address: 20 – 22 Marlborough Place, Brighton BN1 1UB
For further information on Tutto, see here.