A restaurant can lure us in on looks alone; bar seating, pastel colours, luxe upholstery and scene stealing lighting. And while Esters Wine Shop and Bar could clinch first place in a beauty pageant – it's not all style over substance. Encompassing a wine bar, wine shop and market, along with an all-day restaurant, Esters in Santa Monica manages to successfully strike a balance between vibe-y late night spot and laid-back day hangout.
Esters Santa Monica Review: The Lowdown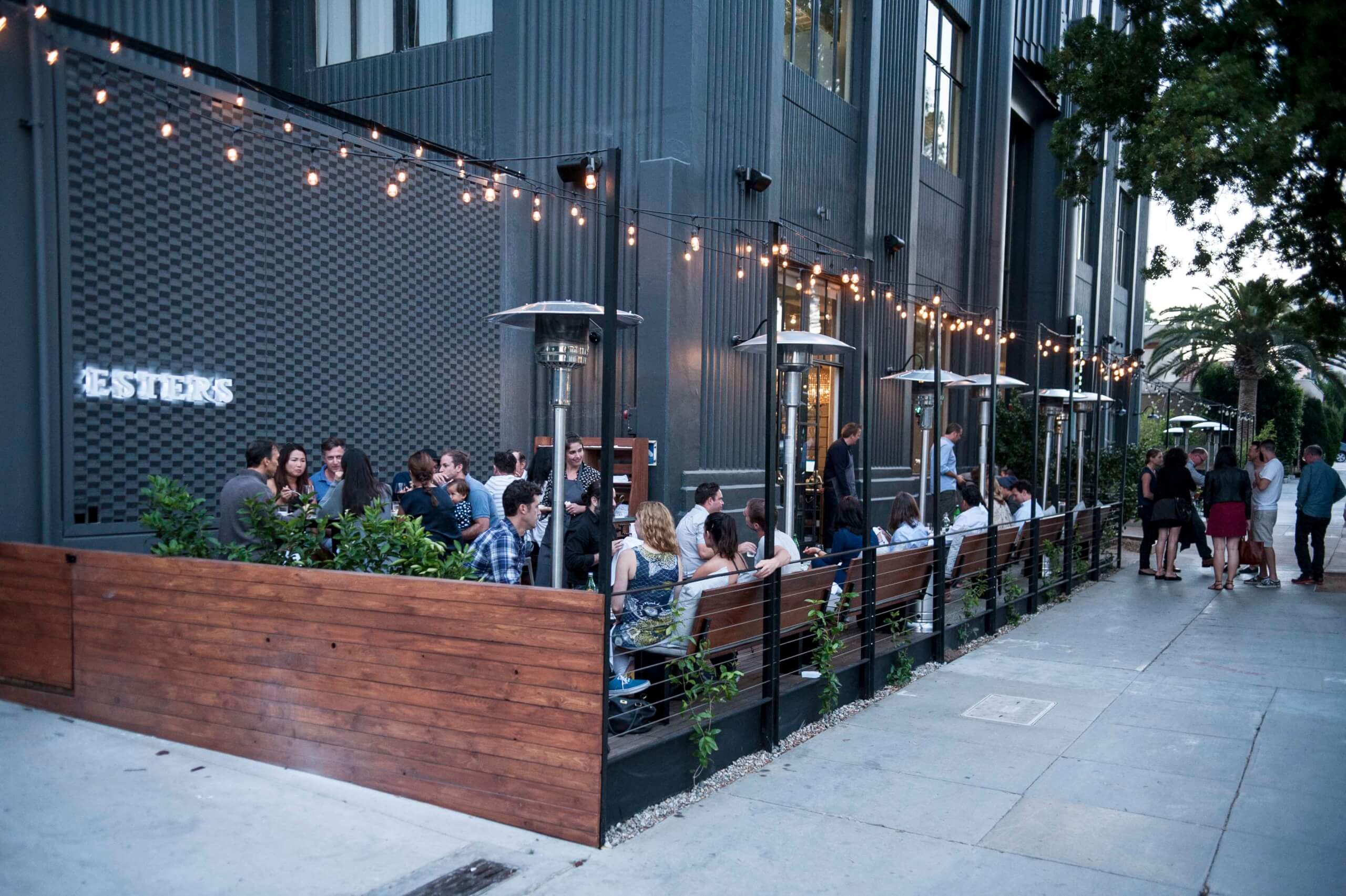 Tucked inside a beautifully refurbished 1937 Art Deco building, Esters oozes old school glamour. The design from Oonagh Ryan of the Los Angeles-based ORA is up market, whilst still being accessible. Inside, the back wall of Esters is covered in shelves of wine from small producers, (which are available to buy), and the restaurant is brought to life by dimly lit chandeliers, with the central bar offering the perfect space for late morning tipples and post work drinks.
Steel-framed windows salvaged from the landmark building have been gracefully repurposed into an enclosure for the high-end wine cellar, situated near a cozy nook with a rich green velvet love seat, linen-clad chairs and a white marble coffee table.
However, it's outside that makes Esters special. The terrace, teeming with green mosaic tables, plush cushions and comfy sofas, is a sun trap when the warmer weather hits. We say, a perfect spot for al fresco brunching.
Photo Credit: Emily Hart Roth
Esters Santa Monica Review

: The Food
You can really taste the quality here. The ingredients-led menu focuses on locally sourced produce and everything is homemade on site. To cut through all the technical jargon – we're just going to say this: it's properly delicious food. Fresh, fun, and without the faff.
The menu is full of big hitters, like the veggie bagel. On paper the veggie bagel sounded a little lacklustre, but the flavours of this simple brunch dish were next level. All of the bread is sourced from sister restaurant, Milo and Olive, and the homemade bagel stacked high with avocado, cucumber, red onion, dill, capers and seed mix, proves that you don't have to fuss around with concept too much.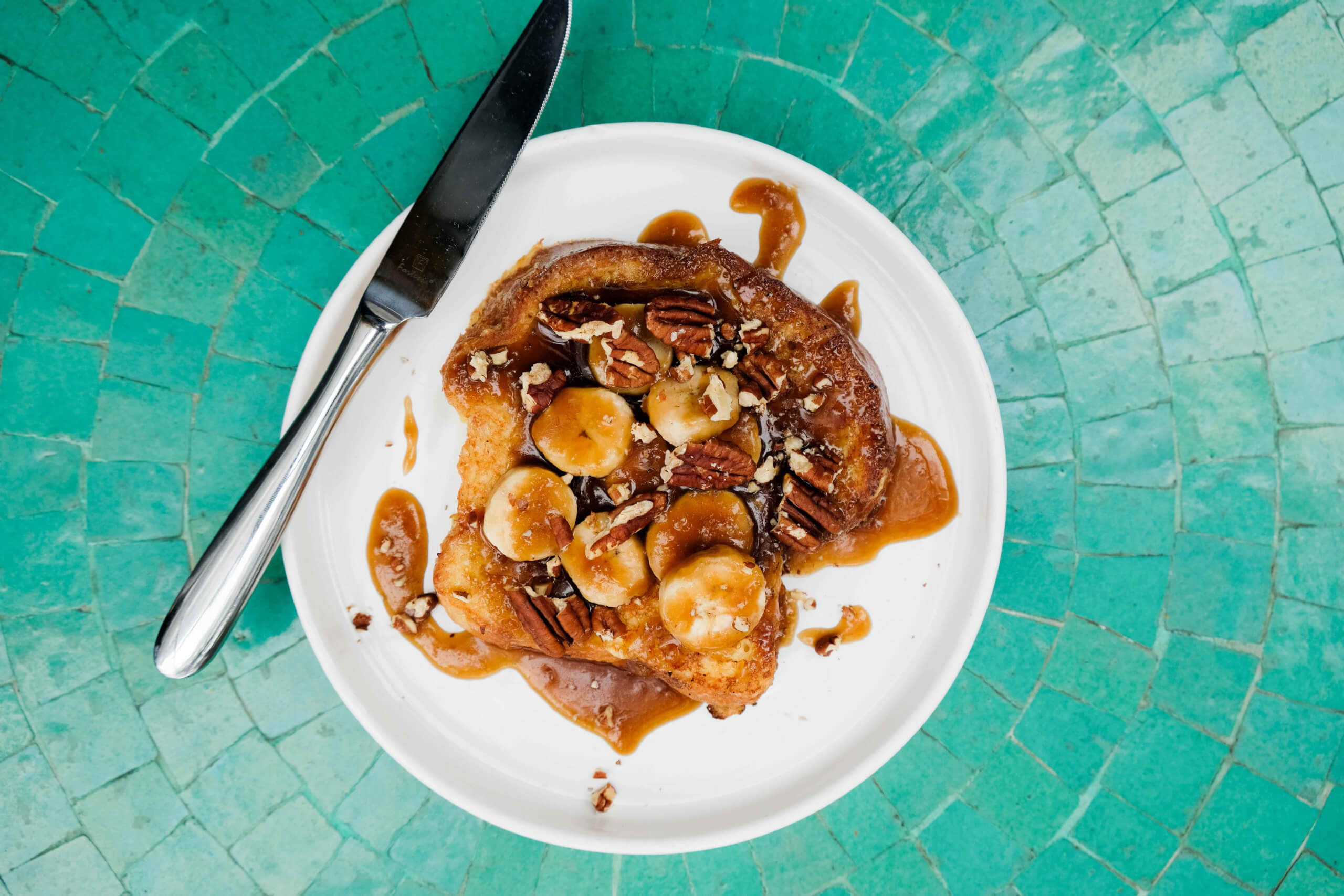 But we're not quite done with talking about the bread just yet; the bagel and lox, served with cucumber dill yogurt, red onion, capers and lemon came served as a de-constructed puzzle, allowing you to build your own bagel masterpiece.
The brioche French toast topped with hunks of strawberries and drizzled with maple syrup came in with a hat trick of flavours; warm, soft, and slightly crisp bread, sweet and sticky syrup and tart, fruity notes. The stuff of sweet brunch dreams. We just hope for your own sake and stomach that you manage to get your mitts on their hunks of banana bread. Lightly spiced, and super moist this is how a good banana bread should taste.
Esters Santa Monica Review

: Our Verdict
Esters has many power moves; wine shop, grocers, restaurant and bar. They manage to do many things, really well. For a brunch that delivers on flavours, price and with a serious menu, we can't recommend this Santa Monica hotspot enough. We say: go forth and eat all the bagels.
1314 7th St, Santa Monica, CA 90401
Food Photo Credit: Kelly Bylsma