I have a secret place. It's a restaurant unlike any other; a place where menus don't exist, the cocktail of the day is the only cocktail available and the kitchen buzzes for all to see, a hive of activity and energy. 
It's a place of warmth; with candles, bare lightbulbs and copper pans decorating the ceiling, where rustic bread is thickly sliced, unevenly cut and comes warm from the oven. There's no decisions to be made here – for 32 euros, you eat what is placed in front of you, and it will be fantastic. Imagine a dinner party where you don't know the other guests, and there's no cleaning up to do. 
The place in question is Balthazar's Keuken; a tiny restaurant, with only 10 covers, tucked away on a side street in Amsterdam's 9 Streets. I visited over a year ago and fell in love. A year later, still talking about it like an old friend to anyone that would listen, I was scared a repeat visit wouldn't live up the warm, sardine-rich memory. But it did. And how.
The restaurant is designed for a intimate dinners; tables are only for 2, it's the perfect place for a tete-a-tete, a quiet meal with a close friend. The food comes when it's ready; you don't order, simply choose between a meat or vegetarian main course.
It starts with 5 small dishes chosen that week; on our visit, it's a feast of fennel sausage, the crispiest pancetta atop beetroot hummus, a fresh mint and cucumber salad, mackerel pate on raisin bread, sardines on almond mash with roasted vine tomatoes. The quality of each little mouthful astounds; it's the attention to detail, the touches of the unusual, that make it so special. Small plates, but not small flavours.
Strange, unusual turns of flavour give the dishes their magic – the salty mackerel paired with the cinnamon-rich, soft raisin bread, the lingering taste of a nut oil around the fried pancetta which dances alongside the almond of the sardines' condiments, the marriage of mint in the beetroot, the pate and the salad.
It's a slight of hand, a confidence, that turns a potential clash of flavours into something so elegant, so well thought-out, that each flavour dances on the tongue, creating a unifying melody between the 5 tiny dishes. It's all so effortless and cool, but it's a rainbow of flavours that brings you and your guest closer, as the candle-light flickers.
For mains, we feast on seafood bouillabaisse; it's gusty, a spike of saffron in the broth has amplified the flavour, bringing the plump prawns, panfried red snapper and briny mussels together to create a rich, deep flavour. There's a confidence in the flavours – a tiny garlicky aioli atop crunchy white bread – a dish that leaves its mark.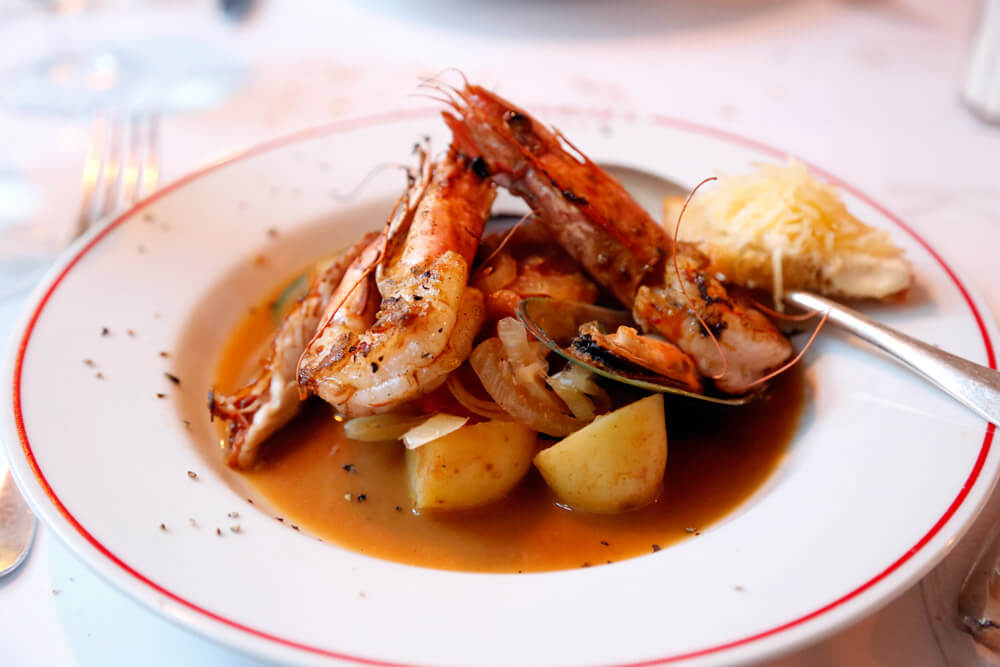 It all rounds off with a plate of perfect pudding; this evening a sherry-soaked fig on a walnut mascarpone with a burnt caramel sauce. There's something so wonderfully imperfect in the dish; the crunchy uneven walnuts woven through the cheese remind you that, at the end of it all, this is a kitchen, not a restaurant: a place of real cooking, not perfection.
And it's that which makes this my favourite restaurant in the world. Because there's an honesty and a realness here that is so far removed from your high-end London restaurants. As the smell of your neighbour's food wafts towards you and words from their conversations, you cannot help but feel a sense of intimacy with the other diners; perhaps it's why chats between tables happens so naturally, as if you're sharing the evening together. If you do one thing this year: go.
Balthazar's Keuken is at Elandsgracht 108-BG, 1016 VA Amsterdam, Netherlands
+31 20 420 2114
To see the weekly menu, head over to their Facebook
Photos by Angelica Malin