With May marking the 50th birthday of the U.S.' Amtrak rail service – the nation's oldest rail operator – Visit The USA has lined up a selection of exciting rail routes travellers can climb aboard when travelling state-to-state on their next U.S. adventure. Since 1 May, 1971, Amtrak has worked to transform a classic form of transportation, preserving the aspects of train travel that are timeless, whilst simultaneously modernising to suit the needs of present-day and future rail passengers.
Below are five routes that travellers can enjoy impressive views all from the comfort of their carriage:
The Lowdown: President Biden's dedication to the service resulted in earning him the nickname, 'Amtrak Joe', after travelling on the Acela to commute between Wilmington, Delaware and Washington, D.C. during his early senatorial days. Most recently, he helped mark Amtrak's 50th anniversary by speaking at Philadelphia's busy 30th Street Station at an Amtrak celebration in late April 2021.
Travelling at speeds up to 150 miles per hour, the Acela is exceptionally quick, with the full route spanning from Boston through New York City and Philadelphia before arriving in Washington D.C. Before departure, travellers can enjoy a visit to the Skywalk Observatory, where they can feast their eyes on a 360-degree view of the Boston skyline and waterfront from 50 stories high, before embarking on their journey south to New York. From the bright, bustling cityscape that is New York City, visitors can catch a show on Broadway or marvel at the metropolis from the top of the Empire State Building. In Philadelphia, art, history, science and gastronomy blend beautifully in the City of Brotherly Love, whereas Washington D.C. boasts the beautiful Union Station conveniently located next to Capitol Hill, a myriad of museums and awe-inspiring statues that tell fascinating stories through their histories and designs.
Rates: A one-way passenger ticket from Boston to Washington D.C. on the Acela on select dates from July-September starts from £63. For more information, visit here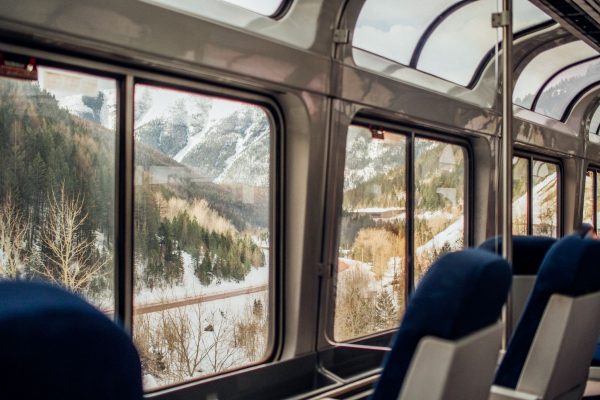 The Lowdown: Travellers can ride the rails along historic Route 66, viewing impressive architecture and iconic landmarks along the way. This epic journey travels through Illinois, Missouri, Oklahoma, New Mexico, Texas and Arizona, before arriving in California.
Travelling from east to west allows travellers to combine several Amtrak routes, including the Southwest Chief, which passes through the Santa Fe Trail, red cliffs of Sedona and the Continental Divide in the Rocky Mountains. From travelling past wheat fields, ranches, missions and pueblos, to carving through canyon passages only a few feet wider than the train itself, travellers will see spectacular landscapes and pristine vistas not visible from interstate highways. Upon disembarking at Los Angeles' Union Station, venturing up to Griffith Observatory for panoramic views over Los Angeles and an iconic sighting of the Hollywood sign is a must.
Rates: A one-way passenger ticket from Chicago to Los Angeles on the Southwest Chief on select dates from July-September starts from £130. For more information, visit here.
The Lowdown: Travellers heading from New Orleans in Louisiana, to Houston and then San Antonio in Texas, can hop onboard the Sunset Limited. The oldest named train in the United States, the Sunset Limited was introduced in 1894 by the Southern Pacific Railroad before being acquired by Amtrak in 1971. In New Orleans, visitors can hit Bourbon Street or meander along the shady streets of the elegant Garden District.
In Houston, the Johnson Space Center is a must, whilst San Antonio boasts a fiesta of vibrant colours, aromas and music on the Riverwalk. Visitors can tour five Spanish Missions, including the infamous Alamo that have been named UNESCO sites, and all while enjoying a famed fried ice cream. Visiting these vibrant cities couldn't be easier, as the Sunset Limited will whisk travellers between cities with regular departures three times a week.
Rates: A one-way passenger ticket from New Orleans to San Antonio on the Sunset Limited on select dates from July-September starts from £199. For more information, visit here
The Lowdown: Another Amtrak classic, the Vermonter, offers travellers a daily service between Washington D.C. and St. Albans in northern Vermont, offering spectacular views throughout the seasons. The journey begins in the U.S. capital, travelling through New York City to Connecticut, Massachusetts, New Hampshire and ends in Vermont. In summer, travellers to Vermont can enjoy the 'Green Mountain State' or meander along the Connecticut River and enjoy the peace and quiet of nature in New England.
In autumn, guests travelling through the state can admire the foliage colour and go 'leaf-peeping' from their carriage window whilst in winter, visitors can take their pick from one of Vermont's world-famous ski resorts, including Killington, Mount Snow, Smugglers' Notch, Stowe, Sugarbush and Stratton.
Rates: A one-way passenger ticket from Washington D.C. to St. Albans (Vermont) on the Vermonter on select dates from July-September starts from £58. For more information, visit here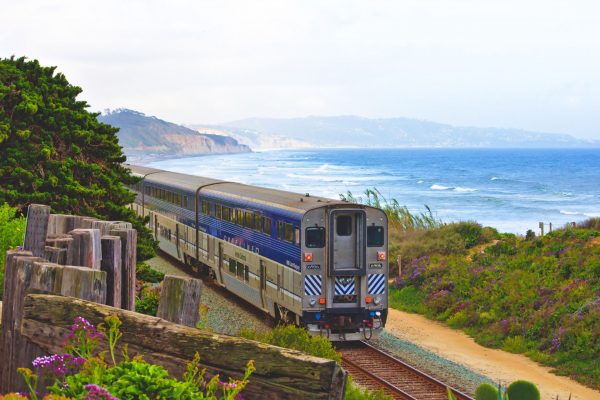 The Lowdown: Widely regarded as one of the most spectacular of all train routes, the Coast Starlight connects some of the greatest cities on the West Coast. With daily connections between Los Angeles, California and Seattle, Washington, passing through Santa Barbara, the San Francisco Bay Area, Sacramento and Portland, Oregon, the track hugs the California Coast between Oxnard and San Luis Obispo. The journey showcases dramatic snow-covered peaks of the Cascade Range and Mount Shasta, lush forests, fertile valleys and long stretches of Pacific Ocean shoreline. For those interested in longer-haul journeys, dubbed a 'land cruise', railfans can hop aboard the two-night California Zephyr or the Empire Builder taking passengers from Chicago to either San Francisco or Seattle for the ultimate rail experience. On this journey, travellers will cross the Mississippi River, venture into Montana's Big Sky country and pass Glacier National Park.
Rates: A one-way passenger ticket from Los Angeles to San Luis Obispo on the Coast Starlight on select dates from July-September starts from £30. For more information, visit here