About Time: You Stayed at Coco Palm Dhuni Kolhu, MaldivesBy Angelica Malin
With its sparkling, azure blue waters, year-round sunshine and pristine white sandy beaches, it's no surprise that the Maldives has become one of the most popular tourist destinations on earth. Once the privilege of the few, nowadays sun-loving tourists all around the globe flock to these perfect islands for a taste of paradise. It's no longer a dream that only exists on your desktop screensaver; thanks to more regular, affordable flights and never-ending stream of new resort openings, there's no more choice on offer for tourists than ever before.
It is, to be honest, a little overwhelming: the Maldives is jam-packed with resorts, from ultra-luxe stays to back-to-basics boutiques, each resort having its own distinct appeal, ambience and audience. If you're looking for a low-key, laidback holiday to the Maldives – then Coco Palm Dhuni Kolhu is the place for you. You won't find much of the glitz and glamour of other stays on the island, but what you will find is: bags of charm, super friendly staff and a back-to-nature appeal that would inspire Attenborough himself. Here's everything you need to know about the resort:
Coco Palm Dhuni Kolhu Review: The Lowdown
Dhuni Kolhu lies in the stunning southern waters of the Baa Atoll. The 30-minute journey by seaplane from Malé airport will give you an amazing bird's eye view of the azure lagoons and natural beauty of the island. As you land, you are entering one of the world's essential havens: a designated UNESCO biosphere reserve and home to incredible marine life and reefs. This is the place to come to switch off, unwind and re-connect with mother nature.
Coco Palm Dhuni Kolhu Review: The Accommodation
The island is made up of around 98 villas – a modest offering, compared to other resorts in the Maldives, giving the resort a boutique and intimate feel. The villas range from Lagoon Villas, striking in their design, resting on stilts in the ocean, to Beach Villas and Ocean Front Villas. We stayed in a Deluxe Beach Villa; with access down on the beach directly from your room, a private plunge pool & outdoor bathroom, the rooms are perfect for nature & beach-lovers. The villas feel distinctly back-to-nature – whilst staying here, you'll be soothed by the sound of ocean waves cascading along the beach every night – and allow for great privacy as, essentially, you have your own private stretch of beach.
The Lagoon Villas are very popular with honeymooners – and you can see why. Each private ocean villa has steps directly into the ocean (perfect for snorkelling) with a private balcony for sunbathing, giving the rooms a unique, secluded feel. Come night time, the villas are lit-up by atmospheric floor-level lighting, giving the lagoon a romantic, other-worldly feel.
What we loved about the rooms, and resort generally, is the real respect and care for the planet here, which goes beyond a token nod to the environment, so many hotels are guilty of.  You won't find any single-use plastic in the villas – replaced with full size, refillable ceramic dispensers – and there's no plastic water bottles around, rather than glass-bottled water distilled by hand on the island. The sheets are only changed when you request – as are the towels – and there's recycling points all over the island for plastic and metal. There's also a turtle rescue centre at the resort, which helps rehabilitate turtles that have been injured (often from being caught in fisherman's nets) and set them back into the ocean. Every care is taken to respect mother nature at Coco Palm – which made me feel, as guest, part of something much bigger, and more connected, that simply being on holiday.
Coco Palm Dhuni Kolhu Review: The Food
There are three main food offerings on the island; the main buffet restaurant, the beach bar with a la carte menu and the resort's upmarket Thai offering. You can also opt for the Dine Under the Stars package, for dining on the beach, if you're looking for something unique.
We became very well-acquainted with the buffet (it's part of the Full Board package) and I was very impressed by the offering. For breakfast, you can expect freshly-baked bread and pastries, Maldivian and Asian breakfast dishes, omelettes, pancakes, fresh fruit and orange juice and a range of cereals and yogurt. Basically, everything you could want for a breakfast of kings. For lunch and dinner, the offering is always changing, with a mixture of fresh salads, grilled fish and meat, Maldivian local dishes, sushi and homemade desserts, it's hard to tire of. Their locally-inspired curries with coconut rice were a personal favourite – as were the homemade gooey walnut, chocolate brownies. Delicious.
The beach bar is a lovely place to come and watch the sun set – often with nightly live music and entertainment. There's also an all-day restaurant here, included in the Full Board package (with a maximum spend), which is great for beach-side munching. The lunch options include all the classic characters; Club Sandwich, Caesar Salad with chicken, grilled panini, pastas and ice cream. I had some seafood dumplings that were certainly good enough to write home about
The final food offering on the island is the most prestigious of them all; Cornus is a Thai-inspired restaurant, featuring curries, noodles, stir-fry, grilled meat and fish, and much more. Set in the romantic setting outside on the beach, with the sand between your toes, you can enjoy the delectable flavours of South East Asia. I personally loved the deep-fried prawns, wrapped in filo pastry to start, and the grilled Tiger Prawns with lemon butter for main – the seafood Green Thai Curry also deserves a mention. Finish with a pineapple & Malibu crumble for dessert and call yourself one happy camper.
Coco Palm Dhuni Kolhu Review: The Activities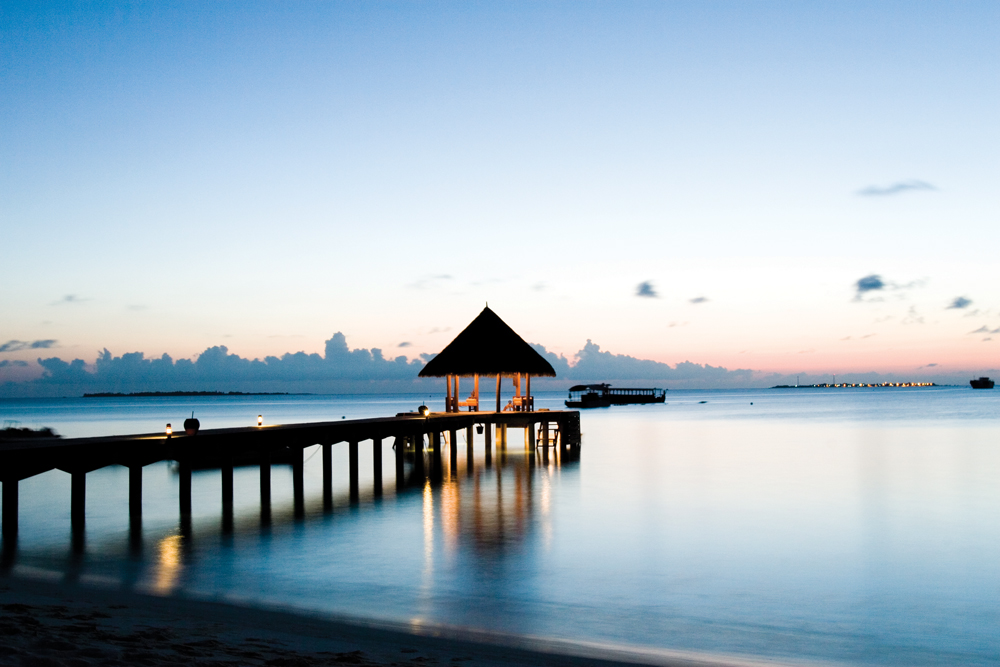 Beyond eating, there's loads to do at Coco Palm that deserves a mention. A few of the things we enjoyed on the island include; snorkelling with Manta Rays, Dolphin spotting, a lively beach BBQ featuring live music, sunset sundowners at a deserted island, a heavenly Balinese massage at their spa, local village excursion and, of course, plenty of sunbathing. Basically: there's lots to do at the resort, it just depends what kind of holiday you fancy. The hotel is happy to organise special excursions for you, from dolphin cruises to guided tours, but you may just want to enjoy the facilities on the island, like the tennis courts, badminton and spa.
Guests are able to borrow snorkelling equipment for the duration of their stay, and staff will happily advise on the best spots for snorkelling around the resort. One of the finest places I spotted, as it happens, was on Coco's deserted island, accessible by speedboat. For a real Robinson Crusoe experience, guests can stay overnight on the uninhabited island (apparently popular with honeymooners and marriage-proposers) and enjoy a private BBQ dinner on the beach, before being left totally alone for the night. If that sounds a little much for you, then maybe indulge in the serene spa instead; offering a range of bespoke treatments, from cold cream facials to island seashell massages, it's the perfect place to get totally blissed out on holiday.
Coco Palm Dhuni Kolhu Review: Our Verdict
As you can tell, I totally loved Coco Palm, for a number of reasons. Firstly, I loved the intimacy and friendless of the staff – always with a smile on their face, eager to help, advise and chat to you. Secondly, I loved the resort's genuine respect for the planet, that came across so clearly in their environmental efforts – we're moving into a new age now, where travellers are all-too-aware of the realities facing our planet and want to align themselves with brands that champion it, not destroy it.
And finally, I loved the stripped-back nature of the resort – without a big, crowded swimming pool, noisy kids club or thumping nightlight – I felt like, for the first time in forever, I could hear myself clearly. Miles away from the noise of a city, accompanied only by the sound of the waves, the gentle coo of birds and rustle of the palm trees, I felt more connected to myself than I have in a long time. I have Coco Palm to thank for that; by creating a space that feels so connected and in tune with nature, you can't help but fall in love with the place.