About Time: You Discovered the World's Best Yoga Retreats 2017By Angelica Malin
Searching for the best yoga retreats 2017? From alpine retreats to Greek island adventures, here's our favourite yoga retreats all around the world this February 2017. Man, we love yoga.
Best Yoga Retreats 2017: Relaxing Retreats
For an Italian Retreat: The Watermill, Tuscany
What: Nourish – a yoga and mindfulness retreat with Claire Murphy
The Lowdown: From 9th-16th September, experienced yoga practitioner Claire Murphy will be leading a week-long Nourish – mind, body and soul yoga and mindfulness retreat at The Watermill at Posara in rural Tuscany. Drawing inspiration from the stunning surroundings and encouraging students to unplug from their busy lives, the course will include yoga and meditation sessions in The Watermill's studio and peaceful walled garden and trips to local, villages, vineyards and market squares. 
The Retreat: Located between the Apuan Alps and the Apennines in Tuscany, The Watermill at Posara, near the medieval walled town of Fivizzano, has been running learning courses for over 25 years. The price includes all tuition, full-board accommodation (including local restaurants), drinks and aperitivi, transfers to and from Pisa, local transport and a mid-week excursion to either Lucca or the Cinque Terre. Food is a real highlight of any stay: guests will enjoy delicious homemade Italian dishes such as Florentine salads topped with fresh flowers, risotto with gorgonzola and pear and homemade pannacotta. 
When: 9-16th September 2017.
Price: Price from £1,445 pp (two sharing). Flights (Pisa) extra. To book, call The Watermill at Posara on 020 7193 6246 or visit here.
For a Sri Lankan Retreat: Tri, Sri Lanka
What: Sri Lanka Quantum Yoga Workshop 
The Lowdown: Located on the shores of tranquil Lake Koggala, Tri in Sri Lanka is hosting a two-day yoga workshop from 10th-12th February 2017, led by the founder of the Quantum Yoga Method Lara Baumann. With daily yoga classes taking place in the hotel's outdoor yogashala which floats amidst a bamboo grove, Tri offers guests a haven of serenity and calm and is the perfect location for spiritual immersion. Using the practices of Ayurveda and the Quantum Yoga Method, the workshop will allow guests to create dynamic sequences that are ideally suited to their body-mind constitution and present requirements.
The Retreat: Upon arrival, each guest will be given a prakriti test to discover their Ayurvedic nature, which will indicate what the primary emphasis of their practice should be. Alongside daily yoga classes (a minimum of 7.5 hours over the two days combining the practices of asana-vinyasa, pranayama, meditation and satsang), guests will be able to learn more about Quantum Yoga and the three pillars of the Quantum Method. Includes three nutritious gourmet meals per day, a complimentary massage and cultural visit to nearby Cinnamon Island.
When: 10th-12th February 2017
Price: See website here.
For a Greek Retreat: Sangyé Yoga School, Santorini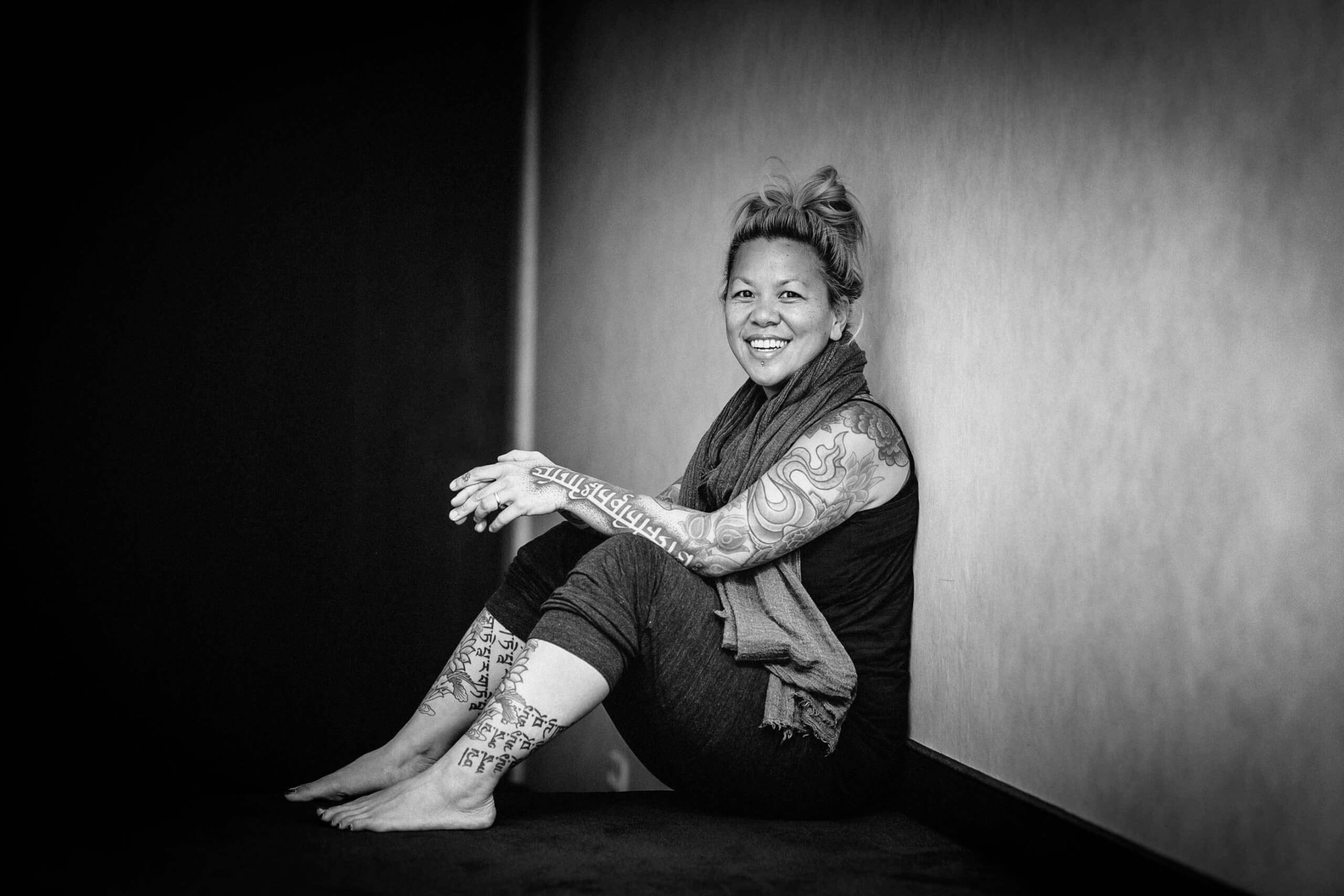 What: Santorini, Greece: Sunsets and Yoga Retreat with Cat Alip Douglas and Phil Douglas
The Lowdown: This retreat is facilitated by run by the owners of London's Sangyé Yoga School, a West London institution for spiritual warriors who like dharma chat and a no-nonsense edge with their yoga practice. Cat Alip-Douglas, a former Condé Nast New York girl, is now a tattoo covered yoga guru whose classes have a focus on spirituality and movement from ego to awakening. Offering vigorously physical, ever-changing asana sequences, and hands-on assists, alongside developing your yoga asana, there are profound learnings to be had as Cat explores the teachings of Buddhism at her retreats.
The Retreat: A five days and four nights shared accommodation (2 people per room) at Rocabella Deluxe Suites & Spa Santorini. The meals that are included with retreat include a daily breakfast buffet and welcome dinner upon arrival. There are 2-2.5 hour workshops and informal gatherings daily, so you'll certainly get your yoga fix.
When: 20-24 September 2017
Price: From £800 per person – book here.
For a Fitness Retreat: Ibiza Retreats, Can Amonita
What: Rejuvenate Retreat with Ibiza Retreats
The Lowdown: Ideal for yoga bunnies who also like to work on their cardio fitness, Ibiza Retreats has launched Rejuvenate, including daily yoga, high intensity fitness (think gorgeous run on the beach or a hike through the stunning Ibizan countryside) and healthy nutrition too. 
The Retreat: Rejuvenate can be found at Can Amonita, a unique sanctuary nestled among a fragrant pine forest in the stunning, peaceful North of the island. With Balinese style decor, bright spacious rooms and a beautiful heated pool, it offers all home comforts with the true luxury of a stunning, natural setting, with outdoor practices to the sound of chirruping frogs, set right amidst the pines. And you're only 10 minutes away from the beautiful local beaches.
When: 6th – 11th May
Price: Priced from £1,200. Book here.
Best Yoga Retreats 2017: Brand New Retreats
For a Holistic Retreat: The Wellness Season, Marbella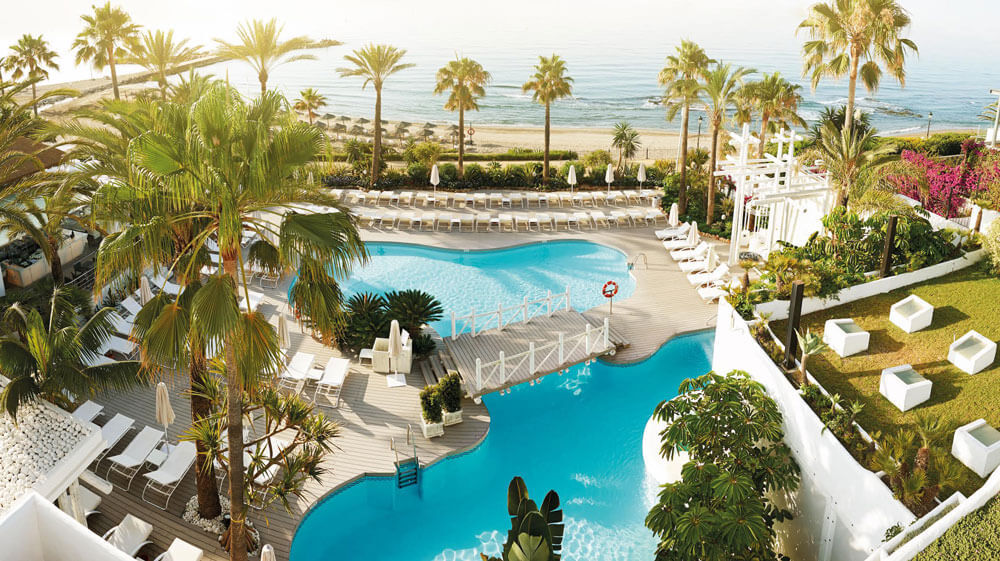 What: The Wellness Season at The Six Senses Spa
The Lowdown: Looking for a tailor-made luxury Spanish retreat that combines wellness, yoga, detox, sleep and meditation? Luxury beachfront resort Puente Romano Beach Resort & Spa has launched its first Wellness Season – two months dedicated to positive wellbeing of guests' bodies and minds. The stunning resort in Marbella is home to Spain's only Six Senses Spa, which will be the hub of Puente Romano's wellness activity throughout February and March, offering a range of programmes to ease tensions and leave guests feeling refreshed and relaxed.
The Retreat: With activities ranging from Yogic Sleep, curated to improve guests' sleep quality, to detoxing the body and the mind, Wellness Season at Puente Romano will ensure guests have the perfect retreat. In addition, a collaboration with 38 Degrees North Fitness will offer guests, who are keen to kick start their weight loss and wellbeing journey, a programme of holistic long weekend retreats throughout the Wellness Season. Winner.
When: Until end of March 2017
Price: For further information on packages available, prices and to book – see here.
For an Indian Adventure: Banyan Tree Yoga Retreat, Goa
What: Goa Yoga Retreat with Belle Greenwood
The Lowdown: If you love nature, simple living and yoga, whilst looking for an escape from the winter chill, then the beach and the beautiful surroundings of The Banyan Tree in North Goa are for you. It's a real gem and must be seen. Join London teacher, Belle Greenwood, for yoga, sunshine and Goan vibes from 22-29 March 2017.
The Retreat: Join Belle for a yoga holiday at this very special place in Goa, known for its sunny, warm days, laid-back beaches and colourful markets. The intention for this holiday is to enjoy all that Goa has to offer but to also dive deeply into your yoga practice. In simple surroundings, restore your elemental balance and deepen your practise.
When: 22-29 March 2017 
Price: £425 sharing a twin bed hut, £545 single occupancy hut. Includes breakfast, dinner, 2 daily yoga classes and accommodation.
For a Dancing Retreat: Chateau Lou Casteou, Frejus
What: Salsa Retreat at Chateau Lou Casteou
The Lowdown: Love Strictly? Learn the different dance disciplines of Merengue, Bachata, Cha Cha Cha, Salsa and Kizomba on this four-day, fun all-inclusive residential retreat, led by dancers Juan Let's Salsa and Simon and Becky Mascarenhas. The retreats will cater for both beginners and experienced dancers wishing to improve their footwork skills. With a warm and vibrant teaching style, Juan has performed as a dancer and teacher in top London venues. Simon has a steadfast reputation as a smooth and relaxed dancer, teacher and choreographer.
The Retreat: This luxury retreat offers five star chateau accommodation. Dancing will also be complimented by fun fitness activities designed to improve the core and leg muscle groups used in dance. These include core strengthening and fun swiss ball sessions, plus water and Latino aerobics and a tennis workshop. Guests will also take in a visit to a local Provençal vineyard and the Cuban Club, La Bodeguita.
Price: Three nights' full board costs £1,250 per person in a private en-suite room with sea- or mountain-view or £998 for 2 guests sharing.
When: 6th-9th April and 1st-4th June 2017 in Frejus, South of France. Call +44 (0)7990 573 287 or book here.
Best Yoga Retreats 2017: One-Off Retreats
For an Island Retreat: Greek Island Yoga Holiday, Kefalonia
What: Greek Island Yoga Holiday with Maurizio Marmorato
The Lowdown: For a slice of paradise, sun, sea and gorgeous sunrise practises on the stunning yoga platform, you need to get yourself booked onto a yoga holiday with London based teacher, Maurizio Marmorato on the Greek island of Kefalonia. Warm breezes, unbroken sea views and a good dose of recharge.
The Holiday: Each day will begin with meditation, pranayama and an asana class on a wonderful yoga platform overlooking the endless blue ocean. The morning practise will gently open the body and attune the mind to the breath, slowly moving and building into a flowing and dynamic sequence. The classes will be suitable for all levels and yoga experience. Morning practice will be followed by a hearty breakfast. Then you will be free to head off down to the beach, relax by the pool or explore the stunning beauty of the surroundings. The group will meet again in the late afternoon for a second yoga session, which will be a more gentle class. There will be one yoga free day.

When: 23-30 May 2017
Price: £400 sharing a twin room, £495 single occupancy room, £560, single occupancy apartment. Includes breakfast, dinner, 2 daily yoga classes and accommodation. Book here.
For a Luxury Italian Retreat: Puglia, Italy
What: Luxury Yoga Holiday with Jaya Jaks
The Lowdown: The chance to practise yoga in an idyllic setting at the stunning Masseria della Zingara in Puglia, Southern Italy. This farmhouse has been lovingly restored with a stylish interior that is luxurious and comfortable with the highest attention to detail. Set in over 20 acres of land with olive, fig, cherry and almond trees, the views are stunning at all times of the year. The house has a swimming pool and wonderful sun terrace for soaking up the Italian sun and the calm of the countryside. You may choose to borrow the bicycles and explore the local region or just relax and unwind. Close to Polignano a Mare (also known as the ice cream capital of Italy) and Monopoli, this holiday offers not only yoga but also the very best in Italian food.
The Holiday: Join London teacher, Jaya Jaks, for 5 days of revitalising yoga at the beautiful Masseria. A wonderful opportunity for you to relax your mind, rejuvenate your body and reawaken your spirit in beautiful Puglia Italy. You will enjoy two yoga classes daily, which focus on movement, breath and relaxation. The day will begin with a flowing and dynamic asana class in the light and airy yoga space. After the morning session breakfast will be served on the terrace. The group will meet again in the late afternoon for a more relaxing and restorative class.
When: 24-29 June 2017
Price: £650 sharing a twin room, £850 single occupancy. Includes all meals apart from 2 nights out, 2 daily yoga classes, airport transfers and accommodation. Book here.

For a Mountain Retreat: Alpine Yoga Retreat, Austria
What: Alpine Yoga Retreat with MV Fitness<
The Lowdown: Looking to relax in the fresh, open air? Spend 5 days winding down and toning up in St, Wolfgang, Austria. Stay in a luxury chalet with great food and a bespoke yoga programme for relaxing, distressing and toning up.
The Class: Each day will start with a Hatha Yoga session followed by brunch. You will be able to enjoy the peace and tranquility of your surroundings with yoga workshops at 6pm focus on Restorative Yoga, Yoga eyes and neck, Yoga for digestion and Yoga Nidra. In addition, every attendee will be entitled to a two hour Thai Yoga Massage during the course of the retreat.
When: Friday 19th May- Tuesday 23rd May. Book by 31st March to claim your early bird discount.
Price: £850 per person. Book here.
Best Yoga Retreats 2017: UK Retreats
For a Female-Focused Retreat: BOLD, Chicester
What: BOLD Women's Spring Rediscovery Retreat with Sue Walsh
The Lowdown: Is it time to rediscover the lost you, or find out who you really are? Do you ever feel stuck and unsure how to move forward? Maybe you have given up on your career aspirations to look after loved ones; perhaps you don't have the confidence to go after what you want; possibly you are at a crossroads in your life and are unsure of the way forward.
The Retreat: Hosted in the splendour of East Pallant House in the heart of Chichester, this retreat will provide you with the time and space to reconnect your mind, body and soul. This retreat offers 3 nights' accommodation, all meals and refreshments, 6 workshop sessions which will allow you to delve into your hopes, desires and challenges together with complimentary early morning yoga and Gong Sounds session.
When: 24-27 March 2017, Chichester, Sussex
Price: £649. Book here.
For a Bespoke Workshop: Tamara Twynam Yoga
What: Immerse Yourself Exclusively – Country Style
The Lowdown: Step out of town to an easily accessible private country yoga retreat for a few hours or a whole day of yoga personalised just for YOU.  Created especially for individuals, couples or friends looking to escape the city and detox mind and body with a day of one-to-one yoga, fresh air and tasty organic food.
The Retreat: Arrive to a blissful ambience, organic tea and let your yoga commence.  Tamara tailors the private yoga practice to suit your individual needs – from first time yogis, to those seeking rejuvenation or de-stress.  Workshops start with 3 hours of blended yoga, breath work and relaxation and full days include stunning walks, delicious, organic foods and time to restore deeply.  A perfect recipe for relaxation and rejuvenation set on the edge of the Surrey Hills, within easy access from London and Tamara even meets you at the train station if you travel by train (45 mins from Waterloo).
When: Because this is all about YOU times and dates work around your schedule. Workshops from £150 and full days from £375.
For a Yoga and Meditation Retreat: Florence House with Battersea Yoga
What: Yoga and Meditation Weekend Retreat at Florence House (£375)
The Lowdown: A special yoga and meditation weekend in the Sussex countryside offering space, peace and tranquillity in stunning surroundings. Florence house is famous for its location giving access to beautiful cliff top walks and amazing sea views – we shall be taking full advantage of this.
The Retreat: The weekend includes four yoga classes of varying styles including Hatha, Restorative and Bioenergetics and four guided meditations with experienced practitioner and owner of Battersea Yoga, Angus Ford-Robertson. Price also includes all food (vegetarian) and accommodation.
When: 13th-15th October 2017 in East Sussex, UK. Prices start from £375 for a shared room and £435 for a single room – book.