About Time: You Tried The Best Taco Trucks in Los Angeles, USABy Lucy Sherriff
Looking for the best taco trucks in Los Angeles? Look no further.
It's no secret that Los Angeles is home to some of the best Mexican food in the US, and its wealth of taco offerings are enough to make a pilgrimage here for that reason alone. Fancy taco restaurants have popped up all over the city, and some of the best taco trucks have made the transition from four wheels to a more permanent four walls (looking at you, Guerrilla Tacos). But there's still nothing quite like coming across a taco truck with a plume of steam rising from the open windows, and a gaggle of hungry Angelenos wolfing down a soft tortilla packed with carnitas. Throw out any ideas you might have of eating with grace, and join the hordes of taco truck fans who regularly indulge in cramming a heavily-laden taco into their mouths, mole and salsa verde dripping carelessly onto the pavement.
Rounding a street corner and discovering a new truck is part of the thrill, but here's a few suggestion to get you started. The best taco trucks in Los Angeles can be found right here:
The Lowdown: Open Tuesday to Thursday 6-11pm and Friday 8.30 – 1am,  Saturday from 6:30 p.m.-12:30 a.m., and Sunday from 6 p.m.-10 p.m.  Owners Richard and Janelle are owning the Highland Park taco scene (a hard task to do) with their vegan-focused truck. It's just opposite a cash machine too, so no excuse not to indulge. They let you try before you buy – so go right ahead. There's a few plastic chairs on the other side of the pavement so you can sit while you eat.
Why Visit: For the burnt cheese asada tacos, and the eggplant and vegan queso taco. They serve meat, but why bother when the vegan options are to die for?
Where: York & Ave 51, 90042
The Lowdown: Open every day from 6pm til 3am, this is an old school taco truck, with carne asada, carnitas, and even champurrado (Mexican hot chocolate) for those rare cool LA nights. Offering beef in a mind-boggling number of cuts – lengua, cabeza, tripas – there's even homemade salsa to top it all off.
Why Visit: Once named among the best taco trucks in SoCal by legendary food critic Jonathan Gold, the chorizo taco is the dish to order.
Where: 400 South Fair Oaks, 91105
The Lowdown: This is where you come to eat pork (carnitas) like you've never eaten it before. Deep fried in a huge copper pot and then chopped into chunks, you won't want to look too closely at what you're eating because it's every part of the pig. But you'll definitely be glad you tried it. It's only open Saturdays and Sundays though, so be prepared to queue.
Why Visit: The pork. It's all about the pork. Ask for a taco surtido and you'll get the best of everything.
Where : 2411 Fairmount St, Los Angeles, CA 90033
The Lowdown: Lightly battered fish in a warm, soft, tortilla is a culinary delight your taste buds deserve to experience. Golden brown with some cabbage and pico de gallo slung over the top, Ricky's tacos stand above the rest thanks to the oregano and mustard batter recipe. Normally open 11am-4pm.
Why Visit: If you're a fish aficionado then this is where you need to be. No questions asked. The baja fish taco is a speciality of the peninsula between Mexico's Sea of Cortez and the Pacific Ocean, and so this is a must-try delicacy.
Where: 3061 Riverside Dr, Los Angeles, CA 90027
The Lowdown: Leo's now has more than one truck, which is sort of frowned upon in the authentic taco truck world. But it's really good, so it's still worth a visit.
Why Visit: Go for the al pastor – the spit-roasted pork – tacos, flecked with pineapple, cooked by professional Oaxacan taqueros, and pick from the myriad of salsa on offer.
Where: 1515 S La Brea Ave, CA 90019
The Lowdown: Open from 9 til 6 most days, the seafood truck serves up ceviche, seafood cocktails, oysters and shrimp tacos. This joint's being going since before the food truck craze took off.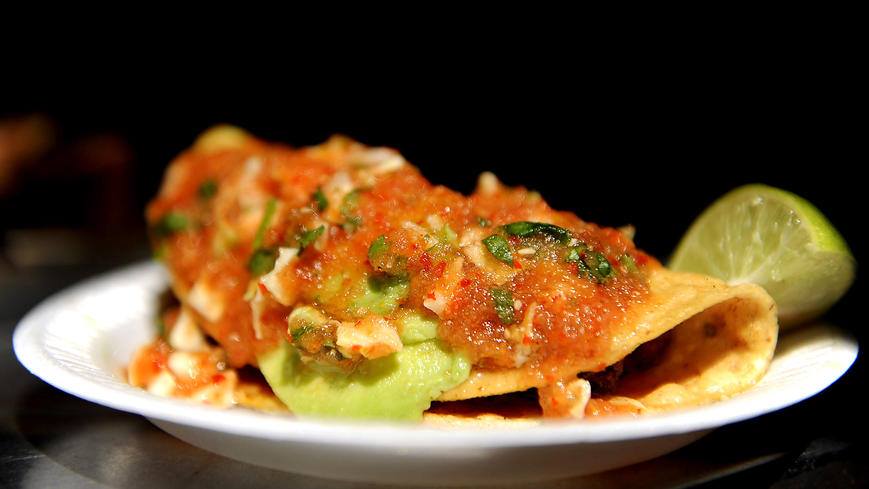 Why Visit? The star of the show at this truck is the iconic taco de camaron – deep-fried shrimp paste stuffed into a tortilla, deep fried, and slathered with avocado, coriander and salsa.
Where: 3040 E Olympic Blvd, Los Angeles, CA 90023
The Lowdown: Teddy Vasquez started luring customers to eat his tacos when he drove his Uber around and kept his taco wares in the boot – the aroma would waft through the car and passengers would ask what the delicious smell was. He's come a long way since then, and now has a truck in three locations in LA. Closed Mondays.
Why Visit? The focus is all about birria de res – a twist on the classic Jalisco spicy goat stew. That's all Teddy's Red Tacos sells. But then, when it's this good, they don't need to sell anything else.
Where: 731 E. Slauson Ave, L.A 90011; 9532 Whittier Blvd, Pico Rivera 90660; 46 Windward Ave, Venice 90291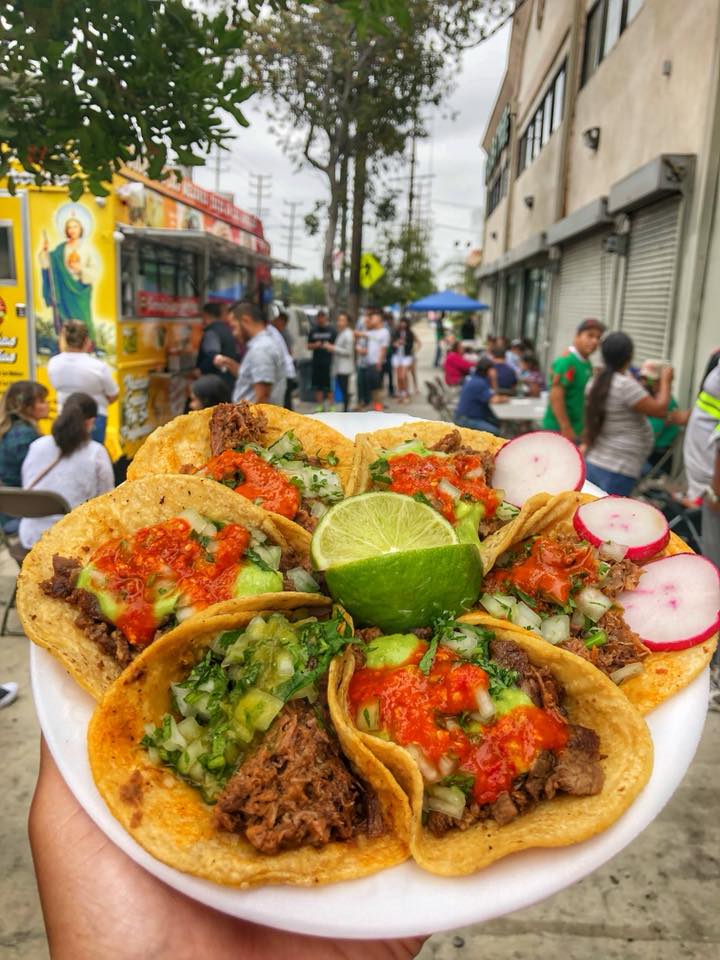 The Lowdown: Expect to queue for your tacos at this popular truck. Loved by locals, and for good reason; the corn tortillas are hand made, the birria de chivo (shredded, stewed goat) is melt in your mouth, and the "tacos vampiros" (vampire tacos, grilled until they're crunchy), are the best in town. Dip your tacos in the free consome and prepare to get messy. Open 8 – 3pm every day apart from Tuesday when it's closed. Cash only.
Why Visit: If it's good enough for Chrissy Teigen (a regular fan), it's good enough for us.
Where: 2840 E Olympic Blvd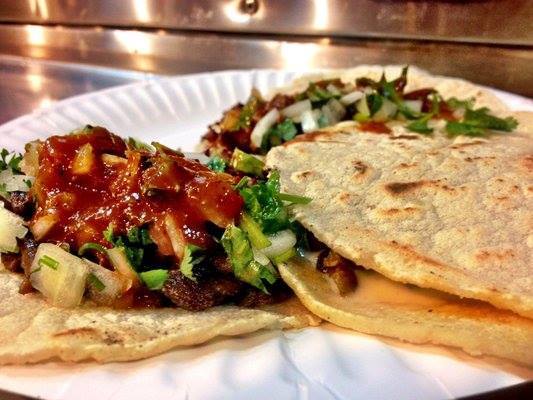 The Lowdown: You'd be hard pressed to miss the bright purple taco truck, whose chefs make corn tortillas right in front of your eyes. They don't sell drinks but there's a liquor store opposite the truck if you need something to wash it all down. Opening hours vary but around 6pm-2am.
Why Visit: The mulita – basically a taco sandwich, griddled like a quesadilla – is to die for and will make you question why you've been ordering standard tacos your whole life.
Where: Olympic & Herbet, 90023
Photo Credit: Yelp
The Lowdown: Some people thought it was the end of Ave 26 when it was raided by the health department in 2017. But Ave 26 cleaned up its act, and it's back to business. The location can be tricky to find, but keep driving to the end of the avenue and you'll reach the truck, usually surrounded by customers munching on several tacos. Seven days a week, 5pm til midnight.
Why Visit: This is a taco truck at its purest. $1 tacos, no frills, no refreshments, no tables, slightly sketchy neighbourhood – but well worth it.
Where: W Ave 26 Humboldt Street 90031