What do you do when your holiday partner refuses to agree to rent a tandem bike with you because once, just once, you cycled into a lamppost? You take yourself for dinner at the Andaz's Bluespoon restaurant, and feel your troubles melt away.
Andaz: The Story
The Andaz hotel sits serenely on the city's Prisengracht canal. Designed by Marcel Wanders (a man whose style extends to his Wikipedia photo – a rare breed indeed), the hotel is a vision of niche design, flecked with Wanders' eccentricity and humour.
An intense blue ceiling swoops over the black leather lobby sofas; you can recognise the familiar blue of the famous Dutch Delft pottery in the open kitchen's mosaics and on the guestroom sinks (each one was painted in a single minute by the designer himself); even the patterned silver cutlery is signature Wanders. And when my dinner date comes back from the little boys' room, he delights in telling me that the trippy downstairs corridor, swathed in red, is an in-joke borrowed from cult classic Twin Peaks.
It would be easy for a design hotel like the Andaz to be cooler-than-thou in its comportment; the kind of place where waify models float through the lobby and the quality of customer service increases in correlation with your wallet.
Andaz: The Vibe
Not at the Andaz, my friend. For a start, the staff and customers aren't separated. There's no obstructive reception desk for rude receptionists to hide behind, and no traditional bar: instead Andaz employees float amongst the hotel guests holding iPads and wearing glorious smiles. Director of Operations Johan du Plessis (whose charm could give Ralph Fiennes' concierge in Grand Budapest Hotel a run for his money) somberly explains the importance of hiring the right people and providing good training, while I try not to get lost in his eyes.
Everything oozes style, but is meticulously thought through for comfort and practicality: the staff choose their work clothes from a designer brand rather than wearing stuffy uniforms, and even the pen I nab from a passing waiter puts my favourite writing implement – the Muji ballpoint – to shame.
Andaz: The Drinks
Nothing could get my supper chum and I over our tandem troubles faster than a cocktail in the bar. He orders a Winter Collins, I a Bee's Knees – Tanqueray gin laced with lemon, honey and vanilla – one sip in, I vow that I'll never drink anything else again. Water – it's for fools. Real winners drink with the bees.
Andaz: The Food
Then it's over to our table, where I first clap eyes on the pièce de résistance of the evening – our waiter, Ruben. From the second he recommends our wines, I know we've found The One: helpful not intrusive, inquisitive but not cloying, personal, but never cheeky. And his recommendations are foolproof: the smoked eel and asparagus starter he recommends is a delight, and my partner in crime swears the Riesling selected by Ruben is 'the best I've ever tasted.'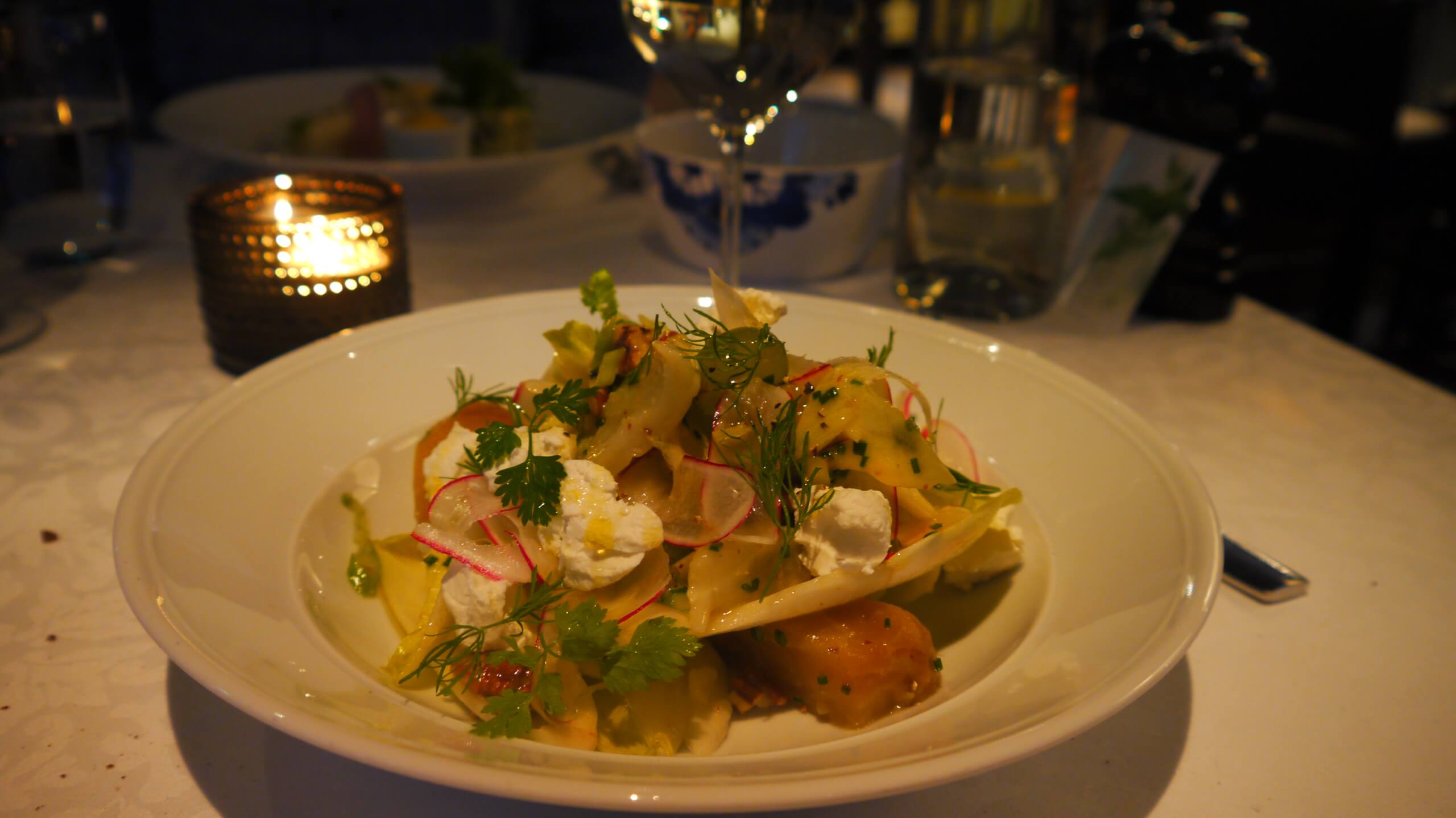 A hard act to follow, then, but my counterpart's melt-in-the-mouth steak is out-melted only by the creamiest, smoothest mashed potato that has ever crossed my palate. Meanwhile, my chicken braised in red wine drips with flavour, complemented sweetly by teeny tiny carrots and button mushrooms.
The whole point of the Andaz is to make you feel like you're at home, and the menu is full of is unpretentious, richly delicious classics. But if I could cook like this at home, I would never leave, and probably would stay forever glued to my sofa licking mashed potato off a spoon.
We order the cheesecake for dessert, but Ruben knows us better than we know ourselves, and brings the chocolate mousse with Grand Marnier sauce too: 'It's my favourite,' he grins bashfully. It's my favourite too, my favourite thing ever, and that of my companion, who declares mousse-induced love for its super soft, light-as-air texture. We're running short on superlatives, so maybe it's lucky the meal ends there.
Whether you're recovering from tandem trauma or not – go, go to Amsterdam's Andaz. Eat, drink and feel smug that you understand the bathroom in-joke. And tell Ruben I say hi.
Andaz, Prinsengracht 587, Amsterdam, Netherlands, 1016 HT. Book rooms here: http://www.amsterdam.prinsengracht.andaz.hyatt.com.