With the borders now open between Canada and the UK, it About Time you grabbed your passport and headed to Toronto, Canada. With a melting pot of culture, cuisine and things to do, Toronto is a dynamic metropolis with soaring skyscrapers, vast green spaces and original heritage architecture. 
Toronto City Guide: Where to Stay
The Lowdown: As a landmark in itself, The Drake Hotel is not only a great place to stay in Toronto but a cultural, entertainment and culinary hub which single-handedly centralised trendy Queen Street West's art and nightlife scenes. With an informal and quirky atmosphere, this boutique hotel offers loft-style guest rooms brimming with pops of colour, local art and retro furniture.
What to Expect: Home to an ever-growing art collection bringing together national and international artists, the hotel connects with the curious culture seeker in everyone. Also offering a handful of culinary delights, the rooftop Sky Yard produces inventive pasta dishes whilst the raw bar sells fresh, made-to-order sushi. Visitors can also make the most of the hotel's long-awaited expansion project, unveiling a new lobby specifically for hotel guests, an additional 32 rooms and a new suite. 
Photo credit: Drake Hotel Properties
The Lowdown: Alternatively, visitors should base themselves at The Broadview Hotel, an east end neighbourhood landmark with a wonderfully colourful past that combines modern luxury with eclectic charm. Originally built in 1891, the historic building was a social gathering spot for the elite but later became a boarding house with a strip club on the ground floor. Since then, the area has developed and now attracts stylish boutiques and restaurants, with the building itself meticulously restored to create a 58-room boutique hotel. Guests can relax in their room listening to music from the vinyl record player whilst nibbling on tasty locally sourced goods from the mini-bar.
What to Expect: From witnessing Toronto's beautiful skyline from one of its two rooftop terraces to experiencing fine-dining in the hotel's main restaurant, The Civic, which is set against the building's original brick facade and factory glass windows, The Broadview Hotel is an iconic gateway to the city's most captivating neighbourhood.
Photo credit: Broadview Hotel
Toronto City Guide: Where to Eat and Drink 
As a foodies city that can satisfy every craving imaginable, Toronto has multicultural diverse dining and drinking options for every visitor. Whether searching for home-cooked comfort foods served from a quirky food truck or a sumptuous multi-course tasting menu, the city's kitchens and bars are renowned for their global influences and extraordinary talent that will excite travellers from across the world.
The Lowdown: Perfect for a pre or post-dinner beverage, visitors should head to Bellwoods Brewery in the Queen Street West neighbourhood. The small brewpub, ideally located in close proximity to The Drake and Gladstone Hotels, is devoted to making a selection of craft beers including crisp lagers, aged wild blends and barrel aged stouts.
Eat and Drink: The inviting spot, popular amongst both locals and tourists, is equipped with casual indoor seating and a second-floor mezzanine for fantastic views of the brewhouse below. Perfect for the warmer months, the brewery also has an outdoor patio where guests can sip on a cold beer or ale from the rotating selection on offer whilst indulging in well-accompanied tasty seasonal small plates. The bottle shop next door also features a wide range of Bellwoods beer, from light hoppy styles to barrel-aged special releases, allowing customers to grab a couple of bottles to take home as a souvenir.
Photo credit: Destination Toronto
The Lowdown: Inspired by the delicate culinary art form of Royal Thai cuisine, Kiin is one of Toronto's newest dining experiences created by restaurateur couple Chef Nuit and Jeff Regular, showcasing the regional diversity found all across Thailand.
Eat and Drink: The dishes focus on the freshest ingredients, rich flavours and are extremely complex to create, meaning guests are in for a culinary treat. Chef Nuit's restaurants are popular among locals but also attract visitors from around the world who are eager to try traditional dishes that they haven't seen or heard of before. The Kiin menu offers ingredient-driven sharing plates during dinner, or its Thai twist on classic breakfast and lunch plates served during brunch.
Photo credit: Kiin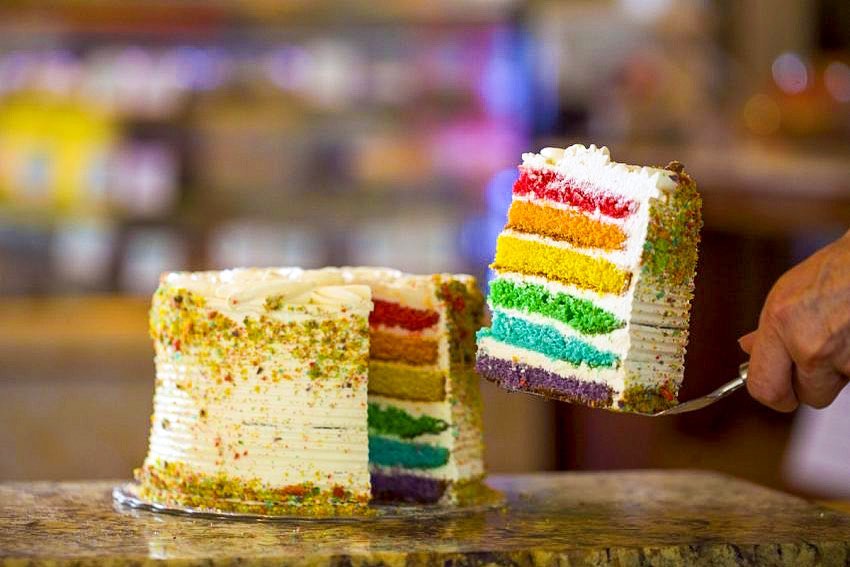 The Lowdown: For all things eclectic and multicultural, Kensington Market can't be missed during a trip to Toronto. Hidden in the neighbourhood is Wanda's Pie in the Sky – a quirky café renowned for its homemade flavoursome pies and baked goods.
Eat and Drink: From a classic sweet but simple apple pie to a rich and creamy peanut butter mousse pie, the bakery offers freshly prepared slices for all visitors to enjoy. The tasty treats are also available in gluten-free and vegan varieties, so no one will have to experience the dreaded FOMO during a well-earned visit to this fantastic, traditional bakery.
Toronto City Guide: What to See and Do
The Lowdown: As Canada's largest city, Toronto is home to some of the world's most iconic sights and attractions leaving visitors with no shortage of things to do. Towering above downtown Toronto and impossible to miss, the CN Tower is the city's most famed landmark and a must-do for anyone visiting.
Visitors can appreciate the building from the ground or for those seeking the ultimate adrenaline rush, visitors can test their nerves on the EdgeWalk, the world's highest outdoor walk on any building at a height of 356 metres which offers unparalleled views of the city. Afterwards, the CN Tower's 360 Restaurant offers guests the chance to treat their taste buds to Canadian-inspired cuisine whilst sampling delicious wine at the world's highest wine cellar, with over 550 different wines on offer. What's more, the restaurant even revolves every 72 minutes so guests can enjoy the panoramic view of the city from the comfort of their table.
Photo credit: City of Toronto
The Lowdown: Culture vultures can spend their days roaming local museums and creative art studios interspersed throughout the city. Home to artisan boutiques, art galleries and street entertainers, the historic Distillery District is Toronto's epicentre of arts and culture. Once home to the famous Gooderham and Worts Distillery, today the district is a pedestrian-only area containing over 70 of Toronto's hottest designer boutiques, artisan shops, restaurants and art galleries.
The restored red-brick Victorian-era buildings and cobblestone streets will make visitors feel like they're in an old European town strolling among inviting patios and store-fronts. Visitors can join a guided walking tour of the magical neighbourhood, stopping off at the quirky Beauchamp Art Gallery and the Young Centre, for an unforgettable artistic theatre performance.
The Lowdown: Taking visitors on a journey back through time 4.5 billion years ago, The Royal Ontario Museum, Canada's largest and most comprehensive museum, is a history buff's dream. Situated in the very heart of Toronto, the museum provides visitors the chance to explore a world-class collection of 13 million artworks, cultural objects and natural specimens from around the world and across the ages featured across 40 gallery and exhibition spaces. Combining its original heritage architecture with the contemporary Daniel Libeskind-designed Michael Lee-Chin 'Crystal', the ROM serves as a national landmark, and a dynamic cultural destination in the city centre for all to enjoy.
Jason Kucherawy is the co-founder of Tour Guys, a walking tour company that was the first to offer free public tours in Canada. Jason combines his knowledge of Toronto with his background in stand-up comedy to provide visitors with an engaging insight into the city.
Jason Says: "I'm really into coffee, craft beer, and graffiti art, so when I take people around on a private or custom tour, I try to include at least two of those things. For coffee, I recommend Rooster Coffee House on Broadview. Not only does Rooster brew killer espressos, their Broadview location across from Riverside Park East, also offers one of the most spectacular views of Toronto's skyline, second only to the view from the Toronto Islands. Several streetcar routes travel that stretch of Broadview Avenue, so it's easy to access!"