If watching the Winter Olympics has given you a taste of life on the mountains, or quite simply, you want to ditch the monotonous daily commute for a couple of days, it's time to head to Les Arcs for a long weekend of molten, bubbly, cheese fondue, silky smooth hot chocolates, and, well, skiing.
With ski season in full swing, and snow in Les Arcs thick and plentiful, there's never been a better time to drink in the incredible mountain vistas and feel the snow under your skis. Looking for a winter break? Here's what you need to know:
Les Arcs: The Run-Down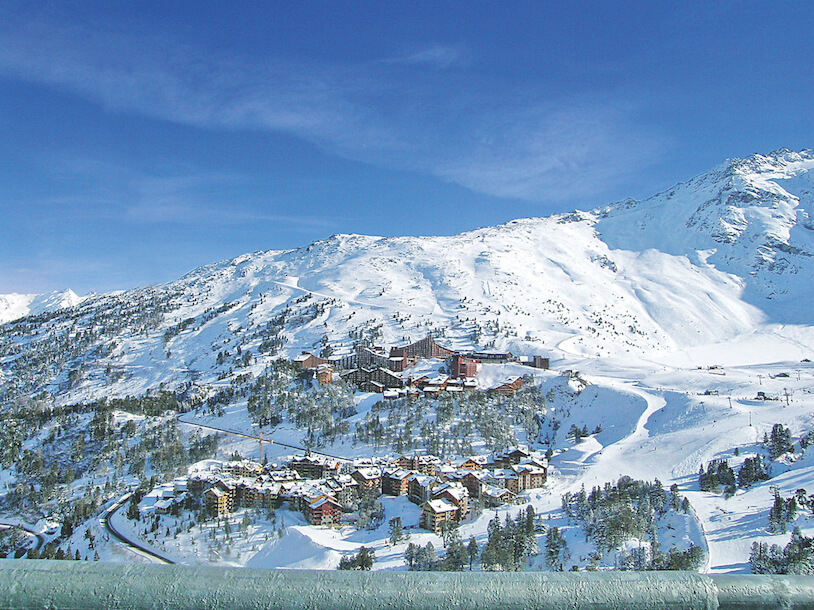 Les Arcs is essentially a theme park for adults (and children and just about anyone who seeks a slice of outdoor fun). Sitting pretty in the Tarentaise Valley town of Bourg-Saint-Maurice, Les Arcs covers five areas with an altitude spanning from 810 to 3226 metres. The ski area consists of 106 runs, 54 lifts, and 200 kilometres of descent. In short, it's bloody massive. Buses run regularly from the various areas, so if you want to try your hand at different piste each day, you certainly can.
And for all the skiing newbies out there, don't stress: before this trip my only other skiing experience was a quick school trip to Austria back in year 9. Les Arcs is suitable for a range of abilities; for those longing to recreate any sort of Winter Olympic-type skiing, there's a plethora of black runs and off-piste skiing, and for the amateurs and shaky-starters (again, me), there's heaps of beginner and intermediate slopes to practice on.
I visited at the start of the season, where the snow was largely untouched and the crowds had yet to descend on this famed-French skiing patch. Still, whatever time you're coming in the season, thanks to the altitude – you're guaranteed an abundance of snow.
Les Arcs: What to Expect
Les Arcs is breathtakingly stunning; snow-capped trees, and ginormous mountains dominate the skyline, whilst snow covered chocolate-box houses line the roads. Les Arcs is mesmerisingly beautiful and, after a couple of days, a place that makes you forget about delayed tubes and TFL all together.
After my first day, which nearly saw me wipe out a congregation of small children and landing more times on my derrière that I care to mention, I was pleased to be taken under the wing of Thomas on day 2, a ski instructor from ESF Ski School. ESF is the largest ski school in France, and offer a range of lessons to suit your requirements and needs. Thomas took myself and other novices in the group to practice our technique and help us gain confidence on the slopes.
After making us practice the basics and refreshing our memory – we soon found ourselves parallel turning like a young Graham Bell. An hour into the lesson, we faced more challenging slopes, but good ol' trusty Thomas helped us with side stepping (a move which helps on difficult patches).
Les Arcs: The Accommodation
Our group stayed in Chalet Panda, ideally situated above the ski rental shop and a mere 250m from the ski lifts.
The chalet housed all the alpine quirks; a roaring log fire, wooden beams aplenty, rooms with their own balconies (ideal for that perfect gram), and sink-in sofas which were most welcoming after a tiring day on the slopes. We had a lovely bunch of chalet hosts that were charming, brilliant, and catered to the group's differing dietary requirements.
Breakfast was a continental affair with cereals and fruit, and there was the option of a cooked breakfast if you desired. The other draw of staying in a chalet is the 4pm tea and cake ritual. The homemade cakes which were made on a daily basis by the chalet hosts featured British classics like Vicki Sponge, chocolate cake and a banoffee pie cake extravaganza that was so god damn moist, I had two helpings.
And for dinner, the chalet team pulled out all the stops. We were treated to three courses of homemade, wholesome grub, with every course matched by different wines on a nightly basis. And I'm not just talking about your bog-standard munch here, there was beef stews, pasta and a raspberry cheesecake that was so decadent I still think about it weekly.
As for the rooms, there's ample space, en-suite bathrooms complete with a bath (a heaven-sent for the muscles), and cosy duvets to keep you snug. The chalet hosts keep things ticking over, and come round to change the sheets, top up the mini bottles of shampoo and generally keep things in ship shape order.
Les Arcs: The Food
As previously mentioned, the chalet hosts provide a slap up three course meal every night. But after a few runs in the morning, and the hunger pangs rumbling – Les Arcs boasts some incredible eateries so you can fuel up ready for the afternoon ahead.
The aptly titled Le Savoy restaurant, by far one of the poshest eateries in the area, is situated in Les Arcs 2000 and is a haven for Alpine-style treats. Try their rich and decadent hot chocolate – I'd like to point out that ordering the hot chocolate with a healthy glug of Baileys is imperative. There's burgers, fondue and pretty much all the stodgy goodness you could ever want.
And for other types of entertainment, Red Rocks Bar run a weekly quiz night and Whistler Bar host live music nights where big names such as Queens of the Snow Stage grace us with 80s bangers and pop-tastic hits.
Photo Credit: Anne Bouillot Photography 
Ski Total  offers seven nights at the four-diamond plus Chalet Panda in Les Arcs, France from £500 per person. Price includes flights from London Gatwick to Geneva, resort transfers and chalet catering (daily skiers breakfast, afternoon tea with homemade cake and three-course evening meals with complimentary wine). For more information please visit the website here.