"I've been to Italy", I said.
"Let me guess, Puglia" said a man I know a bit who I bumped into while he was having a fag outside his office. "No? Amalfi then?"
"The Aeolian Islands", I said.
"Wow, never heard of those. Like the garlic dip?"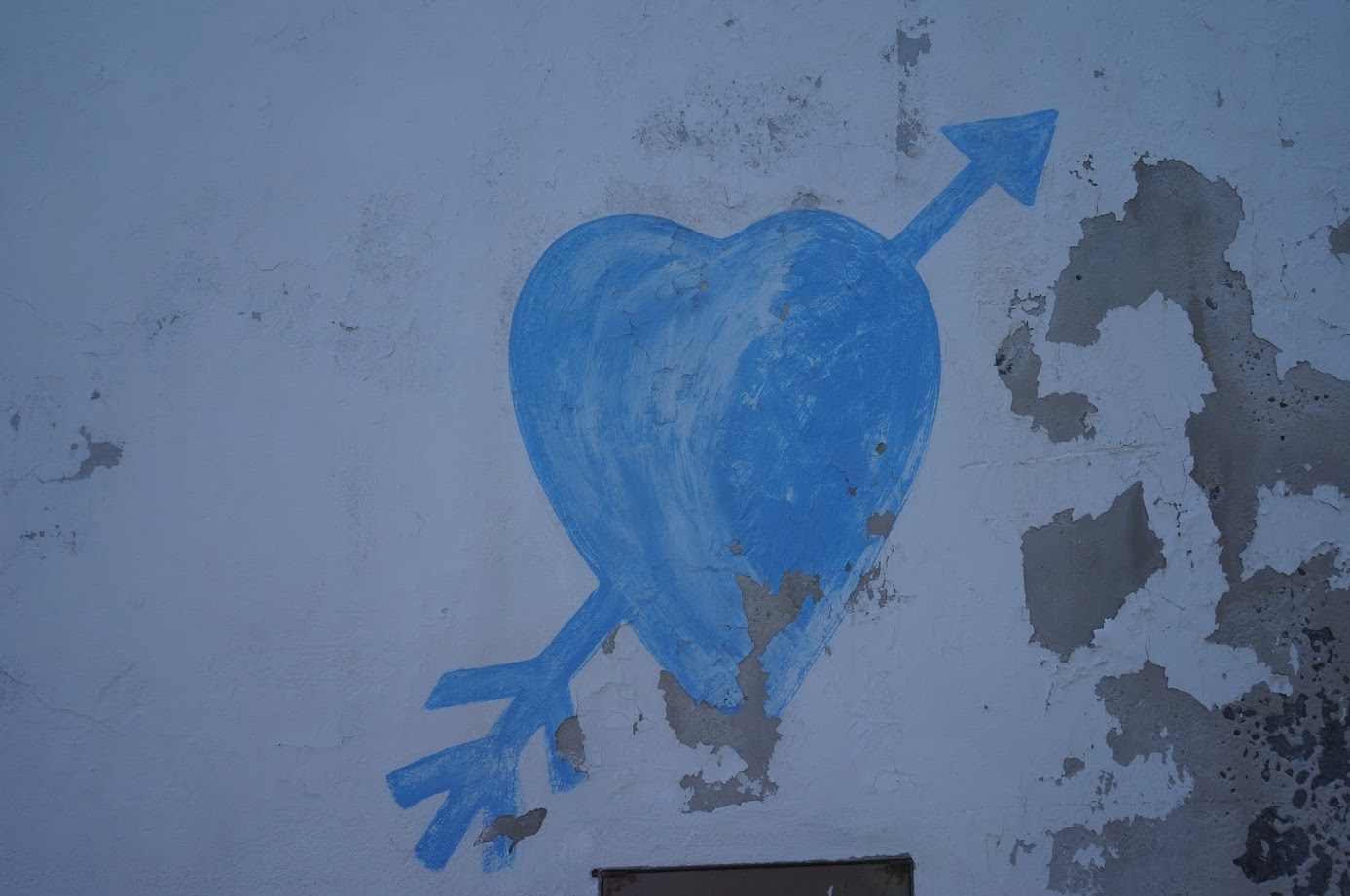 How often can you say that you have told someone about a holiday you've just returned from when they haven't ever heard of the destination? It's for this exact reason that I'm in two minds as to whether I should even write this travel guide to the Aeolian Islands. I'll be contributing to the influx of English tourists to this dazzling archipelago; first it will be the next Puglia. Then before you know it it's the next Mykonos and then it's bloody Ibiza. So before I let you all in to the secret of these islands paradises, I need you to promise me that only a few of you will go. Just check the average UK visiting figures on the Department of Travel website and if UK tourist visitors is up by over 50% on last year, then promise you'll go to Sri Lanka instead. Or if you all must go, don't bring your selfie sticks and please pick up your arancini bag wrappers.
Fly to Catania and buy a bus ticket outside the main terminal with Giuntabus for 15 euros to Milazzo port. At the port, you will become acquainted with Liberty Lines who will be ferrying you between island idyll for the next week. Tickets are available on the day every day at varying, yet reasonable prices.
Our first stop was Salina because our friends had just been on their honeymoon, but the boat stops at Vulcano then Lipari before Salina and I reckon Vulcano might be the best place to start, but I'll go in chronological order and you can make your own decisions when you inevitably decide to go.
Aeolian Islands: Salina 
Every one of the Aeolian islands is either volcanic or mountainous. You'll arrive into a tiny port and immediately the incline begins to ramp up with a visible pinnacle in sight. This topographical trait is a consistently glorious way to arrive in a new island, but be warned. Inland = Uphill. Further inland = steeper uphill. If your hotel only looks about 5 minutes walk from the port, that walk might be a 60 degree hill so alway organise a hotel shuttle because taxis are daylight robbery on the Aeolians.
Salina's main port, Santa Marina is a little picture of perfection. A piazza sits by the seafront; Italians with inconceivable skin tones bake on inflatable sunbeds that double as sea lilos. Behind the seafront is a bustling market street of wine bars, gelatarias and arancini stalls. It's scandalous that our perception of Italian cuisine has never included these sublime deep-fried rice balls. Pizza and pasta are superb representatives of cucina d'italia on UK high streets for decades, but arancini, whether it's with a molten mozzarella core or rich ragout, needs a place at the table.
At the end of the main street is a the terracotta front of I Cinque Balconi. It is somewhat of a trend in Salina to name hotels and restaurants after the number of strata within the compound. I Cinque Balconi (five balconies) is just down the road from La Sette Velle (seven levels). This is not an interesting fact in itself, but if you consider the the clifface towns of the Aeolians like a stadium where each subsequent row is higher than the next, it means that every hotel terrace has a perfect view of the sea. Clever old tectonic plates rubbing up against each other to develop oceanic aesthetics.
Painted on to the wall and adorned on every waiter's shirt is I Cinque Balconi *** which is a daily reminder of how hotel stars is woeful system of their judging quality. This hotel does not have a pool or a gym or a conference suite, but staying there is simply joyous. The rooms surround an orchard enclosure with figs, lemons and pomegranates and the faint smell of fermenting fruit from those that have fallen.
The Junior Suite where we stayed may be the favourite room I have ever stayed in. It is quintessentially Italian with a black metal bed frame, pastel yellow sheets and mosaic tiled floors in swirling concentric circles. The tiles pad the bathroom walls. The soothing blue on white making it the place to cleanse and heal sun-kissed skin. Once upon a time this room was used for pressing olives to make oil. The remnants of the stone press wheel sits below the tiles in backlit glass chambers. It's a quaint nod to the the previous owners and one of Southern Italy's greatest export commodities.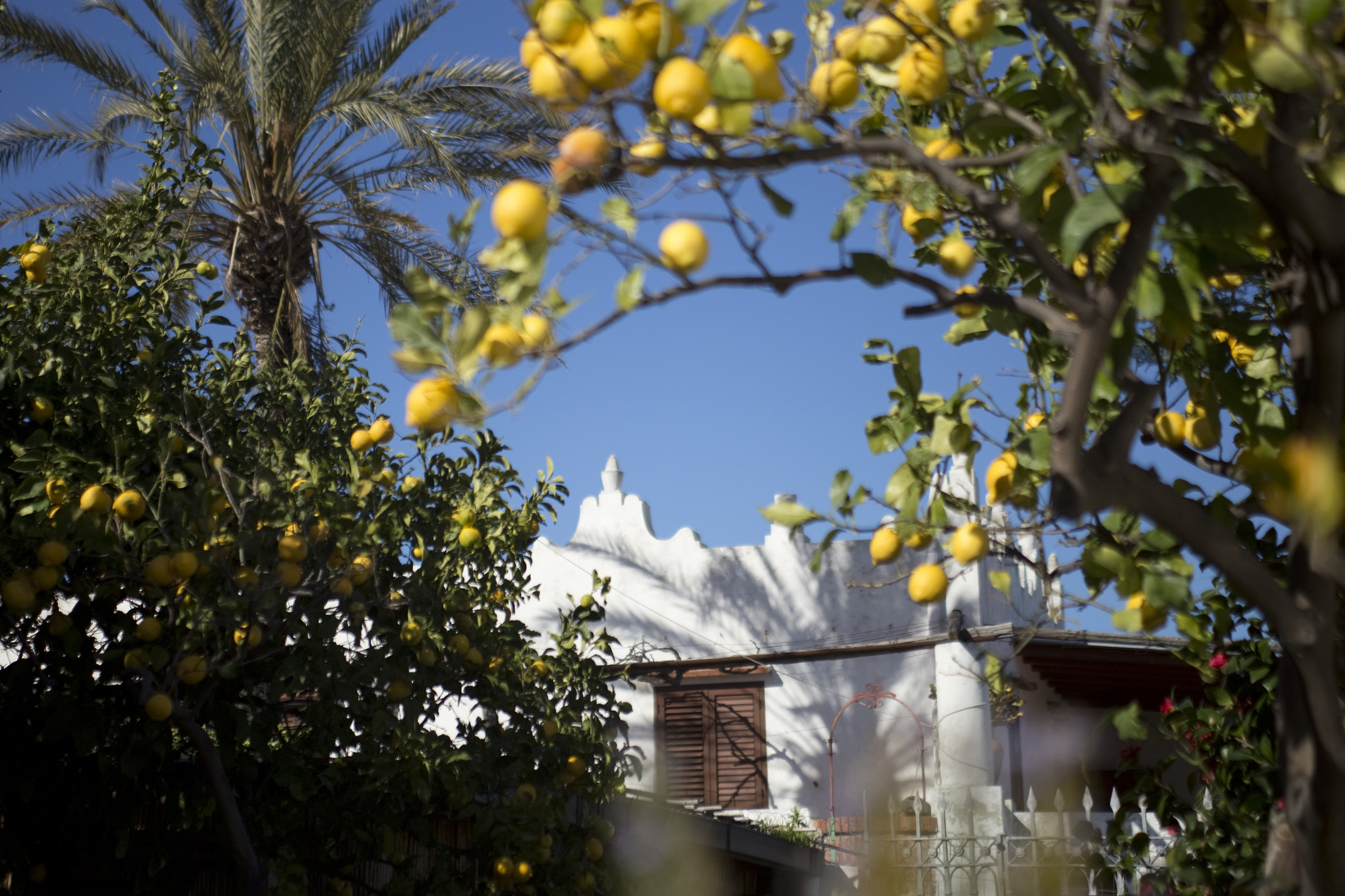 Places you must eat in Salina are Porta Bella on the seaboard. Mamma Santina and Trattoria  Cucinotta come highly recommended, as does I Cinque Balconi's partner restaurant Lo Sciava. But take a scooter or a bus round the coast to Lingua though and you will find a familiar name. The only non-UK Franco Manca sits on a row of three restaurants in the tiny seafront. Rumour has it the founder of the vastly successful newcomer to the UK high street has a lover on Salina, but no triste is complete for him without his own lightly dusted sourdough pizzas on hand for a post-coetus bite.
You might say "call yourself a travel writer and you went to a Franca Manca in Italy. Bet you'd find the only Itsu in Tokyo too." Well you imaginary cynic, pizza is nowhere near as pervasive as you might think in Sicily and the islands. Mostly on offer is a dish called Pane Cunzato which looks like a pizza, but it's actually just a massive round bruschetta with a tower of raw toppings begging to be slid into a woodfire oven, but incomprehensibly not. Franco Manca in Lingua was the best pizza in Sicily. When the maffia are as alive and well as they are in the Tyrrhenian, that's bravery.
Aeolian Islands: Lipari 
Spend your days enjoying the pebble beaches, eating, drinking and walking up the main street innumerate times before winding down to the port again for the 10 minute Liberty Line ride to Lipari – the hub of the island group and definitely the most lively. Lipari means fat or fertile and there were an abundance of portly men with more children than pasta plates to make this name so fitting. It is refreshing that Italians are never fit: they are either fat or thin, but never fit. Never are they making their bodies something they don't want to be. Loving great food is no greater sin than hating one's body. A traditional Sicilian breakfast is a picture of extremes. Only cakes and fresh fruit appeared every morning and stick-thin women peck at their pineapple while their pot-bellied husbands growl lustfully at chocolate tortes.
The main street in Lipari is like a little Koh San road with every single person selling a tiny variation on the same tours of the Aeolian islands. Tourists could be seen weighing up prices for island day trips to Panarea, Alicudi or Filicudi – the three islands we didn't visit and therefore do not feature in this article.

Up the hill – don't even try to walk it – is Hotel Villa Enrica of the Aeolian Charme collection. Hotel Manager Sarah and her husband own the five hotels in the collection. Hotel Villa Enrica is the jewel in the crown at the peak of the sea side of the craggy mainland. A crystal clear infinity pool stretches out over the cliffside overlooking the port. Spend a few days lying by this stunning pool, sipping an Aperol Spritz, watching the ships roll in and watch 'em roll away again.
Ristorante Chimera is just a golf buggy away down the street at Hotel Mea. It has spectacular views of the port, an excellent wine list and some extraordinary dishes exhibiting the most intense flavours and the freshest produce Lipari has to offer.
Gazing out on the port, I wondered why the early settlers came here. Fat and fertile it may be, but why would you settle on an island which is mostly mountains with so little flat land to build houses on? Sure, it's easily defended, but settling on an island is an admission of limited commerce, thwarted population growth and and a difficult life of survival. The answers to my questions were found at the Museo Archeologico in the old town.
The first signs of human life on the Aeolians were found in clay pots over 7,500 years old. Some Neolithic people continued to make only marginally better clay pots for the next 3,000 years until the Greeks showed up and injected some urgency into Lipari's cultural development. The Carthaginians held the island for a time and then the Romans took it up a gear, developing the civilization out of the walled hill community into the port you now see today.
The true highlight of the museum is the room of shipwrecks. In 1961, some divers from Club Med discovered 300 amphorae at the bottom of the sea from around 1500BC. Some Roman had organised a massive piss up, ordered his shipment of wine from the mainland and just as he was putting up the last of his party decorations, some poor messenger had to tell him the wine was lying in Neptune's locker and his party was going to be a major disappointment.
Aeolian Islands: Vulcano 
As we approached Vulcano, I was still thinking about the settlers. Who builds a home on a volcanic island called Vulcano apart from a baddie in Scooby Doo? It turns out that the globally used word volcano stems from this tiny Aeolian island. The Roman god Vulcan had his smithy there to forge armour and weapons to give to Mars, the god of war. It looks more like Tracey Island. It's easy to imagine the clifface unhinging and Thunderbird 2 rolling out. He wasn't the only Virgil to make it to these islands.
The volcano on Vulcano is an 800m climb and tourist trapse up there is mornings and evenings to avoid the hottest hours. The view from the top is breathtaking; the glittering sea, the peninsula of Vulcano port, the rich Mediterranean vegetation and Lipari beyond that makes it look like so much like the The Land Before Time that you have expect a brontosaurus to plod past.
At the summit, sits a ginormous crater where Vulcan used to make his swords and now where sulphuric gas billows from the mountaintop. Given the scenery and the free stage smoke, it was amazing no one was filming a music video.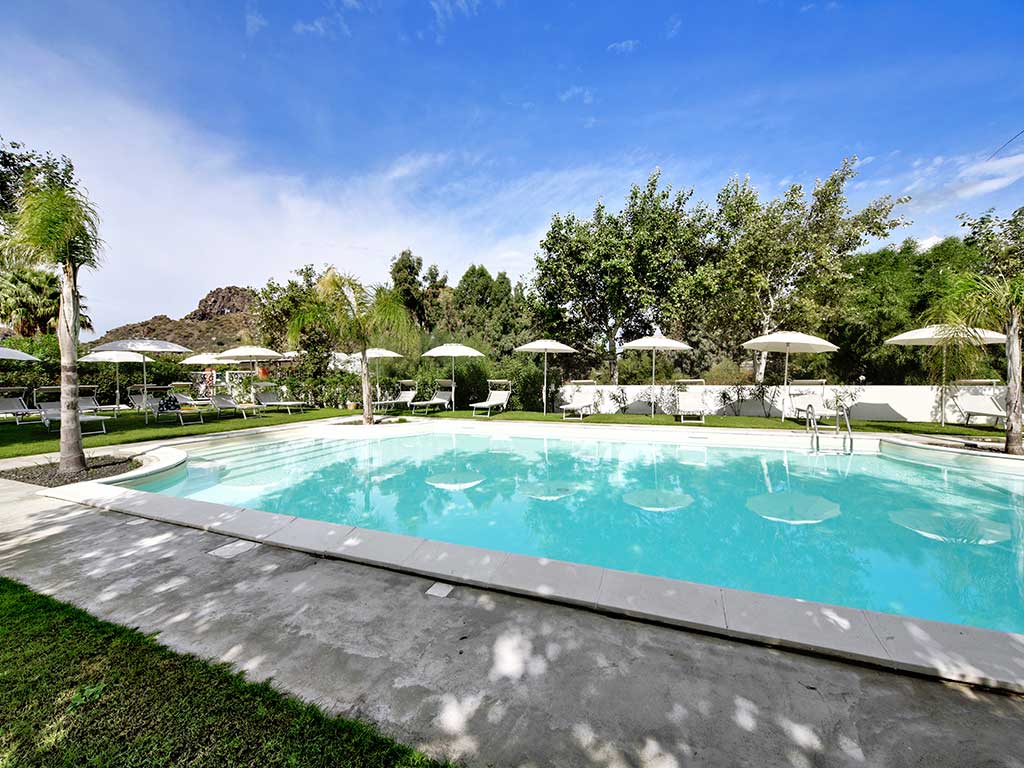 Stay at Hotel Garden, just five minutes from the port. It looks almost like a colonial plantation with tall palm trees, wide green lawns and palatial coral interiors. The restaurant has the grandeur of a ballroom and the wine list allows guests to explore a great range of Italian, Sicilian and Aeolian wine. 
Take a trip to the other side of the island to round the Aeolian Charme Collection's Asino where a deeply contented man in a little speed boat takes visitors from the jetty at Gelso to a secluded black sand beach. Spend an afternoon sitting in the bar, eating fantastic fresh seafood and getting your head around the idea that sand can be black.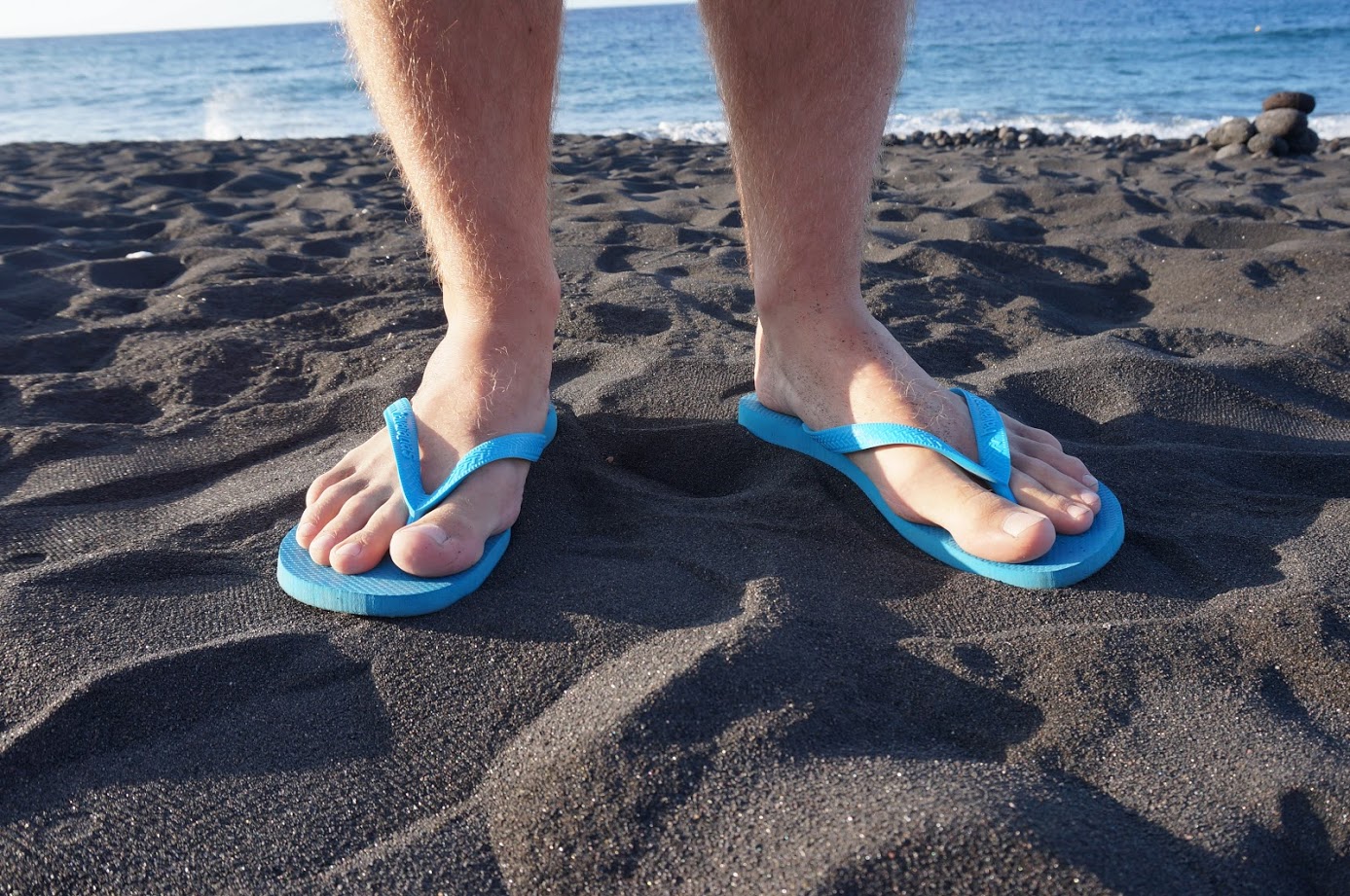 Either the bar staff play instruments and sing songs or there is a travelling band of gypsies on the beach who are very helpful in the kitchen. Such was the fluency and ease of their moonlighting, it was unclear which was the case.
As the sun sets on Vulcano, head to the mudbaths and cake yourself in dark grey sludge. DO NOT put it on your face. I know that lady over there did it, but if it gets in your eyes it will be awful. There wonder of travel is never knowing exactly what will take your breath away. It is never being able to predict how something might make you feel, because you have never experienced anything close to it before. When we plunged into the sea to wash the mud off our bodies, we realised there were plumes of hot bubbles coming from the seabed. The same volcanic energy that heated the mud baths on land was creating a natural jacuzzi in the water.
Vulcano is a truly magical place because it challenges every several key preconceptions you have held since childhood: mud is dirty and it can't make you clean, sand is white, brown or yellow; active volcanoes have lava and the sea is still, not sparkling.
Aeolian Islands: Stromboli 
Stromboli is the name of the island and the name of the volcano. This volcano does a lot more than smoke sulphur, it erupts real lava every five minutes and tourists can watch this natural fireworks display from 150 metres. The catch is you have to trek up a volcano for three hours to get there. When I read that J.R.R Tolkien had based Mount Doom on this volcano, it struck me that I should propose.
All the signs were there: classical mythology, Thunderbirds, Scooby Doo and now Lord of the Rings. I would take the ring up the mountain into Mordor and rather than cast it into the fire, I'd use it as a symbol of my undying love to propose a lifetime of tenuous pop culture references together.
We arrived at Il Gabbiano Relais, the villa residence of Stromboli legend, Vito Russo. Il Gabbiano was once the first disco on the island, but 8 years ago Vito converted it into 5 luxury villas with roof terraces in the wake of the volcano and a gorgeous view over one of Stromboli's twenty-six blank sand beaches.The volcano-dominated modern art on the walls creates a true sense of awe and occasion. Il Gabbiano offers guests a compromise on the hardest of holiday decisions: hotel or villa? Groups can buy and prepare food themselves or ask the on-site chef to prepare a meal for them. With this flexibility for guests, it's a must stay when you visit Stromboli.

We chose Magma Trek for our guided tour up the volcano. It's just under 30 euros for the hike with helmets and goggles provided. Then you can rent hiking boots, windbreaker jackets and head torches from the shop across the square for around 10 euros total. It was dusk and we were set to arrive at the summit for sunset. It was still warm and the first 400 metre ascent was tough going. I was adamant that the helmet and windbreakers were an unnecessary safety measure aimed at eeking out more cash from us, but when we were nearly at the top the sun went down, the wind picked up, a fog descended and thick smoke from the volcano made us reach for our goggles. And in that moment, it became extremely unromantic. The guide handed out gas masks, told us to put our helmets on and I smuggled the ring out of my pocket and back into my rucksack. Mission aborted.

Despite the crushing disappointment of the botched proposal, watching the natural fireworks was the experience of a lifetime. The trek lasts around five hours and it is hard work in places, but it's completely worth it for the moment you stand on an active volcano and watch firebolts soar into the night sky.
I did it the next morning on the roof terrace. She said yes. So go to the Aeolian Islands at your own peril. You may have such a nice time, you propose at the end. And whatsmore you may not have regretted that decision for a moment since.