Was there ever a lake so celebrated, so sought after, so highly pedestalled as Lake Como? This Y-shape body of water that lies in Northern Italy is often thought of as out of reach to mere mortals such is its reputation as the hangout of George, Amal and their starry pals. However, after a recent trip to Lake Como, I am happy to report there is a real, rustic side that extols the best of Italy: beautiful location, fabulous food made from the freshest ingredients and a twinkle in the eye of the locals that suggests there are many stories to be told. We stayed in the southwestern city of Como which is often described as a good starting point for first-timers exploring the lake. 
Lake Como: Where to Stay
The Lowdown: A little-known fact is that Lake Como is the epicentre of the Italian textile industry with Como known as the Silk City, which is little wonder as it still produces 95% of Italy's silk! Hilton Lake Como was formerly a silk factory which makes it an astonishing spot for a hotel. A design-led modern extension has been built onto the original red-brick building creating a dramatic quadrant leading through to the hotel's 170 stylish rooms and serene Eforea Spa (be sure to try one of their Elemis massages and/or facials).
The real *kiss fingers to lips dramatically in Italian appreciation fashion* spot at the hotel is its rooftop pool with views out to the lake as far as the eye can see. Sit up there with a spritz and watch the world go by. Speak to the concierge team about arranging boat trips on the water. 
Price: Nightly rates at Hilton Lake Como begin at 180 Euro per night based on double occupancy with breakfast included.
Lake Como: What to Do and See
The Lowdown: Take the seven-minute ascent from the Como lakeside to the town of Brunate, aka the balcony of the Alps, its poetic name thanks to the views of the mountains and the lake from the top. It's a charming town filled with Art Nouveau villas and is a perfect launchpad for exploring mountain walking trails. 
The Lowdown: For fresh produce fiends, a visit to the covered market is a must to lust over juicy fruit, rotisserie chicken and stinky cheese. In San Fedele square in the centre of the city, there is some sort of market each Saturday; either an antique market on the first Saturday of each month or a crafts market on the other weekends for handcrafted jewellery, crystals and carved olive wood gifts. Explore the rest of the city from here too – a maze of beautiful boutiques and specialist shops.
Where: Mercato Coperto di Como, Via Giuseppe Sirtori, 1 and Antiques and Crafts Market, San Fedele Square 
Lake Como: Where to Eat
The Lowdown: In the centre of Como is La Colombetta, an old church restored into an immaculate restaurant where modern art and industrial lighting combine with elegant white tablecloths and freshly cut flowers. Run by three sisters from Sardinia, they will welcome you in with open arms like family. The menu is sophisticated and chic. Let the chef (one of the three sisters) choose for you and you won't be disappointed with the seafood being a highlight. It's no wonder it's a favourite of George and Amal. For a romantic dinner or special treat.
Where: La Colombetta, Via Armando Diaz, 40, 22100 Como CO, Italy
The Lowdown: Fast-paced and fun, you walk into Napule è Lago and see the chefs happily at work shovelling pizzas in and out of the enormous pizza oven. Go traditional with a Margherita and enjoy gooey slices of mozzarella spread seductively over a sweet slathering of passata. They have a great selection of Italian IPAs to wash it all down with. A good eating spot for before or after the Brunate funicular. 
Where: Napule è Lago, Via Luigi Dottesio, 22 – 22100 Como CO, Italy
The Lowdown: A destination rooftop restaurant; in the day it gives poolside cocktails and delicious light lunch vibes, in the evening, the lighting lowers, the view of the lake becomes ethereal and twinkly and the atmosphere is buzzing. An innovative cocktail list serves up concoctions in an array of drinking chalices and the food is modern Italian and impressive. Imagine giant stuffed ravioli covered in parmesan cream, hazelnut crusted soft-as-butter beef, and crunchy cannoli piped with an array of velvety fillings. Tick. Tick. Tick.
Where: Terrazza 241, Hilton Lake Como, Via Borgo Vico, 241, 22100 Como CO, Italy 
Photo credit: Terrazza 241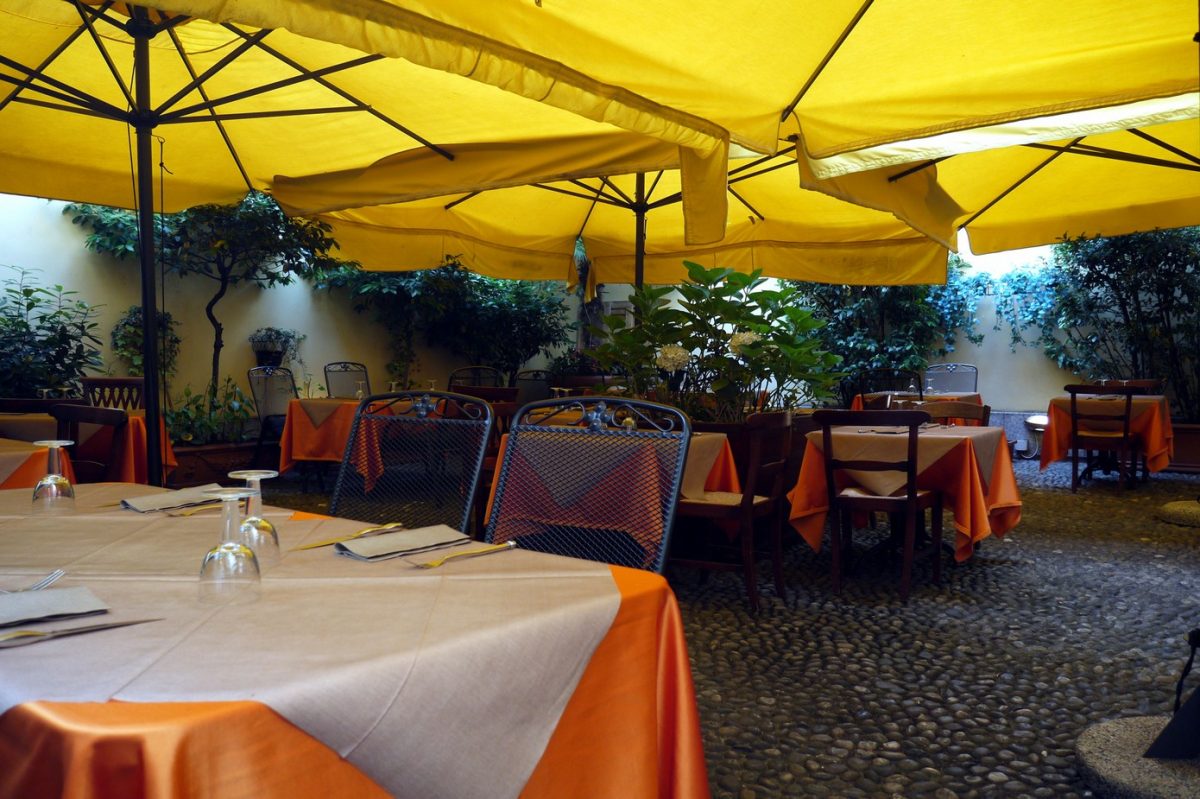 The Lowdown: Terracotta hues, thick stone walls and red candlesticks set the scene in this homely restaurant with an outdoor courtyard that serves up a deliciously traditional Italian menu from your bruschettas and spaghetti to veal scallops and mouthwatering pizzas. Try the Zuccherina.
Where: Via Cinque Giornate, 62/B, 22100 Como CO, Italy
The Lowdown: The hallowed walls of this illustrious hotel have seen it all – European royalty and the best of Hollywood – since it opened in 1873. It re-opens its doors again this summer after an extensive refurbishment and is ready to take its place again as one of the most luxurious villas on the lake. It is also home to Michelin-starred restaurant, Mistral, headed up by Ettore Bocchia. For a blow the budget trip. 
Where: Grand Hotel Villa Serbelloni, Via Teresio Olivelli, 1, 22021 Bellagio, Como CO, Italy
Photo credit: Grand Hotel Villa Serbellino