About Time: You Toured The Cultural Highlights of Northern CyprusBy Oliver Malin
If you were asked what you most associate with Cyprus, most would say lots of sunshine, Greek-Cypriots and those of a certain age and musical taste would flag up Ayia Napa, once home to the explosive garage scene, where annual pilgrimages were made (and still are) in honour of the UK's favourite 90's genre.
However, Cyprus has much more than a significant lack of annual rainfall. Many visitors aren't aware of its incredibly complex and lengthy history, which on a fundamental level sees it divided into two sections; North and South (officially), South Cyprus being Greek-owned, whereas the North, Turkish.
Northern Cyprus: The Lowdown
The UN still quietly sit guard between the divided capital Nicosia, which has been the case since 1974, when a civil war took place. Thankfully since 2003, access between the north and south side of the capital is obtainable by flashing a passport to a border inspector on either side, and you can even nod to the UN in the neutral zone between both sections.
This guide aims to shine a bright light on Northern Cyprus in line with the discoveries afforded to us by an extremely clued-up tour guide and equally marvellous travel operator, Intrepid. The combination of both made the whole experience of places likes Kyrenia, Nicosia, Famagusta and The Karpaz (or wild donkey country), something really magical as it's the kind of region where local knowledge, connections, and relationships are priceless even if your Turkish is great and you fancy discovering things for yourself (guide books are yet to be anywhere as knowledgeable or useful as Houssem our guide was).
Northern Cyprus: Kyrenia
Kyrenia is the most developed town from what a western tourist might come to expect from a seaside resort and probably mirrors coastal resorts in the south. Additionally, you'll find quite a few casinos thrown in to attract visitors from the Turkish mainland, tax-free alcohol and better quality designer knock-offs populating most of the shops in the main shopping stretch – so you'll certainly have lots to keep you buying, drinking and gambling on.
However, this guide is equally about low and high culture, old and new, peppered with lots of history. By taking just a short ride outside of town you'll find St Hilarion Castle, which was Walt Disney's apparent inspiration for The Queen's Castle in Snow White, is one of the most premier selfie spots on the island.
There are lots of great spots to eat, drink and chill, so perhaps after taking in the wonder that is Kyrenia castle,  have a drink at one of the many bars that populate the scenic harbour, followed by a scrumptious feast at Azure, the Sicilian lamb is worth the trip alone, and if you feel like a nightcap and a shot of Arak wander slightly away from the main stretch and up a dusty alley you'll find the wonderfully named Losers Club which is an outdoor oasis, playing all sorts of rock music and is mainly constructed from repurposed wood.
Northern Cyprus: Bellapais
This can be nicely be followed by a trip to Bellapais, a gothic monastery in a village of its namesake and offers equally stunning views especially if you choose to eat at the scrumptious Kybele, which serves up a comprehensive international menu and more traditional local mezes treats, and sits in the grounds of the monastery. Don't forget to make a wish before you depart, as in the carpark sits beside the plastic bag tree, which apparently is the cheapest and best date spot in town, given the view and romantic gesture available!
Northern Cyprus: Nicosia
Once we've spent a couple a days taking in the buzz of Kyrenia, Nicosia, the capital of both North and South Cyprus is a good port of call especially if you are curious about immediately visible differences between the regions. One of the biggest elements of this cultural tour centered upon revealing the complex and rich history of the region through its varied architecture as evidence of who occupied the terrain, and when. Nicosia, especially on the Northern side, presents lots of fascinating examples of invader presence, as does the Greek side, which is a good place to start the day.
Take the weight off your feet and have a cup of "Cypriot" coffee at George Charalambous, which is right opposite KFC on the main promenade as you enter the Greek side. Some of you might like to take advantage of having a Greek-Cypriot guide to lead you around the likes of the Coin Museum, whereas others might like to follow the street art around the stretch and do some shopping at more familiar international chains.
Back on the Northern side of Nicosia, a real treat and one only obtainable by the know-how of our guide, is lunch at  Son Durak a family run local eatery that literally serves up the freshest local produce picked, caught or sourced daily and prepared by a smiling grandma, who makes chips like only caring grandmothers can.
The Northern side has a few other treats to behold like the old world Bookshop Rustems and the very cute, Luna Arts Cafe Shop, which has very refreshing fresh lemonade and a swing – a killer combo.
Continuing our exploration, we found a very impressive church that has been re-fashioned as a mosque, a recurring theme throughout the region, and is only moments from our lunch spot. In the streets immediately leading up the border, you'll find some fascinating architecture, built by the long list of whoever was in possession of the region at the time.
Nicosia can be experienced as a day trip en route to Famagusta, but hopefully, your schedule allows for a slight detour back toward the greater Kyrenia region taking in the stunning mountainous views, as we head towards a dinner spot in a village set among the arid landscape.
Klepini exhibits a similar family run, culinary philosophy to Son Durak, whilst taking the concept of meze, to an extremely numerous conclusion, introducing such local specialties as baked zucchini, Cyprian meatballs and capers on the vine, and is worth adding to your itinerary at any cost.
Northern Cyprus: Famagusta and The Karpaz Region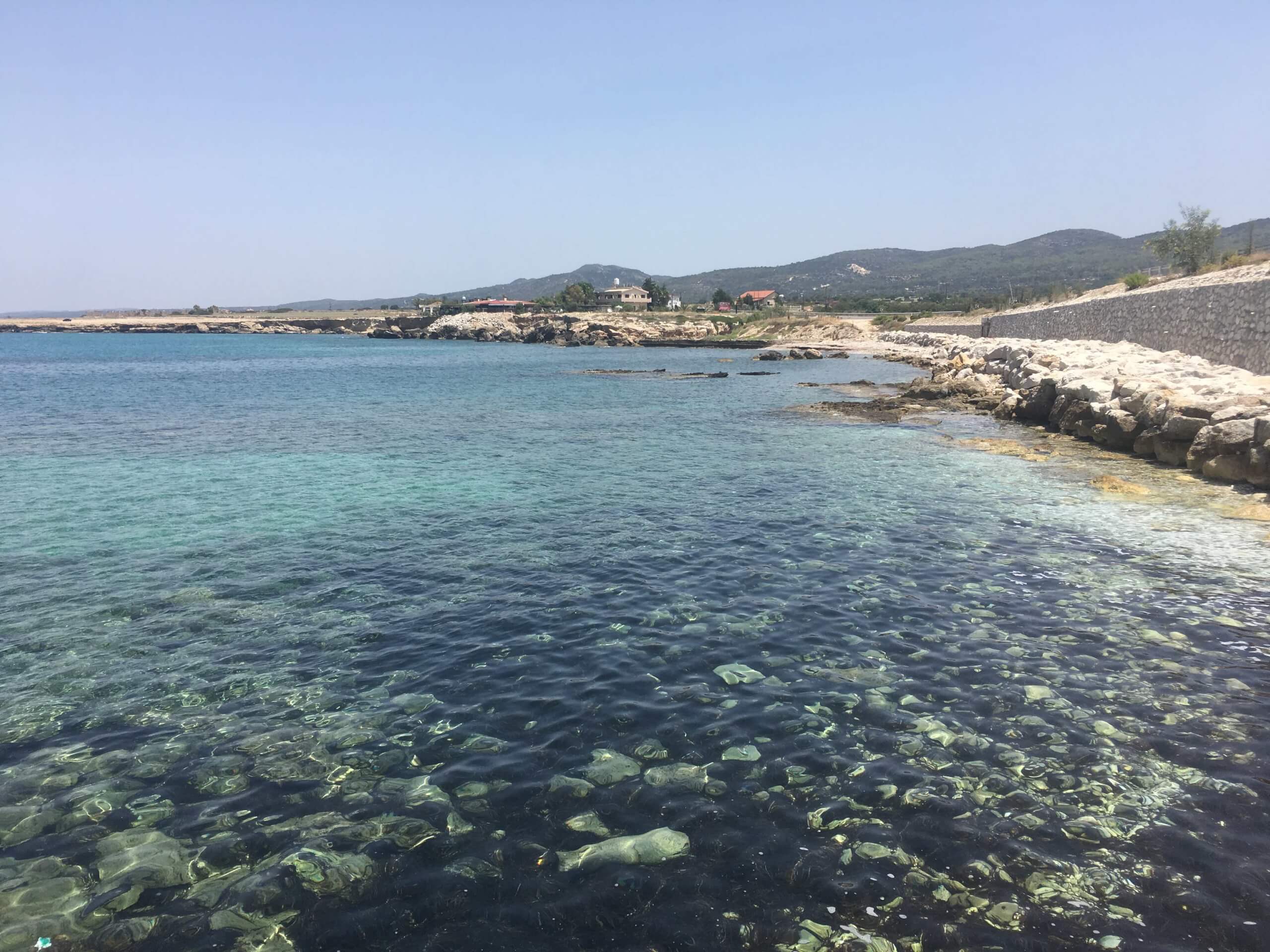 En route to experiencing some of the most stunning, unspoiled coastline I've ever seen, which is in the Karpaz region (or donkey country), we continued our historical understanding of the region via Famagusta. This walled city literally feels like one open plan architectural site and was once home to 365 churches, presumably one for every day of the year, but now offers visitors a glimpse of the likes of the fall out from the crusades on the region.
After a quick stop at the museum of icons, the depiction of icons is another re-curring theme when visiting remaining churches in the region, we found ourselves feasting on Burek, (traditional Turkish stuffed bread), and caught our first glimpse of the stunning wild beaches that populate the Karpaz peninsula.
Given the time of year of our visit to the region, (June, which is usually 30 degrees daily), the prospect of cooling off in crystal clear waters was highly appealing, the only question to ask yourself is how private a beach you desire, as the unspoiled coastline has seemingly endless choices, that's if you can pull yourself away from feeding the wild donkeys.
After spending ample time topping up our tans, hanging out with donkeys and marveling at how herds of goats congregate together in order to create a microclimate to cool themselves down (Google it), we headed to the intriguing Ecovillage of Buyukkonuk, which is now firmly on the map, thanks to its annual festival celebrating traditional village life and practices.
Northern Cyprus: Buyukkonuk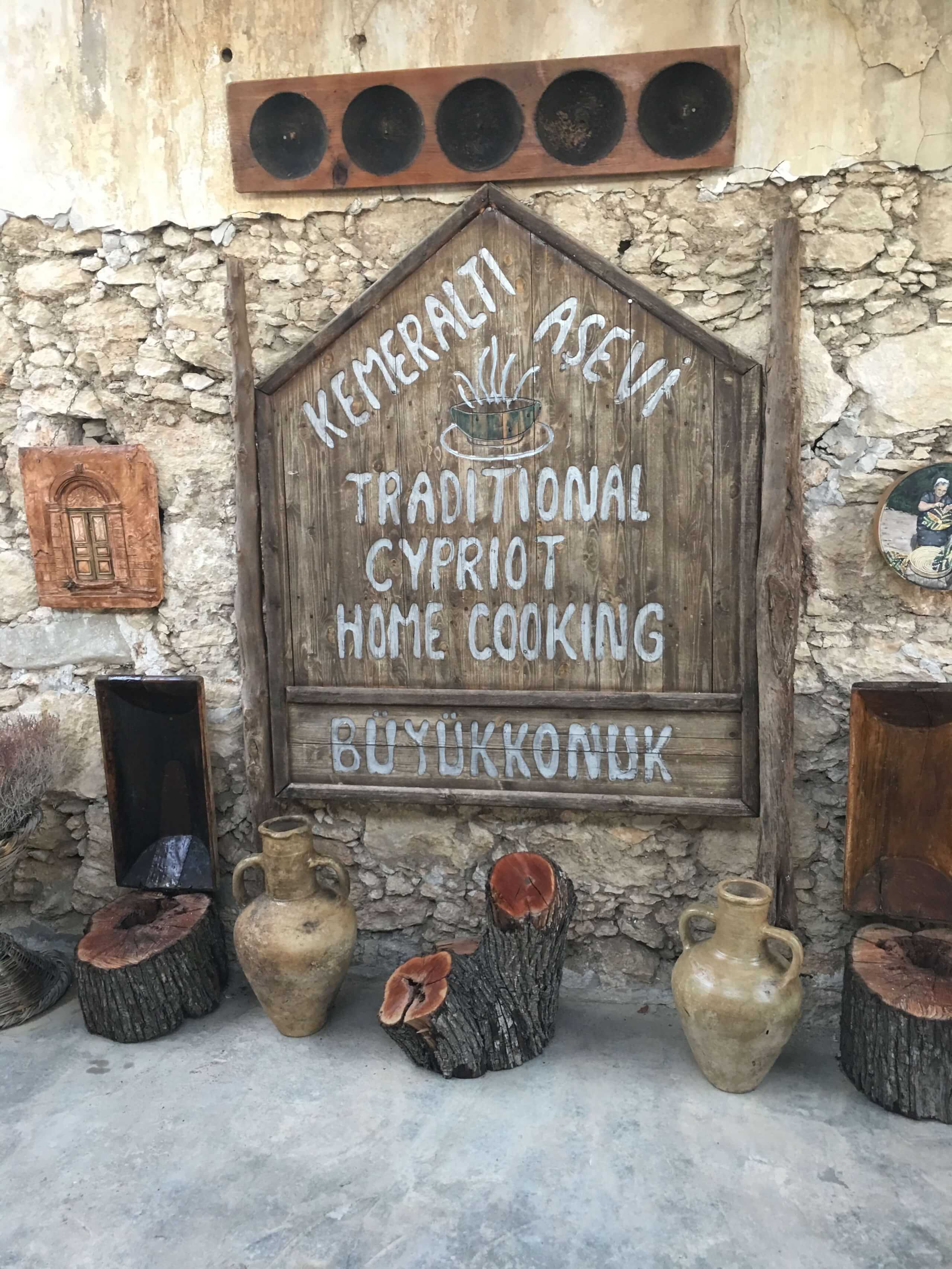 This seemingly progressive approach in today's culture renews the importance of historic craft, skills and getting the most from nature in a sustainable manner, which is undertaken by villagers and can be experienced first hand by visitors. Two individuals at the helm of this village's ecological renewal are Lois and Ismail Cemal, who have empowered local residents on multiple fronts, and whom we had the pleasure of dining with at the Villages collectively run restaurant Kemralti. This sublime initiative, it's name translates as "under the arch" offered up hand-rolled macaroni made right in front of us, the tenderest lamb imaginable and a rather tart dessert known as a 'Black Walnut.'
In the morning after our exquisite meal, we got a masterclass in making Turkish coffee and mudbrick construction from Ismail, and schooled in how to make traditional bread by Lois, which added so much to the tour of the region as rarely do you get to such an intimate, hands-on experience of a rural place, which would be lost to the outside world, if it wasn't for the ingenuity of the likes of Ismail and Lois on multiple fronts.
We made enough bread to feed a small army of donkeys, which was impossible to consume, as hard as we tried on our scenic return to the South and Larnaca airport, which is under 5 hours away from the likes of Gatwick. You know you've enjoyed your trip when you wish for your flight to be delayed for at least a month, as there is so much to take in, and experience on all sensory fronts in Northern Cyprus.
The kind of 8 day tour offered by Intrepid really is the best way to begin your love affair with the region, especially given the local currency, (The Turkish Lira) is actually weak against the pound, so there never really has been a better time to tour the region, whilst it remains as unspoilt as it is!