Yeah, you read the headline correct. Surfing in California is a given (note: trendy Santa Monica and Santa Barbara are teeming with water babies catching the waves). But skiing? I know what you're thinking. Skiing in the sun-drenched Golden State? Really? Well, yes, actually. Lake Tahoe in Northern California is where you'll find picturesque blankets of snow and mountains that go on far as the eye can see.
Locals brag about the state having it all – and they're not wrong. Where else can you take a dip in the Pacific ocean in the morning, and by the afternoon be charging it down the mountain. Long gone are the days where California was sold merely as a place to hit up studio tours and prance around on Rodeo Drive. The State is alive with outdoor activities and now has never been a better time to visit. Prior to the trip, I could neither surf or ski – and I managed to successfully stand up on both a surf board and a set of skiis. Here's a breakdown of what you need to do in sweet, sunny (and snowy) Cali.
The Surfing Lowdown: Santa Monica
The Lowdown: Learn to Surf LA are a professional outfit who've taught more people to surf than you've had hot school dinners. The company offer one on one lessons as well as group lessons which are divided into two groups based on your ability. Before the lesson, the only surfing experience I had encountered was watching Kate Bosworth chop up the waves on Blue Crush – I was being optimistic about it helping my surfing career.
The lessons last for approximately 2 hours and you're guided by a team of helpful, surfing maestros who take you through the basics on the beach, before you're ready to catch the wave. At the beginning, as the white sand was beneath us – everyone, including myself, managed to pick up the basics pretty well. That was, until, we had the current of the ocean under us, and the waves crashing behind. Co-ordidating yourself, trying to get on the board, and staying on it proved a calamity for myself – I was about as nimble as a baby elephant. But the Learn to Surf LA squad use simple techniques that are easy to pick up, and before I resisted to throw in the towel – I found myself on top of the waves, rather than falling in them. Surfing isn't easy, but after a while I found I was more confident on the board which helped with staying on it longer. The team are great, knowledgable, and are a super patients with beginners. All equipment is provided including wet suits and surfboards. I may not of been Kate Boswoth, but one can dream.
The Surfing Lowdown: Where to Stay
The Lowdown: Super trendy, minimalist and totally chic, Lowes Hotels are iconic all over the States – for good reason. At this slick Santa Monica beach hotel, expect an outdoor pool area, a fully equipped spa, the best ground floor bar and seating area I've ever come across (hello, great iced lattes), a fabulous pool-side bar, as well as functional, Instagram-worthy bedrooms that strike the perfect balance of style and substance. The hotel boasts picture perfect views over Santa Monica pier, and you can amble down to the beach in a matter of minutes.
Where: 1700 Ocean Ave, Santa Monica, CA 90401, USA
The Surfing Lowdown: Where to Eat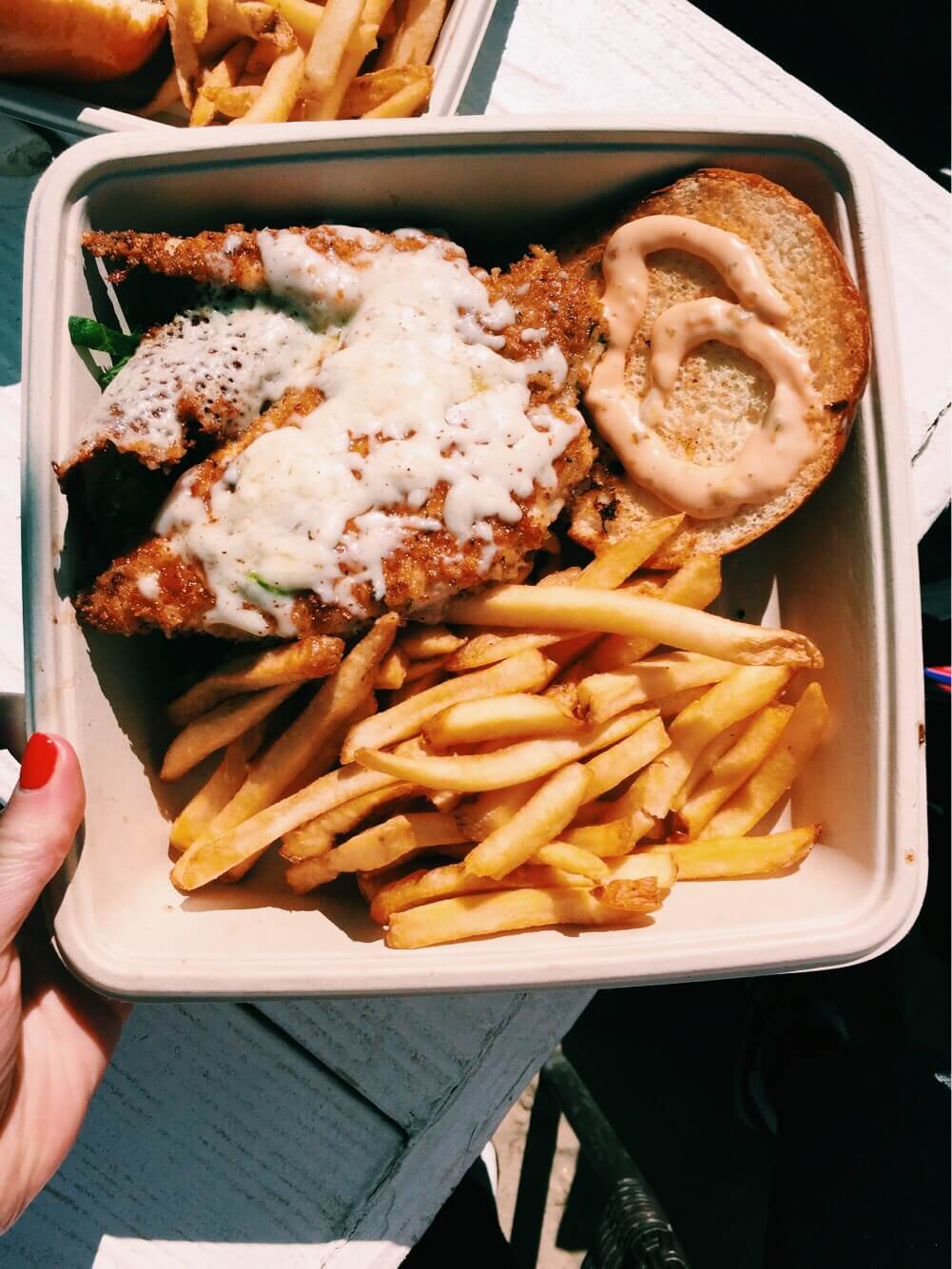 The Lowdown: Treading water and grapperling to stay on a surf board is a work out, and two hours of battling against a current means that hunger is never far away. There's plenty of shower cubicles dotted around Santa Monica beach, so ditch the surfboard, washing off the salty scent of the ocean and make a beeline for Perry's Cafe. Established over forty years ago, Perry's Cafe conveniently located on the beach whip up a tasty selection of American comfort food,  hearty breakfasts, and fresh and healthy bites.
Eat and Drink: Fried food, galore. On my visit, I tackled the high tide chicken sandwich with parmesan herb crusted chicken, mozzarella, pickles, cabbage, lettuce, signature sauce on a brioche bun, with a side of fries. Other favourites include their signature bacon cheeseburger and grilled cheese on sourdough.
Where: Locations here 
The Lowdown: A place to give your Sunday best an airing is upmarket eatery, Cassia. With a buzzy atmosphere, central bar and conservatory area, Cassia has Cali natives swimming in their droves to get their mitts on Asian inspired dishes (I clocked Cindy Crawford on my visit). The restaurant celebrates the vibrant flavours of Southeast Asia, blended with a healthy hit of Santa Monica pizzaz. A must visit for any keen foodie.
Eat and Drink: After eating the majority of the menu, I can say that everything was a hit. The Kaya Toast with coconut butter, jam and slow cooked egg was a juxtaposition of sweet and savoury flavours, and the beef rendang was ludicriously delicious, as was the grilled chicken wings. Take someone who doesn't mind sharing their food, and wear your finest shirt.
Where: 1314 7th St, Santa Monica, CA 90401, USA
The Skiing Lowdown: Lake Tahoe
This is where California shows how diverse it can be. It's time to ditch the wetsuit in favour of thermals, as Lake Tahoe is the State's premium skiing hangout. In January 2017, it was recorded that Lake Tahoe had the largest amount of snow fall since way back way – a casual 238 inches, with locals dubbing this monumental event as 'snowmageddon'. The easiest and quickest way to travel to Lake Tahoe is by plane. Flights from LAX to Reno in Nevada run regulary and from there, take a short bus ride to Lake Tahoe.
When you think of skiing in America, you'll probably conjure up images of world famous Aspen in Colorado or Utah, but Lake Tahoe offers outdoor fun whatever the season. In the summer, wild swimming, wind surfing and kayaking are popular, and during the winter months, the heavy snowfall makes for spectacular skiing.
If you're a beginner like me, and the chances of you hitting the slopes on a regular basis are slim – rent ski garms from GetOutfitted. They'll kit you out in salopettes, jackets, gloves and a helmet – the whole nine yards. And it'll save cramming bulky arctic wear in your suitcase too.
The Lowdown: The largest ski resort in Lake Tahoe is Heavenly, perched high above the sapphire-blue waters of Lake Tahoe. Heavenly offers a diverse range of slopes; from beginner friendly green slopes to double-black diamond canyons and the most outrageous tree skiing in North America. You could easily spend a couple of days just at Heavenly, as the resort spans over 34 miles of wide-open, groomed cruisers. Sitting on the border of California and Nevada that you can actually ski across, Heavenly's extensive network of lifts, trails and slopes is ideal for any level of skier.
My only taste of skiing was back in year 9 when I hit up Austria on a school trip, so my foray into the world of skiing thus far, had been limited. Heavenly Ski Resort offer skiing lessons to help you with the basics, and in my case, rejig my memory. I had a lovely teacher called Ron who informed me he's taught some big time celebs, Jennifer Anniston being one of them. The one on one lesson was customised to my ability, and Ron allowed me to grow at a speed I was comfortable with. By lunch, I found myself chugging along an intermediate slope with no problem at all.
Where: 3860 Saddle Rd, South Lake Tahoe, CA 96150, USA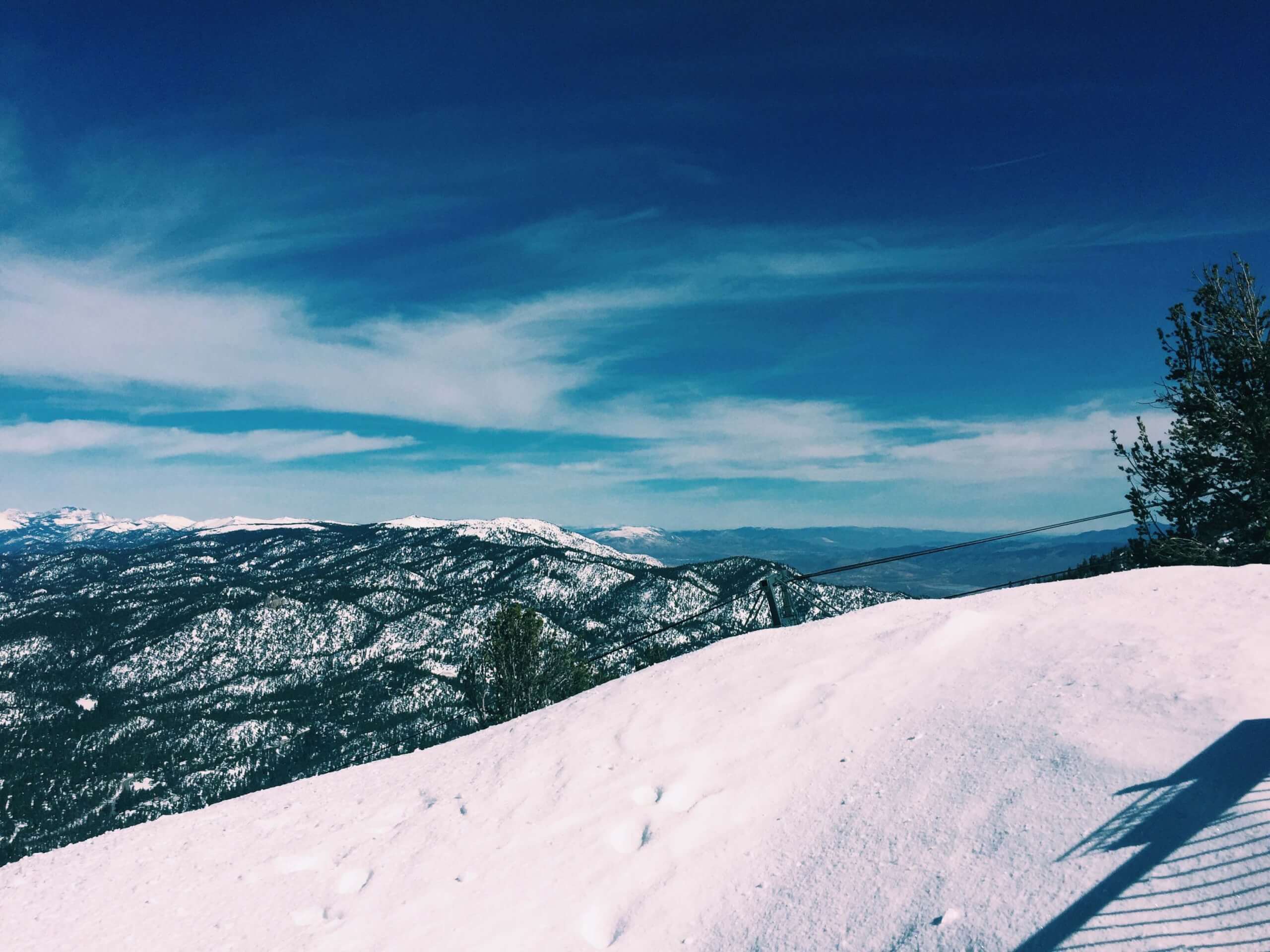 The Lowdown: Located 12 miles west of South Lake Tahoe is where you'll find Sierra at Tahoe. In comparison to Heavenly resort, Sierra is much smaller – however, the resort's long reputation of legendary terrain attracts a wealth of out of towners and tourists. Sierra has grown considerably since it first opened back in 1946, but the same principles still remain: no fuss skiing that's affordable and fun.
The resort offers a mirage of options, and is especially good for off-piste exploring. The snow is dry and there's plenty of it, and the options of where to ski and snowboard are endless.
Where:1111 Sierra at Tahoe Rd, Twin Bridges, CA 95735, USA
The Skiing Lowdown: Where to Stay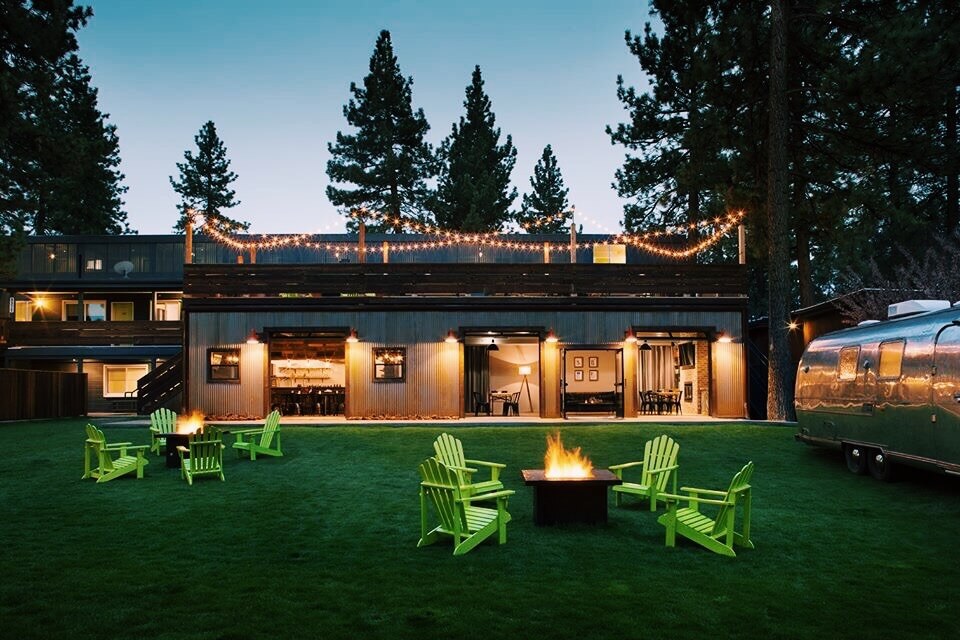 The Lowdown: Basecamp South Lake Tahoe is one of Lake Tahoe's newest boutique hotels, and the interior down to the keys cards are about as hip as they come (read: exposed brick walls, industrial features and kooky art). Think of it as a playful take on a traditional ski lodge. The hotel has all the ammenities you'd want after an enduring day on the slopes; an outdoor hot tub, fire pits, and a bar stocked with local brews. Breakfast is complimentary, and features a waffle maker and toast bar. Styled in such a way that socialising with other skiers is encouraged, pull up a chair to one of the many fire pits outside or eat your dinner at the communal dining table.
Where: 4143 Cedar Ave, South Lake Tahoe, CA 96150, USA
The Skiing Lowdown: Where to Eat
The Lowdown: Lake Tahoe is a casual affair, and unless you're dining with skiing royalty, there's few reasons to bust out your freshest shirt and blazer combo. There's plenty of laid back eateries to choose from, but if barbecued meats rock your world, it's high time you tried Ten Crows. Slow and low cooked meat are at the fore of this American watering hole – and the restaurant are proud of their meat-based dishes, craft beer selection and homemade sauces.
Eat and Drink: I know I've banged on about the meat dishes, but the restaurant serve up a mean veggie burger too. Chicken wings were crunchy, delicious and nicely fried, and the mac and cheese was bubbly, thick stick-to-the-bones wonderful. Load up on beef brisket and pulled pork – all smoked on site, don't you know.
Where: 4011 Lake Tahoe Blvd, South Lake Tahoe, CA 96150, USA
The Lowdown: The midday drinking culture and apes ski traditions of European resorts haven't quite made its way over to the States. Instead, thirsty skiers take to Irish-themed pubs and beer houses stocked with epic selections of brews, with McP's Taphouse Grill leading the way. Housing over 40 beers, and rolling out happy hours every day, Mcp's Taphouse Grill is a haven of beers, brews and US munch.
Eat and Drink: There's a lot of fried food on the menu, but everything deep-fried is my jam. Burgers, chicken wings and fried chicken lead the way, but there's also cobb salads and other slightly healthier options if you're feeling virtuous.
Where: 4125 Lake Tahoe Blvd A, South Lake Tahoe, CA 96150, USA
For more information on California, visit the website here.