I stumbled across Biarritz as a summer-escape destination almost by accident. After hunting for a yoga or detox retreat in sunny Europe, I decided to widen my search, seeking a beauty-led holiday with a stronger identity.
Just as you would imagine and glamorous from head to toe, Biarritz is full of beautiful people and chic boutique hotels. 'The Queen of the Basque' as it is often called, is also home to the iconic, prestigious L'Hotel du Palais – with its very own Romy Schneider room filled with romantic interiors, pastel walls and a luxurious salle de bain.
The Basque influence is not instantly obvious beside from the Spanish palms and proximity to San Sebastian and potentially more prominent within the gastronomic scene where foie gras and manchego style tapas are served street-style in a party atmosphere.
However there is more than meets the eye to this majestic French town – as behind this glitzy surface lies a very serious, holistic beauty scene and the home to many authentic Thalasso spas. Spas of this nature derive their name from the Greek word Thalassa, meaning 'sea' and follow an Ayurveda practice of health and wellbeing.
'According to the wisdom of Ayurveda, the ancient Indian system of health and longevity and the sister science to yoga, true beauty is what naturally arises from simple acts of reverent self-care.'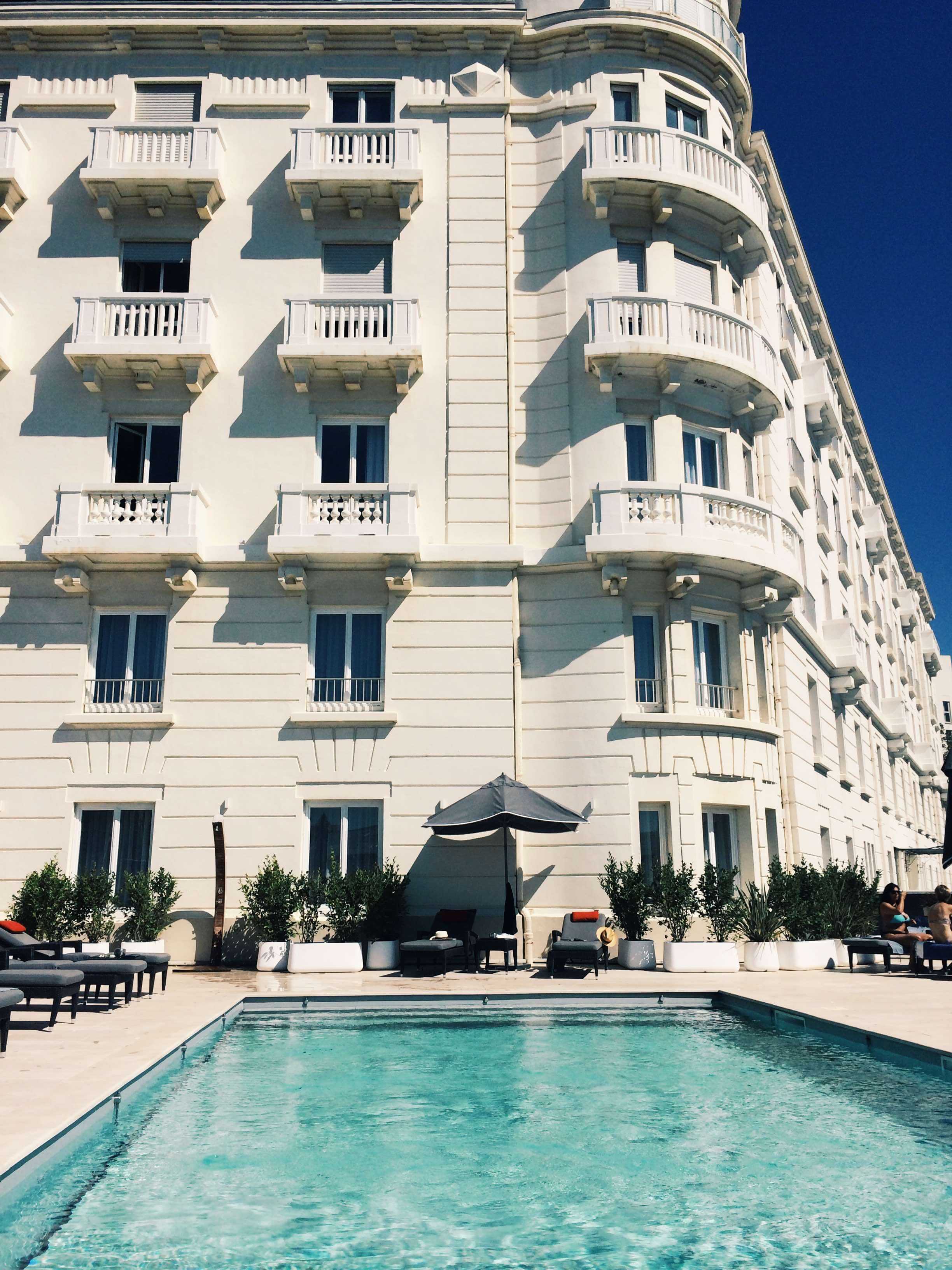 My bien-etre tour of Biarritz began at the heart of the town at the newly decorated, art deco Le Regina, Hotel & Spa. An urban style, boutique hotel that outwardly celebrates architecture, fashion, design and 'the art of living'.
It was here aboard the Mediterranean Sea, I had my first French-inspired treatment aptly named; Facial – Nuage D'eau by Parisian beauty range Omnisens. Nuage D'eau is in essence marine based oxygen facial to aid skin cells in their regeneration by providing optimal hydration and relaxation.
The treatment ritual began with a visual and manual analysis to ascertain my skin 'Dosha*' (mind / body skin type), mine being – Fire/Water and hence an application tailored to sensitive and combination skins. Layers of regenerating scrubs followed by a hydrating mask and radiance balms were applied to balance my skin, while a relaxing head and foot massages were performed. The facial took place in one of the most indulgent, noir beauty rooms fit with wall-to-wall rainforest showers. As the range boasts, treatments are performed with natural ingredients, simplicity, innovation and a sensory experience and are organically indulgent.
Next stop was the prestigious L'Hotel du Grand Palais. Not only a palatial hotel but also a popular health haunt and I simply couldn't resist their body treatment fit for a Queen set within a modern Moorish spa oasis. The Imperial Spa as it is known overlooking the sea, hosts the heavenly Guerlain product range and has an extensive treatment list. Post Hammam, I booked an Imperial Relaxing Massage that pays homage to the Eau de Cologne Impériale. As described, the full body aqua massage or perhaps it was the room's very own natural sea acoustic (how very Thalassic), transported me into a Zen-zone almost immediately. This multisensorial experience was relaxing, invigorating and awakening from top to toe.
Further down the coast, lies the charismatic town St Jean de Luz, home of the Grand Hotel Thalasso and 'Loreamar' (Ocean Flower) Spa and the next phase of my well being discovery. For 2 blissful days, I immersed myself in the ultimate Thalassotherapy experience, where endless bodies of seawater baths (loaded with beneficial health elements), hammams and experience showers are matched with holistic treatments and ancient well-being philosophies. The seawater helps your skin and body tissues relax and soften while the herbal tea bar is a place of ultimate relaxation and discovery. My body, post spa break, felt re-oxygenated and nourished, strengthened and toned. The water felt alive and active against your skin and felt akin to a complete body scan experience – similar to the Geneva rivaled, medi-spas and La Prarie clinic.
Therapists trained in everything from naturopathy, acupuncture and osteopathy, were there on hand to support the Thalasso well being journey and it reinforced why so many French ladies are committed to self-care.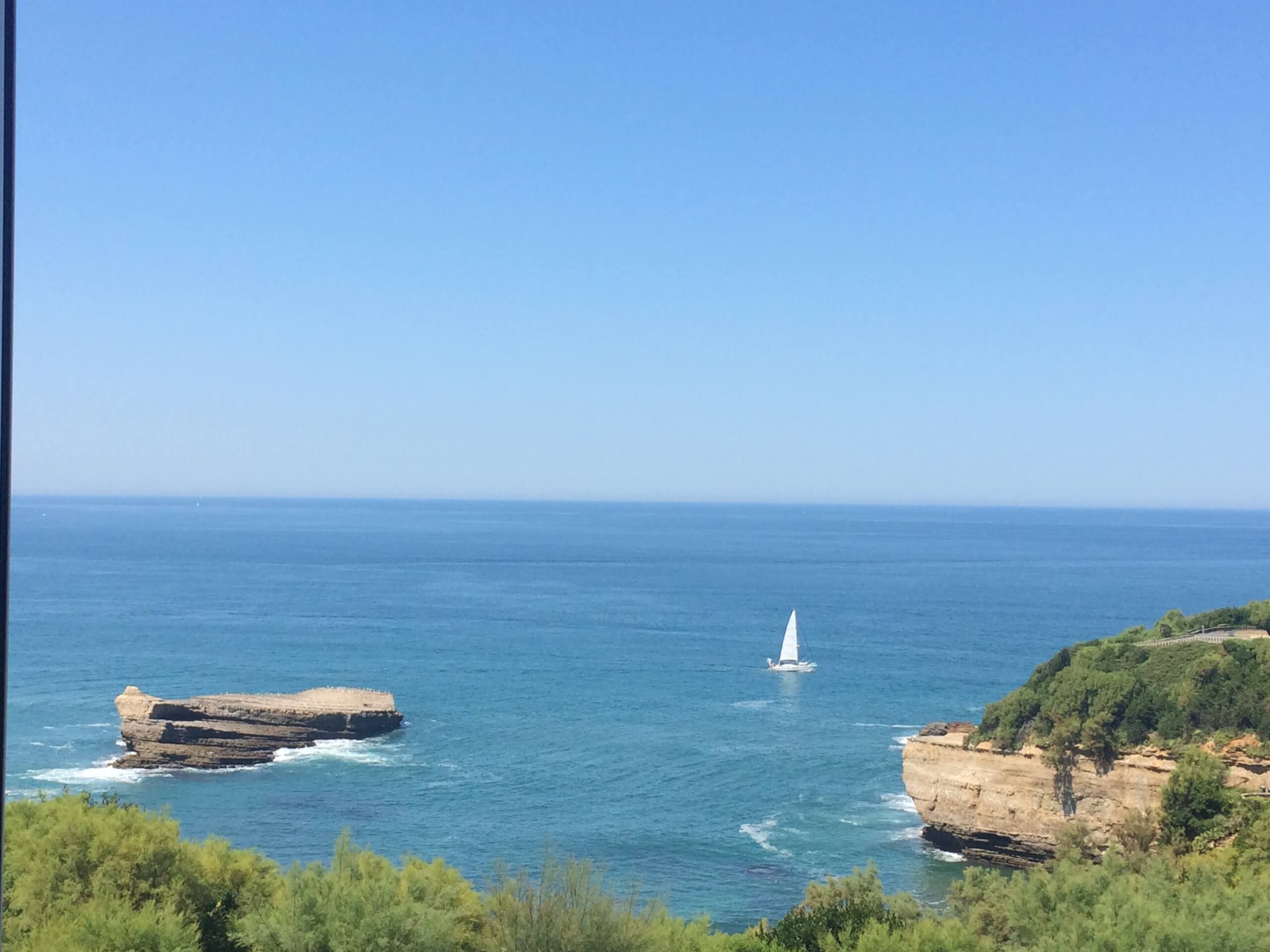 Last on the list was a visit to the quietly cool surf town, Hossegor, I had heard so much about from the Biarritz locals. Enter the dual personality of Biarritz – set aside the charming old-world glamour, striped parasols and over crowded beaches and you encounter yet another side to the west coast, one of impressive surf swells, Bobo chic, organic lunch spots and countless mermaid-esque beauty goers.
Except for the French locals, the surf scene is somewhat of a mystery to tourists. I began to discover a cool, underground scene to Biarritz and the Basque country that really could only be experienced in the flesh. This very serious surf town would give Bondi beach a true run for its money and is brimming with unique detox options and new-age beauty treatments running all along the coast line and health retreats to get the pulse jumping.
I arrived at Lake Loft Hossegor, the Elle Décor version of a Cali surf lodge, where I spent mornings practicing sun salutations with a private Yoga instructor, lazy afternoons by the pool (with direct forest view) and evenings shucking fresh oysters with locals by the lake. If adventure is more of your thing, the local beaches had endless surf cabins where you could grab a daily surf class or just hang out and eat crepes with the locals. However the swells were quite a spectacle so maybe best reserved for the mid level not amateur surfie like me – perhaps a health goal for my next trip to the Basque country.
Did I find my inner goddess? Well maybe, yes, but moreover I found a new cool region of France removed from the cliché South and St Tropez's and a chilled lifestyle enviable by anyone needing a detox holiday.