Cyprus is well-known for its beach holidays, resorts and the party hub of Ayia Napa, but this small island in the furthest corner of the Mediterranean is so much more. In fact, Cyprus can be anything you want it to be. Temperatures at sea level remain comfortable until mid-November, perfect for a late beach holiday. High up in the Troodos mountains the ski season is underway from January till March. Hikers will love the abundance of mountain walks which, even in summer, stay cool the higher up you go. Nestled in the foothills, spas, family-owned wineries and farms can be found, offering cheese, wine and much-needed respite from the heat of the sun during the summer months. Yes, this Mediterranean island can truly be anything you want it to be and it's about time you fell in love with undiscovered Cyprus: 
Undiscovered Cyprus: What To Do 
Casale Panayiotis, Kalopanayiotis village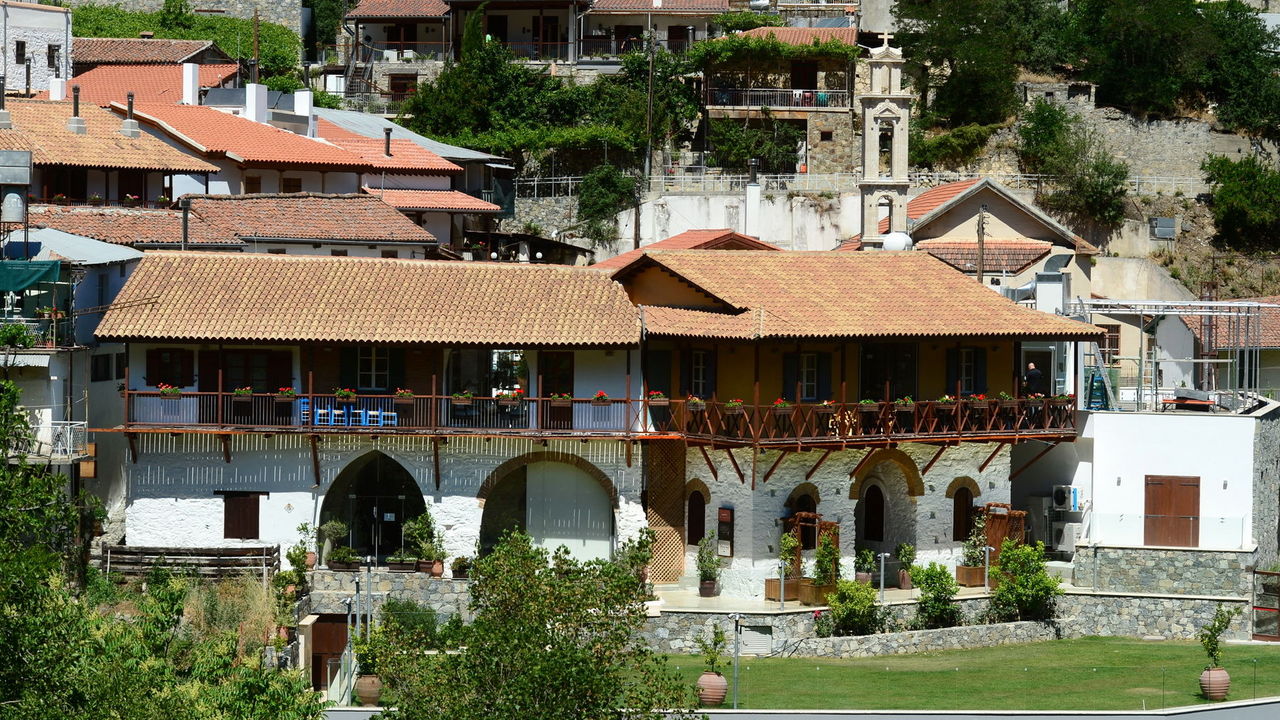 Photo credit: Casale Panayiotis
Casale Panayiotis is a picturesque resort and spa in Kalopanayiotis village tucked away in the Troodos mountains. It's not just any old spa however, Casale Panayiotis is an agrotourism project that blends seamlessly into the village and breathes new life into what was once neglected and rapidly disappearing. This stunning resort spreads out across the hillside. Family villas overlook the valley below, a renovated old stone building is the perfect place for a small wedding or conferences up to 100 people and a gorgeous restaurant terrace is an Instagrammer's dream. If anything, go there for the spa. There you will find all manner of treatments and therapies, including a private steam room, hydrotherapy, massages, a herbal steam room, pools and even a snow room. 
Markou Drakou 80, Kalopanayiotis, Nicosia 2862, Cyprus. Find out more about Casale Panayiotis, including prices, here. 
Ayios Ioannis Lambadistis, Kalopanayiotis village
Photo credit: Visit Cyprus
Cyprus is well-known for its historic churches with some even listed as UNESCO World Heritage Sites. One such site is Ayios Ioannis Lambadistis, a complex of 3 churches under one roof. Located on the edge of Kalopanayiotis just a short walk from Casale Panayiotis, this Byzantine complex is a must-visit for history and art lovers alike. There you can find a saint's tomb dating back to the 12th century, frescoes dating back to the 13th and 16th centuries and the most complete series of Italo-Byzantine paintings in Cyprus. 
Kalopanayiotis, Cyprus
Karseras Winery, Doros Village 
Commandaria wine from Cyprus is recognised in the Guinness Book of World Records as the oldest named wine in the world. Legend has it that King Richard Lionheart of England was so taken with the wine that he had it served at his wedding in 1191, calling it 'the wine of kings and the king of all wines'. You can see for yourself at Karseras Winery, and where better to taste it than in the foothills of the Cypriot countryside? Just 25km from Limassol, this picturesque family-owned winery will tell you everything there is to know about Commandaria – how it's made and how it qualifies for the prestigious title. You can even take a bottle or two home with you. 
Karseras Winery, Main Road to Doros Village, turn right just before the Old Church, Limassol 4750, Cyprus. Call +357 99 589325. 
Tsolakis Rosewater Factory, Agros Village 
During the months of April and May, the foothills of the Troodos Mountains are bathed in pink from thousands of blossoming roses, known officially as the Rose of Damascus. This annual phenomenon is celebrated by the local village of Agros at the Agros Rose Festival (usually mid-May) where visitors and locals alike can come together and harvest the beautiful flowers, enjoy refreshments and attend talks. If your visit doesn't happen to coincide with the Agros Rose Festival then don't worry, the charming family-owned Tsolakis Rosewater Factory in Agros can show you exactly what happens to the roses after they're harvested. The factory extracts the rosewater and rose oil from these flowers and creates a fabulous selection of luxurious products from hand creams to wine and spirits.
12 Triantafillon street, Agros, Limassol, Cyprus. Find out more about Tsolakais Rosewater Factory by visiting the website here. 
Kourion Archaeological Site, Episkopi
Photo Credit: Visit Cyprus
Fans of ancient history will adore Kourion Archaeological Site, home to what was once one of the island's most important city-kingdoms. There you can explore the site's magnificent Greco-Roman theatre built in the 2nd century BC which still hosts cultural events in the summer today. Visitors can discover the 'House of Eustolios' complete with the remains of baths adorned in rich mosaics dating back to the 5th century. Further mosaic floors can be found in the 'House of Achilles and the 'House of the Gladiator' and the remains of a Roman Agora is still visible on this site. 
Kourion, 19km west of Lemesos on the road towards Pafos (Paphos). Entrance fee is €4.50. Visit the website here to find out more. 
Oenou Yi Winery, Omodos Village 
If you're a wine connoisseur, head over to the contemporary winery Oenou Yi in the picturesque hillside of Omodos. This stunning amphitheatrical estate is surrounded by vineyards and has magnificent views of Mount Olympus, the highest mountain in Cyprus. Walking into the winery is an Instagrammer's paradise; the double doors open inwards to reveal a marble floor so polished that it looks like still water in a pond. Wander straight through to the terrace for views of the surrounding hills and all-important photo opportunities. Visitors can eat at the restaurant, take a dip in the pool and book group or individual wine tours and tastings. 
Demetri Liperti Street, 4760 Omodos, Limassol, Cyprus. Visit the website here to find out more information or call +357 25 446 000. 
Undiscovered Cyprus: Where To Eat 
To Katoi Tavern, Omodos Village 
Food in Cyprus is fit for the gods, I guarantee you'll be thinking about it for days. One such restaurant is To Katoi in Omodos village. This gorgeous little eatery won the Time Out Eating Awards in Cyprus in 2016 and has TripAdvisor's Certificate of Excellence under its belt. Order the mezze for an absolute feast of dishes that just keep coming. Start with salad and flatbread dipped in homemade hummus and tahini before moving onto delectable plates of halloumi and sausage, moussaka and melt-in-the-mouth chicken skewers and potatoes. Don't fill up too quickly, however, as more dishes will soon arrive ensuing a mad dash to move plates around to accommodate them. Wash it all down with a glass of crisp white wine and finish with a nip of Commandaria for a meal that will keep you full for the rest of the day. 
Linou 25, 4760 Omodos, Cyprus. Visit their website here. 
Symposio Tavern, Pelendri Village 
If you're in the mood for a leisurely lunch in the Troodos mountains, head over to Symposio Tavern in Pelendri village. A quaint family establishment, Symposio Tavern prides itself on providing good quality organic and healthy food sourced directly from their own gardens. Mezze is once again on the menu and the taverna offers heaped plates of freshly made delights. Symposio Tavern absolutely excelled at catering for vegetarians, offering plates filled with stuffed vine leaves, tomatoes, deep-fried halloumi and fries to ensure that you won't be going hungry. To enjoy this wonderful taverna at its best, order your lunch on the covered terrace for a real taste of undiscovered Cyprus. 
Prodromou 61, Limassol 4878, Cyprus. Visit the website here. 
Tochni Tavern, owned by Sofronis Potamitis of Cyprus Villages is an absolute delight for the sights and the stomach. You can't help but fall in love with its garden restaurant terrace decked out in a vine-covered canopy and surrounded by leafy green bushes and pink blossom. Eat dinner gazing out over Tochni village in the valley below and indulge in a glass of wine as the sun sets over the hills and the whole terrace glows with fairy lights. It's a romantic setting – a perfect place to foster the flutters of love, but I'm not talking about couples here. No, I'm talking about falling head over heels with Tochni Tavern's halloumi. It is divine; creamy and light with a tang of salt. Made by a local artisan, it could quite possibly be the best halloumi in Cyprus. 
Mersinies 3, Tochni 7740, Cyprus. Call +357 99 563299 or visit the website here. 
Undiscovered Cyprus: Where To Stay 
Aristotelio Boutique Hotel, Pedoulas Village
Aristotelio Boutique Hotel is a small yet charming hotel in the Troodos mountains in the village of Pedoulas. It looks remarkably like an alpine lodge with its stone exterior and warm mahogany terrace that runs the length and breadth of the building. High up on the hill, the hotel has stunning views of the mountains and surrounding pine forests. The hotel has 8 rooms and each one marries timeless antique furnishings with modern ensuite bathrooms and walk-in showers. The hotel includes an on-site bar, restaurant and open-air terrace to provide its guests with a cosy and relaxing mountain retreat.  
Rates at Aristotelio Boutique Hotel start from €110 for a double room, including breakfast. Find out more here. 
Arsorama Village Homes, Arsorama
Arsorama is a family-owned complex of 4 fully-equipped autonomous holiday houses in the picturesque village of Arsos. Each holiday home opens out onto a private central courtyard filled with lush greenery and cascading vines. The houses can accommodate up to 4 people and include a kitchen and dining area. Guests can also upgrade their booking to enjoy authentic home-cooked Cypriot meals during their stay. It's not without reason that Arsorama is one of the top-rated holiday rentals in Cyprus. The family's passion and pride in this establishment are evident in every corner and it makes for a truly pleasurable stay. 
Rates for Arsorama Village Homes in Arsos start from €85 per night for 2 people. Minimum 2 night's stay and meals can be provided as an add-on. Find out more here. 
Cyprus Villages, Tochni Village 
Cyprus Villages is a beautiful collection of holiday apartments made from traditional stone-built village homes. Each apartment is elegantly decorated and kitted out with fully-equipped modern comforts for guests to enjoy, including kitchen and dining areas. Cyprus Villages is perfectly located away from the tourist hotspots yet has an abundance of activities to get involved in including cycling, yoga, halloumi making workshops, mountain walks, neolithic sites and beaches. Simply ask the friendly owner, Sofronis Potamitis, and he will gladly help you create your perfect holiday in undiscovered Cyprus. 
Rates at Cyprus Villages in Tochni start from €30 per person in a double room, including breakfast. Visit the website here. 
Undiscovered Cyprus: How To Get There
easyJet flies from London Gatwick to Paphos with winter prices starting from just £20.99 per person one way (including taxes and including 2 people on the same booking. Baggage excluded). Book your flights at easyJet online here. 
For more information, visit the Deputy Ministry of Tourism for Cyprus: www.visitcyprus.com