About Time: You Explored Denver and Breckenridge, USABy Lallie Fraser
There are places that one goes to get high; Denver is the Mile High city, and as such, one of the highest cities in the world. A double entendre that isn't missed when you arrive into Colorado and realise it's one of the most liberal states in the US, and one of nine which has legalised cannabis for both medicinal and recreational use.
A state that benefited from the Gold Rush in the 1800's is being revived once again by the Green Rush of today. In any case, higher altitudes mean that you might feel giddy, so definitely drink a lot of water and eye drops don't go amiss either (the lack of humidity has a knack of drying you out). Denver is a dynamic city full of culture, a vibrant food scene and hipster locals.
For a real contrast of scenery in Colorado, it's possible to do 36 hours in Denver, followed by 36 hours in Breckenridge, an hour and a half west of Denver and in the heart of the Rocky Mountains. At this year's Winter Olympics, the snow boarder Red Gerard, woke up late, couldn't find his coat so had to borrow a team mates and still won the Olympic gold. He's from around these parts and this episode is exemplary of the area's 'mountain time' attitude (ie. don't sweat it). The locals are fun, laid back and enjoy life without burdening themselves with the stresses of the world which is refreshing, so make sure to absorb it. While it's most famous for being a snow destination, Breckenridge comes into its own in the summer and autumn months where the aspen trees turn into highlighter yellow to gobsmacking beautiful effect, and the area becomes one of the prime spots for hiking in the US.
Where to Eat: Denver
For Artisan Food: The Source Food Market 

What: The Source Food Market is heaving in the evening – check it out in the morning for a more chilled vibe and pick up a chocolate and frangipane pastry from Babettes and coffee from Figurati to start your day on the right note.
Where: 3350 Brighton Blvd, Denver, CO 80216, USA
For Everything All Under One Roof: Denver Central Market
What: A night in RiNo is not to be missed; one of the most exciting neighbourhoods in Denver, home to numerous market hall-style foodie arenas, an annual street art showcase called Crush Walls and a growing number of boutique hotels and gourmet experiences. Check out Denver Central Market for a little bit of everything: dripping Italian beef sandwiches, crispy thin pizzas and piles of gelato.
Where: 2669 Larimer St, Denver, CO 80205, USA
What: There's Egg Benedict and then there's Snooze's 'bennys' which take on all sorts of forms from the spicy chili verde to the Bella! Bella! Benny served with prosciutto on a ciabatta. As long as it's covered in eggs and hollandaise, it's a benny worth getting to know. The pancake flight is the best option for the sweet toothed fans.
Where: Locations here 
What: The brainchild of local chef Frank Bonanno, who owns a handful of Denver's best restaurants, Milk Market is inspired by people and events in their life; from Albina By The Sea, named after one of their grandmothers (check out the lobster rolls and shrimp po'boys) and the bao at Bao Chica Bao, inspired by their travels to Moo Bar, run by the Leopold brothers who are the producers of many of Colorado's boutique spirits.
Where: 1800 Wazee St #100, Denver, CO 80202, USA
Photo Credit: Milk Market 
Where to Eat: Breckenridge
For Breakfast: Crown Coffee House
What: In the past two years, Breckenridge has upped its game in the gourmet stakes with 25 restaurants opening, possibly in the wake of the Breckenridge Distillery opening a few years ago. Go to Crown Coffee House for breakfast burritos, yummy lunch and delicious daily coffee brews and the newly opened Aurum for a knock-out dinner.
Where: Crown Coffee House – 215 S. Main St. Breckenridge, CO. 80424 and Aurum – 209 S. Ridge St.
Breckenridge, CO
Getting Around: Denver
For Exploring on Two Wheels: Denver B-Cycle
What: Denver has made travelling around the city incredibly easy with the simple to use Denver B-Cycle. Free for every ride up to 30 mins, there are 88 B-cycle stations around the city and well-marked cycle routes to explore each neighbourhood in the most scenic way.
Getting Around: Breckenridge
For a Round Trip: Summit Express 
What: Summit Express takes you door to door from Denver to Breckenridge and back again. There are plenty of free buses around town too.
What to Do: Denver
For Exploring the City: Denver Pass 
What: Get your mitts on a Denver Pass, which not only gives you a promo code for the B-cycle, but also access to the city's best museums and cultural institutions of which there are many. Highlights include Denver Art Museum, showcasing up to five exhibitions at a time spanning from the most contemporary to the esoteric, and the Molly Brown House Museum, where the Titanic's most famous survivor lived. A fascinating insight into the rags-to-riches story of one of Denver's most legendary characters whose legacy lives on today.
Where: Denver Art Museum – 100 W 14th Ave Pkwy, Denver, CO 80204, USA and Molly Brown House Museum – 1340 Pennsylvania St, Denver, CO 80203, USA
For Live Music: Red Rocks Amphitheatre
What: Red Rocks Amphitheatre is one of the USA's most iconic music venues set 10 miles out of town, overlooked by enormous red rocks that were formed 200 million years ago! Watch one of your favourite bands (or take a chance on an unknown one – I'm so happy I did). For the record, if you ever get the chance to watch STC9, do it. They play at Red Rocks every September for a night to remember in the most wonderful, life enhancing way.
Where: 18300 W Alameda Pkwy, Morrison, CO 80465, USA
Photo Credit: Red Rocks 
For Retail Therapy: Cherry Creek Shopping Center 
What: If a big American shopping mall is your thing, then check out the new Cherry Creek Mall which has every shop you could ever need in there.
Where: 3000 E 1st Ave, Denver, CO 80206, USA
What to Do: Breckenridge
For Arts and Culture: Breckenridge International Festival of Arts
What: The summer and autumn months play host to a series of annual cultural events from Oktoberfest and the Breckenridge Film Festival (both in September). The arts district gives everyone the opportunity to get creative in the mountain settings; everything from metal wielding to pottery and painting classes. This summer as part of Breckenridge International Festival of Arts, Danish artist, Thomas Dambo created a giant wooden Troll as a testament to Breck's commitment to sustainability and being a custodian to the nature surround it. Due to its popularity, it's sticking around for another two years.
See full lowdown here. 
Photo Credit: Breckenridge International Festival of Arts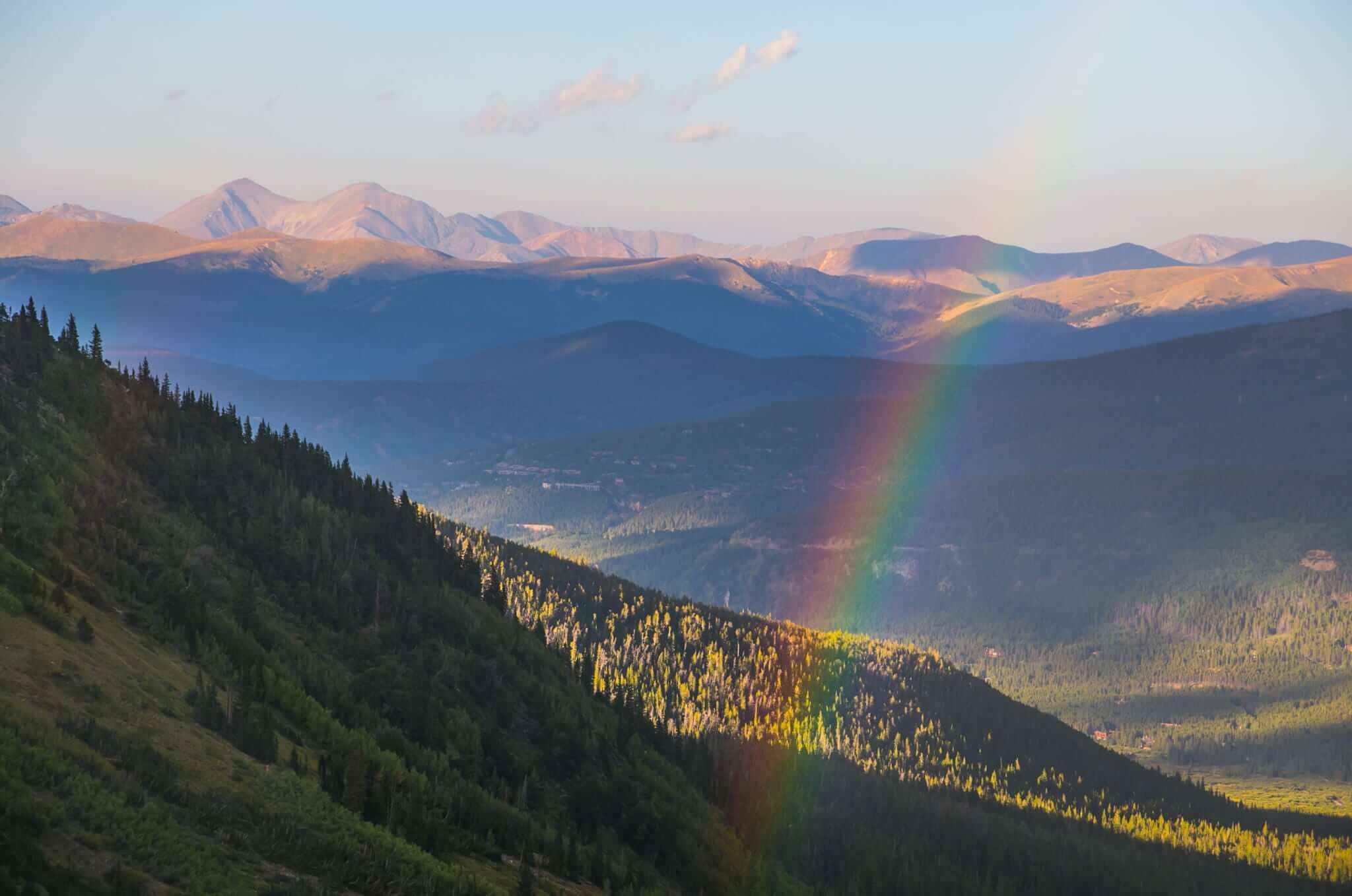 What: Trek, trek, trek: there are miles and miles of mountains to trek. Speak to Go Breck or a local to find a trek that suits you. Download the app, AllTrails, to keep track and to avoid coming face to face with a bear. To get your heart beating, check out the Mohawk Trail, where panoramic views, waterfalls and idyllic lakes will greet you along the way.
More information here. 
Photo Credit: Go Breck 
Where to Stay: Denver
For a City Stay: The Ramble Hotel 
What: If you're arriving from Europe, it's likely you will be arriving into Denver in the evening. Check into your hotel, freshen up and head straight back out to knock jet lag on the head on the first night.
The 50-room boutique The Ramble Hotel encapsulates the spirit of RiNo. Showtime lights beckon you in and encourage you to sit at Death & Co, where mixologists create delicious cocktails such as Surf's Up and Marooned which slip down easily. Rooms are beautiful and big windows allow for great people watching to the world below. A great launchpad to explore RiNo and catch a B-Cycle from. It is also home to Vauxhall, an intimate music venue, theatre and bar. Rooms start from $249.
Where: 1280 25th St, Denver, CO 80205, USA
For All the Mod Cons: Moxy Denver Cherry Creek
What: On the other side of town is the Moxy Denver Cherry Creek. Moxy is the Marriott's millennial brand that is putting the fun into functional: usb chargers by the bed (check), kooky art installations on each floor (check), comfortable bedrooms that are perfect for accommodating groups of friends (check), prices that aren't going to break the bank (check). All rooms are under $200 per night.
Where: 240 Josephine St, Denver, CO 80206, USA
Where to Stay: Breckenridge
For Views: The Lodge at Breckenridge
What: The Lodge at Breckenridge is  known for having the most dramatic view in all of Breckenridge and looks over the largest grove of aspens in Breckenridge during the autumn
Where: 112 Overlook Dr, Breckenridge, CO 80424, USA
On 1st September 2018, BA celebrated its 20th anniversary of direct flights from London to Denver. Return flights from London Heathrow to Denver start from only £316. The Ramble Hotel nightly rates start from $249. Moxy Denver Cherry Creek nightly rates start from under $200. For more information on Denver, see here. For more information on Breckenridge, see here.