About Time: You Experienced 5 Star Luxury at Sun Siyam Iru Veli, MaldivesBy Katrina Mirpuri
The Maldives is world famous for its crystal blue waters, palm trees and tranquillity. It's widely considered a dream holiday destination for many, attracting visitors from across the world to stay in the Instagrammable sea bungalows which overlook the Indian Ocean. We checked out Sun Siyam's newest resort, Iru Veli, to experience 5-star Maldivian hospitality at its finest. 
Sun Siyam Iru Veli: Getting there
The resort is located on a private island, just South of Velana International Airport. In order to get there you'll need to take a 35-minute seaplane which takes you directly to the resort. Once landing at Velena Airport, you'll be guided to a lounge before boarding your transfer flight. We flew with Trans Maldivian Airways, which is one of the more affordable seaplane options, however saying that, it's important to note that seaplanes usually cost in the ballpark of $300-$800 per person depending on what season you book in. Cheaper travel options include the ferry, however, if you're visiting the Maldives for a special trip, seaplane is the best option. 
Sun Siyam Iru Veli: The Lowdown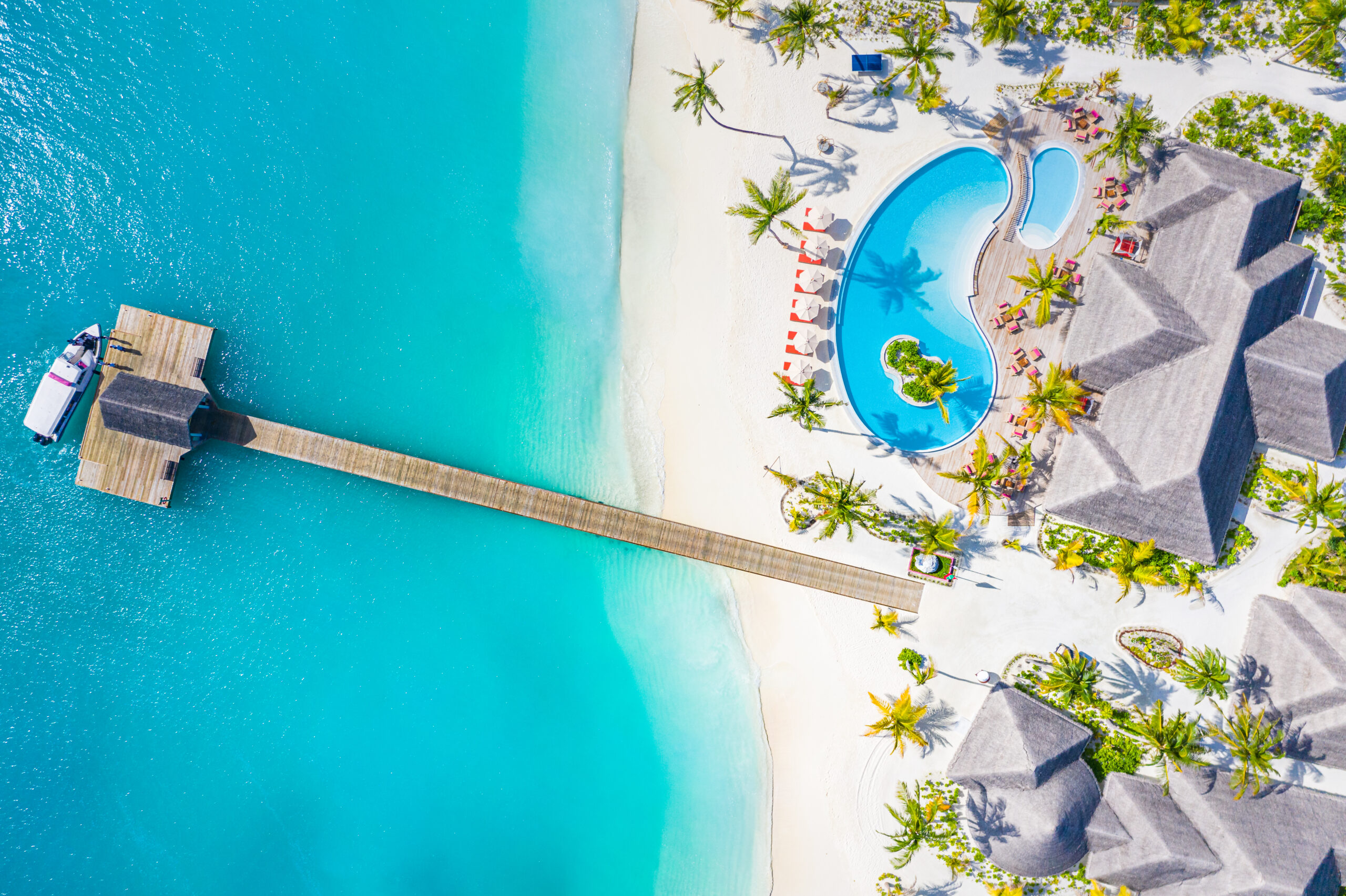 The journey to the resort boasts unbeatable views of The Maldivian Archipelago, and you're greeted with a warm welcome by staff members who line the deck playing the drums. 
Sea bungalows line the outskirts of the island, boasting views of the glittering blue Indian Ocean. The resort takes on a laid-back approach to luxury, with white-walled structures topped with Balinese style thatching which adds to that stylish tropical aesthetic. The resort is all-inclusive, meaning you needn't worry about carrying a wallet or raising a hefty bill. Food and drinks are included in the package (minus the premium offerings and any extras), and there are endless ways to keep yourself busy on the island.
Whether you're after infinity pools or tucked-away beach alcoves, privacy is easy to find here, and the resort is more than happy to accommodate specific needs and requests if you want that extra dose of exclusivity. 
Sun Siyam Iru Veli: Food and Drink
The resort has 3 bars and 4 restaurants, all of which have a diverse range of food and drink offerings. For all-day dining, Aqua Orange fulfils the needs of the hungry grazer as it offers a variety of cuisines, fresh salads and live cooking stations – perfect for someone who wants a casual lunch after a long snorkelling session. Unlike your usual buffet-style experience, there's a variety of individually portioned bites, meaning everything is fresh and exciting for each day of your stay. 
For those more casual lunches when you want to stay in your swimming costume, there's the Fresh Water restaurant which is situated by the poolside. Guests can indulge in a no-fuss food menu whilst sipping on cocktails and enjoying poolside entertainment. During our stay, we enjoyed a DJ set of party anthems at Fresh Water whilst watching the sunset, before heading out for a formal meal at Roma, which offers Mediterranean classics and family-style dinners with a great view of the ocean. Another great dinner option is the Group Grill which is aimed at seafood lovers. Both of these restaurants offer brilliant a la carte options with extensive wine menus. These two restaurants require advance booking due to popular demand, but staff members are very accommodating if you need a last-minute seat at the table. 
The resort attracts everyone from honeymooners to those celebrating birthdays and anniversaries, and it's not uncommon to see people making use of the chargeable private dining options for a memorable meal. We got a taste of the resort's 5-star hospitality in the form of a sunset celebration dinner at the beach. Our table was set up on the sand, surrounded by the gentle glow of candles, where we enjoyed an intimate dinner served to us by a designated waiter. 
A stay at Iru Veli is incomplete without trying out their iconic floating breakfast. On our last morning at the resort, we received a breakfast platter which came served on a buoyant tray. Staff assembled the meal and placed it into our private swimming pool to float whilst we took a dip and enjoyed fresh fruit, pastries, pancakes and cooked breakfast classics. 
Sun Siyam Iru Veli: Activities and Excursions
The resort is conveniently located on a beautiful coral reef, which makes it the perfect spot for snorkelling excursions and adventures. Guests can either set off for a swim on the reef from the rear of their rooms, or they can head to the dive centre where they can explore deeper waters with dive instructors. Either way, you're guaranteed to see a colourful spectrum of fish! If you'd rather stay on board, you can set sail on boat executions to see dolphins or explore the local community on the island. 
Wellness is a key factor at Iru Veli. There is a designated spa area which is separate from the main area, meaning guests can enjoy signature and classic massages whilst immersed in nature. We enjoyed a Balinese massage at the spa whilst admiring the view of the sea life from the glass bottom floor located underneath the massage chair. 
When it comes to entertainment, Iru Veli knows how to put on a party. A schedule of karaoke nights, live performances and game nights are all on the agenda, and guests often use this time to mingle and unwind at the end of their day. The staff are often seen getting involved which adds to the resort's laid-back, informal atmosphere. By the end of the night, resort guests leave feeling like family. 
Sun Siyam Iru Veli: The Accommodation
Guests have two options at Iru Veli: beach view and sea view. Prices range depending on size and view, but every room at the resort has its own private pool which is an added luxury. We opted for the Dolphin Ocean Suite as it was hailed for being the best view for dolphin spotting. Although we didn't see dolphins from our room, there were plenty of stingrays and baby sharks on display which made for great entertainment during the day. 
The room interiors were light and airy, drawing focus to the view outside. The bathroom was fitted with plenty of glass panelling which was great for spotting fish, and the outdoor area was a miniature paradise with wooden decking, sun loungers and a mini sanded beach area which was fitted with a ladder that led straight into the ocean. Nature is quite literally at your doorstep here. What more could you ask for?
Sun Siyam Iru Veli: Our Verdict
This tropical paradise offers everything you want from a 5-star resort without the whopping price tag or excessive frills. The laid-back atmosphere and charismatic staff make the experience unforgettable. With a generous all-inclusive package and plenty of activities on offer, Iru Veli stands as a firm favourite in the Maldives if you're looking for a resort that offers bucket list experiences without being overly commercial. 
Room rates start from £541. For more information about rates and bookings, please visit ​​here