With such an wide choice of hotels and destinations to choose from for a short euro break – how do you decide? It is easy to be overwhelmed by the ever increasing avalanche of promotions and publicity.
For me, the choice was pretty simple. Plentiful flights with a good range of departures, an incredible hotel with over 56 national and international awards in the short 6 years since it was built, the irresistible lure of a Michelin-starred restaurant, a heavenly spa with treatments to die for, and virtually guaranteed good weather. And all this less just over two-hours flight time from UK.
Where am I?  The Algarve – just by  Quinto do Lago, at the Conrad Algarve.
It's so simple to hop on  a flight to Faro (Easyjet, Ryanair, TAP or BA), jump in a cab the other end – and 20 minutes later ensconce yourself in the welcoming and nurturing lap of The Conrad Algarve in the southernmost region of Portugal, with its wonderful climate, numerous golf courses, and amazing food. Built in 2012, after the fashion of a royal place, with a driveway that puts the Taj Mahal to shame, and a 4-storey atrium lobby with more marble than Trump Tower – the Conrad Algarve greets guests in great style.
The 157 room hotel has won 56 national and international awards in its 6 short years – and I can see why. It certainly wins my award for the most nurturing, relaxing and stress free short break I've enjoyed in years.  Despite its luxury, impeccable service and extraordinary dining options – the hotel is unpretentious, friendly, and informal. I absolutely loved my three day LIFE RESET break – which included three 60 minute treatments in the spa, both a pilates session and a yoga class, and a 60-minute guided walk through the nearby national park) – and I am returning to London refreshed and recharged, and sadly, a tad heavier (but oh – it was so worth it).
Three swimming pools (plus a further 3 in the spa and another kids pool for good measure), all heated, a full range of Techno equipment in the bright gym with views over the rolling hills of the Algarve, a spa with the most talented therapists I have had the joy to experience (I don't know what they feed the lovely therapists, but these ladies can massage with a grip firmer than any Eastern European plumber – heaven),a tennis court, bicycles to rent, a full range of classes – yoga (even standing yoga in a nearby lake!) Pilates, boot camp, horseriding, Segway tours, Jeep safaris to the local countryside, clam digging (!) and of course (big yawn from me) a resident golf pro, and a dedicated golf concierge in the hotel who can advise on, organise, equip, and arrange any golfing requirements.
No need here for me to explain that the Algarve has some of the finest courses on the planet (7 of which are within 6 kms of the hotel) – and the amazing unspoilt beaches of the Atlantic coast – within a few minutes drive of the hotel. I didn't want to leave the hotel  but for those who may suffer cabin fever – there is a wonderful selection of shops, cafes, bars and restaurants two minutes walk from the hotel.
Conrad Algarve: The Food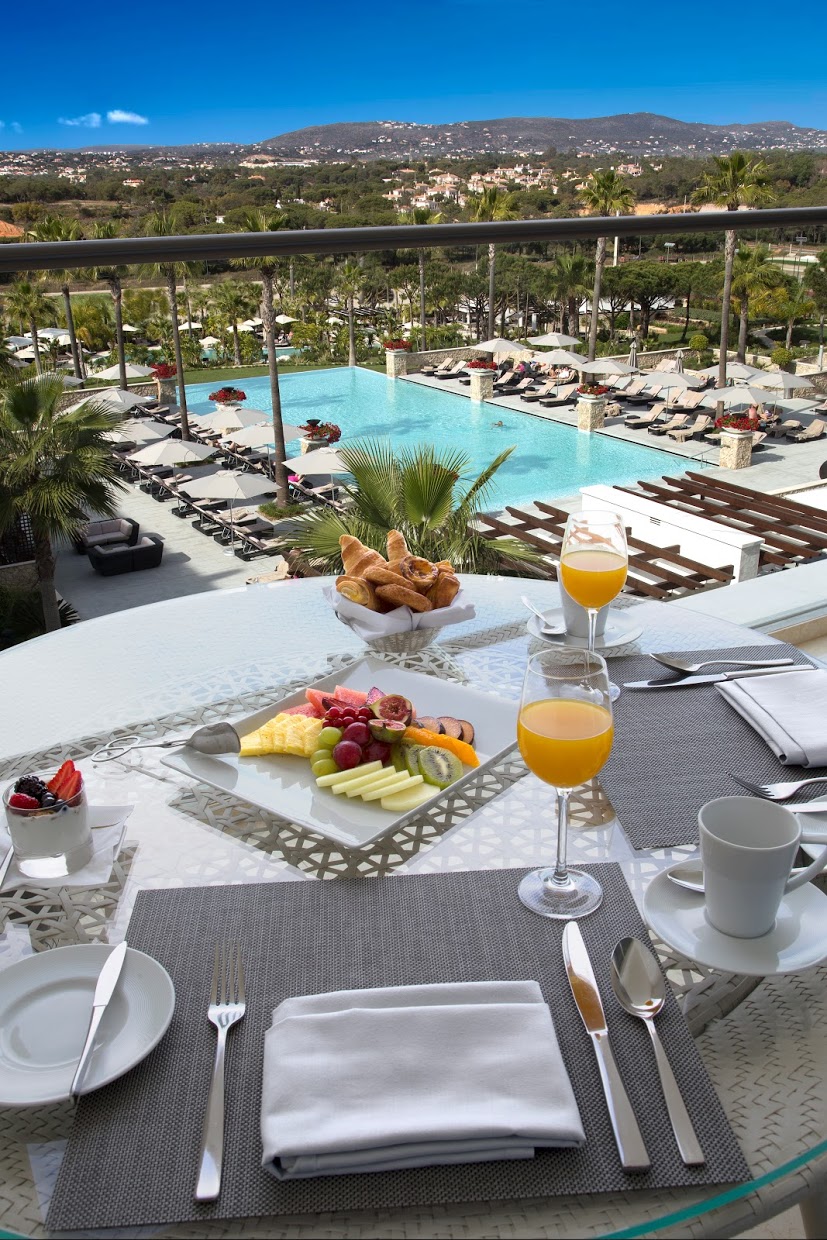 The food offering within the hotel is stunning. Bento box style lunches from their Nourish Me healthy eating menu are available around the spa and pool areas, while The Lauro serves an irresistible breakfast buffet, and both lunch and dinner overlooking the main pool. Here a simple vegetable risotto is transformed in to a mouth-watering sensation, and the stew of chicken breast with beer and barley with carrot and mustard was divine. For dessert, the green pistachio parfait with strawberry pate was worthy of a Michelin Star.
But the grand dining event here is indeed a Michelin starred restaurant. Gusto by Heinz Beck gained its well-deserved Michelin star in 2018 – and the tasting menu with paired wines, is worth the flight here. And if you're picky about your salt – there are 4 varieties offered here – port wine infused, Hawaiian coconut, flower of Algarve, and volcanic clay. Of course the "Café Latte" that was delivered at the end of our extraordinary tasting menu was like no Café Latte I had seen or tasted in the past.
Conrad Algarve: The Accommodation
All you would expect of a hotel built along the lines of a royal palace – the rooms are large, with deep balconies and fully equipped with every luxury and amenity – including bathroom TV's, personal Nespresso machines and Shanghai Tang Mandarin Tea toiletries.
When I win the lottery, I will definitely book The Roof Garden Suite, with its own butler, indoor pool ( with retractable roof), sauna, hammam, vast living room , dining room and bedroom – the huge outdoor terrace will be the perfect place to throw a party for my nearest and dearest to celebrate my win.
Conrad Algarve: The Spa
Offering a full range of enticing body and facial treatments, any spa is only as good as its therapists – and this one excels. My full body aromatherapy massage left me virtually comatose, and the anti-aging rose facial on my last day has left me ready to face the flight home with a healthy glow on my newly exfoliated face.
The hydrotherapy area of the spa features both Caribbean and Swiss showers, Vitality pool (32 degrees)  with hydrotherapy beds and Jacuzzis, a cold plunge pool (14 degrees) , outdoor infinity pool (28 degrees), sauna, hammam, and heated tiled beds.
Conrad Algarve: Our Verdict
Only one word: bliss.
I'm usually a boutique hotel person, but I think I'm a convert. I loved the anonymity of staying in this large hotel – which even when full is only sparsely populated due to the size and layout of the various facilities. There was no whispering in the hotel, by either the staff or guests, and a lot of laughter from both – which isn't that common in smaller hotels.
If I'd known it was this easy to escape the stress of our hurly burly metropolitan lives, I would have come sooner. Now they'll have a difficult job keeping me away. I'll definitely come back, as much for the food as for the peace and quiet – and of course for their home made pastel de nata – that's those famous egg custard tarts to you and me!
Nightly rates at Conrad Algarve start from £156/€180 based on two adults sharing a grand deluxe room on a B&B basis. Life Reset – three day programme – Cost per person in Single Room from 1.315 EUR. Cost per person in Double Room from 1.045 EUR.