About Time: You Discovered the Hottest Luxury Fitness Destinations for 2019By Angelica Malin
Whether you're an adrenaline junkie or calm and collected yogi, ditch the ordinary, take time-out from the traditional and head wherever your wellness whims take you. If you're craving a healthy holiday in 2019, we've discovered the hottest luxury fitness destinations that are a must visit.
1. For Flexibility and Nourishment: Our Retreats, Somerset
The Run-Down: Our Retreat UK escapes take place in a luxury 10-bedroom house in Somerset with sumptuous bedrooms and stylish social spaces and is set in acres of lush, green countryside. With balance at the heart of the offering, professional chefs are hand selected to join the retreats, cooking delicious and nourishing food throughout.
What to Expect: Combining daily yoga practices, strength and mobility training with scenic hikes, meditation, cookery and cinema nights, Our Retreat is for solo travellers, couples and groups of friends alike. Founder Lisa Carolan has structured the retreats to leave you feeling fit, healthy and rejuvenated, with a true sense of equilibrium and fun, long-lasting memories.
2. For Beach Workouts: Nobu Hotel Miami Beach, USA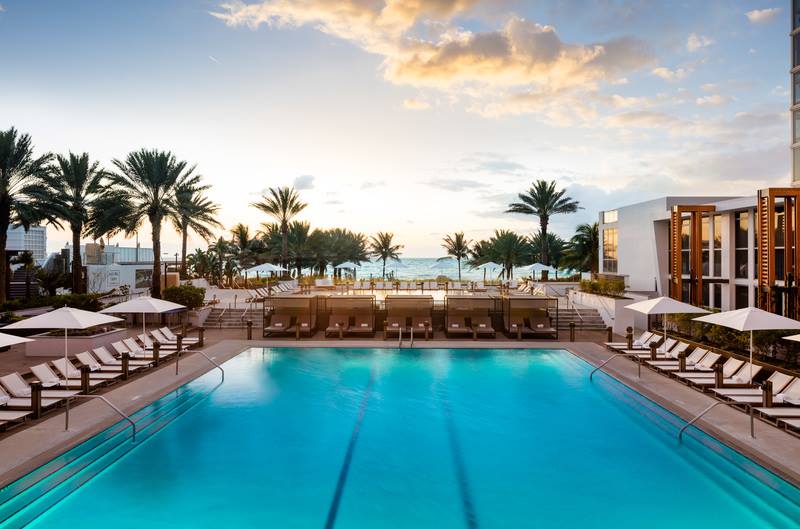 The Run-Down: From clay body masks and cauliflower crust pizzas to surf-pilates and yoga on the sand – Nobu Hotel Miami Beach is undoubtedly one of the world's hottest scenes for 360-degree health and fitness. Whether you're looking for a dedicated, transformative well-being holiday, or just to dip your toe in – Nobu Hotel Miami Beach has it all, with brand new spa treatments and classes for this season.
What to Expect: Boasting a lavish 18-treatment room Escencia Spa, the stunning resort this year has launched their new open air, farm to fork Malibu Farm Café with a bountiful health menu, along with new beach boot camps and innovative body-sculpting classes.
3. For Alfreso Yoga: Es Saadi Marrakech Resort, Morocco
The Run-Down: Getting your sweat on doing Adho Mukha Svanasana (AKA Downward Facing Dog) is without question far more restorative whilst in the exotic gardens in the middle of a Moroccan desert paradise. The stunning 5-star Es Saadi Marrakech Resort invites you to recharge body, mind and soul at their luxury 'Detox & Vitality' retreat in beautiful and mystical Morocco. A haven for celebrity guests since it opened 50 years ago, the sprawling resort is set in the golden triangle in sun dappled and colourful Marrakech, with their wellness escape designed to rest, restore and revive.
What to Expect: Over the course of three days, practice the art of yoga with renowned instructors with a focus on healing body and spirit in one of the most beautiful and tranquil settings in the world whilst also having access to the world-class Es Saadi Palace Spa, voted 'Best Luxury Wellness Spa in Africa' at the 2017 World Luxury Spa Awards.
4. For a Holistic Approach: Shanti Maurice Resort & Spa
The Run-Down: This beautiful resort on the Mauritian south coast spreads across 35 acres of tropical gardens and pristine white sands. Shanti Maurice's world-class Shanti Spa combines age-old regimes with contemporary international treatments for revitalised senses and spiritual awakening.
What to Expect: Experienced therapists help you take control of your body in order to de-stress, detoxify and rebalance, and also offer lectures and classes for a fresh approach to long lasting health. An extensive leisure programme invites everyone to pursue activities as diverse as cooking classes, water sports, jogging, yoga and finger painting, among others.
5. For Warrior Workouts: Fairmont Maldives Sirru Fen Fushi
The Run-Down: Take it back to basics and test your fitness levels in paradise using only the natural tools of the earth at Fairmont Maldives Sirru Fen Fushi. Designed by workout instructor and founder of the Maldivian Warrior Workout, Ali Shareef, the luxurious resort in the Shaviyani Atoll transports you back in time to keep fit and experience this one-of-a-kind authentic cultural workout.
What to Expect: The warrior-style workouts take place on the idyllic beach and uses coconut shells, wooden blocks, logs and heavy stones opposed to conventional free weights and dumbbells, for the most fun and immersive workout yet. These weight-lifting and resistance exercises are followed with a swim in the crystal-clear lagoon and a run along the picturesque, sugar white beaches, ensuring an intense yet truly magical and unforgettable workout. If this isn't enough, fitness fanatics can also delight in the variety of water sport and exercise activities offered at Fairmont Maldives, from sea kayaking, jet skiing and sailing to snorkelling and beach volleyball.