New York's culinary landscape is thriving, and it's all thanks, partially, to the growing number of food halls opening up across the city. NYC is a gastronomic feast for the senses; from the smell of freshly made sourdough to the crunch of the Instagram favourite, cronuts – New York's dining obsessives are loving the all-under-one-roof eating expierence. And so are we. From old favourites to new openings, here's the best food halls you must visit in New York:
1. For Local Produce: DeKalb Market Hall, Brooklyn
The Lowdown: DeKalb Market Hall is one of the largest food halls in the country. Located in the City Point development in downtown Brooklyn, DeKalb is home to a collection of more than 40 local and regional food outposts, including Hard Times Sundaes, Ample Hills Creamery, Bunker, Wilma Jean, Cuzin's Duzin, Fulton's Landing Seafood Company and the first venture of iconic Katz's Delicatessen beyond its original Lower East Side location.
Where: Basement Level of City Point, 445 Albee Square W, Brooklyn, NY 11201, USA
2. For a Year-Round Market:  North 3rd Street Market, Brooklyn
The Lowdown: North 3rd Street Market is Williamsburg's first indoor year-round market, and provides an innovative platform for established and emerging brands. Vendors include Di Fara Pizza, Corner Bistro for burgers, and Harvest2Order.
Where: 103 N 3rd St, Brooklyn, NY 11249, USA
3. For Fair-Trade Goods: North End, Washington Heights
The Lowdown: North End is set to become uptown's largest food and beer hall when it opens to the public in later on this year in Washington Heights. The new eating destination and neighbourhood gathering space offers visitors a trendy communal space to eat, work, and relax. Designed by architecture firm NADA, North End will provide a curated selection of locally sourced, sustainable, and fair-trade goods and fare.
Where: 300 Broadway and 183rd Street, Washington Height, NY, USA
4. For Street Food: Time Out Market
The Lowdown: Time Out Market will showcase the best of New York City's restaurants, bars and experiences to Dumbo, Brooklyn later this year. Each vendor will be handpicked by Time Out experts and guests can enjoy views of the iconic Manhattan skyline as they dine.
Where: 55 Water St, New York, NY 10004, USA
5. For all Things Lifestyle: Canal Street Market, SoHo
The Lowdown: At the intersection of Manhattan's Soho and Chinatown neighbourhoods lies this "carefully curated" downtown retail market and food hall that operates year-round. Canal Street Market provides a meeting place for a variety of vendors, including those operating in retail and design, beauty products, clothing and food. The market's anchor vendors include Fox Fodder Farm and Davey's Ice Cream, with new vendors being added regularly.
Where:265 Canal St, New York, NY 10013, USA
6. For Global Dishes: Urbanspace Lexington, Midtown
The Lowdown: The ground floor of a beautiful art deco tower in Midtown has been revitalised as a food hall with 16 NYC-based vendors. 570 Lexington Avenue was originally built for pioneering record label RCA Victor, and its architecture makes it worth pausing to look up before entering. The food choices include Taïm falafel, Taiwanese street food from Bao by Kaya, fried chicken sandwiches from Bobwhite and curries from Inday.
Where: General Electric Building, 570 Lexington Ave, New York, NY 10022, USA
7. For a Firm Favourite: Chelsea Market, Meatpacking District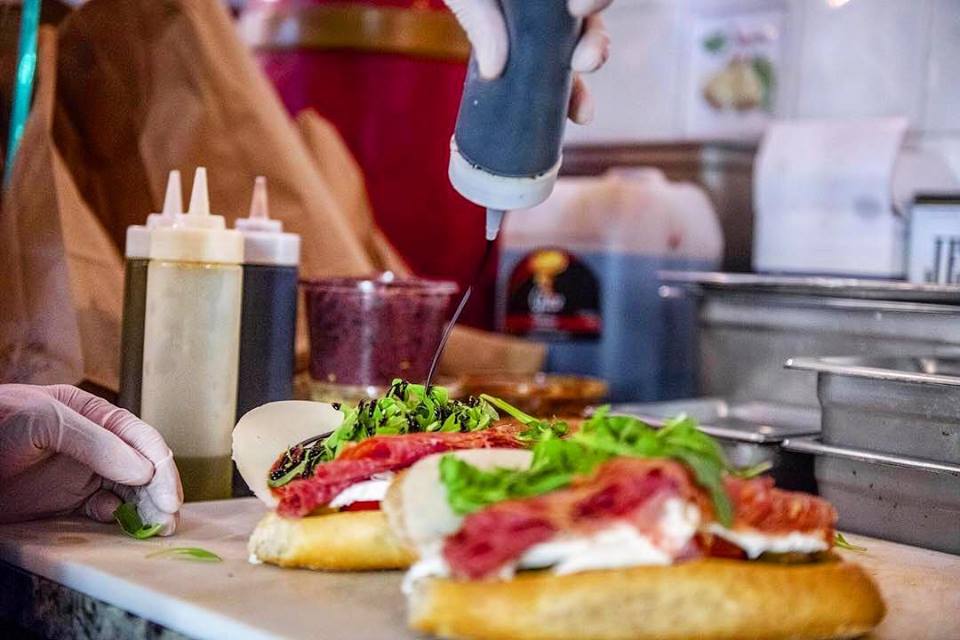 The Lowdown: A block long and a block wide and just a short walk from the Hudson River in the area of Manhattan known as the Meatpacking District, Chelsea Market has become in just fifteen years one of the greatest indoor food halls of the world, with more than thirty-five vendors purveying everything from soup to nuts, wine to coffee, cheese to cheesecake.
Where:  75 9th Ave, New York, NY 10011, USA
For more information on New York City, see here