Tenerife: no big secret, no secluded destination, and not necessarily somewhere you'd consider for a long weekend – but perhaps it should be? Forget the south of the island, these days it's all about the north. From sweeping terraces with plump vineyards and banana plantations, to dense woodlands, uncluttered beaches and striking views both up the mountain and down out to sea, prepare to book your flights once you discover what the locals have been keeping to themselves.
Photo Credit: Javier Sanchez Portero, Flickr Creative Commons
The contrast between north and south is quite stark. Your perception of Southern Tenerife, if you've not been, is probably spot on. It has everything you could possibly need or want from luxe hotels and an endless selection of activities (think snorkelling, whale watching), to a variety of beaches (pebble, black sand, golden – take your pick), shops of all sizes (and budgets), bars… the list goes on.
This is spread on especially thick from Costa Adeje to Los Cristianos via Playa de las Americas, and is, without doubt, ideal for those after a relaxed break in the sun with nothing to worry about except which lounger to plant yourself on next. If this doesn't sound like you however, then it's time to look away from the dry clustered shores of the south, and turn your attention to the green slopes, traditional towns, and open spaces of the north.
Where to go
Photo Credit: cortto, Flickr Creative Commons 
Santa Cruz de Tenerife, or just Santa Cruz, is the island's capital, as well as the joint capital of the Canary Islands (with Las Palmas in Gran Canaria). As such, it's brimming with differing architectural styles, old and new, where you'll see everything from the 17th century Castle of St John the Baptist to the modern Tenerife Opera House. As well as its notable history, selection of shops, museums, eateries, and proximity to the sweeping Playa de la Teresitas, Santa Cruz is famed for its vibrant carnival, which takes place around the first two weeks of February each year – the most popular of its kind outside of Rio.
Photo Credit: Koppchen, Wikimedia Commons
Heading northwest, you'd be forgiven for thinking you were in an old colonial district somewhere in the Caribbean when you visit San Cristóbal de La Laguna (aka La Laguna). Here, the long, lean streets are made up of colourful houses, boutique shops and a tingling cafe culture. It's a quaint yet cosmopolitan place, where the historic UNESCO-certified old town rubs along nicely with the University de la Laguna and its young, educated locals. It's also said to be where you'll dance the night away at some of the island's best bars.
Continuing west along the north edge of the island, you will come to Puerto de la Cruz, a city with a riveting past you can explore on foot, many hotels, restaurants and attractions. Kids will thank you for a day trip to Loro Parque, the leading zoo specialising in sustainability and conservation, while the El Lago Martianez complex has a mix of restaurants lining the artificial sea water lake right on the edge of the Atlantic Ocean. Talking of the ocean, Puerto de la Cruz is the place to get your teeth into some wonderful seafood. Try Tambo Restaurant at the southern end of Beach Garden in Punta Brava.
What to do
Photo Credit: Turismo de Tenerife 
Tenerife may well have some wonderful attractions, but its real appeal lies in its great outdoors – it's one big natural playground. Whether you're swimming, kayaking, hiking up Spain's highest peak, Mount Teide, or mountain biking in the national park, it's easy to get stuck in. A great place to go while visiting the north of Tenerife is the Forestral Park in Las Lagunetas where you will find free picnic spots and walking trails woven among the scented pine trees of this sizeable forest, some 1,380 metres up.
The main attraction is up in the trees: rope courses crisscross through the forest, taking you higher and higher, one platform at a time. There are two main courses (family and sports) to choose from, ensuring no one's left out, and no less than 11 zip lines to fly along while safely harnessed in, including the impressive 225 metre-long zip line at the end.
An expert with climbing ropes and carabiners (those metal clippy things) you need not be, as you quickly get into the swing of things under the watchful eye of an instructor, however, a head for heights helps. It's also worth taking a pair of gloves as they are not provided and it can be hard on your hands! As activities go, it's pretty good value at €17 for kids and €22 for adults, although you do need to book in advance.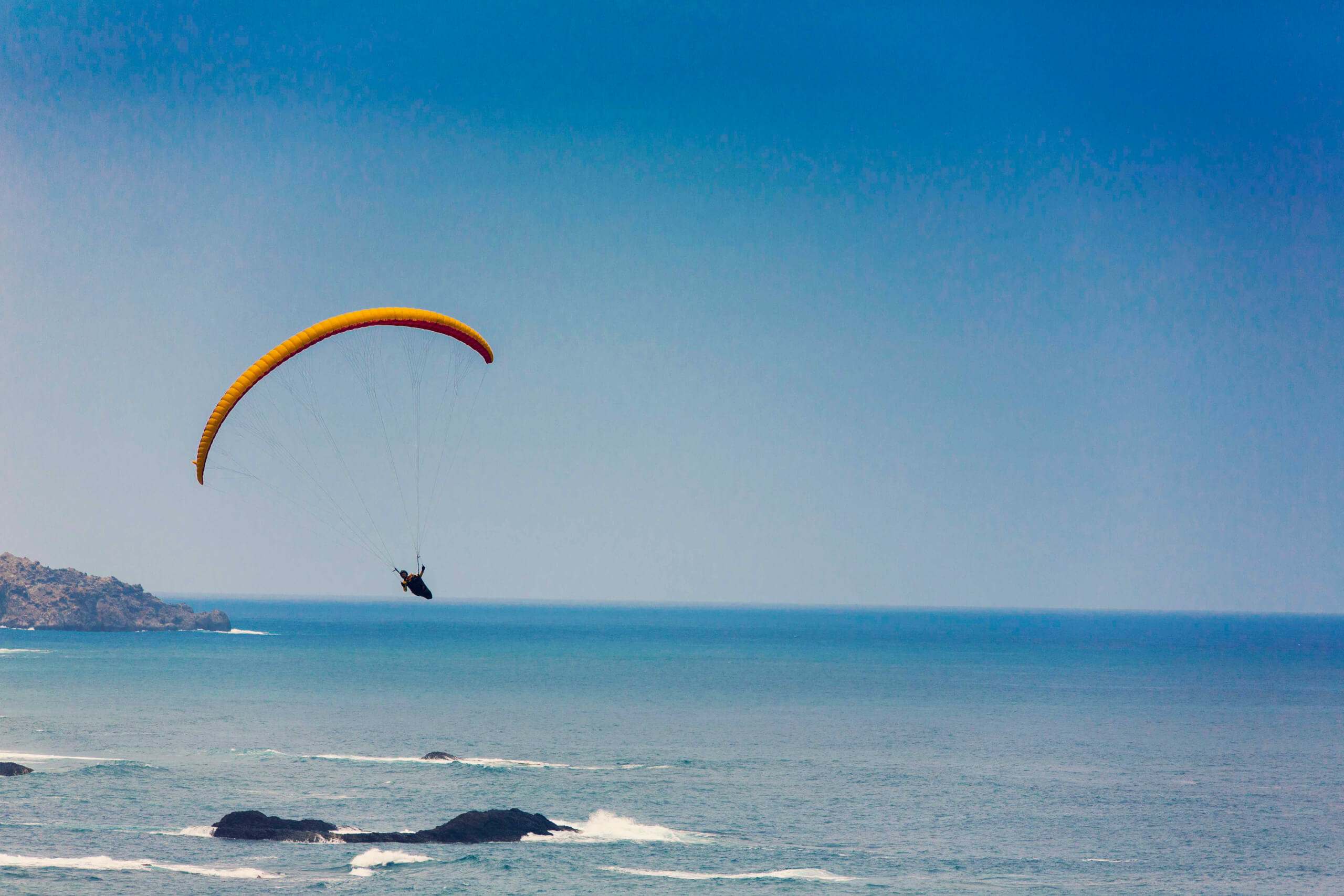 Photo Credit: Turismo de Tenerife
For something a little more extreme, paragliding is a big hit in Tenerife. There are many paragliding clubs in the North, and no experience is needed; just strap yourself to your instructor and let them do all the work while you lap up the views below, gliding gently back to earth.
If you prefer your fun on two feet, take a hike in the dramatic Anaga Mountains. You'll find paths and routes for all abilities leading to curious places, such as the black sand beach at Las Gaviotas. Get the ball rolling with the Las Vueltas to Taganana route, which climbs through the protected laurel forests and farmland up to the traditional town that appears to just cling to the hillside. If you love nothing more than a good hike, don't miss the Tenerife Walking Festival from 29 March 2016 to 2 April 2016.
Where to stay
Photo Credit: Hotel Botanico Oriental Spa & Garden
For some traditional luxury, make for the Hotel Botanico Oriental Spa & Garden, no more than two and a half miles from of the front at Puerto de la Cruz. Part of the Leading Hotels of the World collection, Hotel Botanico keeps it conventional: think fluffy robes in rooms, live music at cocktail time, and a mighty fine buffet breakfast that will set you up for the day. The swimming pool is the focal point, hemmed with loungers and beds, while the peaceful garden, complete with terrapins and koi ponds, is certainly worth a wander.
Photo Credit: Hotel Botanico Oriental Spa & Garden
Then there's the Oriental Spa & Garden which, thanks to its Thai pagoda, plunge pools, and waterfall, successfully whisks you to the shores of southeast Asia, albeit minus the jungle soundtrack. There's a comprehensive treatment menu, including the coma-inducing hot stone massage – heaven – which you will be grateful for after all that hiking and zip lining.
The hotel is well placed with various cafes and restaurants dotted up and down the street. The real gem here is the Jardin Botanico right across the road, which dates back to the late 18th century and is the second largest botanical gardens in Spain. Go for the many subtropical palms as well as endemic plants, flowers, and trees – a wonderful place for a mooch.
When to go 
Typically, the north of the island is a shade cloudier and wetter than the south however, that does not mean it is always cloudy and raining! The best thing about Tenerife is that you can visit at any time of year. How hot it gets, how warm the sea is, and how much sunshine you're bathed in will vary from month to month but generally, the weather is warm and sunny from January to December making it a serious contender for a 48-hour getaway in 2016.
How to get there
You can fly direct from London Heathrow (LHR) to Tenerife Norte Los Rodeos (TFN) in less than four and a half hours, three times per week, with Iberia Express in partnership with British Airways.