Las Vegas was built on a 24-hour lifestyle; the money-never-sleeps gambling, the all-night eateries and the day-to-night parties. Las Vegas is Disneyland for adults – a place where anything goes, and the rulebook, well, there is no rulebook.
Long before The Strip, Downtown Vegas was where everyone came to throw away their inhibitions. Back in the 1930s, Downtown Vegas was the place to be – the casinos, the hotels – it was where classic Vegas began. The strip started developing in the 1940s with better casinos, better entertainment, and better hotels. And in the process Downtown Vegas almost became an estranged sibling. Cabs wouldn't drive down the freeway, and people didn't need to venture south when everything on the strip was shinier, and bigger.
It's no secret that Downtown has always been competing with The Strip – but in recent years the tables have turned. The area has seen a wealth of regeneration, and the communitity have come together to offer something more than gambling. There's an electic mix of old-school, vintage Vegas peppered with new restaurants and uber chic hangouts. And with this, a new wave of tourists are beginning to travel to Downtown Vegas to lap up the laid-back vibe and alternative attractions.
You certainly can't rebrand Vegas, and like all the marketing materials state 'you know why you come here', you really do. You come for the glitz, the glam, the all-day pool parties, and DJ residences. You come to lose yourself, escape reality of 9-5 living, and you come for an adventure of hedonism. As they say, what happens here, stays here.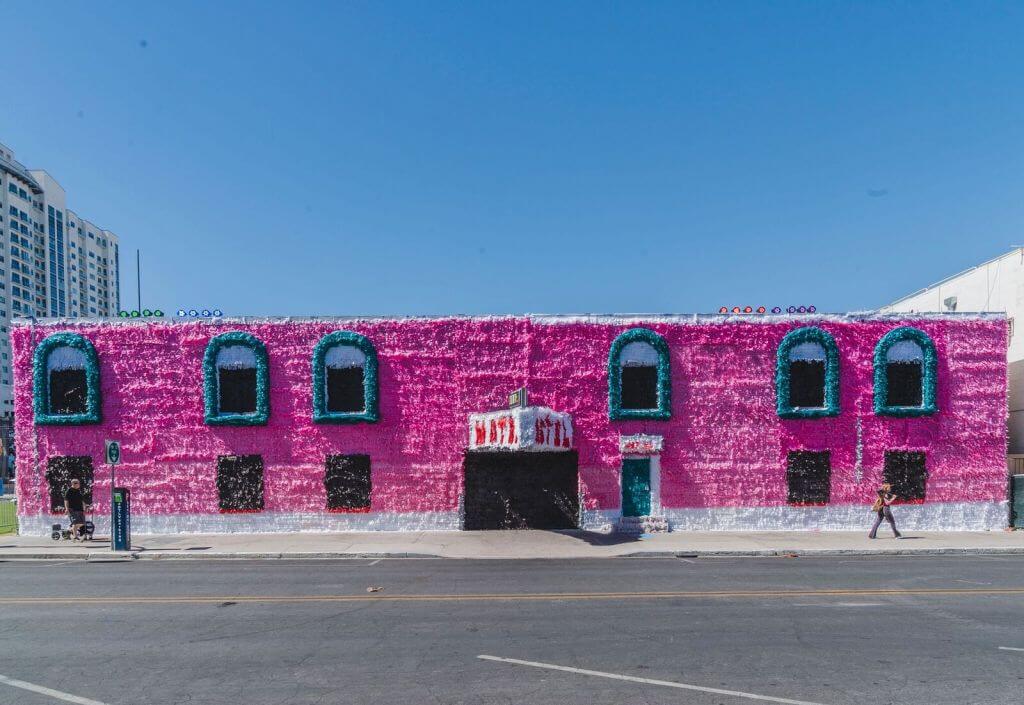 But bubbling underneath the surface, Downtown Vegas is slowly rising up like a bapitsm of fire. This district is fast becoming a holiday destination in its own right. And we know what you're thinking – why would I want to visit Downtown Vegas, when I have everything on my hotel doorstep on The Strip? Well, Downtown Vegas offers far more than bright lights and slot machines; there's a real sense of community, a hub of creatives, and a thriving foodie scene.
If you're taking a trip to Vegas in the next couple of months, put a few days aside to visit Downtown Vegas – it's a real diamond in the rough. Here's our favourite picks:
Downtown Vegas: Where to Stay 
The Lowdown: Downtown Grand is a fun hotel – the place where you can have a boozy breakfast at Freedom Beat, a few cocktails by the pool up on the Citrus Grand Roof Deck, and a few shots at the gambling tables on the ground floor. In a nutshell it's a place for a good time with everything you could possibly want out of a hotel all under one roof.
Citrus Grand Pool Deck is a pool-party paradise showcasing more than 35,000 square feet of entertainment and special event space. Even if you want to laze by the pool in one of their custom-built cabanas with a Margeraita in hand – that's totally cool. If you want to show off your mild sporting skills, the rooftop is home to games including corn hole, foosball, table tennis and a grassy seating area complete with umbrellas and outdoor day beds.
And when it comes to getting your 40 winks – the bedrooms at Downtown Grand are some of the best in the area. The accommodation ranges from deluxe rooms to one bedroom suites, and the whopping grand suites. The deluxe rooms are an ideal holiday bolthole. The rooms have all the mod cons, think a 40-inch high-definition flat-screen TV, standard and USB power ports and high speed internet.
Where: 206 N. 3rd St., Las Vegas NV 89101

For a Historic Hotel: El Cortez 
The Lowdown: El Cortez is one of the oldest hotels in the whole of Vegas. Stale cigarette smoke lingers in the air, the decor hasn't been changed since the 80's, and there's Vegas locals who come and prop up the bar for hours on end. But that's the charm about this place – it has stuck two fingers up to the needs of the 21st century traveller (there is free wifi though). El Cortez doesn't try and be anything its not – it's a classic American hotel, with big ol' American hospitality.
The Siegel's 1941 Restaurant within the hotel is a diner come restaurant whose breakfast menu is enough to have you reaching for a gym membership. There's biscuits and gravy, fried everything and creamed grits. Staff are something out of a film – the friendliest bunch who happily top up your coffee, and put their arm on your shoulder like a comforting friend to check your meal is ok.
The rooms are a decent and well equipped with comfy bedding, and mini toiletries. If you want a hotel with history and a timeless feel, El Cortez is the one.
Where: 600 E Fremont St, Las Vegas, NV 89101
Downtown Vegas: Where to Eat 
The Lowdown: The Perch located within the Container Park is where Vegas natives come to fill their boots with bottomless mimosas and typical brunch fare. Burgers are a totally acceptable brunch bite, especially when they're topped with a fried egg, covered in cheese, and sandwiched between a brioche roll.  Seriously though, we're going to petition for breakfast tacos to be more of a thing back in London, the ones served at The Perch are our downfall. Soft tacos pilled high with fluffy scrambled eggs, and chilli for a kick of secret heat. Try their pancakes with fried chicken with waffles – tasting is believing. When the sun hits, grab a table outside and bask in all the brunch glory.
Where: 707 E Fremont St, Las Vegas, NV 89101
The Lowdown: Park on the corner of Fremont Street is a trendy eatery knocking out absurdly delicious breakfast dishes and lunchtime eats. Their outdoor patio is a sun trap, and an ideal spot for sinking a few cocktails in the Vegas heat. There's everything from fresh, light salads including the chicken caesar, to the more heartier options. The garbage fries aren't just a dish to be consumed when inebriated, but you'll certainly need an appetite to finish them off. Essentially, it's French fries topped with two types of cheese, bacon, jalapeños, green onions, tomatoes, avocado, chipotle ranch and a fried egg. And breathe. There's sandwiches, burgers and chicken wings. It's a lunchtime dream.
Where: 506 E Fremont St, Las Vegas, NV 89101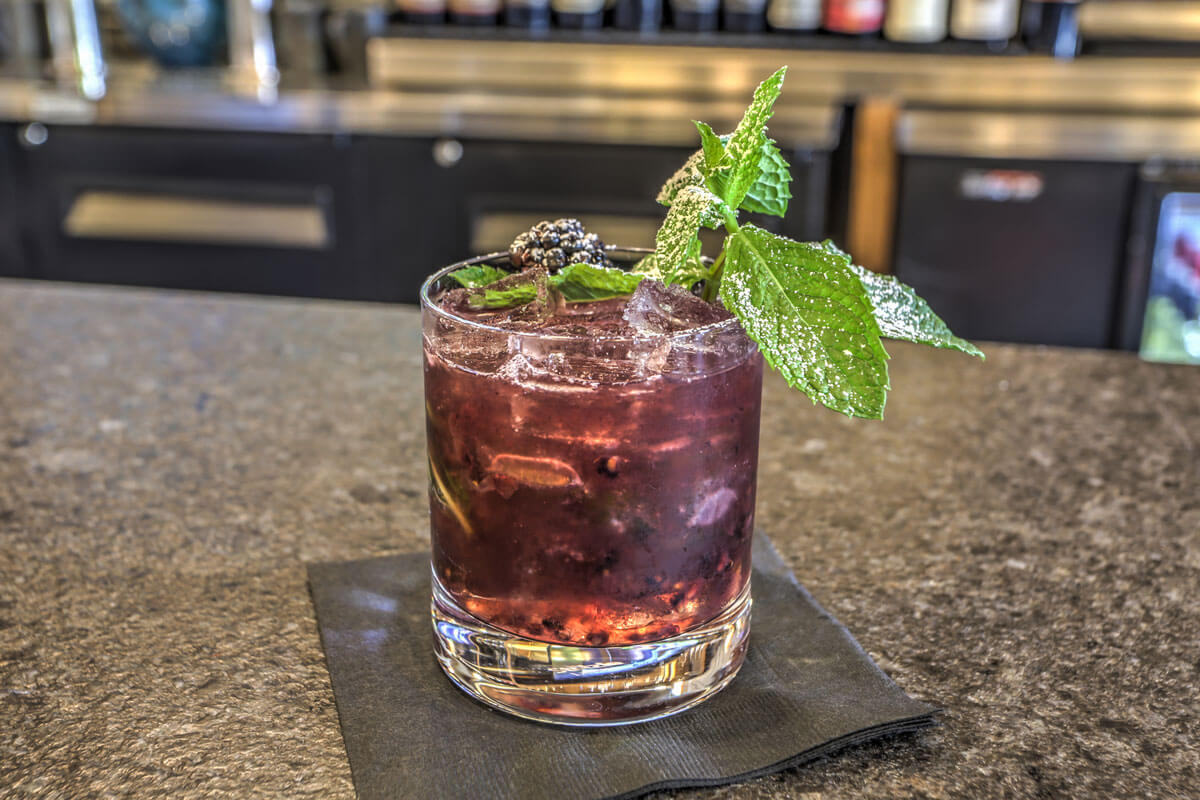 The Lowdown: Therapy has it all. And by all, we mean the vibe, the drinks, the food. It's the spot for any occasion – pull up a stool and drink cocktails by the bar, or grab a leisurely lunch or a late dinner with friends. It has an almost New York warehouse feel about the place. Neon light festoon the walls, the open kitchen brings a theatrical element to the dining room, and a killer soundtrack helps turn this restaurant into a poppin' dinner venue.
Take a friend who has similar tastes, and prepare to share. The artichoke dip with crab served with tortilla chips is every bit as tasty as it sounds – a sea of cheese is spiked with salty artichokes, and nubs of shredded crab. It's insanely good. And while everyone (including the Discovery Channel) bangs on about their legendary fried mac n' cheese bites, the ox tail empanadas are ludicrously moreish. Make your way through their 40 strong whisky list, or try their self titled cocktail.
Where: 518 E Fremont St, Las Vegas, NV 89101
The Lowdown: Triple George Grill is a quintessential American steak house. The large wrap around bar is the main focal point, but there's a dining room if you're prepared to chow down on a mountain of meat. This place lives up to the American steakhouse stereotypes; wooden panelling on the wall, larger-than-life TV screens showing the latest sporting fixtures and a few sports photographs dotted around.
The meat selection is undoubtedly the star of the show; hefty rib-eyes sit alongside melt-in-the-mouth fillet mignon, and classic NYC strips. We throughly recommend the truffle fries, and creamed spinach. Both excellent sides, and the seafood bites are also worth a look: large prawns and fish of the day. But if you're coming, come for the steak.
Where: 201 N 3rd St, Las Vegas, NV 89101
The Lowdown: The Donut Bar is essentially America in a nutshell. It's so OTT, and quite frankly verging on the edge of pure gluttonous, but you can't help but love it. These are no ordinary sugar ringed doughnuts, oh no, these are the Godfather of dougnuts. Take the pop tart beauty: a square doughnut the size of an A5 piece of paper, stuffed with a pop tart and covered with icing and sprinkles. It's so outrageous, and yet, it's one of the best things we've ever tasted. The menu changes daily – but expect chai, salted caramel, creme brûlée, Nutella and coffee espresso flavoured doughnuts. They sell out daily, so get in early to avoid sweet treat disappointment. This place is a must visit for any Downtown Vegas newbie.
Where: 124 S 6th St #140, Las Vegas, NV 89101
Downtown Vegas: What to Do 
For Everything Under One Roof: Fremont Street 
What: Fremont Street is the place where people descend on when the sun comes down, and the bright lights come up. The street houses a number of take-outs, bars, entertainment areas and souvenior shops selling knock off goods, and mugs to make your family members happy. There's always something happening here – whether that's a Def Leppard tribute band preforming, or street acts showing off their dance and rapping skills. It's Downtown Vegas' answers to the Strip, but on a smaller scale.
Where: Fremont Street, Downtown Vegas, NV
For High Flying Fun: Slotzilla
What: If you want to relive your PGL days of zip wiring through the Shropshire countryside, then Slotzilla has your name written all over it. It's certainly no rolling hills, but this zip line offers a bit of Vegas fun over the bustling Fremont Street below. It's 30 seconds of pure unadulterated joy, enjoyed especially at 12.30am when the lights are out and twinkling.
Where: 425 Fremont St #160, Las Vegas, NV 89101
For a Cocktail Masterclass: Velveteen Rabbit 
What: Founded by two sisters, Pamela and Christina Dylag, Velveteen Rabbit is a craft cocktail and beer bar situated in the heart of the Arts District. After having no previous experience in the bar industry, the ladies set up Velveteen Rabbit a few years ago to offer a drinking haven away from the typical brass Vegas bars that frequent the city. On Saturdays they host a two hour cocktail class which allows you to get behind the bar and learn the art of making specialty cocktails. It's a fabulous insight into the history of cocktails, and the skills to make a heady Old Fashioned.
Where: 1218 S Main St, Las Vegas, NV 89104
Photo Credit: Ivan Carrillo
For Big, Big Signs: Neon Museum 
What: The Neon Museum opened way back in 2012 and houses a fascinating collection of some of Vegas' most iconic neon signs and lights. There's 200 in the collection, and seven have been lovingly restored to their former glory. For a touch of nostalgia and to hear more stories from over the years, book onto one of the volunteer-led tours.
Where: 770 N Las Vegas Blvd, Las Vegas, NV 89101
Photo Credit: The Neon Museum 
Prices for a deluxe double at Oasis at Gold Spike start from $109 for the weekend (excluding tax or resort fee). Return flights with Virgin Atlantic from £900. Click here for further information about Las Vegas.