Brighton is only a short 1 hour train journey from London Victoria, and let us tell you this now  – there's plenty more grub on offer than fish and chips, and seafront bites. This seaside town is a hit in summer when city folk flock to the sandy beachfront and large beers gardens. Aside from the pier and other delights, Brighton boasts an incredibly exciting food scene – from vegan haunts to up-and-coming independent eateries and wine bars.
The ethos of produce-focused cuisine and supporting local businesses runs through the heart of the food scene in Brighton, and you can taste the passion and respect for the ingredients in so many amazing finds in the town.
Brighton Guide: Breakfast/Brunch 
1. For a Quirky Brunch: The Artist Residence
Must Order: Lamb rump sandwich with black pudding, salsa verde and red cabbage ketchup
The Lowdown: The Artist Residence in Brighton is as trendy as its siblings in Cornwall and London. A place not only to rest your weary peepers; downstairs is home to The Cocktail Shack, and upstairs is where you'll find The Set Cafe – a brunch spot with serious pizzaz. If you're after a place with style, incredible views of Brighton seafront and killer brunch dishes to boot, put this place on your list.
Eat and Drink: It's not your usual brunch. There's no Eggs Benedict, not a chorizo hash in sight, but, actually you don't miss them. In their place, there's fantastic waffles, lots of great quirky dishes and incredible pancakes. The potato waffle with pulled duck and crispy egg is a brunch dish we can get on board with. Chow down on the peanut butter and jam pancakes for a proper nostalgic kick.
Where: 33 Regency Square, Brighton BN1 2GG
2. For a Laid Back Brunch: Red Roaster
Must Order: Slow cooked pumpkin, organic poached egg, courgette, spring onion, avocado mousse and rye toast (£10.70)
The Lowdown: Welcome to a slice of the Hamptons, or to Brighton natives, Red Roaster. This place has fantastic style appeal; crisp white lines, oodles of sass and so much botanical loving. When the sun hits, they open the front floor to ceiling reclining windows, turning Red Roaster into the ultimate al fresco brunch spot.
Eat and Drink: Red Roaster has taken humble dishes to a new level with their own unique twists. Their Eggs Benedict features pork shoulder, cider glaze, bacon and hazelnut dressing, and the waffles are topped with bacon jam, maple glazed bacon, and black pudding. There's also ramen on the brunch menu if you're into a pre-midday Japanese feed.
Where: 1d St. James's St, Brighton BN2 1RE
3. For a Classic Brunch: Morris and Jacques
Must Order: M&J's veggie breakfast – bubble and squeak patty, halloumi, grilled tomato, mushrooms,  fried free range egg and toast (£7.45)
The Lowdown: Morris & Jacques is a lovely neighbourhood cafe doing things properly; the source their food from great local producers, make everything from scratch and their team of staff are the friendliest around. Bring your pooch along, as they supply dog bowls and biscuits.
Eat and Drink: Roll in with a hangover, and roll out feeling on top of the world. Morris and Jacques' brunch will sort you right out. Their homemade bubble and squeak is like heaven on a plate, and their veggie fry-up is great, if not better, than its meatier cousin. Their bacon sarnie is no wafer thin bread and a few stringy pieces of pork. Oh no, this sarnie is like something you mum would bash up – crispy, fried thick cut bacon cushioned between soft, squishy white bread.
Where: 100 St James's St, Brighton BN2 1TP
4. For a Traditional Caff: Joe's Cafe 
Must Order: Biggest Full English – sausage, bacon, beans, fried or poached egg, toast, mushrooms and fried potatoes, slow roasted tomatoes, black pudding and extra toast (£8.95)
The Lowdown: Joe's Cafe take elements of the well-loved British caff and add in a bit of sass to offer more than greasy spoon classics. Don't panic, there's still the traditional early morning breakfast eats, but the team have revamp them using the finest British produce. It's not in centre, and it's a bit of a walk. Totally worth it, mind.
Eat and Drink: The big breakfast really lives up to its namesake – the portion is gigantic, and could easily feed a family of four. For the more health conscious bruncher, opt for the smoked salmon with poached eggs, avocado and mushrooms, or poached eggs on toast. There's vegan, veggie and gluten-free options available. We've been here a couple of times, and the food is always consistently good.
Where: 24 Upper Hamilton Rd, Brighton BN1 5DF
Brighton Guide: Lunch 
5. For a No-Waste Restaurant: Silo 
Must Order: Pork, celeriac and mustard
The Lowdown: Silo is one of Brighton's most talked about restaurants, mainly because they're doing things a hell of a lot differently. Silo was born from a desire to innovate the food industry, whilst demonstrating respect: respect for the environment, respect for the way foodie generate, and respect for the nourishment given to our bodies. This zero waste restaurant proves that you can churn out some absurdly good food, and that a sustainable business is both viable and financially sustainable.
Eat and Drink: Silo is not just a restaurant – they also have an onsite bakery, brewery and coffee house. They bake fresh loaves of bread, bang out beautiful cakes, whip up exquisite coffee and their lunchtime menu is just super. Their menu is concise, but we appreciate the perfectly formed dishes, each featuring a small amount of ingredients, with the result an exciting and surprising mix of flavours. Each dish just has the wow factor. Take it from us, this is a place you'll want to visit time and time again.
Where: 39 Upper Gardner St, North Laine, Brighton BN1 4AN
Photo Credit: Xdb Photography
6.For Vegan Sandwiches: Larder
Must Order: Deep fried mac and 'cheese' balls
The Lowdown: After turning the whole menu vegan for vegnuary – the plant powered eats proved so popular Larder decided to ditch the old menu, and only serve vegan goodies. And by gosh, have Larder done all the meat-free babes proud – this small cafe is teeming with incredible vegan fare. Even if you're not vegan, go and appreciate their lentil dahl toastie. It's damn good.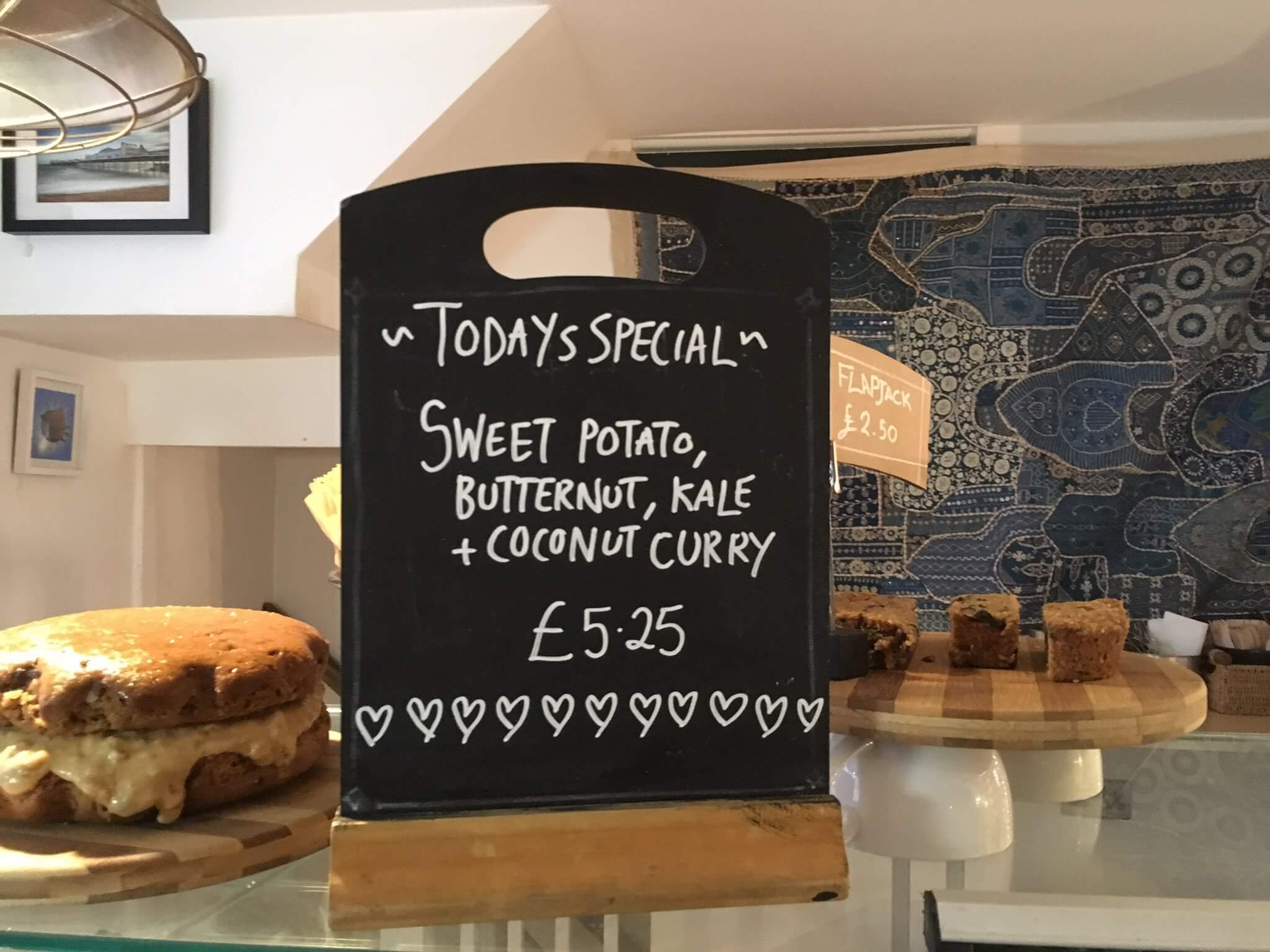 Eat and Drink: The Larder is on top of their sarnie game – the menu is a treasure trove of toasted delights stuffed with sundried tomatoes, chunky hummus and spinach, and avocado, beetroot and red onion chutney. Even if you don't stay for lunch – grab a smoothie, or take a slice of cake. Boring vegan food is a thing of the past, especially when these guys are knocking up some of the best vegan munch in town.
Where: 53 Gardner St, Brighton BN1 1UN
First Photo credit: @veganinbrighton
7. For Wine and Nibbles: Plateau 
Must Order: Cod fillet, leeks, sprouts and salt cod gnocchi
The Lowdown: Plateau is a local, independent wine bar and restaurant nestled in Brighton centre.  It's an ideal spot for a leisurely lunch, a quick late night dinner, or to spend hours with a big group of friends digging into seasonal delights over heady cocktails. A restaurant for all occasions, we say. They've mastered the recipe to success; locally sourced ingredients, a concise menu, seasonal bites – all in a laid-back setting. Best of all, a place where you don't feel embarrassed asking for help choosing the wine.
Eat and Drink: Plateau is the kind of place where you have to share everything because you don't want the other person to miss out on all the exciting flavours and interesting combinations. And luckily, the bites section of the menu was made for sharing, but it's a far cry from your bog standard tapas-style dishes. There's everything from salt cod beignets with smoked roe, to salt baked celeriac with wild mushroom and hazelnut, and tandoori mackerel topped with apple and beetroot.
Where: 1 Bartholomews, Brighton BN1 1HG
Brighton Guide: Dinner 
Must Order: Rib-eye steak with honey roasted veg and green salad
The Lowdown: The Coal Shed is a big, meaty gem in Brighton's forever growing foodie scene. The team are passionate about meat, with a large portion of the menu focused on various cuts of steak. But the most charming quality about this restaurant is the vibe – we're a sucker for a vibe (read: low lighting, chalkboards and wooden features). It's relaxed and  unpretentious. We like.
Eat and Drink: The mantra at The Coal Shed is simple: use the highest quality ingredients, sourced as locally as possible and expertly cooked. And boy, does it show. The steaks are by far the restaurant's crowning glory. If you're visiting with you meat-loving pals, opt for the sharing chateaubriand – a hefty hunk of meat, cooked over a charcoal grill – adding a rich, smokey taste to the melt-in-the-mouth meat. It's out of this world. There's good reason why people praise The Coal Shed. Stop licking your computer screen and get booking.
Where: 8 Boyce's St, Brighton BN1 1AN
9. For Indian: Curry Leaf Cafe
Must Order: Hyderabad lamb chops marinated for 24hrs in minced brown onion, ginger, garlic and garam masala then chargrilled in the tandoor. Served with green herb chutney (£7.50)
The Lowdown: Forget your korma, your onion bhajis, and your typical Indian fare found down your local curry house. Curry Leaf Cafe is changing the game when it comes to Indian cuisine. This place is all about Indian small plates, served to your table as and when they're ready. We totally dig the open kitchen – adding a theatrical element to the restaurant (and it also helps to spy on the food).
Eat and Drink: Where to start. Where to start. Well, the lamb chops are a good place to kick off your spicy journey. Succulent and tender – these delicious morsels are ludicrously tasty. The paneer with cheese, peppers and onions simmered in a creamy tomato, fenugreek and coriander seed sauce is wonderfully aromatic, and the perfect companion to the corainder and chilli naan. Skip the rice, and get your spoon into the rich mutton curry – a dish with secret heat and plenty of flavour. And their Espresso Martinis with a touch of chai is an excellent post Indian feast aperitif.
Where: 40-42 Upper St James's St, Brighton BN2 1JN
Photo Credit: Emma Gutteridge Photography
10. For Seafood: English's of Brighton
Must Order: Loch Ryan Natives No.2 Oysters
The Lowdown: English's of Brighton is a stalwart seafood restaurant, terrace and oyster bar based in a trio of former fishermen's cottages. Not only are they famed for their seafood numbers, they're the oldest seafood restaurant in Brighton.
Grilled Dover sole, ratte potatoes, clam, chervil & tomato vinaigrette.
Eat and Drink: Trays of oysters served with a wedge of lemon and a bottle of Tabasco is a regular sight. If you're a English's newbie, definitely order a few oysters. It's the best place in Brighton to knock back the gulps of salty water. And unsurprisingly, other dishes put seafood as the star of the show like the grilled Dover sole with ratte potatoes, clams with chervil and tomato vinaigrette, and dressed crab, served with coriander and apple salad, and cucumber yoghurt.
Where: 29-31 East Street, Brighton BN1 1HL
One for luck… 
Brighton Guide: Sweet Treats 
11. For Doughnuts: Glazed Coffee 
Must Order: Maple facon doughnut
The Lowdown: Is there anything better than a doughnut and a cup of coffee? The answer is no. And guess what, Glazed Coffee serve both.  
Eat and Drink: Don't ask us how they do it – but all of the doughnuts are vegan. Sack off your classic iced ring variety (although they are available), and feast your eyes on their peanut butter and oreo doughnuts, and Biscotti doughnuts. They regulary keep you on your toes with their daily changing special – at one point they put maple facon (you guessed it – fake bacon) on top of their doughnuts. These guys are wild.
Where: 25 Ditchling Road, Brighton
For more information on Bright, visit the website here.