Festivals are fun; conducting the 'big shop' before the weekend, stocking up on bags of wine, crates of cider and cheap, knock off vodka, succumbing to living like a feral human, no questions asked for three days, and eating 24 packs of Walkers Crisps over the course of the weekend. Yeah, festivals are great. But it's time to ditch the tent, wellies and sleeping bag, as W Hotels have created Wake Up Call, a luxury festival housed within W Hotels across the globe. They're shaking up the festival game in a big way; they've traded piss warm cider for pool-side Aperol Spritz, burger vans for room service and sleeping mats for king-sized beds.
We hit up Wake Up Call Festival at W Barcelona recently, and it beat trekking through boggy fields. The last time the works 'luxury' and 'festival' were put together, it was about the ill fated Fyre Festival, but W Hotels pulled it off. Here's what you need to know:
Wake Up Call: The Lowdown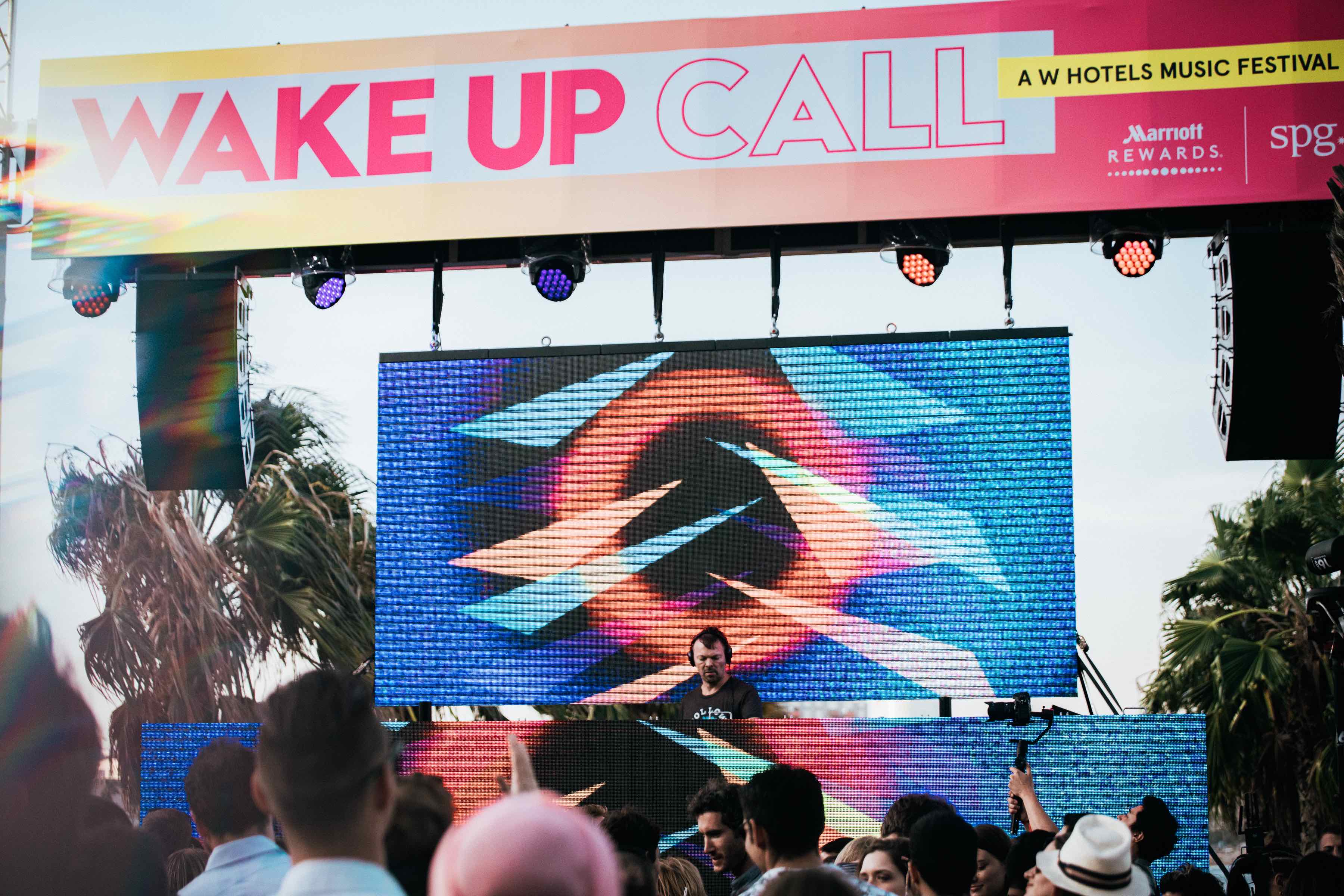 Wake Up Call features a curated list of the biggest names in dance and pop, performing at different stages within the hotel, without the bad weather and raincoats. This is a 5 star high-end music experience; cabanas for cocktail sipping, and due to capacity being only 3,000, you're not clambering through the crowds to get a decent view of the stage.
The concept is so great and flexible, you have to think why some bright spark didn't think of the idea earlier. Everything is only a lift ride away –  you don't have to wait in line for the toilets, and you can top up your make up as and when. Fancy a outfit change? Get back in the lift. It also meant we didn't have to carry around an extra jumper or jacket, in case the tempeture dropped later on.
Each part of the hotel had a stage with different music; in the afternoon we kicked back in the indoor bar with cocktails while we bathed our ears in sultry jazz beats, and come night time we headed outdoors to the wet deck area to check out the legendary Pete Tong in action. And Friday night's after party ended up with DJ hitting the decks at the hotel's swanky rooftop bar until the early hours…
Wake Up Call: What to Expect
Wake Up Call wasn't all just about the music. When we're weren't catching live acts, we tried, terribly hungover, our hand at paddle board yoga. W Hotel had also brought in a range of high-class trainers to put on exercises classes on the beach, and when we wanted to sweat out the copious amount of vodka sodas we consumed, we headed to the spa for a full body massage.
We loved the fact you can immerse yourself in a festival experience without the need of a cag-in-a-bag and a sodden walk back to your tent. And the best thing was you could come and go as you pleased. W Hotels had thought of everything when it came to Wake Up Call; from the food stalls where could grab a quick bite post dance to the lighting and sound system which could rival the super clubs in Ibiza.
And if you're thinking if Wake Up Call lacked the festival atmosphere, it really didn't. From the moment we checked in to the moment we left, the vibe was electric.
Wake Up Call: The Rooms
We know when we've stumbled into a hotel room that comes up to scratch when we instantly want to remodel our bedroom back in London, with a hope to mirror it. Whilst the majority of common areas, lounges and bars reflected Ibiza chic meets European sophistication, the rooms were grounded in modernism, sleek design and were effortlessly luxurious and housed king-sized beds, a shower big enough to fit a family of four, a bluetooth speaker and mini toiletries.
Wake Up Call: Eat
The food really was bloody lovely, and we're an expert in this area, because we ordered room service several times (absolutely no regrets, friends). For morning eats, the breakfast buffet delivered – we're talking about cured meats, yogurts, salads, every bread type under the sun (gluten-free huns catered for) and cereals. And the added bonus of slabs of chocolate cake and bottles of champers. Living, right?
Bravo24, with an expansive outdoor seating area, provided a welcoming respite during the day. The tapas bar boasted envy-inducing views over the pool and Med Sea. We managed to put away a Iberian ham croquettes, the house sandwich, a fancy toastie combining the holy trinity of ham, cheese and truffle, and mushroom skewers.
And when we wanted a breather from the music, we hopped back to our room (note: not tent), donned our dressing gown, and danced to ABBA while we waited for our meals on wheels. We have to say, the pizza was an absolute highlight, as were the churros: freshly fried, coated in sugar and served with a generous pot of melted chocolate sauce.  It's safe to say, we dined like absolute kings over the weekend, and not a rank cheeseburger in sight.
Wake Up Call: The Verdict
This isn't your run of the mill festival, but a proper, well thought out luxe upgrade. The music was world class, the food was smashing, and the whole experience was a memorable one. W Hotels have already hosted Wake Up Call in Barcelona, Hollywood, and Bali, and they're planning on rolling out the festival next year in Dubai. Wake up and smell the coffee, it's about time you booked a ticket.
For more information on Wake Up Call, and to book tickets to their next event, see here. 
Photo Credit: Robert Marquardt, Getty Images For W Hotels