Never has the title of our travel section been so apt. Escape. When you escape you can't go too far. You have to be still quite close to where you have been held captive. You can't escape to Argentina. You flee to Argentina.
You also need to full a sense of total unburdening as if all the shackles and ties holding you down have been cast off. You look to the heavens like Tim Robbins in Shawshank and squeal "I'm free".
So what's been burdening me in London? Technology. Technology and modernity.
Everywhere I look there are people on their phones. Their thumbs pushing upwards as they scroll down the monotony of their Twitter, the doctored highlights of their acquaintances on Facebook. There are recruiters trolling a Messi skills compilation; the men in deep V's are making Boromir memes; Directioners are hijacking a sneakerhead hashtag and everyone's streaming Iggy Azaelia. It's suffocating me.
Remember what is was like before? When we did things? When we didn't just observe and spectate? When contributing wasn't just joining the debate on Twitter or belting out the chorus to Oh My God at a festival? When no one knew about pay-per-clicks and no one was on Thrinder? When you couldn't anaesthetise your meandering life by binge-watching Louis Theroux on Netflix? No I don't. I'd totally forgotten. Until I arrived in Vienna.
It was all about the pace. It was all about living in the moment.
I was given a once in a lifetime opportunity to unleash my inner Disney princess by attending the 58th Ball of the Viennese Coffee House Owners in the Hofburg. A Ball in a Palace. Yeah, like in Beauty and the Beast and Cinderella. The itinerary was 1) get ballgo.., I mean suit fitted. 2) Learn to waltz 3) Dance the night away and fall in love. No technology involved. Perfect.
The exciting part is that it turns out that it's not actually a once in a lifetime experience. There are over 450 balls a year in Vienna. They bloody love it. So this is my guide to being a baller. This is how you party like its 1899.
Buy a flight to Vienna
British Airways offer return flights for £135 per person.
Book a Hotel in Vienna
Stay at The Ring Hotel on the Ringstrasse. The best view of the city is through a port hole in the sauna, it has one of those old double door lifts like in The Grand Budapest Hotel and they have an in-house tailor who will resew the buttons on your coat when it's fallen off "on the way to the airport".
Rent your baller gear at Flossmann
For four generations the Flossmann family have been providing high-quality evening wear for balls and bridal occasions. They have an extraordinary range of Pronovias dresses, which I can assure you from experience, men aren't allowed to try on. I received a glass of Schulumbeger rose as my fairy godmother dressed me in a frach. A frach is full tails and is much better than a tuxedo. The ladies had a choice of a full array of princess dresses and they all looked devastatingly beautiful.
Learn to Waltz at Tanzschule Elmayer
Men in England are shit at dancing. They loiter by the bar, eyes transfixed on the dance floor, building up the dutch courage to dance with that girl they really fancy. They overdo it, miss the happy medium and end up air-guitaring to Living on a Prayer with a single-use friend/new BFF whilst the girl they fancy snogs their mate who never left the safety of the bar.
Or, and this is a bad one, they dance with a group of girls and try to look really fun. They mimic the moves of the girls to gain their approval, but in doing so surrender all intrigue, masculinity and mystique. The worst form of this is when men get low, low, low, low, low, low, low No! Shawty got low. Not you. Please don't body roll on the way back up…Yup, you've done that too. Welcome to the friend zone.
The problem is that we've never had lessons. Why wasn't in an option in P.E? Would you like to learn to dance like Jason Derulo or get burnt by this rope, the like of which you will never ever have to climb again outside of this gymnasium?
The youth of Vienna do not have this problem because at the age of sixteen they queue up outside the Elmayer Dance School to sign up for ballroom dancing lessons. I was so touched by this image. The young people in this city spend their money on learning and participating. They queue for the development of their skills and the lifelong enjoyment they will have from always possessing those abilities. Elmayer says that a very high proportion of Viennese meet their future partners at his dance school. They gravitate towards partners they harmonise with.
We queue to renew our weekly travelcards and to buy overpriced baguettes. We queue for necessity. Queues inherently demonstrate demand. Demand should indicate excitement. But whenever I see a queue, the people look bloody miserable. If Londoners were herded into a room and told they could sign up for ballroom dance lessons, the only queues would be the one for the door and text send one to 999.
At Elmayer's Dance School, the people queue to learn and to hope to fall in love. How refreshing.
You Shall Go To The Ball
"A debutante ball is all a girl could ask for. Its gorgeous and formal and legendary" 
Little J, Gossip Girl S01E10 'Hi, Society'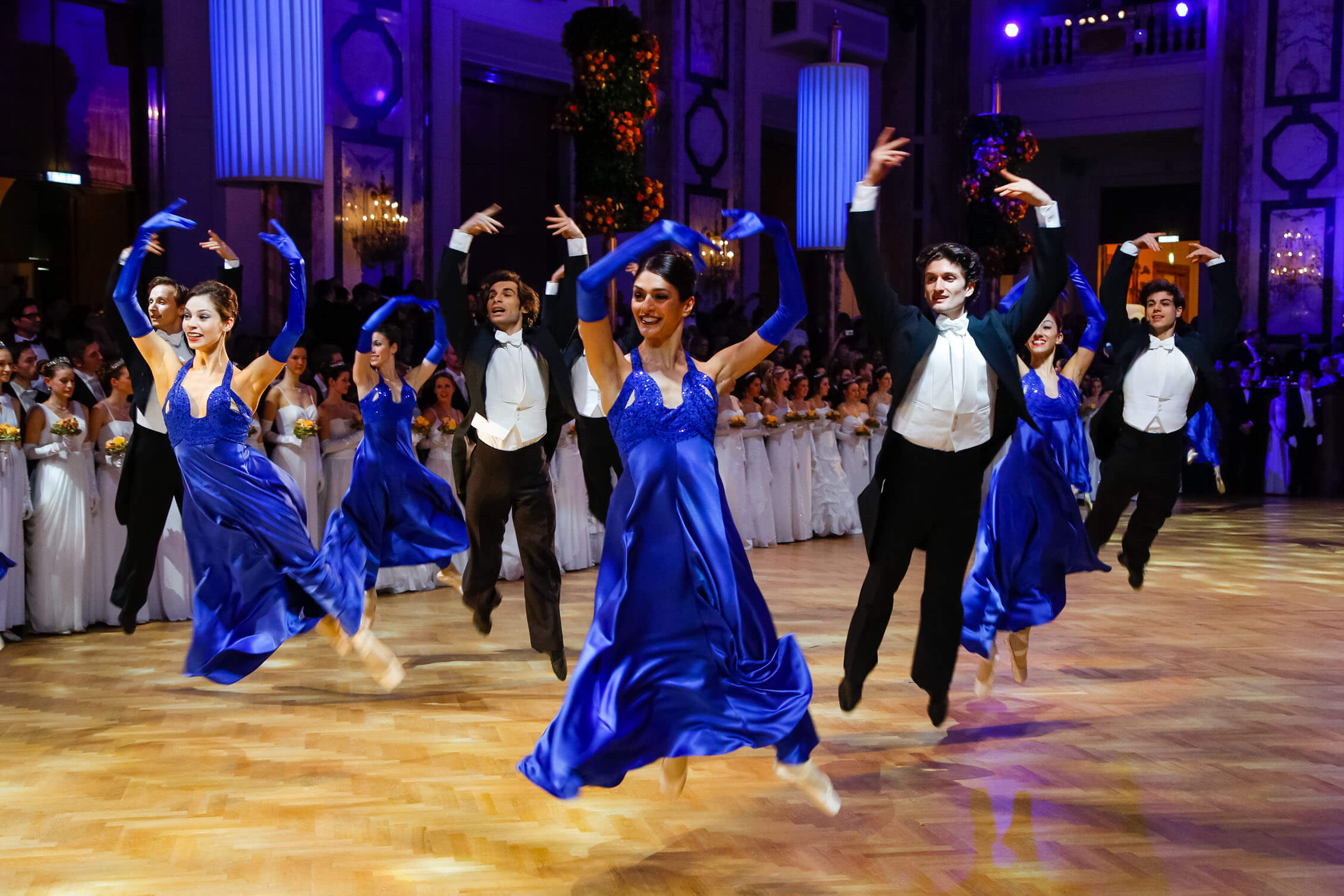 I've always had a special soft spot for Gossip Girl.  Like many people of my generation, until I got a job I was an American TV junkie. I loved The O.C. and One Tree Hill, but Gossip Girl meant more to me than the rest and I think the reason is that I am exactly contemporary to their age group. It began in 2007 in their high school junior year, which was my lower sixth. For six seasons, six years we grew together. We attended university together, did work experience together and that was where the similarities ended, but Trey Coscia and his cast of excessively attractive twenty somethings playing teens allowed me to aspire. So when I was told I was going to a Ball, I realised it was my moment to live out one of the impossibly unattainable lifestyle dreams that Gossip Girl had painted me 8 years earlier. And this dream did not disappoint.
In S01E10, Dan picked up Serena in a limo. That's alright. But what he should have done is hired a horse and cart. We had blankets and we could hear the clip clop of other horses in a procession to the ball. The carriage windows steamed up. I planted my full palm on the steamy glass and let out a faint moan. No one got it.
We arrived on the red carpet, spotlights hitting us from all angles. I felt like Hugh Grant at the end of Notting Hill when he's attending his first premiere with Anna Scott, ducking out of the carriage bombarded by light and flashes and scared ecstasy.
The Hofburg Palace main entrance has one of those staircases that last forever and then it peels right and left reaching the same balcony space. The debutantes line up on the staircase in their white dresses, one hand on the rail, chin held high and going over their waltzing steps. "Just remember you're training. What would Elmayer do?" They descended on the ballroom like a flock of swans and fluttered to the outskirts of the room as the speeches began.
My party was sitting courtside to get the best view of the ballers. They were hot. They were nervous. A young man literally fainted into our table. They gave him food and water, trying to revive the poor chap before his big moment. His dance partner could not have been less sympathetic. My German isn't great, but I think she was saying something along the lines of "Get up. Snap out of it. We've been training for this for months. What have I told you about your low blood sugar?" The young man had to be substituted. I heard him whisper as he was stretchered off "Now I know how Khedira feels".
Then they were off! The debutantes glided around in perfect synchronization. No one air-guitared. No one got low. And before we knew it we were invited on to the dance floor. But the pace of the flow was too fast. Couples were spinning and spinning past our table and I was like an old woman stuck at a T junction trying to turn right. There was a collision in the middle lane. "Contact!" This beautiful woman crashed to the ground with her man toppling on to her. Moshpit decorem prevailed as the other motorists came to her assistance, jacking her back up to her glittery feet.
First the man injured in the warm up, now the car crash and I've been getting on very well with the limitless Schulumberger. Unless anyone can find me a learners sticker, I'm sticking right here. But before I know it I've been whisked away by a fearless Italian journalist into the middle to dance to a waltzy Jump. It worked actually.
And before I knew it, I was doing it. I was waltzing in a ball in white tie. It felt like the end of the movie, when there's a wedding or a prom and the woman says to the man "See, I told you things always work out" and the man says "Yes. Yes they do. I guess you're right." as they sway to Sinatra or Built This Way.
We danced and danced and got lost exploring this enormous palace. Five thousand people were draped across We ended the night at 4am in a disco room near the roof with Get Lucky, Blurred Lines and Uptown Funk. A Brazilian journalist in a Belle dress fainted into me, screaming "Don't believe me, just watch". It was going home time. We climbed into a taxi and for some reason I thought about Philip Larkin.
"We were coming to an end. All down the line
Fresh couples climbed aboard: the rest stood round.
The last confetti and advice were thrown,
And as we moved each face seemed to define
Just what it saw departing."
The Whitsun Weddings
What my face saw departing was a throwback to a bygone era – a last nostalgic glance of empire and tradition. World War One, civil war, annexation, World War Two and Holocaust. It all fell rather quickly for Vienna. It's a city still basking in the hubris of the Habsburg monarchy. Greek, Roman, neo-Renaissance and Flemish gothic architecture characterise this time-capsule town. But if you want an escape from the smoke and the noise, the bad news on TV, the political uncertainty and economic decline of this once great continent, go to a ball in Vienna because here life is just a party and parties are meant to last.