About Time: You Stepped into the Blue Zone in SardiniaBy Howard Malin
In his book The Secrets of a Long Life, Dan Buettner identifies five regions in the world where people live the longest. These are: Okinawa in Japan, Nicoya in Costa Rica, Loma Linda in California, the little Greek island of Icaria – and the Italian island of Sardinia.
As your rapidly ageing male contributor, I was delighted to be travelling to this island of extended life – which of all the Blue Zones in the world produces the highest number of male centenarians. (Side note: I'd be surprised if any of them have any of their own teeth though –  the local nougat is impossible to resist.) In fact, of all the Blue Zones, Sardinia is the place where people live the longest in the world. Read on to discover why it's about time you made Sardinia your next summer holiday destination:
Sardinia: Why Visit
The second largest of the Mediterranean islands, after Sicily, it's not hard to see why Sardinia is so popular. The island is beautiful and unspoilt, with a varied and extraordinary landscape. The terrain ranges from lunar (Valle della Luna, with its huge granite rocks shaped by the elements in to fantastical shapes, is well-worth a visit) to rolling hills, sandy coves and some of the most unspoilt beaches in Europe – all within an island only 300 kms by 125 kms.
Sardinia is set apart from other Mediterranean islands as, despite its Italian parent, it has its' own distinct culture, cuisine and traditions – and even its' own language. The lifestyle here is relaxed and informal, the local food delicious and healthy, and the people happy and welcoming. What more could you want?
Sardinia: How to Get There
I flew from Gatwick on Meridiana, and in only 2 hours and 20 mins was deposited on the doorstep to absolute tranquility and heaven. We headed by taxi to Gallura, the region on the top right of Sardinia, and within which the super rich playground of the Aga Khan's Costa Smerelda sits. One hours' easy taxi ride through the rolling hills of this rustic landscape – and we had arrived at our destination. This is not Magaluf, not the place for your mad hen or stag night. No, you come to Sardinia to relax, indulge in authentic Sardinian food, and enjoy the delights of the spas, thalasso pools, golf, riding, archery or explore the myriad delights in the area.
Sardinia: Where to Stay
We were guests of Delphina Hotels in Gallura. They have an extraordinary collection of 4* and 5* resort hotels, villas and apartments in this region – all run by the same family with painstaking attention to detail and great respect for the natural environment. The hotels are really special; they never feel full or overcrowded, with suites, rooms and studios studded in to the sprawling landscapes. No hotel has any buildings higher than ground and first floor – so you're always close to the beach – with buggies and pathways  connecting the various bedrooms, restaurants, bars and facilities.
I was really impressed by the 5* resort Hotel La Licciola, which sits on 28 acres of beautifully tended gardens and shrubland (which it shares with its sister Hotel Valle dell'Erica) that roll down gently to an incredible one and half kilometres of sandy beaches and coves. It was hard to fault any aspect of this joyous hotel. The rooms were very well appointed (each room has its own espresso machine!), beautifully designed, and super comfortable with excellent amenities. The pools, bars, beaches, walks and lounging areas kept us fully engaged, fed and watered for our whole trip.
Sardinia: The Food
The food at Hotel La Licciola deserves a special mention – the hotel boasts seven restaurants, ranging from some with buffets the size of Wembley Arena where the delicious choice on offer is overwhelming, to other smaller a la carte restaurants featuring simple Sardinian cuisine – all of which were superb, with amazing views over the sea.
Sardinia: What to Do
This hotel is the perfect antidote to our stressful and increasingly digital city lives, and I would have been quite happy not to venture outside its' nurturing and protective borders for the whole stay.
But venture outside we did – visiting the fascinating 18th century village of Aggius (40 minute drive from the hotel) – with its' own language that even Sardinians outside the village fail to fully understand , its' own traditional dress and quaint cobbled streets. Don't miss the short ferry ride from Palau to the quaint little island of La Maddelena (my favourite half day trip) with its' brightly coloured buildings, and pretty  high street bustling with bars, cafes and shops and the little seaside town of Santa Teresa is only 10 minutes from the hotel.
I'm not sure there was any  evidence of future centenarians at Porto Pollo – the famous kite and windsurfing beach. Rupi's Bar offers great cocktails and unforgettable sunset views and the party and music continue  after sunset . On Thursdays they throw an all-nighter for those not too concerned about entering the Blue Zone record books. This may not be Ibiza, but the fit bods on the beaches would certainly give Ibiza a run for its' money.
Sardinia: Our Top Tips
There's so much to discover in Sardinia, here's our top must-do experiences in the island:
For Romance: Hotel Capo D'Orso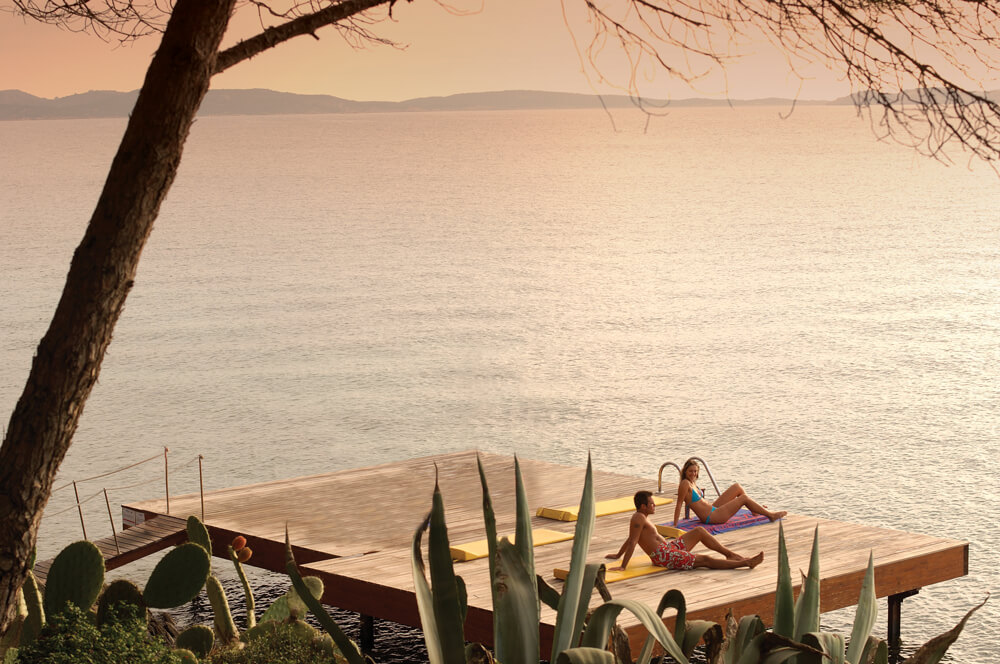 This hotel is the ultimate place for romance; with twin hammocks and secluded lounging areas dotted around the property, a private beach, wooden sunbathing jetties protruding over the sea and a marina from where boats can be rented.
If respite from too much lounging is required – the hotel offers a 9 hole pitch and putt course and an open air gym. At breakfast, a harpist plays  in the restaurant overlooking the sea – doesn't get much more romantic than that!
For Dining: Ristorante Li Ciusoni
Ristorante Li Ciusoni at Valle Del Erica is a truly stunning experience – with its buffet of locally grown olives, artichokes, sun dried tomatoes, onions and asparagus, followed by suckling pig, roasted over glowing embers within the restaurant itself.  There are even free cooking lessons for guests who want to take away some of these delicious Sardinian dishes.
If you need a pamper, the spa at Hotel Marinedda is extraordinary. It has the largest thalassotherapy (use of sea water for therapy) pools in the Mediterranean, and  covers 2500 square meters.  Amusingly (to me) the honeymoon suite here has its own pool and can accommodate up to four people (go figure! I guess you can take the kids, or maybe the mother-in-law!).
The Hotel Marinedda has its own dedicated children's chef, a 24 hour fully stocked kitchen and a comprehensive Mini Club for kids. They'll never want to return home!
Indeed the choice of hotels and resorts is so great that the company has one booking line for all resorts – and advisors will help you decide which hotel will best suit you. I stepped in to the Blue Zone of Sardinia and really don't want to step outside it again. I can't wait to come back and sample more of this diverse and extraordinarily beautiful island, and we think you'll love it too.
Valle dell'Erica – rooms start from £136 per person per night in a double room, half-board – book here. Flights from London Gatwick to Olbia via Meridiana airline. All resorts are open from late May to late September.