If you're hop footing it over to Asia to celebrate Chinese New Year, our pals at Secret Escapes have discovered the best hotels in China to stay during the festivities. Take it from us – you won't be disappointed with the breakfast buffet selection:
1. For a Landmark Hotel: Mansion Hotel
The Lowdown: A 1930's landmark, Shanghai's iconic Mansion Hotel is a monument to the vintage glamour associated with the Paris of the East. Overlooking the city's elegant French Concession district, this uptown beauty is steeped in a history of exclusive hospitality. The interiors are grand; lavishly appointed in burnished golds and dark-wood Chinese lattice.
What to Expect: The Mansion Hotel Shanghai offers a unique range of dining possibilities, including a traditional Chinese restaurant where the city's movers and shakers gather in private dining rooms, and a rooftop restaurant serving eclectic international cuisine overlooking the buzzy district down below.
Where: Shanghai, China. Book here.
2. For a Five-Star Stay: Morgan Plaza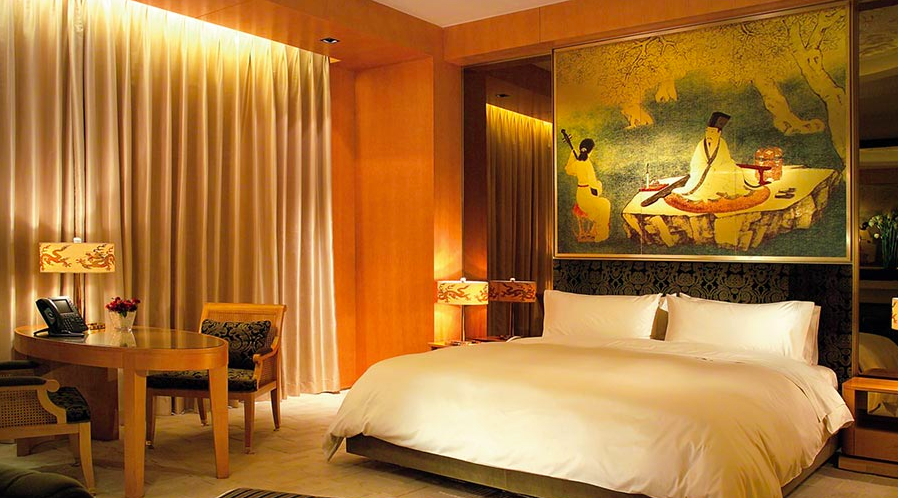 The Lowdown: The hotel, located in Pangu Plaza, is a towering behemoth inspired by a Chinese dragon. Situated within the tail end of the 'dragon', it's an astonishing contrast of contemporary and oriental design. Here you'll find marble-clad surfaces, floor-to-ceiling artwork, and a dose of auspicious design elements thrown in for good measure. Three enormous, carved wooden disks grace the ceiling of the lobby, each depicting the mountainous landscapes of China. Gold, yellow and red – the colours of royalty and luck – are used liberally throughout the hotel in soft, sophisticated shades.
What to Expect: The hotel is home to four restaurants; from high tea served in the Karma Lounge to innovative and rare dishes found at the Wenqi Chinese Restaurant. There's also an extensive gymnasium offering such as state-of-the-art body shaping equipment, a cardio training area, free weights training and aerobic studio.
Where: Beijing, China. Book here.
3. For a Michelin-Starred Restaurant: The Mira Hotel
The Lowdown: The five-star Mira Hotel epitomises all that is ultra-luxurious and exclusive – and with a two Michelin-starred restaurant – the food offering here is outstanding. Boasting Michelin-starred dining, a full-service spa and indoor pool and stylish lifestyle-designed rooms, The Mira Hong Kong also provides exclusive personalised concierge service. The hotel features rooms with pillow menus, Sony computers, Blu-Ray DVD players, and free usage of a personalised Nokia mobile phone.
What to Expect: Whisk is an ingredient-driven Western restaurant and a must-go destination for wine lovers, Cuisine Cuisine brings upscale Cantonese cuisine to your table, while Yamm serves international buffet favourites throughout the day. COCO is a chocolatier and coffee addict's haven and Spa Lounge Bar is your first stop for a morning smoothie.
Where: Hong Kong, China. Book here.
4. For an Art-Centric Boutique Hotel: Hotel Stage
The Lowdown: A refuge for in-the-know travellers and art-enthusiasts alike, Hotel Stage is set amidst the night markets, winding streets and vibrant cultural spots of Hong Kong. The urban, minimalistic interiors and smart living designs bring ultimate comfort and peace of mind to those who enjoy a quiet retreat within a vibrant community. And the zen-inspired guest rooms, which are spacious and bright, are the perfect refuge after a day of exploring the city.
What to Expect: Kitchen Savvy is the hotel's restaurant and offers up a wide variety of all-day dining options; from a self-serve cereal and fruit bar, and freshly baked croissants and Viennese pastries for breakfast to European favourites for a late-night munch.
Where: Hong Kong, China. Book here.
5. For an Iconic Hotel: Island Pacific Hotel
The Lowdown: Feel free to judge Island Pacific Hotel by its cover, but behind this TripAdvisor Certificate of Excellence winner's gleaming façade, the interiors are just as sleek, and a perfect match for its setting in forward-thinking, tech-savvy Hong Kong. Of course, the actual tech amenities don't hurt – specifically, the handy smartphone that you'll enjoy. The device allows for unlimited local calls and international calls to several countries and is stocked with social-media apps and a comprehensive city guide, too.
What to Expect: Overlooking Hong Kong's iconic Victoria Harbour, the hotel houses Central Street Kitchen, a restaurant with an open-plan kitchen serving up food around the clock. Take a dip in the outdoor pool, top up the tan on one of the sun loungers, or work up a sweat in the 24-hour gym.
Where: Hong Kong, China. Book here.