If you can bring yourself to visit for only two days, there is no finer place to visit on a short weekend break than Portugal. For me, Portugal has it all; fantastic wine, great local food, sunshine and a sunny disposition to the people that make it an absolute pleasure to visit.
I had the pleasure of exploring Portugal's gastronomic highlights with Taste Portugal, a fantastic Portugal-inspired foodie event that takes place in London every year, and finishes with a bang on Saturday 28th at the Conrad Algarve, and couldn't have been more blown away by the food offerings in Portugal. Such variety in so few kilometres, it's truly astounding. If you're looking for an awesome road trip, here's how to do it. Rent a beautiful old convertible, and taste Portugal, one bite at a time:
1. The First Stop: Wine Tasting in the Douro Valley
What: The stunning Douro Valley is an incredible spot for tasting some of Portugal's finest wine and port. The Douro Valley is a UNESCO World Heritage Site and Portugal's most famous wine region. The white port they make here is shipped all over the world – you can't miss trying a white port and tonic, their classic drink. If you're looking for something extra special, stop at Quinta Do Vallado vineyard, near the historical centre of Régua, for wine tasting and exploring the fascinating ageing cellars. The winery is a great example of modern techniques turned to an ancient practice; it's run by one of the descendants of Dona Antónia Adelaide Ferreira and now produces delicious own-label wines.
Where to Stay: For an overnight trip, The Six Senses in the Douro Valley opens in mid 2015 and is going to be absolutely fantastic, I'm told. You can also stay in the Quinta Do Vallado vineyard itself, at their very own Wine Hotel which has only 13 rooms.
2. The Next Stop: Gastronomic Highlights of Lisbon
What: Lisbon is a vibrant and buzzy city, with great wine bars, nightclubs, pavement cafes, and, not to mention, some seriously incredible fine dining. I say fine, because if you really want to splash out, the city is brimming with gourmet gastronomy – young chefs who are turning the idea of fine dining on its head with ingenious techniques, playful, humorous food and dishes that belong in a museum. Belcanto is just that. Chef José Avillez is making serious waves with his rule-breaking food at 1-Michelin Star restaurant Belcanto – the food is something so beyond imagination, with unexpected dishes, such as 'Ferrero Roche' which, in fact, is gold-leaf wrapped foie gras with a hazelnut crumb. Potato crisps are served in an edible plastic bag on a washing line, and there's a serious amount of drama and theatricality in every dish. Take my word for it. Just go.
Where to Stay: Bairro Alto Hotel, a luxury 5* boutique hotel in Lisbon situated in the heart of its downtown between the bohemian Bairro Alto and trendy Chiado district, is perfect for a short trip. Its central location is fantastic for exploring the city in one night, and you can lose yourself in wine bar after wine bar without working about the long walk (stumble) home. Their Head Chef Vasco Lello does some fantastic things in the kitchen, too, so try out the food if you can.
Note: Along your drive, try to stop at Fundao for a taste of local cuisine. You've got to try the Bife Ana, a classic sandwich they normally have to breakfast, almost like a steak sandwich, and check out one of the fresh fruit and fish markets.
3. The Escape: Taste Country Life in Alentejo
What: The Alentejo is a stunning part of Southern Portugal; long, quiet stretches of green fields and countryside make it wonderful for a driving holiday, and there's so much great food to discover. There's one place you simply have to discover, and that's Herdade Da Malhadina Nova, a country house and spa with only a handful of bedrooms, the world's most sensational infinity pool and homegrown food to die for.
It's an Estate Winery Hotel, and at the Michelin-starred Malhadinha, you can dine like a king on black pork produced from a descendent of the sus mediterraneus wild boar from the south. You won't taste meat this good anywhere else in the country, and their wine, which is now world famous and picked up awards in its very first year, will make this a meal of a lifetime. They offer tours of the vineyards, olive groves and black pig farm whilst staying, as well as quad bike rides through the grounds, making this much, much more than just a hotel. Truly once in a lifetime.
Where to Stay: Herdade Da Malhadina Nova
4. The Modern Gourmet: Conrad Algarve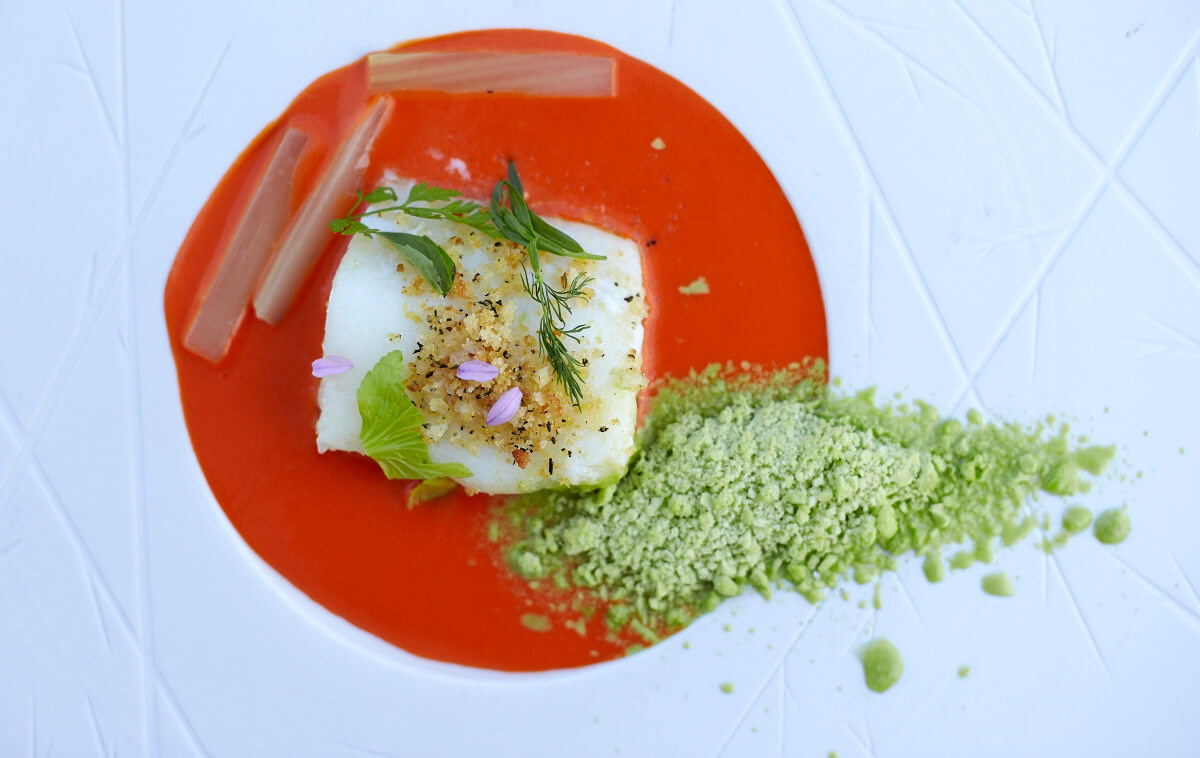 What: The Conrad Algarve is a contemporary palace; the grand, impressive 5-star hotel in the Algarve is vast, with incredible sprawling bedrooms, outdoor sofa (hello, mid-afternoon sunshine nap) and incredible swimming pools. They take their food very seriously – there are 6 restaurants within the hotel, including Gusto by Heinz Beck, one of the world's most famous chefs. Beck runs 3-Michelin starred restaurant La Pergola in Rome, and has turned his hand to the menu at the Conrad – flawless, beautiful food, with Portuguese wine, it's a match made in heaven.
Don't leave the hotel without an afternoon at the spa; their sauna, infinity, plunge and ice pools make for one seriously relaxing afternoon. In the evening, try dining at Ocean at Vila Vita Parc. The two-Michelin star restaurant is a must-try for any serious gourmand; they serve up creative fish dishes (think seafood soup served inside a shell, beautiful violet prawns with smoked milk and corn) as well as sensational vegetarian dishes of zucchini flower and to die-for chocolate desserts. The Culinary Moments menu gives you a taste of everything. You'll leave very, very happy.
Where to Stay: Conrad Algarve
5. Final Stop: Oysters + Clam Picking in the Algarve
What: Before jetting off, you need a taste of authentic Portuguese life to balance out all those Michelin stars. There's no finer way to do it than with a little fish adventure in Lisbon – clam digging is seriously hard work, but great fun too. You catch a razor clam you have to find a little hole in the sand, and use salt to tempt them out. It's tough work, and will make you very appreciative next time you order a Razor Clam spaghetti dish, I tell you. While you're visiting, stop by an Oyster Farm such as Aquaprime Oysters on boat, to see the fascinating production of oysters. Nom.
Portugal is a country that's willing to give you as much as you put in, and you're looking for an incredible adventure, it's the place to come. Rent a car, put your most comfortable, perhaps most stretchy, trousers on, and get ready to feast.
About Time was a guest of Taste Portugal, a series of foodie pop-ups in London from October to March 2015 with Michelin-starred chefs from Portugal to the UK. For more information, see the Taste Portugal website. TAP Portugal flies to London to Lisbon daily – see their website here.