Perfect Weekend: 48-Hours in Tallinn, EstoniaBy Lauren Bravo
So you've seen Scandinavia. You've hygge-d hard in Copenhagen, you've chased the northern lights in Oslo and you've eaten every cinnamon bun in Stockholm. You've shopped for salty liquorice and Moomin homewares in Helsinki, and now you're hungry for your next weekend escape. It's time to tick the Baltics off your list – starting with Tallinn.
Only a hop, skip and a ferry ride from Finland's capital, around 60,000 Estonians commute across the sea from Tallinn every week. But the city they leave behind is so much more than just Helsinki's little cousin – it's a charming cultural hub in its own right, with a fabulous food scene, deeply photogenic architecture, sprawling green spaces and some of the best coffee we've ever tasted. It's also a prime spot for a weekend city break, just under three hours from London with flights for around £50. What more reason do you need? If you're looking for the best things to do in Tallin, read on to discover all:
Tallin Travel Guide: The Lowdown
Plenty of tourists never stray outside of Tallinn's centre, and it's hard to blame them. Steeped in Medieval history, the Old Town is filled with the kind of winding cobbled streets, fairytale turrets and candy-coloured façades that Insta likes are made of. Even the local McDonald's is one of the quaintest buildings you'll ever see. But explore beyond the ancient city walls and you'll find there's so much more worth snapping (and buying, and eating), with elegant parks, lush forests, an arty warehouse quarter and plenty of room for Tallinn's ongoing hipster regeneration to really spread its wings.
With the memory of Soviet occupation still lingering for many citizens (the country only regained independence in 1991), Estonians are keen to showcase all the rich culture and modern innovation their country has to offer. Which means you're guaranteed a warm welcome, from friendly hospitality to free public Wi-Fi and a flawlessly efficient transport system. Like so many great cities, though, the best way to explore Tallinn is on foot. Pack trainers, and prepare to give those cobblestones a pounding.
Tallin Travel Guide: What To See
For Inspiring Spires: The Old Town
If you're staying centrally, you won't have to stumble far to find a building to swoon over. The compact Old Town is a UNESCO World Heritage Site, chock-full of beautiful churches, wonky shops and winding alleyways, with a few guides in Medieval costume wandering around for good measure. Oh, and a marzipan museum (one of the best things to do in Tallin, surely?)
Because we all know it's not a European city break until you've been up a tall thing, make a beeline for Town Hall Square and climb the 115 steps to the belfry of the Gothic Town Hall tower, for stunning views across the russet rooftops of the city and beyond to the sea.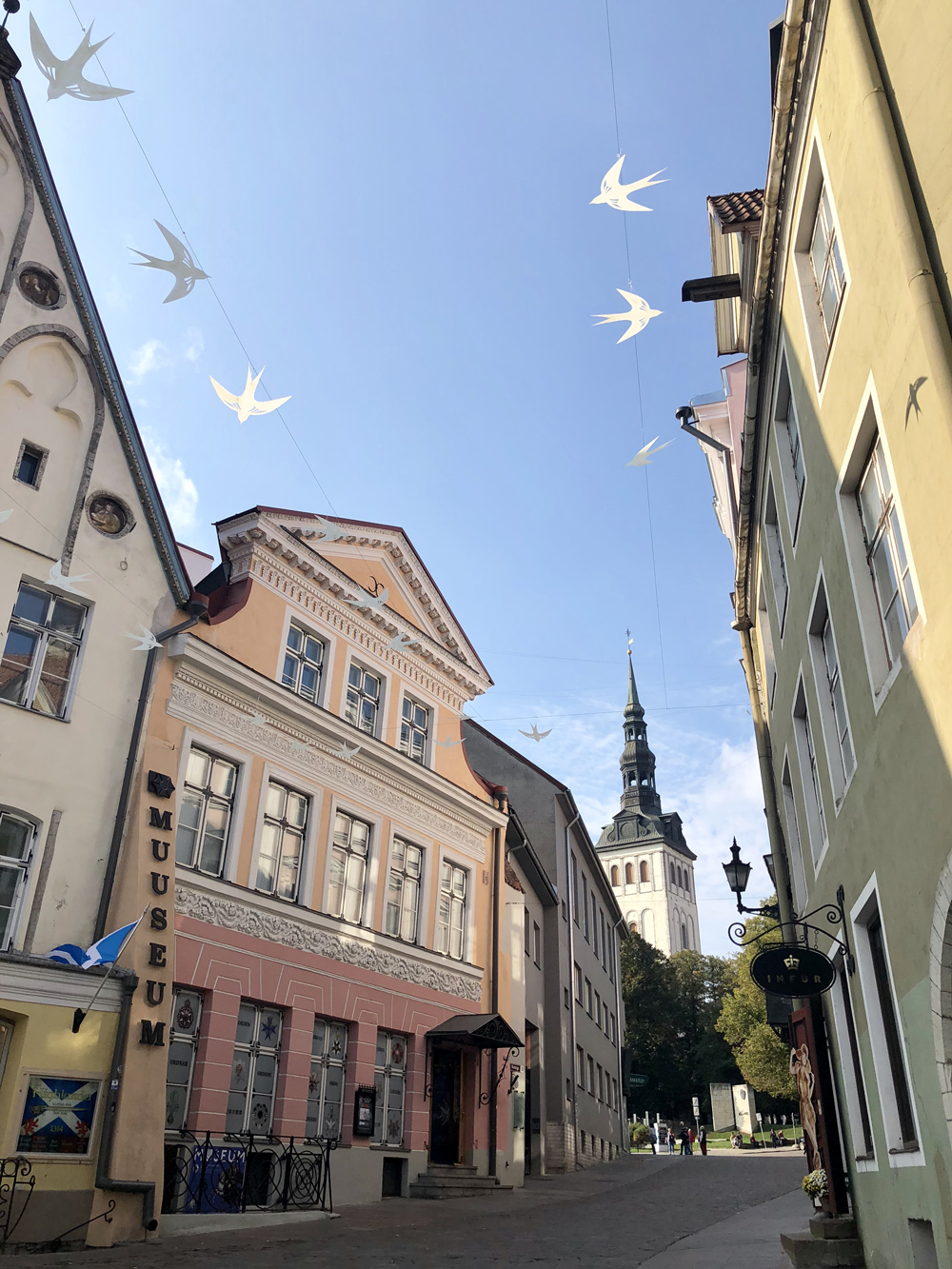 Next walk up, up, up to towards the fetchingly rose-pink Toompea Castle, home of Estonia's parliament and a seat of power in the country since 1227. Have a stroll in the (reportedly haunted) Danish King's Garden, loomed over by three statues of faceless monks, and enjoy the pleasingly squat Kiek in de Kök tower (disappointingly, it means 'Peep in the kitchen').
Finally, head for the Patkuli viewing platform for a different perspective on the city, overlooking the lush Toompark. Ignore the judgemental graffiti ("Save the camera honey, enjoy the view") and instead look out for a seagull called Steven, Tallinn's favourite feathery influencer, who can usually be found posing for photos on the edge of the city walls.
For Street Art and Street Food: Telliskivi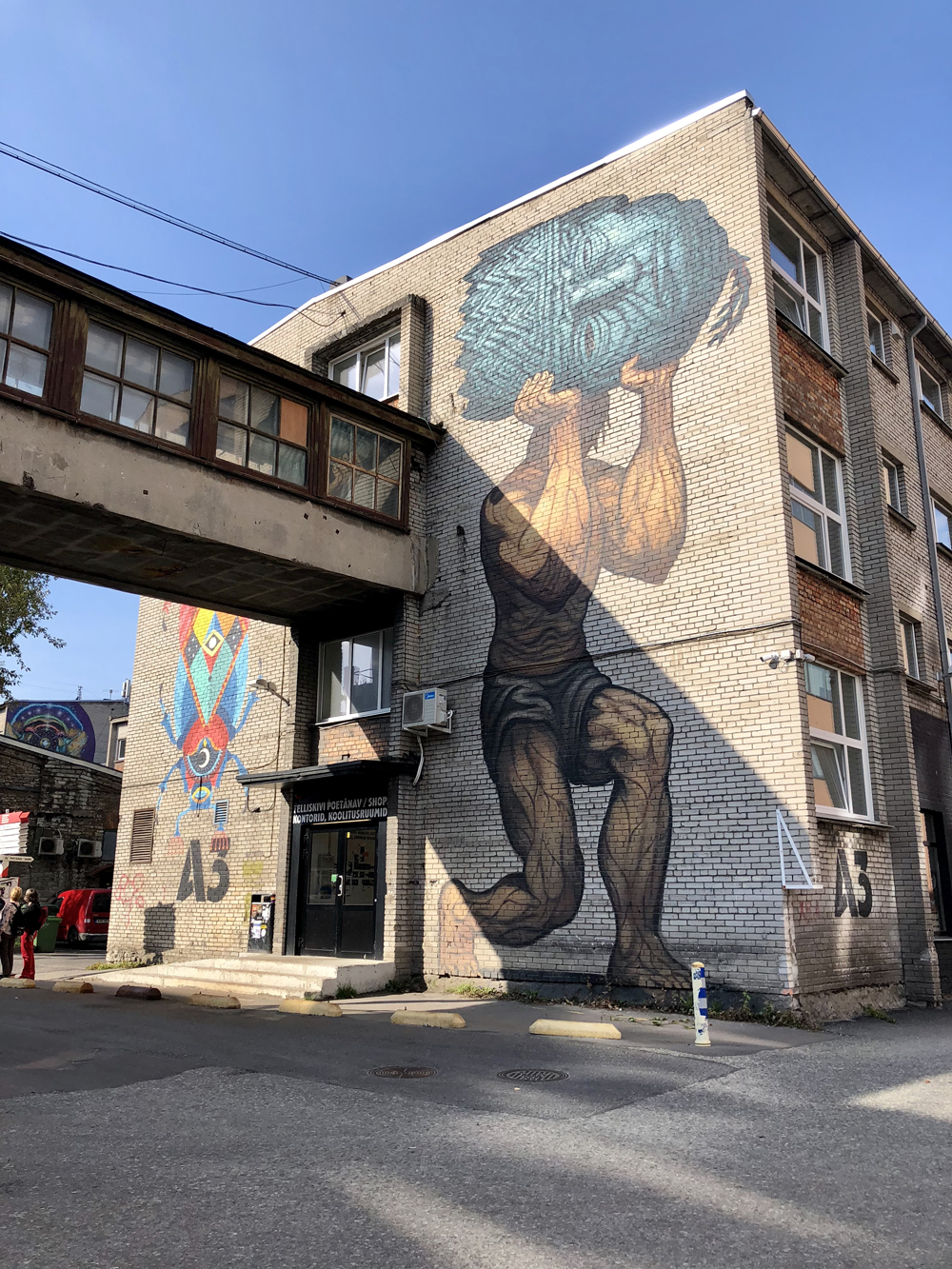 Across the railway line from the fabled Old Town is a whole new story. First you'll come to Balti Jaama Turg, a covered two-storey food hall to compete with the likes of London's Borough Market and Copenhagen's Torvenhalle. One of the best things to do in Tallin if you're a foodie;breathe in the scent of fresh dill, sample as many cheeses, meats, pickles and treats as you can blag and then pull up a stool at one of the many excellent street food bars (we recommend Baojaam, but more on that later).
Behind the market you'll find Telliskivi, Tallinn's hipster quarter and Estonia's most exciting centre of enterprise. A trendy maze of warehouses and old factory buildings, most of them adorned with vibrant street art, the growing complex is home to start-ups, design studios, NGOs and galleries, as well as shops, bars and restaurants to keep everyone's creative juices flowing. On Saturdays, there's a flea market to rifle through, and on summer nights you can eat in an old Soviet railway car, then dance in a vintage clothes shop. Sure.
Tallin Travel Guide: Where To Eat 
If it's local cuisine you seek (and you should), expect plenty of bold, Baltic flavour. Estonians love all things sour and fermented, such as hapukapsasupp – sauerkraut soup with salted pork, known to stop a hangover dead in its tracks – or open sprat sandwiches with onion and sour cream, laden with the aforementioned dill. But the star of the show has to be the signature black bread; sweet and treacly, malted, incredibly moreish, it sits somewhere pleasingly between rye bread and Soreen. You'll find it everywhere, but the very best in the city is from Rukis in the Old Town. Go for breakfast, but be sure to stash a loaf in your hand luggage too.
Where: Viru 11, 10140 Tallinn, Estonia
Photo credit: Sander Allmere
You will smell RØST before you see it, which is handy because it's tucked away down a side street in the stylishly regenerated Rotermann Quarter. The waft of cardamom buns will lure you inside, Loony Tunes-style, where you'll find a luscious array of Scandi-inspired baking, washed down with some of the finest coffee in Tallinn. Which in a city where we never had a bad cup, is really saying something.
Where: Rotermanni 14, 10111 Tallinn, Estonia
A 10-minute tram ride from the city centre lies the stately Kadriorg park. There you'll find a beautiful Baroque palace, originally home to Catherine I of Russia, and also Mon Repos, home to one of the best dinners you'll eat all year. Once a 1920s gambling den, the restaurant's swellegant villa sets the tone for all kinds of Gatsbyish decadence – and Vladislav Djatsuk's menu doesn't disappoint. If you're looking for the best things to do in Tallin, a meal here is it.
You'll be charmed from the bread course (hand-baked rye and caraway crackers with the creamiest whipped butter and jammy beetroot mayo) to the must-eat dessert of 'chocolate bar', a witty truffled torte that looks like a slab of Dairy Milk. Think: Heston, but sexy. And with most main courses around the €18 mark, you'll leave richer than most of the original punters did.
Where: Narva Maantee 92, 10127 Tallinn, Estonia
It's hard to go wrong with any of the offerings at Balti Jaam market, but if you love steamed buns, hun, Baojaam will be your jam. This celebrated bao stall currently only has a handful of stools, but the fluffy, lavishly-stuffed buns are worth waiting for. The crispy chicken thigh with kimchi and teriyaki is a particularly highlight, and there are truffled mushroom and avocado delights for the vegans.
Where: Balti Jaama Turg, Kopli 1, 10149 Tallinn, Estonia
For a Nice Slice: Kaja Pizza Köök
Tallinn was a little late to the sourdough pizza game, but now these guys are making up for lost time. A few leafy streets from Telliskivi, Kaja Pizza Köök has all the hallmarks of a great pizza place: a short menu, an open kitchen, a massive roaring oven and Prosecco served in tumblers. Pizza here is, without a doubt, one of the best things to do in Tallin – the crusts are Neapolitan-style, perfectly blistered and chewy, with 'nduja, fior di latte, fennel sausage and truffled goat's cheese among the toppings. The gang's all here!
Where: Õle 33, 10319 Tallinn, Estonia
Things to Do in Tallin: Where To Drink
For Retro Vibes and Cosy Corners: Must Puudel
A seriously good, cheap and veggie-friendly cafe by day (save room for the apple and marzipan pie), by night this cosy spot in the Old Town becomes one of the coolest bars in town. If the 70s Soviet kitsch decor doesn't win you over then the fairylit courtyard will. Saturday nights are vinyl nights, when things are guaranteed to get even groovier.
Where: Müürivahe 20, 10140 Tallinn, Estonia
Tallin Travel Guide: Where To Stay
For Sunrise Swings: Nordic Hotel Forum
Perfectly located for pretty much everything you'll want to do, the Nordic Hotel Forum is a great value option just next door to the Old Town. It might be a little businesslike in atmosphere, but what the hotel lacks in boutique charm it makes up for in a gorgeous top-floor pool, gym and sauna with panoramic views across the city – and a vast, vast breakfast buffet. The hotel even keeps its own bees, for truly local honey. You don't get that at a Travelodge.
Where: Viru Väljak 3, 10111 Tallinn, Estonia
For Old World Whimsy: The Three Sisters
A 14th century merchant's house with 23 rooms, all uniquely and stylishly decorated (no prizes for guessing what the star of the 'piano suite' might be), the five-star Three Sisters hotel more than ticks the boutique box. Located at the top of the Old Town, the building might be thrillingly Medieval but the mod-cons are pleasingly millennial, with good strong WiFi, a locally sourced menu and a velvet upholstered cognac bar with brass accents. Just like the merchants would have wanted.
Where: Pikk 71, 10133 Tallinn, Estonia
Tallin Travel Guide: Things to Do
For Letting Off Steam: Rangi Saun
Saunas are a crucial feature of most homes here, and yet authentic Estonian sauna culture is rarely encountered by tourists. But Anni Oviir and Adam Rang are on a mission to change that. The couple runs the Rangi Saun, Tallinn's only public smoke sauna, from their back garden in the leafy forest suburb of Nõmme. Book a session and you'll be treated to the full, homely experience – from a beating down with the fragrant birch and eucalyptus 'whisks' to a dunk in the icy-cold plunge pool, with every custom and practice explained as you go along. Nudity is traditional, but you're allowed to keep your towel on.
Where: Nõmme, Tallinn, Estonia
Flights from the UK to Tallin take 2 hours 50 minutes, and start at as little as £28 per person. Book on Skyscanner here.