This month our exhibitions are off the scale; from William Martin's tiny installation at The Smallest Gallery in Soho to the sprawling new Royal Academy of Arts – these are the shows to marvel at both little and large.
1. William Martin: Liam at The Smallest Gallery in Soho
The Lowdown: South African born ceramic artist William Martin is creating some of my favourite contemporary art right now. Liam, his latest exhibition, is an ingenious little installation behind a Georgian window in Soho. Meant to be viewed looking in from the outside, the exhibition lets us indulge our voyeuristic streak and have a good stare into the life of someone else. The exhibit is set up as a domestic space belonging to "Liam", a character conjured up with gay culture, London life, and Martin's art as the ingredients. What do we know about Liam? He's in his fifties, he's lived in Soho for decades, he collects books and art, and he's about to be evicted by the council.
Martin's work explores themes of masculinity, homosexuality, and colonialism, informed by his identity as a gay man raised in post-apartheid South Africa. Several pieces key to his oeuvre make their way into Liam's sitting room, most notably his signature ceramic chains. Hand crafted from strong but brittle porcelain they are a symbol of masculinity's fragile nature. And of course, being chains they also reference BDSM and gay culture, as do his apothecary-styled jars emblazoned with the chemical symbols for various party drugs. In a world waking up to the harm caused by toxic masculinity, Martin's work couldn't be more topical. He's one to watch.
When: Liam runs until the 17th June
Where: The Smallest Gallery in Soho, 62 Dean Street, London. W1D 4QF
Photo Credit: Opal Tuner 
2. Shape of Light: 100 Years of Photography and Abstract Art at Tate Modern 
The Lowdown: Tate's Shape of Light exhibition is the first of its kind to explore the intertwined relationship between photography and abstract art. Starting in the 1910's, the show follows the symbiotic path between modern abstraction and the continuing improvements in photographic technology, demonstrating how photographers responded and contributed to some of the most innovative leaps in artistic production. Artists featured include Man Ray and Alfred Stieglitz, alongside contemporary artists such as Barbara Kasten and Antony Cairns.
When: Shape of Light runs until the 14th October
Where: Tate Modern, Bankside, London. SE1 9TG. Adult tickets from £16, members go free.
Photo Credit: Shape of Light Courtesy the artist, Thomas Dane Gallery and Bortolami Gallery, New York. Barbara Kasten
3. Katharina Grosse: Prototypes of Imagination at Gagosian Gallery
The Lowdown: Katharina Grosse is best known for her enormous in-situ paintings that usually cover the sides of buildings, interiors, or even landscapes. Her palette is alive with explosive colour, and her art brings a sense of dynamism and energy to the art stage. In Prototypes of Imagination Grosse seeks to combine her situational work with the more pedestrian restrains of the studio canvas. The result are enormous sheets of canvas hung from the ceiling that swirl with rebellious colours, creating a bridge between installation and more traditional painting. Grosse's glorious exhibition is full of the vitality of summer, and a wonderful show to start the season.
When: Prototypes of Imagination runs until the 27th July 2018.
Where: Gagosian Gallery, 6-24 Brittania Street, Kings Cross, London. WC1X 9JD.
Photo Credit: Katharina Grosse © 2018 Katharina Grosse and VG Bild-Kunst, Bonn
4. Tacita Dean: LANDSCAPE at the Royal Academy of Arts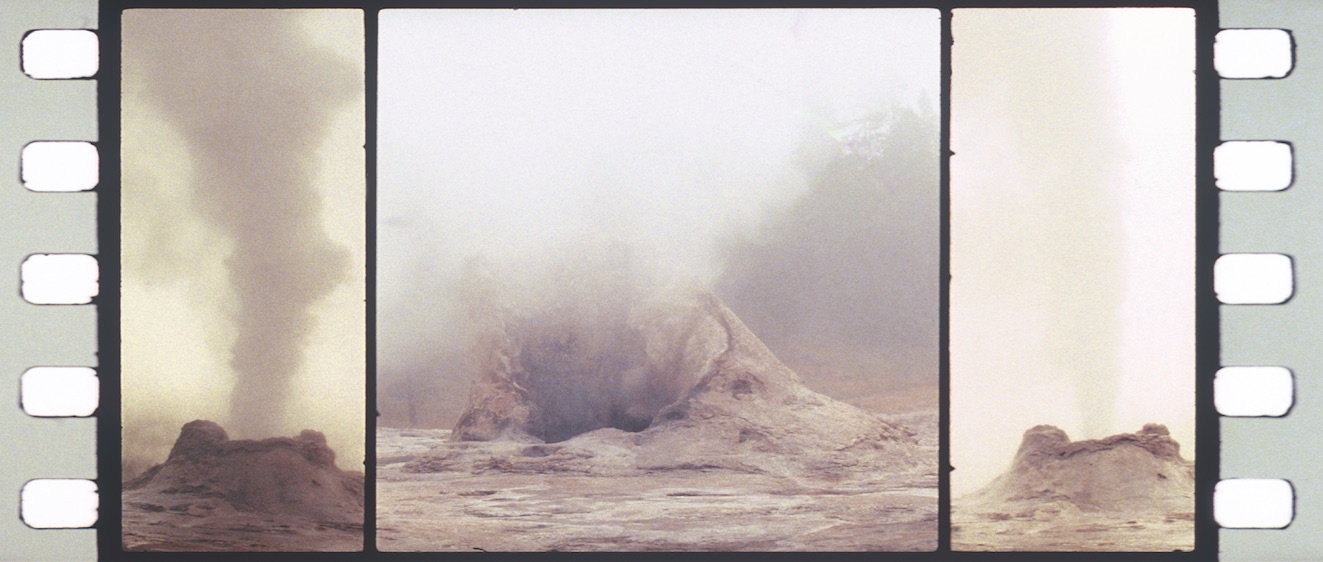 The Lowdown: The last of Dean's trio of exhibitions, LANDSCAPE has launched at a very special venue indeed. The new Burlington Gardens wing of the Royal Academy (that's the bit around the back opposite Cecconi's) has finally reopened after an extensive renovation. Following on from PORTRAIT and STILL LIFE at the National Portrait Gallery and National Gallery respectively, Landscape is an exploration of the phenomena of our natural world. The exhibition is easily the best of the three, taking us on a moving and beautiful journey across the world from Bodmin Moor to the rangelands of Wyoming. Do go and see the new building, and an exhibition that thankfully lives up to its wonderful setting.
When: LANDSCAPE runs until the 12th August 2018.
Where: The Gabrielle Jungels-Winkler Galleries, Burlington Gardens, The Royal Academy of Arts. Adult tickets £14, members go free.
Photo Credit: Landscape Tacita Dean. Courtesy the artist, Frith Street Gallery, London and Marian Goodman Gallery, New York and Paris
5. Julian Schnabel: The re-use of 2017 by 2018. The re-use of Christmas, birthdays. The re-use of a Joke. The re-use of air and water. at Pace London
The Lowdown: Julian Schnabel is an American artist and filmmaker, and he notably directed the wonderful picture The Diving Bell and the Butterfly. His talent as a visual artist has also seen his work find its way into the collections of the Met, MoMa New York, and the Whitney amongst many others. In his first exhibition with Pace London, Schnabel has created a series of 12 large works made from enlarged historical calendar prints. Most of them feature pedestrian, pastoral scenes which the artist then works into with paint giving ordinary images a new dynamism and power.
They're actually quite good, but good grief, what a title.
When: The re-use of 201-ehh, we can't type it all again! This show runs until the 22nd June 2018.
Where: Pace London, 6 Burlington Gardens, Mayfair, London. W1S 3ET.
Photo Credit: Julian Schnabel, Courtesy Pace Gallery