Planning to celebrate Thanksgiving in London? From delicious meaty feasts to one-night-only extravaganzas, here's where to enjoy Thanksgiving in London 2018:
1. For Afternoon Tea: CUT at 45 Park Lane 
What: Swanky Mayfair Hotel 45 Park Lane will be celebrating Thanksgiving with a specially created afternoon tea along with a three-course feast available on Thanksgiving Day, served within its Modern American steakhouse, CUT at 45 Park Lane.
Eat and Drink: 
Following the successful launch earlier this year of the American Afternoon Tea – CUTcakes&Tea – California born executive chef David McIntyre has used Thanksgiving favourites to adapt the menu. Available from 12th November, treats include fried turkey and buttermilk bisquets, as well as maple and bacon macarons. 
On Thanksgiving day itself (22nd November), 

CUT

at

45

Park Lane will offer a
three-course Thanksgiving menu including traditional holiday fare with all the trimmings and popular Thanksgiving desserts, including pumpkin cheesecake and pecan pie.
Price: CUTcakes&Tea: £55 per person. Three-course menu: £110 per person.
Where: 45 Park Lane, Mayfair, London W1K 1PN
Photo Credit: James Bedford
What: Joe Allen will be throwing an all-American Thanksgiving celebration, decorating the bar with the Stars and Stripes and shaking up some bourbon cocktails for one night only (22nd November).
Eat and Drink: The Thanksgiving menu begins with a pick of dishes from across the USA from a sweet potato, sweetcorn and smoked bacon chowder inspired by comforting New England winter soups to truffle mac n'cheese croquettes, based on a Southern-style recipe. For the main event, opt for slices of honey roast smoked ham or classic turkey, with a host of indulgent sides such as sweet potato mash, buttered cabbage, roast carrots, parsnips and potatoes, and a tart cranberry sauce, and for those looking for an alternative to tradition, there's fried sea bass fillet, with rosemary roast potatoes, spinach, and a silky lobster sauce. To finish, it just wouldn't be Thanksgiving without pie, from a spiced pumpkin pie, sliced up and served with vanilla ice cream, to pecan pie with sweet Chantilly cream.
Price: £40 per person for three courses
Where: Joe Allen, 2 Burleigh Street,London WC2E 7PX
3. For Cocktail Pairing: The Jones Family Kitchen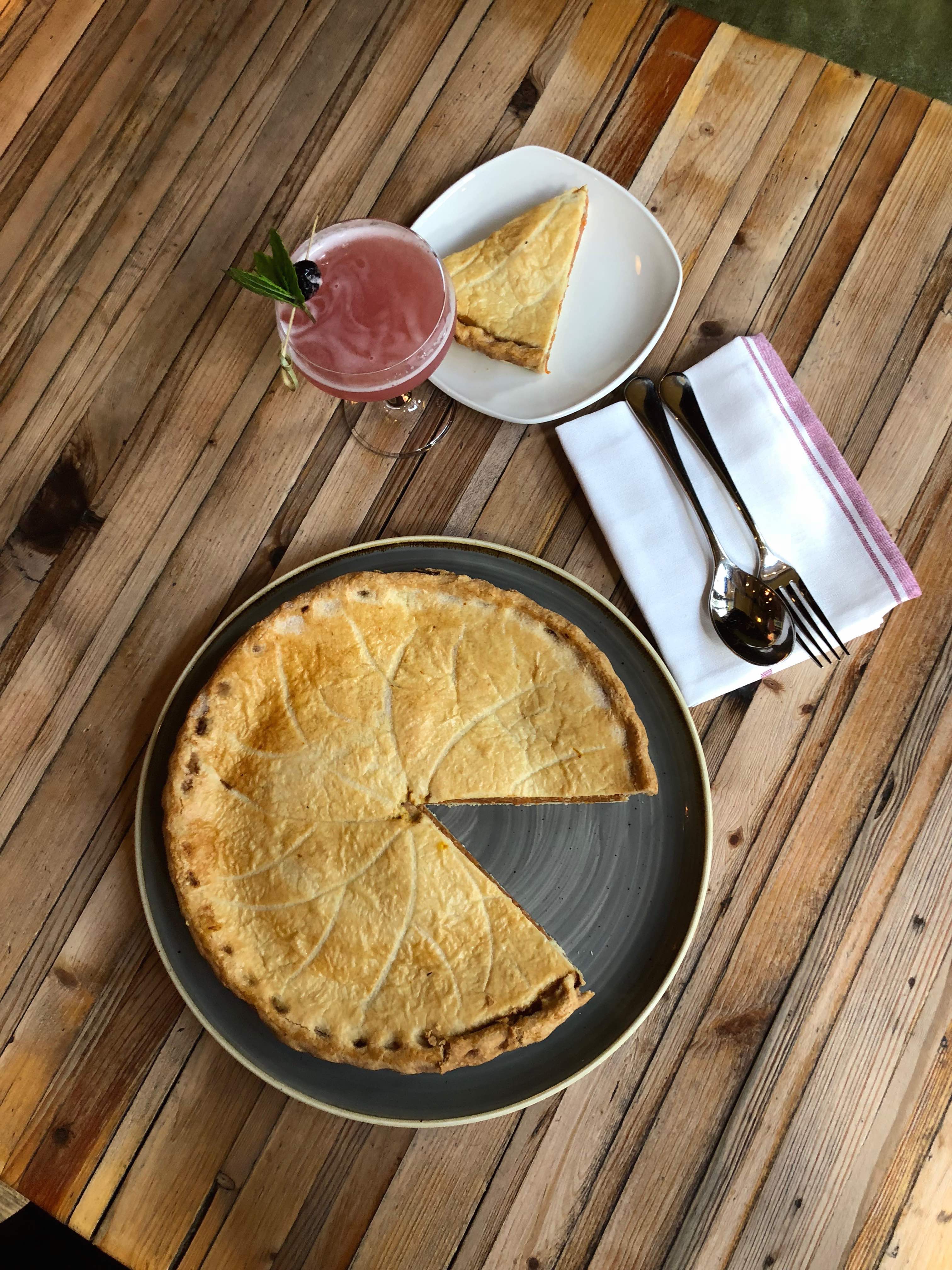 What: The Jones Family will be celebrating Thanksgiving with a special menu at both of their restaurants in Shoreditch and Belgravia. From Thursday 22nd to Saturday 24th November, they'll be sharing thanks with a three-course dinner, paired with cocktails inspired by timeless US anthems that celebrate four classic US harvest fruits: apple, blueberry, grape and cranberry.
Eat and Drink: Historically, Thanksgiving was a three-day celebration so The Jones Family have decided to spread the tradition over three evenings. The paired cocktail menu option starts off with an ode to Guns n' Roses in the form of Bad Apples: a cocktail made with Wild Turkey Straight Rye, Laird's applejack, pumpkin butter, lemon, sugar and bitters. The first course, cream of squash soup with pumpkin seeds and winter truffle, is paired with Forever in Blue Jeans – a cocktail inspired by the iconic Neil Diamond song made with Wild Turkey 101 bourbon, Aperol, sweet vermouth, blueberry and sugar. A roast turkey will be served for the main course with all the trimmings: buttermilk mash, greens, sprouts, garlic buttered breadcrumbs, lashings of gravy, Jones' Thanksgiving stuffing, and not forgetting a side of cranberry sauce. And for dessert, your choice of either pecan or pumpkin pie.
Price: The Thanksgiving feast is £35 per person or £70 per person with drinks pairings
Where: 78 Great Eastern St, London EC2A 3JL and 7-8 Eccleston Yards, London SW1W 9NF
4. For Stateside Favourites: Sea Containers at Mondrian London
What: In celebration of America's biggest holiday and the hotel's US heritage, Thames-side restaurant Sea Containers at Mondrian London will be serving a Thanksgiving menu from 19th-25th November.
Eat and Drink: Enjoy stateside favourites such as creamy chestnut mac n' cheese with aged parmesan and white truffle oil and a sharing style roasted Herefordshire turkey with all the trimmings including pork stuffing, root vegetables, cranberry compote and turkey gravy set against the stunning backdrop of the City of London and St Paul's Cathedral. To round off the menu, Sea Containers will be serving a classic sweet potato pie topped with maple Chantilly cream and served with pecan nut crumble and mango gel for dessert.
Price: Starters from £14. Roast turkey for two: £45
Where: 20 Upper Ground, South Bank, London SE1 9PD
5. For Turkey and all the Trimmings: South Place Chop House
What: Head Chef Guy Betteridge at South Place Chop House has put together a menu featuring the best of America fare with a British twist, offering a three course Thanksgiving feast served with all the trimmings.
Eat and Drink: Available on Thanksgiving day (22nd November) expect a meal starting with Ironbark pumpkin soup with crispy sage and topped with toasted seeds. The main event will feature Norfolk bronze turkey served with an orange and cranberry stuffing, pigs in blankets, young parsnips, roasted potatoes and red wine sauce. Finish off the feast on a sweet note with an American classic: glazed pecan pie piled high with vanilla ice cream.
Price: Three courses for £30 per person.
Where: 3 South Pl, London EC2M 2AF
6. For Classic Dishes: The Hero of Maida
What: Thursday 22nd November sees Thanksgiving come to Maida Vale, with festive menus created by critically-acclaimed Chef Director Henry Harris (formerly of Racine). The Hero of Maidawill be serving up turkey with all the usual dishes along with a special one-off pudding.
Eat and Drink: Start by selecting from a range of classic starters including endive and duck confit salad with Roquefort dressing; or devilled prawns with garlic butter croutons, before tucking into the main affair. Turkey from local butcher H.G. Walter, will be served sharing style with all the trimmings, including homemade stuffing, cranberry sauce, gravy, sprouts, mashed potatoes, sweet potato and marshmallow gratin and French bean casserole. The feast will conclude with an exclusive dessert, combining the very best of Autumnal flavours, in a sweet potato pie and Bourbon cream.
Price: The three-course menu is priced at £35
Where: 55 Shirland Rd, London W9 2JD
7. For a Thanksgiving Feast: Rail House Café, Riding House Café and Village East
What: Whether it be at Rail House Café in Victoria, Riding House Café in Fitzrovia or Village East in Bermondsey, the Thanksgiving feasting is strong this year.
Eat and Drink: The meal will commence with a festive Cinnamon Old-Fashioned with Bourbon soaked cranberries, before moving on to the main event, which will feature slow roasted Norfolk Bronze turkey cooked in herb butter served family style for sharing. Accompanying the turkey will be indulgent sides of cornbread and sausage stuffing; maple-buttered sweet potatoes; mac and cheese; and creamed corn casserole. Vegetables will include traditional glazed sprouts with smoky bacon, and green beans with praline. Calvados gravy and cranberry and confit orange relish will also be served alongside this all-American feast. Dessert will be a choice of two smash-hit American pies: pumpkin brûlée pie or pecan pie, each served with hand whipped vanilla cream.
Price: £40 per head
Where: Rail House Café: 8 Sir Simon Milton Square, Victoria, London SW1E 5DJ. Riding House Café: 43-51 Great Titchfield St, Fitzrovia, London W1W 7PQ. Village East: 171-173 Bermondsey St, London SE1 3UW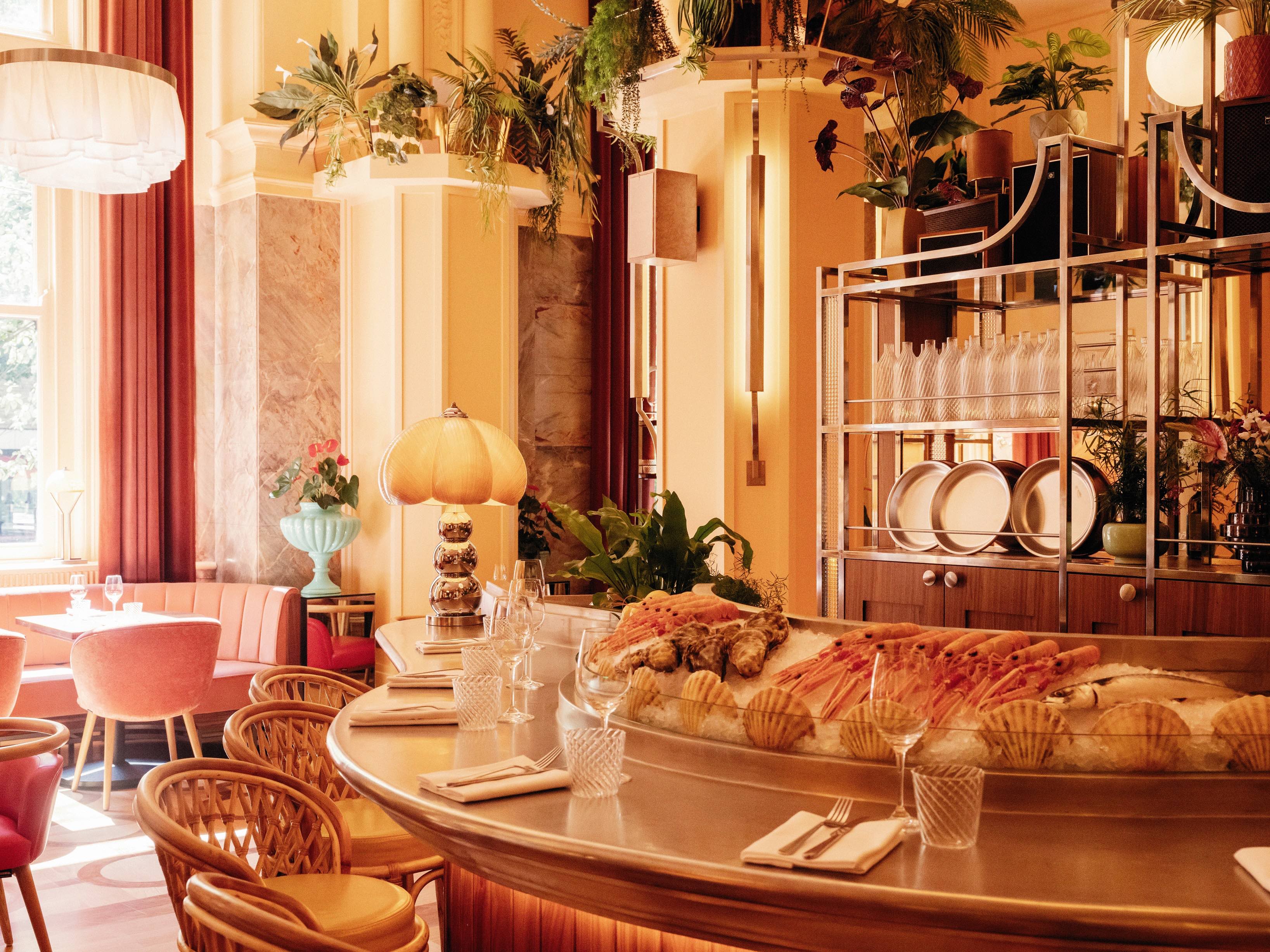 What: Neptune will be offering a set Thanksgiving menu, served on 22nd November, to mark the American holiday in indulgent style.
Eat and Drink: The menu will feature clam and smoked bacon chowder as the starter; Norfolk bronze turkey with cranberry and redcurrant sauce, chestnut and sausage stuffing, and braised red cabbage as the main; with sides including sweet potato and marshmallows, corn and cheddar biscuits, and creamed kale. And for dessert, a pumpkin custard tart with maple pecans and sour cream.
Price: £35 per person
Where: Cnr of Guilford Street and, Russell Square, London WC1B 5BE
Photo Credit: Carol Sachs 
What: Balthazar are going back to their Franco-American roots for their special three-course Thanksgiving extravaganza, which includes their glorious pecan pie (also available by the slice from their bakery next door).
Eat and Drink: Dishes on the menu include spiced and roasted butternut squash soup or winter kale salad to start, traditional roast turkey or if you fancy something a little different, baked cod with a parmesan and thyme crust for main course. And, of course, a tasty pecan pie or pumpkin cheesecake for dessert.
Price: £55 for three courses
Where: 4-6 Russell St, London WC2B 5HZ
10. For Smoked Meats: Big Easy
What: To get you into the swing of things this Thanksgiving, the kind folks at Big Easy are putting on one hell of a Thanksgiving banquet.
Eat and Drink: The menu features a choice of three starters: the veggie friendly butternut squash soup, Big Easy caesar salad or Bar.B.Q chicken wings. For mains, choose between pit smoked turkey served with cornbread stuffing, jazzed up gravy, Grandma Emma's spirited apple and cranberry chutney, velvety mashed sweet potato, best ever green bean casserole and coleslaw or the spicy black bean burger topped with avocado, pickle and chiptole sour cream, served with fries. Finish off the meal with either banana cream pie or pumpkin pie.
Price: £29.50 for three courses
Where: Locations here