Ultimate Guide to: London's Best Halloween Parties 2018By Angelica Malin
Who doesn't love Halloween? It's fun, kitsch and totally childish – which is what makes it so damn great. Put on some cat ears, slap on some fake blood, and get ready to hit up the best Halloween parties in London. You're in for a frightfully (sorry) good time:
1. For a Swish Party: Sexy Fish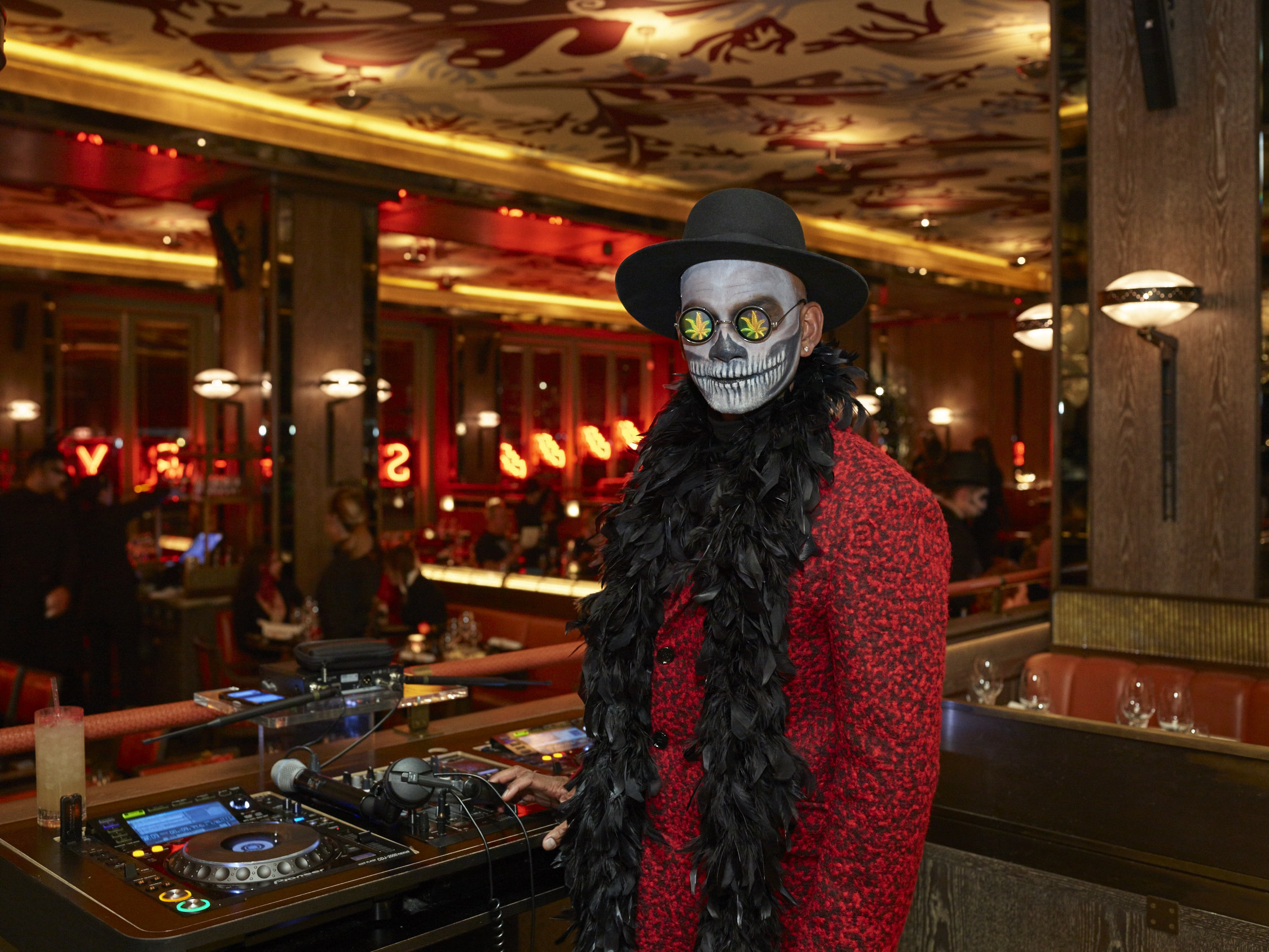 What: On Wednesday 31st October, Sexy Fish will host the ultimate Halloween bash, Scary Fish, a cocktail-style event with hair raising hosts, performers and dancers on hand to really get the party started.
The Event: The space will be decked with Halloween neons, DJs will play throughout the night and a selection of frighteningly fabulous food will be served, alongside a list of Absolut Elyx cocktails created especially for the evening. Halloween hosts will be serving canapé and bowl-style delicacies such as lobster and pumpkin gyoza, mushroom skewers with garlic miso, pink shrimp tempura, and desserts including Hocus Pocus, made with Absolut Elyx, green chartreuse, berry mix, chili and chinotto.
Price: £160 per person. Tickets include a welcome drink plus a night of Halloween performers, food and cocktails, from 8:30pm – 2am. To book tickets to Scary Fish, please call 020 3764 2000.
Where: Berkeley Square House, Berkeley Square, Mayfair, London W1J 6BR
2. For a Drum and Bass Night: Playaz Halloween 
What: With over two decades at the top, Playaz is a brand that continues to grow and set new records, and so, drum and bass' finest are hosting their most significant Halloween show to date on Saturday 27th October at O2 Academy, Brixton.
The Event: Hype and Hazard will be presenting a world debut of their brand new concept Switch, plus you can expect a special Hatch and Friends takeover, as well as sets from new additions Ocean Wisdom, the High Focus Records hero who is shaking up the game with his unparalleled lyrical creativity, stage presence and flow. Another vital player in the scene is Black Sun Empire, who represent the finest in dark and tech fuelled drum and bass.
Price: From £30. Buy here.
Where: 211 Stockwell Rd, Brixton, London SW9 9SL
3. For an East London Banger: Night Tales 
What: Night Tales are hyped to be hosting their first Halloween weekend at Bohemia Place on Friday 26th October. The new space boasts east London's largest covered terrace, a futuristic LED light installation, crackling fire pits and fire torches, candle lights, heaters pumping out heat inside the venue and out on the terrace.
The Event: They've invite globe trotting headliner Skream for a special Halloween party to open the weekend's proceedings. Make no mistake, this man is a certified legend in the game brining an energetic mix of house, bass, techno and disco and always lights up the floor with his on point selections.
Price: From £11. Buy here.
Where: 14 Bohemia Place, Mare Street, E8 1DU
4. For a Mexican Fiesta: Pop Brixton
What: Getting Londoners into the Halloween spirit South American-style, Pop Brixton are hosting a night-long Mexican fiesta on Saturday 27th October.
The Event: In true Dia de los Muertos style, they'll be plenty of opportunities to release your inner spirit, remember your ancestors and celebrate life through laughter. Expect an immersive celebration through an explosion of colours and joy, with live bands, a parade, DJs, mystic performers, tasty street food and more. It'll be one hell of a party.
Price: Free entry
Where: 49 Brixton Station Rd, Brixton, London SW9 8PQ
What: After a heavy summer the team at Catch are now returning to London for their first winter showcase at the beloved Lion & Lamb, and they're bringing along good friends Jaunt Records for a special Halloween soiree on Sunday 28th October.
The Event: Catch is an electronic music label owned by Nadsat and Rob Chadwick, exploring the diverse sounds of techno and electronic music – and Jaunt is the creation of founders and residents Blackall & Bookless and Chad. Renowned as a UK clubbing institute in Newcastle, London and beyond, this year has seen them host parties at the likes of Gottwood Festival and Razzmatazz in Barcelona, with guests such as Surgeon, Dave Clarke, Radio Slave, FJAAK, Shed and Lady Starlight. Also joining the line-up is avant-garde and dynamic Hiroto. Following his recent debut at Houghton Festival showcasing his ambient outlet, Hiroto will be switching gears and offering a sonic backdrop of everything from down tempo spacey breakbeat to dizzying abstract IDM.
Price: £5. Grab them here.
Where: Lion & Lamb, Fanshaw St, Hoxton, London N1 6LG
6. For a Fancy Dress Party: The Mansion London
What: This Halloween, prepare to be enraptured into the world of voodoo as The Mansion London returns to cast a spell and enchant with an evening of live performances, hypnosis and marabout, as you're taken on a trip to the streets of New Orleans at The Mansion Halloween Ball on Saturday 27th October.
The Event: Decorated with the dark masterpieces of artist Froso and complete with three unique dancefloors, cage dancers and captivating shows, hearts will be roaring with fearsome fire throughout the night. Expect the atmosphere to be set alight by a host of spellbinding musicians including, master sax player Aaron Liddard, percussionist Sam Baws, Paolo Forcellati beating the rhythms with Amin Sane and famous flamenco guitar player Martin de Seda making it a night not to be forgotten. Remember: fancy dress is mandatory.
Price: Tickets from £25. Buy here.
Where: Location will be revealed 48 hours before the event.
Photo Credit: Scott Miller
7. For a Masked Ball: Bunga Bunga 
What: Prepare to dig out your finest glad-rags and search for a spook-tacular mask as Bunga Bunga Covent Garden channels its Venetian roots for The Bloody Bunga Masked Ball. On Saturday 27th October, Bunga Bunga Covent Garden are hosting a masked ball full of frightful variety acts and a six-course Italian feast, fit for a ghoul.

The Event: As darkness sets in, you'll be treated to a six-course Italian feast starting with an antipasto of salumi, burrata and pappa al pomodoro, marinated vegetables, friggitelli peppers and fresh Sardinian music bread, before tucking into Bunga's bloody tomato Italian pizza. Accompanied with Belvedere cocktail concoctions, delve into Bunga Bunga''s infamous metro pizza, topped with Italian sausage, mushrooms, sun-dried tomatoes and pancetta. Those looking for a haunted Halloween weekend should be sure to visit Bunga Bunga Covent Garden, for an evening filled with truly terrifying twists.
Price: Tickets here 
Where: 167 Drury Lane, London WC2B 5PG
8. For a Day Party: Printworks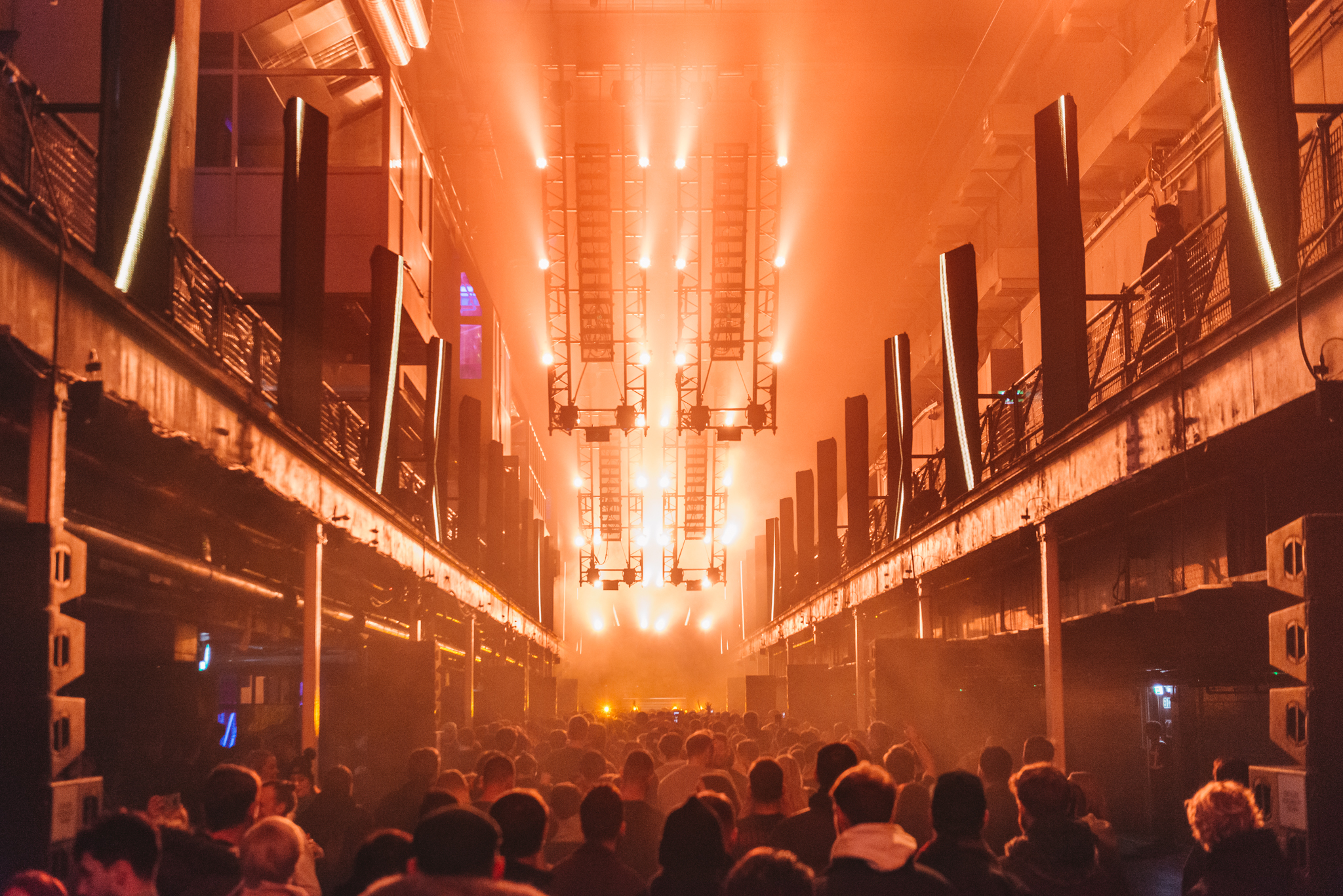 What: Printworks second autumn/winter 18 adventure takes place on one of the biggest weekends of the year. Hydra at Printsworks delivers the best in acid, disco, house, hip hop and bass across two rooms packed with the most revered DJs in their field.
The Event: Room one will see a DJ set from Norwegian disco force field Todd Terje; years of acid and techno know-how from the man of many musical personalities, Roman Flügel; and a live show from Ninja Tune's sample-loving Romare, who can go from romantic love songs to psychedelic disco in an instant. In the Dark Room (formerly known as the Charge Bay), the legendary DJ Spinna brings old school deck skills and a bottomless well of hip hop knowledge, while Will Saul sets the modern house and bass agenda with his Aus label and equally compelling DJ sets.
Price: From £35. Buy here.
Where: Surrey Quays Rd, London SE16 7PJ
9. For a Rooftop Party: Skylight
What: Skylight is holding a frightfully fun 2-day Halloween party this October (26th-27th). During its all-new HarvestFest season, Skylight will be calling all ghouls and ghosts along to its 2 nights of Halloween fun, with Friday's focus on 90s Club Classics and Saturday's on Deep House Disco.
The Event: The 2 parties will feature special guest DJs including JakJax, Joaz, Because of Art, Freddie Ried and Alex Glover. The events will include Halloween surprises including costume parades, prizes, tricks, treats and more. Halloween and seasonal cocktails will include the Black Autumn Widow – Aqua Riva Blanco Tequila, lime juice, St-Germain, basil leaves, blackberries and agave syrup.
Price: £15 – £25. Buy here.
Where: Tobacco Dock, Pennington St entrance, St Katharine's & Wapping, London E1W 2SF
Photo Credit: Hanson Leatherby 
10. For a Twisted Circus Party: Savage Garden
What: Step right up, 12 floors up, come closer, you won't believe your eyes; welcome to the scariest show on earth with Savage Garden's frightfully fantastic 'twisted circus' party complete with evil clowns, circus performers, and even a human table.
The Event: Music is courtesy of Karis, aka the Karistocat, and having DJ'd for the likes of Mulberry, Skullcandy, Vogue and Ministry of Sound, expect a hi-energy club atmosphere with sets that blend on-trend tracks past and present with disco, hip hop, RnB gems and classic house. Savage serves take centre stage with freakishly fabulous cocktails including the Devil's Advocate, complete with two red chilli horns, and the Wild Poison made with Wild Turkey bourbon, apricot brandy, apple juice, smoked pine syrup and Campari.
Price: Tickets are £20 per person and include a Halloween cocktail. Tickets are available here.
Where: 7 Pepys St, London EC3N 4AF
11. For a Trip Down the Rabbit Hole: Rumpus Room
What: Taking place on Saturday 27th October at Mondrian London at Sea Containers' Rumpus Room, Malice in Wonderland is set to be the ultimate Halloween experience. In celebration of All Hallows Eve, the glamourous rooftop bar will be transformed into the ultimate homage to the scariest day of year. Join the fun and jump down the rabbit hole to explore the more macabre side of Alice's adventure into the unknown.
The Event: Kicking off at 7.30pm, you'll be treated to a selection of immersive experiences, including themed performances – ranging from gruesome, to scandalous and titillating. Aiming to spook, terrify, alarm and amaze, performances include the likes of The Nightmare of Alice, Mad Hatter Magician, Shrinking Alice and the Cheshire Cat Acrobat. And for those wanting to party until the dead of night, the costume mandatory extravaganza will continue into the early hours. 
Price: Earlybird tickets are available through here, priced at £30 per person.
Where: 20 Upper Ground, South Bank, London SE1 9PD
12. For a Live Show: The London Cabaret Club 
What: The London Cabaret Club are hosting a Twisted Halloween Special from Thursday 25th – Saturday 27th October, with an outstandingly staged and striking new production at the Bloomsbury Ballroom.
The Event: For entertainment, they'll be live performances from spine-chilling contortionists to spooky dance spectacles. Whilst enjoying the show, expect a 3 to 5-course tailor-made spooktacular menu, featuring the likes of pumpkin risotto with parmesan and kale crisps, alongside beef tartare, quail egg and parmesan shavings. Paired with a selection of sweet treats to finish including chocolate fondant with vanilla ice-cream, homemade profiteroles with dark chocolate sauce and passion fruit tartlets.
Price: £45 per person for a show ticket. Buy here.
Where: The Bloomsbury Ballroom, Victoria House, Bloomsbury Square, London, WC1B 4DA
Photo Credit: Larry J Photography 
13. For a Mad House Extravaganza: Rake's Cafe Bar 
What: Rake's Café Bar, situated on the original site of Bedlam Hospital, will be hosting their inaugural 'Mad House Extravaganza' on Wednesday 31st October with live performances provided by London's most sought-after entertainment producers – Gersch and Rox Presents.
The Event: Step into a world of immersive debauchery, delectable cocktail creations and indulgence hosted by special guests Ramona Ravage; the spooky clowning contortionist, Rosie Pendlebury; the eerie child-like doll and Cynth Icorn; a latex clad black balloon performer. DJ Jeannie Crystal will be providing the soundtrack to the night with a mix of post-punk, rock'n'roll, disco and 90's rave music. Halloween-themed food and drink, including the notorious signature 'Mad House' cocktail and Sriracha cauliflower wings will be available throughout the night.
Price: Tickets available here, priced at £20 including Mad House Cocktail on arrival.
Where: Rake's, 40 Liverpool Street, London, EC2M 7QN
What: On Saturday 27th October, BOUNCE Farringdon are heading down to scary town and honouring possibly the world's greatest classic Thriller to make sure they have the best moves, grooves, food and drink London town has ever seen. Think freaks in attendance, moonwalking flash mobs, face-painters on hand to make your nightmares come true and selfie booths to capture those scary moments.
The Event: Gory Games Guru games tables will be available all night along with frighteningly good alcoholic blood bags, UV lights and a monster mash up of haunted house party tunes played by BOUNCE's legendary resident DJs. And pizza ovens will be on high, all beers and gins extra chilled and ghoulish cocktails on tap.
Price: Free entry
Where: Bounce Farringdon, 121 Holborn London, EC1N 2TD
15. For Swing Dancing: Cahoots
What: Cahoots is putting on some knees-up fun this Halloween with an evening of Spooky Swing Dancing. On Sunday 28th October, dress up as your favourite 1940s icon and venture down to the haunted underground.
The Event: Between 5pm – 7pm, the team will be hosting some spiffingly good dance lessons hosted by the incredible Swing Dance UK for those keen to learn the art of a good ol' 40s knees-up. Then, from 7pm onwards, Cahoots will be opening the doors to everyone. Auntie Maureen will take the stage, doing an incredible DJ set and showing off her moves along with swinging swing dancers.
Price:  £20 for dance lessons and after party. Tickets here.
Where: 13 Kingly St, Carnaby, London W1B 5PW