It's Frieze month in London! In a matter of days the movers and shakers of the international art scene will descend upon our fair city to sink their teeth into the world's most cutting edge contemporary art. Luckily, you don't have to be a fancy collector or an art dealer to soak up some culture. Here are the red hot exhibitions and events it's about time you saw this October.
For the Hottest Art Show: Frieze London 2016
The Lowdown: I wouldn't call it off the beaten track, but it's the most in-demand ticket in London this month – especially if you like contemporary art, obviously. This year the fair is debuting a brand new exhibition space called The Nineties which will recreate important exhibitions from every millennial's favourite decade. As always, the fair will be bringing together around 160 of the world's most influential galleries exhibiting their very best pieces. Expect immersive light installations from James Turrell that'll bring serious wow-factor, and a spotlight thrust on Guatemalan art at Focus, the fair's platform for emerging talents.
Regent's Park will again play host to the Frieze Sculpture Park, following a successful residency in 2015 that saw awe-inspiring works such as Conrad Shawcross's The Dappled Light of the Sun IV dominate the park's English Gardens. We expect similarly great things second time around. Frieze is the place to be this October to get the ABCs of what's happening in the art world – not to be missed.
When: 6th – 9th October 2016.
Where: Frieze London, Regent's Park. Tickets are priced from around £25 up depending on time and date.
Photo Credit: Graham Carlow
For Sculptures: Tony Cragg at the Lisson Gallery
The Lowdown: Tony Cragg is a master of contemporary sculpture, constantly pushing the medium to its limits. This is his 14th show with the Lisson Gallery, and as ever, the work is disorientating and layered in complex meaning. But more than that, it's visually stunning. Heart-wrenchingly gorgeous. This is sculpture for the 21st century. There have been few sculptors to understand form so implicitly since Barbara Hepworth. Go go go.
When: 1st October – 5th November 2016.
Where: Lisson Gallery, 27-52 Bell Street, London. NW1 5BU. Free entry.
Photo Credit: Tony Cragg, Lisson Gallery
For Pop Art: Ed Ruscha at the Gagosian
The Lowdown: Ed Ruscha is one of the kings of Pop art, and at almost 80 he shows no sign of slowing down. The artist is so ingrained in popular culture that Time Magazine named him one of the 100 most influential people in the world, and Barack Obama has been known to frequently give his work as diplomatic gifts.
This new series of paintings, shown at the super-sleek Gagosian gallery, sexily combines word and image. It's all about the dynamic between words and what they mean. I'm told the work echoes the relation between macrocosm and microcosm (google those terms, we did). Ed Ruscha is a god of American art, and this exhibition shows he's still got it.
When: 5th October – 17th December 2016
Where: Gagosian, 20 Grosvenor Hill, London. W1k 3QD. Free entry.
Photo Credit: Ed Ruscha, Gagosian
For Art to Leave You Speechless: Abstract Expressionism at the Royal Academy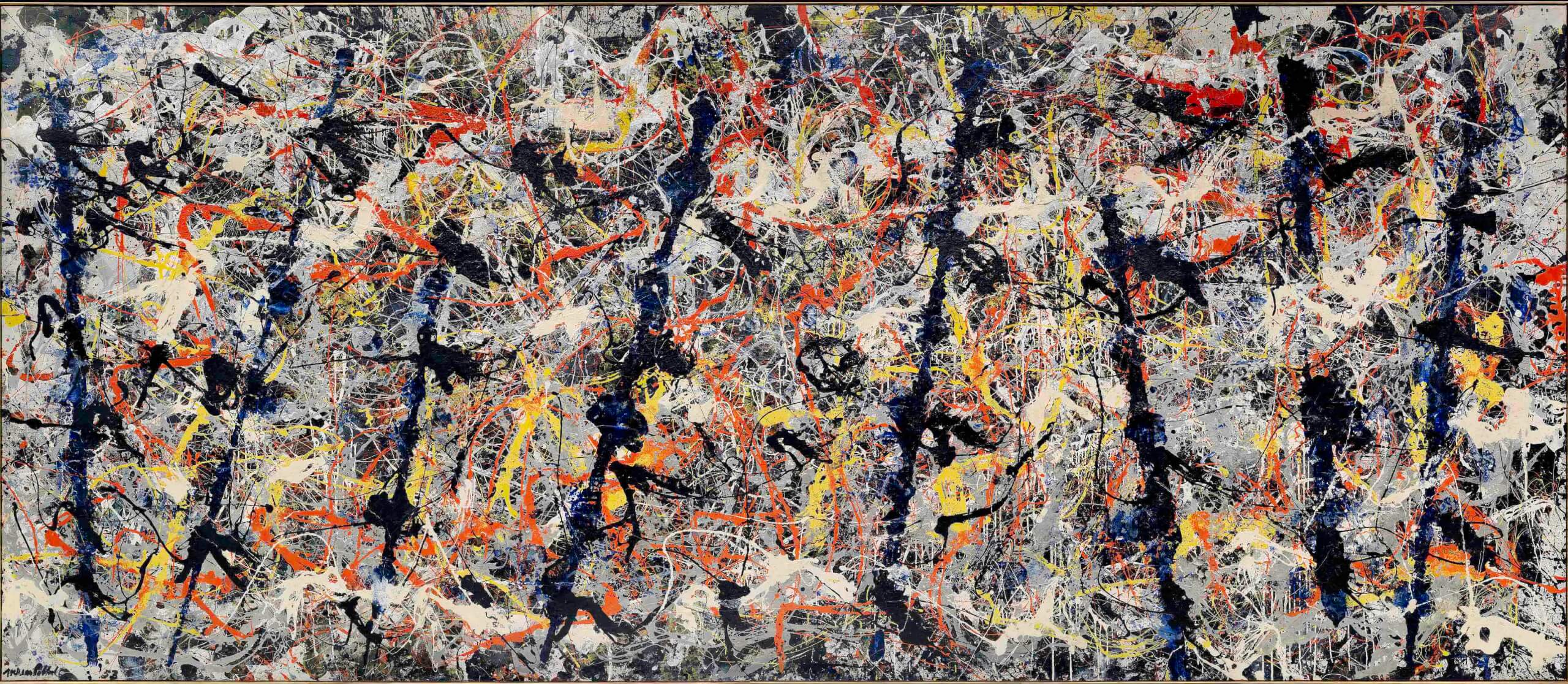 The Lowdown: Never mind October, this is the exhibition of the year. The year. The Royal Academy have pulled off an absolute coup and gathered what is without doubt, the best retrospective of Abstract Expressionism ever put together. Filling each room of the main gallery are endless works representing some of the greatest artistic minds of the 20th century. Everyone's there: Mark Rothko, Jackson Pollock, Franz Kline, Willem de Kooning, Barnett Newman, and Ad Reindhart. The list goes on and on and on.
The sheer number of masterpieces on show will leave your mind boggled. To have assimilated so many of them from collections across the world is a feat that won't be matched again in a hurry. I could write pages about this exhibition, but I won't. I'll just say you'd be a fool to miss it.
When: 24th September – 2nd January
Where: The Royal Academy of Arts, Burlington House, Piccadilly, London. W1J 0BD. Adult tickets £17, members go free.
Photo Credit: National Gallery of Australia Canberra
For Abstract Art: Antony Gormley: Fit at White Cube Bermondsey
The Lowdown: Antony Gormley is taking over White Cube in a follow up to his 2012 show Model. Fit considers our relationship with the urban landscape; Gormley's interest in corporate expansion and our sense of identity are clearly expressed here.
Dividing the gallery into 15 chambers that play with light and scale, Gormley turns the space into a labyrinth that places viewers amongst the art works rather than in front of them. In Sleeping Field, sculptures that at first glance appear to make up sparse, desolate landscapes are on closer inspection revealed to be countless abstracted sleeping bodies. Gormley's haunting sculptures are always a crowd pleaser. Fit could be one of his most poetic shows yet.
When: 30th September – 6th November 2016
Where: White Cube Bermondsey. 144-152 Bermondsey St, London. SE1 3TQ. Free entry.
Photo Credit: Stephen White
For Thought Provoking Installations: Giuseppe Penone: Fui, Saro, Non Sono (I was, I will be, I am not) at the Marian Goodman Gallery
The Lowdown: The Marian Goodman Gallery is a great space. Right in the heart of Soho; it's vast, white, and doesn't have ceilings made of what looks like reclaimed industrial material. Instead, they're made of glass. It's almost like a particularly fabulous greenhouse; which makes it the perfect backdrop for Giuseppe Penone's new show all about the relationship between his body and the ecosystem.
Penone has filled the gallery with introspective works that are rich in colour and constantly suggest our presence amongst the natural world: mesh walls filled with golden laurel leaves, bronze trees holding casts of the artist's face, and terracotta portraits of his daughter. You'll be in Soho at some point this month, it's worth popping in.
When: 8th September  – 22nd October 2016
Where: Marian Goodman Gallery 5-8 Lower John Street, London. W1F 9DY. Free entry.
Photo Credit: Marian Goodman Gallery London
For Contemporary Art: Cindy Sherman and David Salle: History Portraits and Tapestry Paintings at Skarstedt
The Lowdown: For the first show in their new London gallery space, Skarstedt brings together Cindy Sherman and David Salle; it's a pretty big deal, they're titans in the American contemporary art scene. Sherman is the queen of the quirky photograph, and Salle's paintings are definitively postmodern. Works by both artists from the turn of the 1980s demonstrate their typical oeuvre. Sherman and Salle take inspiration from the media age and consumerism, appropriating existing imagery; in this exhibition they draw from historical influences.
When: 1st October – 26th November 2016.
Where: Skarstedt, 8 Bennet Street, London. SW1A 1RP. Free entry.
Photo Credit: Cindy Sherman and Art. David Salle, Licensed by VAGA, New York, NY.
For Immersive Art: The Infinite Mix at The Store, 180 The Strand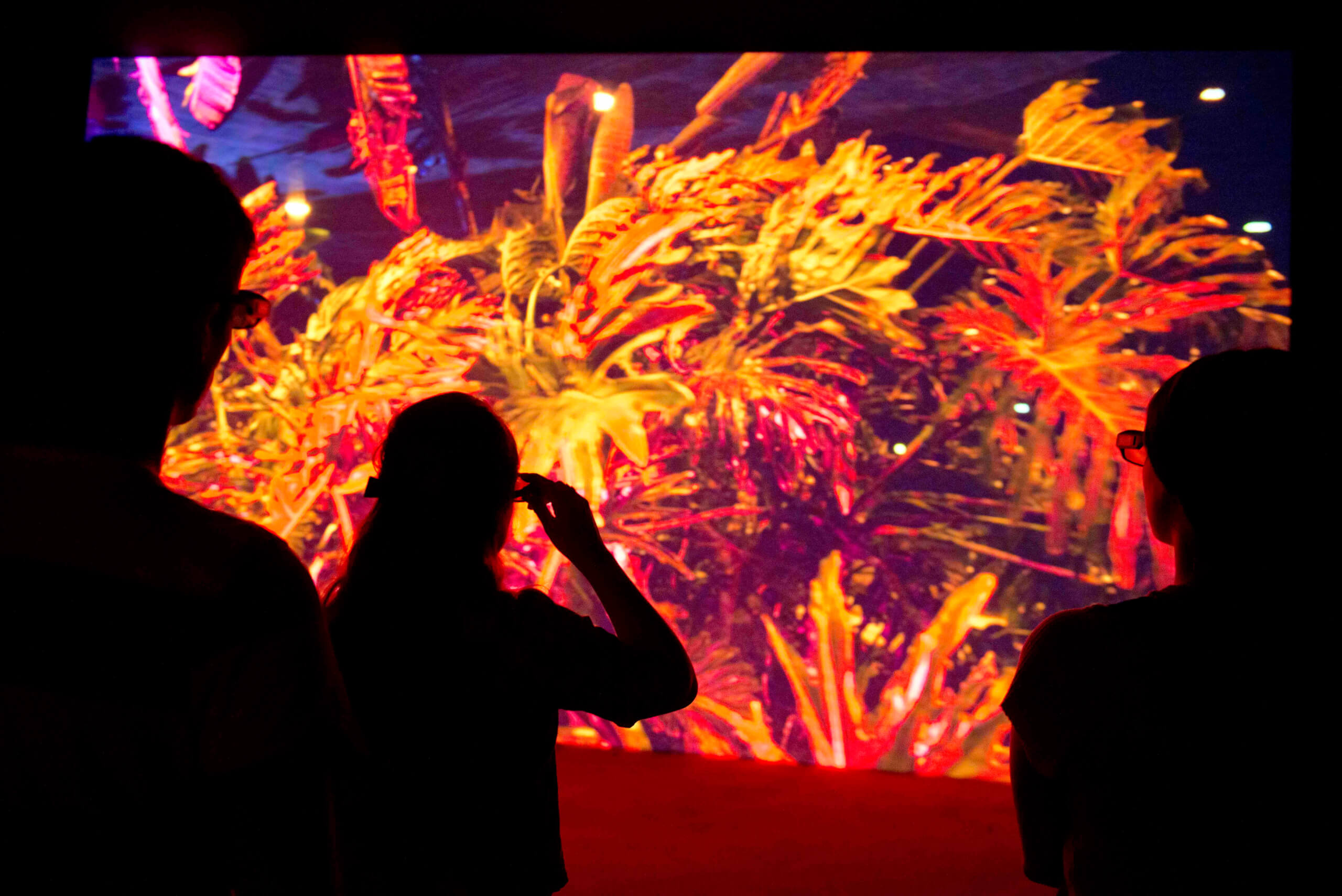 The Lowdown: Everyone misses the Hayward Gallery, two years seems an awful long time to shut a museum for (I'm also looking at you Tate St. Ives!), but they haven't completely disappeared off the face of the earth. In collaboration with The Vinyl Factory, the Hayward presents The Infinite Mix, an extravaganza of audio-visual art.
You know when you go to an exhibition, and one room has a boring video playing on loop of something that doesn't seem to have anything to do with anything? Yeah, this isn't that. There's 3D video, holographic projections, and multi-screen installations. It's conceptual, and emotional, and will make you wonder why all video art isn't like this.
When: 9th September – 4th December 2016.
Where: The Store, 180 The Strand, London. WC2R 1EA. Free entry.
Photo Credit: Linda Nylind
For Cuban Art: The EY Exhibition: Wifredo Lam
The Lowdown: In 2016 the art world decided Cuba was going to be a hot trend. Sure enough, a spotlight has been thrust on the country's art. Wifredo Lam, who died in the 80s, is one of Cuba's great modern painters; a human melting-pot of cultures with African, Chinese, and Spanish heritage, Lam's life and work is very East-meets-West. Traditionalistic but original.
Tate Modern presents an enormous body of the artist's surrealist work. Animal, plant, human, and occult forms blend together into strikingly dark paintings, drawings, prints, and photographs. Perfect for an accessible introduction to Cuban art.
When: 14th September – 8th January
Where: Tate Modern, Bankside, London. SE1 9TG. Adult tickets £16, members go free.
Photo Credit: Adagp, Paris
For Gutsy Art: Peter Saul: Some Terrible Problems at the Michael Werner Gallery
The Lowdown: Peter Saul is another American Pop art innovator. He's all about sticking it to the status quo and shaking things up (pretty cool for an 82 year old). This art is bold, surreal, and at times pretty hard to love. Many of his paintings are a selection of random images and objects from popular culture, captured in heavily saturated colours with a healthy dose of political subversion thrown in for good measure.
They're not to everyone's taste, but if you like Pop art this is essential viewing. It's also the first time Saul has shown in London. Who knows if, and when, it'll happen again.
When: 23rd September – 5th November.
Where: Michael Werner Gallery, 22 Upper Brook Street, London. W1K 7PZ. Free entry.
Photo Credit: Michael Werner Gallery, New York and London