July sees London enjoying a number of summery, upbeat exhibitions. Jump into Milton Avery's dreamy abstract landscapes, conjure up intense travel envy with Will Martyr's paintings of holiday utopias, and have your credit cards at the ready for the RA's 249th Summer Exhibition.
1. For Travel Inspiration: Will Martyr: Wanderlust at Unit London
The Lowdown: Slade graduate Will Martyr's exotic paintings will leave you breathless and full of wanderlust – which is also the name of his first major solo exhibition with cutting edge contemporary art gallery Unit London. Martyr draws from personal travels and found imagery to create his painstakingly precise depictions of idyllic never-never lands. Compositions are often a pleasing contrast between mid-century modernist architecture and dramatic landscape: think snowy mountainsides, luscious foliage, infinity pools, and beaches.
We're told the artist's work asks questions about how mass-consumption of images affects our perception of reality. What's certainly true is that Martyr's popularity is partly drawn from the aspirant mass-appeal of his subject matter. Part Hockney, part Lichtenstein, and part Kuoni travel brochure, these stunning paintings will have you reaching for your passport the moment you get home.
When: Wanderlust runs until the 29th July 2017.
Where: Unit London. 147-149 Wardour Street, Soho, London. W1F 8WD. Admission free.
2. For Twentieth Century Art: Milton Avery at Victoria Miro
The Lowdown: One of America's most influential twentieth century artists, Milton Avery is celebrated for his luminescent abstract paintings of landscapes, figures, and still life. Avery is noted for having been far less concerned with the creation of depth in his work, a pursuit that conventional western painting had become largely preoccupied with. Instead his practice was interested in colour, and how colours relate to each other. This exhibition is the first of the artist's work to be shown in London for ten years, and also the first at Victoria Miro since the gallery took on representation of Avery in Europe.
When: Milton Avery runs until 29th July 2017.
Where: Victoria Miro Mayfair. 14 St George Street, London. W1S 1FE. Admission free.
Photo Credit: The Milton and Sally Avery Arts 
3. For Buying Art: Summer Exhibition 2017 at the Royal Academy of Arts
The Lowdown: Eileen Cooper has been entrusted with the curation of the Royal Academy's 249th Summer Exhibition. Each year artists from all walks of life are invited to submit work to be judged for inclusion; it is Cooper's job to whittle down the thousands of entries into one coherent show. A highlight of the summer social season, the exhibition is essentially a mammoth fine art bring and buy sale. Most pieces are available for purchase and prices span every budget, with proceeds benefitting both the artists and the continued functioning of the academy's esteemed art schools. This year's exhibition features names such as Marina Abramovic, Isaac Julien, Sir Antony Gormley, Sean Scully, and Phyllida Barlow. Grab a Pimms from the pop-up bar and get your credit cards out.
When: The Summer Exhibition runs until 20th August 2017.
Where: The Royal Academy of Arts, Burlington House, Piccadilly, Mayfair, London. W1J 0BD. Tickets priced from £15.50, members go free.
Photo Credit: Courtesy Lisson Gallery. Photography Dawn Blackman
4. For Political Art: Luke Willis Thompson: Autoportrait at Chisenhale Gallery
The Lowdown: For his first solo exhibition in the UK, New Zealander Luke Willis Thompson is presenting just one portrait. Portraiture is about more than figurative depiction: it's about telling stories. And the woman in this portrait has an important story to tell. In July 2016 Diamond Reynolds broadcast from her smart phone – via Facebook Live – the moments after the fatal shooting of her partner Philando Castile by a police officer during a traffic stop in Minnesota.
Just a few months later Thompson established a conversation with Reynolds and invited her to work on producing an aesthetic response that would act as a companion image to Reynolds' video broadcast. The result is a silent film portrait of Reynolds shot in black and white. It is calm, thoughtful and a foil to the more infamous image of Reynolds caught in a moment of violence. Thompson's portrait raises vital questions around race and representation which remain shamefully unanswered in western society.
When: autoportrait runs until the 27th August 2017.
Where: Chisenhale Gallery, 64 Chisenhale Road, London. E3 5QZ. Admission free.
Photo Credit: Luke Willis Thompson
5. For Contemporary Portraiture: BP Portrait Award 2017 at the National Portrait Gallery
The Lowdown: An unmissable highlight of the annual art calendar, the NPG's BP Portrait award represents the absolute best in contemporary portraiture. Over 2,500 entries were received this year from artists in 87 countries featuring everything from informal studies of friends, to revealing images of celebrities and public figures. The award's curators have an uncanny ability to spot nuance in a portrait, selecting only those with a sense of intrigue, introspection, excitement, or playfulness. 2017 marks another charming outing of this popular event.
When: The BP Portrait Award runs until the 24th September 2017.
Where: National Portrait Gallery, St Martin's Place, London. WC2H 0HE. Admission free.
Photo Credit: Khushna
6. For African American Art: Soul of a Nation: Art in the Age of Black Power at Tate Modern
The Lowdown: Tate Modern's new exhibition is an examination of the contributions made to the Civil Rights Movement by black artists. Soul of a Nation chronicles the feats of these artists on their mission to provoke, confront, and confound expectations. We see paintings, murals, collage, photography, clothing, and sculpture – all vibrant, exhilarating, and once key to advancing the viewpoint and arguments of black communities in an explosive period of American history.
When: Soul of a Nation: Art in the Age of Black Power runs from the 12th July until the 22nd October at Tate Modern.
Where: Tate Modern, Bankside, London. SE1 9TG. Adult tickets from £15, members go free.
Photo Credit: The Artist and Jack Shainman Gallery, New York 
7. For Geometric Painting: Nathalie Du Pasquier: From Time to Time at Pace Gallery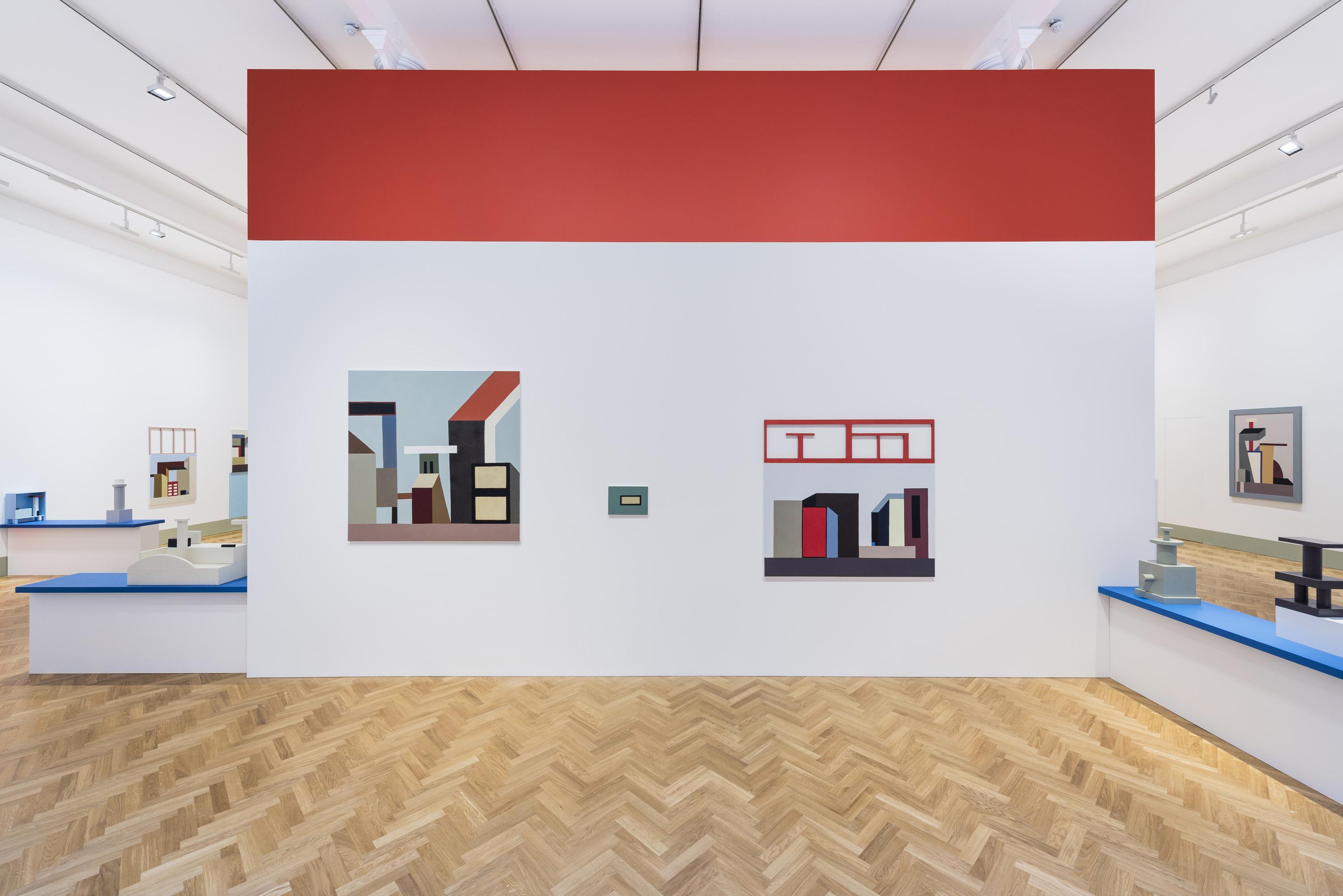 The Lowdown: Nathalie Du Pasquier is recognised for her design work as much as her painting. In her early career she was a textiles designer, and worked with the production of furniture. In 1987 she turned her focus towards painting, but design elements shine through to this day. Her paintings are geometric and architectural in their composition, making excellent use of contrast and line. This exhibition also features a number of captivating little sculptures, bringing elements of her paintings into the third dimension.
When: From time to time runs until the 29th July 2017.
Where: Pace London, 6 Burlington Gardens, Mayfair, London. W1S 3ET. Admission free.
Photo Credit: Photography by Damian Griffiths
8. For Something Different: A Handful of Dust: Photography after Man Ray and Marcel Duchamp at Whitechapel Gallery
The Lowdown: Dust is indiscriminate and undiscerning. It is everywhere and settles on all things. In Whitechapel Gallery's new exhibition, dust becomes a vehicle for story-telling. Starting with a Man Ray photograph of a dust covered Marcel Duchamp sculpture The Large Glass taken in 1920, A Handful of Dust weaves its way through 20th century history from aerial reconnaissance and wartime destruction to natural disasters and domestic untidiness – all while using dust as its unifying subject matter. The exhibition features works by over 30 artists including Mona Kuhn, Gerhard Richter, Walker Evans, Shomei Tomatsu, and Nick Waplington to tell its story of dereliction and decay. Dust is a beautiful, thoughtful exhibition of endless curiosity.
When: A Handful of Dust runs until the 3rd September 2017.
Where: Whitechapel Gallery, 77-82 Whitechapel High Street, London. E1 7QX. Admission free.
Photo Credit: Seward Johnson