Thank you to London's galleries and museums for another year's worth of superb events and exhibitions; we're armed with the cultural upper hand, ready to take on the blizzard of festive small-talk heading our way. Our gift to you? December's best exhibitions, to see the year out with an arty bang.
1. For Architecture: Ed Saye: No Promised Land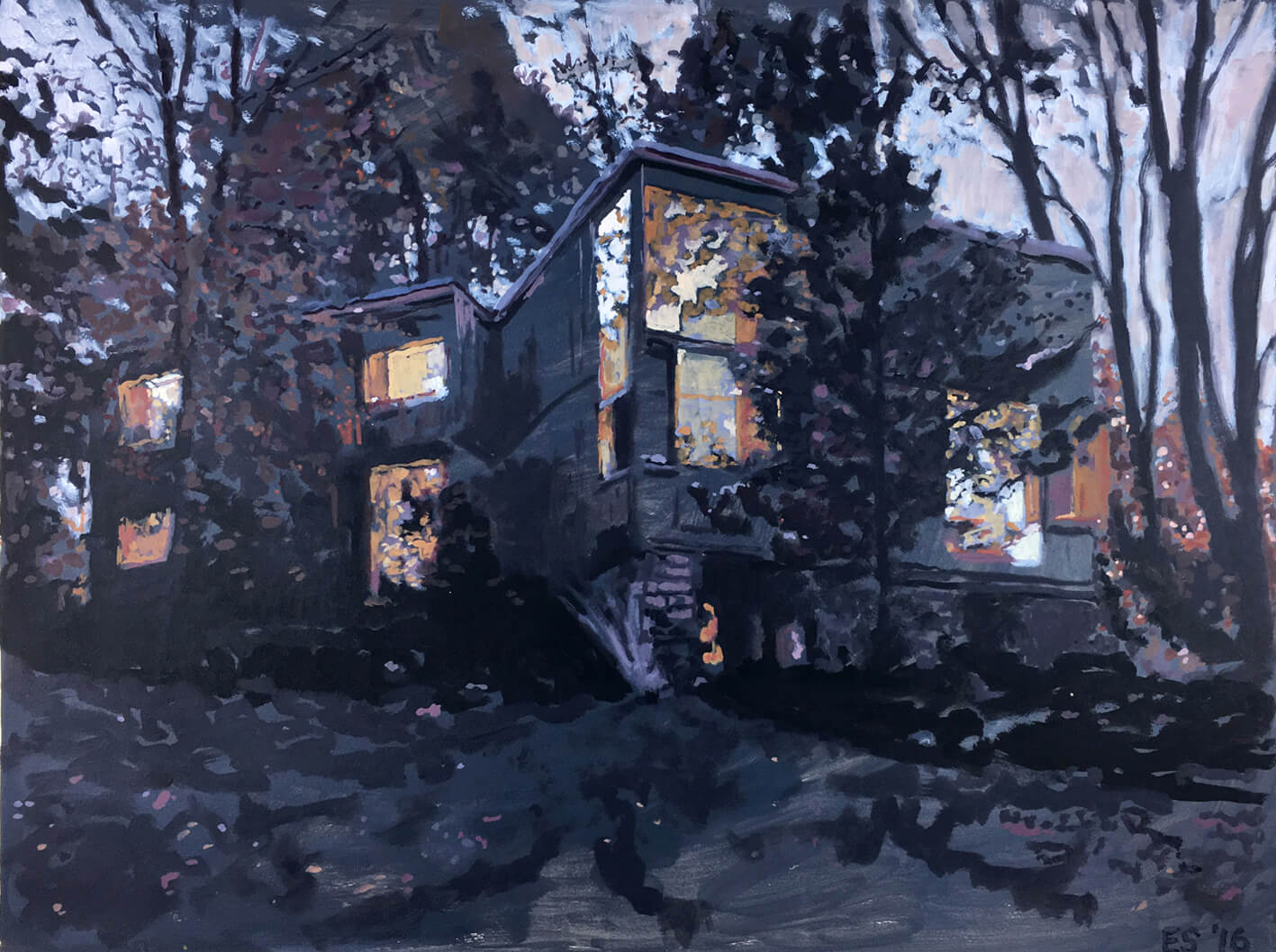 The Lowdown: A graduate of the Slade, Ed Saye creates detailed paintings with an overwhelming sense of melancholy. For his latest solo show he has explored the notion of idealism in architecture. His sources were found photographs, and from these he has painted both sleek modernist homes that have fallen to disrepair and the hopeful makeshift homes of hippie communities. Although high design houses and hippie camps might seem like polar opposites, Saye unites them in a sense of dislocated, fractured utopia. The paintings are at once muted, haunting, and aesthetically gorgeous. You may just end up buying one.
When: Runs until 12th January 2017. Admission free.
Where: The Foundry Gallery, 39 Old Church Street, Chelsea, London SW3 5BS
Photo Credit: Ed Saye 
2. For Brash Art: Gavin Turk: Who What When Where How and Why 
The Lowdown: At his new award-winning Lambeth gallery space, Damien Hirst is hosting a retrospective of his friend and contemporary Gavin Turk. Both were stars of the nineties Britart movement, and both have subsequently enjoyed successful careers in at the art world. Like many of the YBAs (Young British Artists), Turk became notorious for shock tactics and highly conceptual work.
This exhibition includes headline-makers such as a recreation of his final degree show, Cave, which comprises an empty room with a blue heritage plaque stating he'd worked there, his famous trash bags and rubbish skips, a series of Warhol and Pollock riffs, and even a purposefully bad mock-up of a Hello! Magazine cover featuring him, his wife and newborn 'relaxing at home'.
While some may dismiss Turk's work as a bunch of gimmicks, that is doing it a disservice. The kind of questions contemporary art cynics would pose to criticise him, are the very questions he explores himself: what legitimises art's value? Is authorship more important than work? What makes art, art?
Visually, you could love it or absolutely hate it. But nevertheless there's no doubt this is one of the season's most important contemporary exhibitions.
When: Runs until 19th March 2017. Admission free.
Where: Newport Street Gallery, Newport St, Lambeth, London SE11 6AJ
Photo Credit: Prudence Cuming Assoc
3. For Expressive Art: Anselm Kiefer: Walhalla 
The Lowdown: Reputed for his work's melancholy and sometimes downright depressing themes, master gloom-monger Anselm Kiefer is king of large-scale emotional expression. Kiefer's career is marked with interwoven layers of politics, history, landscape, and mythology. His new exhibition at White Cube, Walhalla, references the paradise afterlife of slain warriors from Norse mythology.
The works deal with themes of creation and destruction: life and death. There is a focus on installations, all of which are powerfully expressive. A central sculpture features a towering spiral staircase strewn with discarded women's robes and other debris, representing the rise of the Valkyries to Walhalla. The paintings are particularly impressive, carrying real emotional weight in their depiction of crumbling dystopian landscapes. A strong, even overwhelming, exhibition that cuts through any contemporary art haze and leaves a lasting impression.
When: Runs until the 12th February 2017. Admission free.
Where: White Cube Bermondsey, 144-152 Bermondsey St, London SE1 3TQ
Photo Credit: White Cube (Charles Duprat)
4. For Retrospective Art: Robert Rauschenberg
The Lowdown: One of America's great 20th century artists, Robert Rauschenberg was an important forerunner of the Pop Art movement and the central figure in Neo-Dada. Rauschenberg is best known for his 'Combines', produced in the 1950s that challenged the art world by combining non-traditional materials in inventive ways, blurring the lines between sculpture and painting. His efforts also spanned more formal painting, photography, printmaking and sculpture.
Tate's exhibition is the first of its kind in the UK for 35 years, and the first retrospective since the artist's death in 2008. Works from all six decades of Rauschenberg's innovative, curious career are on display, including pieces that are rarely seen and almost never travel. An exploration of an artistic legacy that continues to inform and inspire.
When: Runs until 2nd April 2017. Admission free for Tate members, or from £15.
Where: Tate Modern, Bankside, London SE1 9TG
Photo Credit: Robert Rauschenberg Foundation, New York 
5. For the Queen of the Curve:  Zaha Hadid
The Lowdown: The sad passing of architecture dynamo Dame Zaha Hadid in March sent shockwaves throughout the creative community. Hadid's world-class, pioneering work was testament not only to her brilliant mind, but also a determination to make it against the odds in a field that was almost exclusively male. Despite this, she became one of the world's most eminent contemporary architects and a feminist design icon. This exhibition at the Serpentine Gallery (which she designed a wing of) focuses on her works on paper. A rare chance to see her infrequently exhibited draughtsman skills.
When: Runs from the 8th December until the 12 February 2017. Admission free.
Where: The Serpentine Gallery, Kensington Gardens, London W2 3XA
Photo Credit: Zaha Hadid Architects
6. For Rare Snapshots: The Radical Eye: Modernist Photography from the Sir Elton John Collection
The Lowdown: Did you know that Sir Elton John has one of the finest private collections of photography in the world? Drawing from the modernist movements from the first half of the 20th century, his collection has a substantial number of works by Man Ray, including famous faces such as Picasso, Matisse ,and Breton. Other artists exhibited include Dorothea Lange, Brassai, Edward Weston, and Aleksandr Rodchenko. A chance to see world class photography, and an intimate view into the tastes of a British pop icon.
When: Runs until the 7th May 2017. Admission free for Tate members or from £15.
Where: Tate Modern, Bankside, London SE1 9TG
Photo Credit: Man Ray Trust ADAGP, Paris and DACS, London 2016
7. For Up-and-Coming Artists: Bloomberg New Contemporaries 2016 
The Lowdown: The ICA remains one of London's most cutting edge and intellectually challenging galleries, regularly hosting conceptual artists and eccentric exhibitions that don't always receive the same attention in other London galleries. The annual Bloomberg New Contemporaries show makes a welcome return to the ICA, exhibiting a selection of work from the year's most inspired art school graduates. It doesn't have the feel of an established public collection, yet it is a captivating and well curated snapshot of what young artists are exploring today. That's not to say there aren't gems; you might just spot a work by the next Damien Hirst.
When: Runs until 22nd January 2017. Admission with Day Membership set at £1 during exhibition hours.
Where: The ICA, The Mall, St. James's, London SW1Y 5AH
Photo Credit: Bloomberg New Contemporaries by Oriele Steiner
The Lowdown: Lisson Gallery presents a selection of new works by British artist Jason Martin. Martin's work explores the sculptural elements of relief in painting; how paint's very physicality can become the subject matter. The large canvases are thickly slathered with oil paint, creating three-dimensional works that invite the audience to imagine whatever they like: barren landscapes, wave formations, the undulations and curves of flesh. The bridge to complete sculpture is made with silver metal casts of similar canvases, shimmering and catching the light. The show is striking both in its scale and simplicity, flattered against the stark white gallery walls. The metal casts are particularly beautiful, a perfect blend of sculpture and Martin's brusque painting technique.
When: Runs until 7th January 2017. Admission free.
Where: Lisson Gallery, 52 Bell St, Marylebone, London NW1 5DA
Photo Credit: Lisson Gallery Photo by Jack Hems
9. For Conceptual Art: Ai Weiwei: Fondation
The Lowdown: What's to say about Ai Weiwei? He's probably the world's most famous living artist. If you missed out on the Royal Academy retrospective last year, here's your chance to make amends. It's a very small exhibition (you should probably tie it in with a trip to Jason Martin's Painting as Sculpture), but the two typically Weiwei installations are worth checking out.
When: Runs until 7th January 2017. Admission free.
Where: Lisson Gallery, 52 Bell St, Marylebone, London NW1 5DA
Photo Credit: Lisson Gallery Photo by Jack Hems