Hello. Guess what? This is the twelfth edition of the Ultimate Art Lovers Guide! A massive thanks to all of you for reading over the past year, and we hope we've been able to help fill some of the empty hours in your weekends. September and October are fantastic months for art as all the autumn blockbusters begin to open. Here's our pick of what's popping up across the city this month:
Basquiat: Boom for Real at the Barbican Art Gallery
The Lowdown: This is bound to end up being autumn's most talked about show. Boom for Real is the first major exhibition of celebrated artist Jean-Michel Basquiat to be held in the UK. Over the past decade Basquiat's star has risen and risen: he is now one of the most discussed, collectible, and expensive artists of all time. A friend and confidante of Andy Warhol, the prodigious young Basquiat built a body of work that commented on wealth and poverty, race, power structures, and politics from his position at the heart of New York's art scene.
Basquiat's life was cut short in 1988 at the age of 27, but his artistic legacy and message remains as relevant and influential today as it was 30 years ago. To tell his story the Barbican has brought together varied material from collections public and private across the world, including painting, rare film, photography, and archive material, much of which has never been displayed in Europe before. Boom for Real is this season's must see show.
When: Boom for Real opens on the 21st September and runs until the 28th January 2018.
Where: Barbican Centre, Silk Street, London. EC2Y 8DS. Tickets from £16, members go free.
Photo Credit: Jean-Michel Basquiat, Hollywood Africans, 1983, Whitney Museum of American Art, New York,
Declan Jenkins: I Sing Of Armoires… at Sims Reed Gallery
The Lowdown: British artist Declan Jenkins is best known for his woodblock prints, and those on display in I Sing Of Armoires… are beautiful examples of the medium. The prints created for this exhibition, his very first solo show, are large in scale, full of texture, and have bold, dynamic subject matters. Jenkins breathes contemporary energy into this traditional art form, while remaining respectful to the ancient techniques.
When: I Sing Of Armoires… runs until the 29th September 2017.
Where: Sims Reed Gallery, 43 Duke Street, St James's, London. SW1Y 6DD. Admission free.
Photo Credit: Sims reed Gallery Declan Jenkins
The Lowdown: A wonderful way for art lovers to discover Kew, Sculpt brings life to the glorious gardens after the summer blooms have wilted. More than 70 sculptures from a number of British artists have been placed beautifully around the grounds, in materials including bronze, wood, and clay. Artists on display include Simon Gudgeon, Mark Dedrie, Piers Mason, and Hamish Mackie.
When: Sculpt at Kew runs from the 18th September to the 15th October 2017.
Where: Kew Gardens, Richmond, Surrey. TW9 3AE. Admission included with entry to the gardens.
Photo Credit: Anna Curry, Sculpt at Kew 
Tal R: Sexshops at Victoria Miro
The Lowdown: In his latest solo show for Victoria Miro, renowned Israeli-Danish artist Tal R documents the smoky world of sex shops, massage parlours, strip clubs, and the Red Light District. Don't come expecting a cheap thrill though, Tal R focuses on the buildings themselves using their facades as metaphors for desire and withheld reward. His flat and simple compositions purposely draw the viewer in, creating a yearning for what's "in the back room" – the unseen, unknown, and out of reach. Another excellently curated show from the master gallerists at Victoria Miro.
When: Sexshops runs from the 20th September to the 20th December 2017.
Where: Victoria Miro Gallery, 16 Wharf Road, London. N1 7RW. Admission free.
Photo Credit: Courtesy Tal R and Victoria Miro, London
Jean Dubuffet: Theatres de memoire at Pace London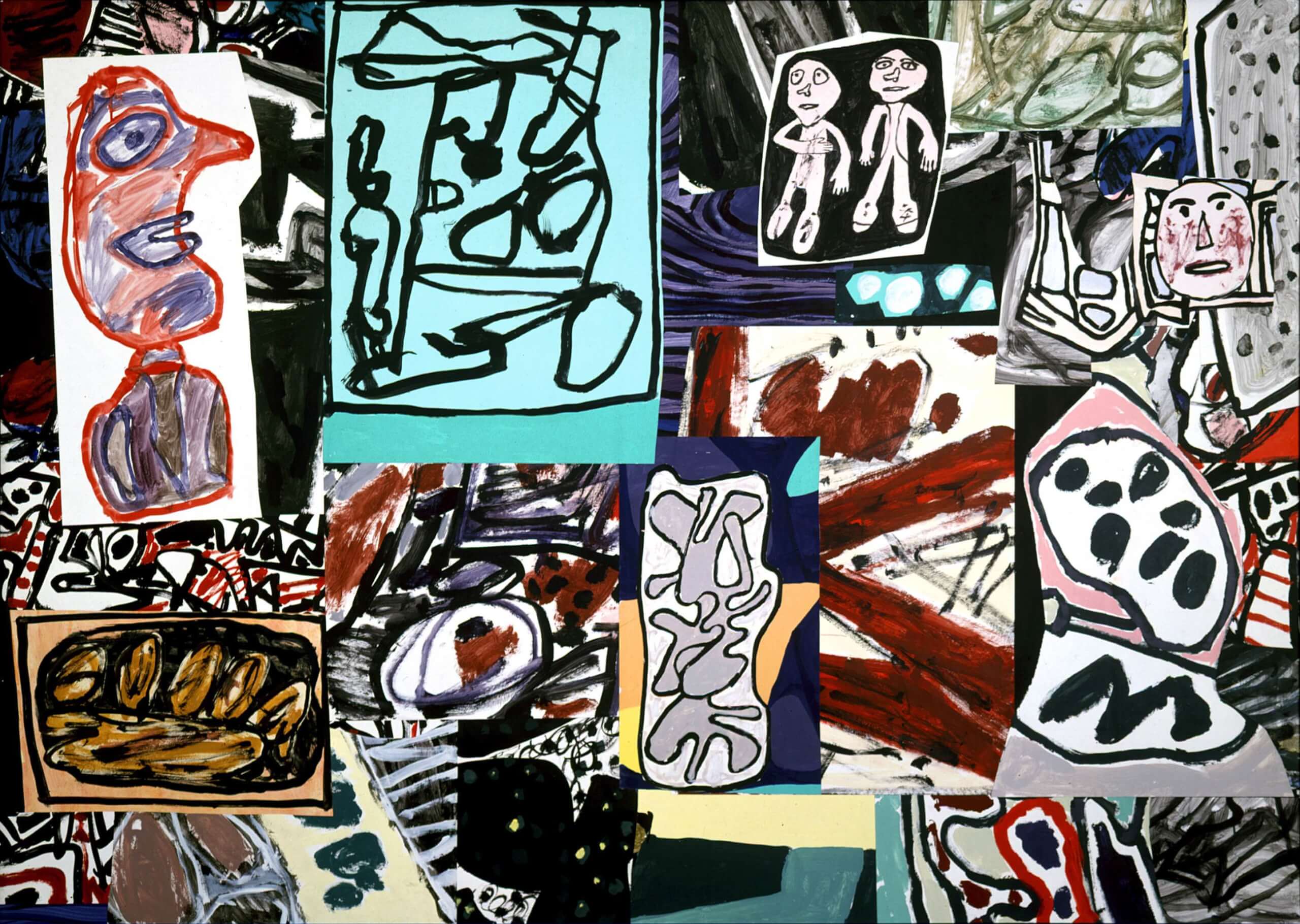 The Lowdown: An important figure in art history, Jean Dubuffet was an idealistic painter who favoured a gritty aesthetic that championed an honest, humanistic attitude towards art. He is most famous for founding the Art Brut/Outsider art movement, a naïve, self-taught, and intensely passionate style of image making that rejected contact or collaboration with the mainstream art establishment.
Now, Dubuffet is exhibited in important art institutions across the world, and has a foundation dedicated to preserving his legacy – how things change. Pace London is presenting eight works from Dubuffet's Theatres de memoire series, many of which have not been displayed in public for decades, if ever at all. If you're a fan of outsider art, this is where it all began.
When: Theatres de memoire runs from the 13th September until the 21st October 2017.
Where: Pace London, 6 Burlington Gardens, London, W1S 3ET. Admission free.
Photo Credit: Jean Dubuffet, Les données de I'instant, 1977
Rachel Whiteread at Tate Britain
The Lowdown: Turner Prize nominated artist Rachel Whiteread's new retrospective at Tate Britain celebrates her 25 years at the cutting edge of contemporary sculpture. Whiteread is known for her use of industrial materials such as plaster, concrete, resin, rubber, and metal in her pursuit of spatial understanding. Architecture, interiors, and common objects feature regularly in her work; you're as likely to see a plaster hot water bottle as you are the life size cast interior of a dilapidated terrace house. Whiteread was a prominent member of the influential YBAs, and remains one of the group's most talented and successful artists. Visually delicious.
When: Rachel Whiteread runs from the 12th September until the 21st January 2018.
Where: Tate Britain, Millbank, Westminster, London. SW1P 4RG. Tickets from £15, members go free.
Photo Credit: Courtesy of Racel Whiteread and Gagosian
Amar Kanwar: Such A Morning at Marian Goodman Gallery
The Lowdown: Such A Morning, a film produced by Indian artist Amar Kanwar, follows the mysterious disappearance of an esteemed maths professor. The professor, plagued by thoughts of his worsening eyesight, shuts himself off from society and retreats to an abandoned train carriage. Slowly becoming acclimatised to the surrounding darkness, he experiences several transformative hallucinations that change the way he views his life and the world around him.
Kanwar is noted for his films and multi-media works which explore themes of politics, violence, sexuality, and justice. The artist has shown across the world at centres including the Art Institute of Chicago, the Assam State Museum, the Stedelijk Museum, and Whitechapel Gallery.
When: Such A Morning runs from September 19th until October 14th 2017.
Where: Marian Goodman Gallery, 5-8 Lower John Street, Soho, London. W1F 9DY. Admission free.
Earth Wind & Fire at Griffin Gallery
The Lowdown: The latest exhibition from Griffin Gallery partners six Australian Indigenous artists alongside seven British artists. The show aims to highlight the subtle similarities between these varied artists' practices. Links are made between depictions of nature, the celebration of culture, visual symbolism, and abstraction. A colourful and joyous show to see out summer with.
When: Earth Wind & Fire runs from the 7th September until the 20th October 2017.
Where: Griffin Gallery, The Studio Building, 21 Evesham Street, London. W111 4AJ. Admission free.
Photo Credit: John Stark