Need your art fix? Here are the red hot exhibitions and events it's about time you saw in London this October.
1. Jasper Johns: Something Resembling Truth at the Royal Academy of Arts
The Lowdown: One of the great American artists of the 20th century, Jasper Johns is perhaps best known for leading the shift away from the culturally dominant Abstract Expressionism style. Johns uses iconographic, familiar imagery in his work such as flags, lettering, targets, and colour formations which were recreated in rough, alien textures. The effect is unsettling; the recognisable became distorted, the commonplace becomes intriguing.
Something Resembling Truth is the Royal Academy's autumn/winter blockbuster, and the only real rival to the Barbican's Basquiat: Boom for Real exhibition – another great American artist of the last century. It's also the first major exhibition of Johns' work to be held in the UK in 40 years. The show pieces together works from the past six decades of the artist's career, right up to his current practise. A must see exhibition.
When: Something Resembling Truth runs until the 10th December 2017
Where: Royal Academy of Arts, Burlington House, Piccadilly, Mayfair, London W1J 0BD. Tickets from £12, members go free.
Photo Credit: Jasper Johns, Target, 1961. The Art Institute of Chicago
2. Damien Ortega: Play Time at White Cube Bermondsey
The Lowdown: Mexican artist Damien Ortega's installation sculptures play with objects taken from our everyday lives. Famous works by the artist include Cosmic Thing in which he dismantles a VW Beetle piece by piece and suspends each object in its proper scale from the ceiling – almost a visual how to guide for putting the vehicle back together. Play Time continues with this notion of models and instructions, presenting us with a series of defragmented and unfinished installations, all beckoning us to consider their architecture and composition. A charming, playful show beautifully set off by White Cube's cavernous south galleries.
When: Play Time runs until 12th November 2017
Where: White Cube Bermondsey, 144-152 Bermondsey Street, London Se1 3TQ. Admission free.
Photo Credit: Damian Ortega. White Cube, Ben Westoby
3. Daniel Buren: PILE UP: High Reliefs. Situated Works at Lission Gallery
The Lowdown: With a masterful grip of spatial awareness, Daniel Buren has been creating site-specific works for Lisson Gallery for the past four and a half decades. Buren's work considers the relationship between art, environment, and location and how these factors effect each other. The instalations in PILE UP are bold, mirrored, colourful, and of course, perfectly suited to the space they occupy.
When: PILE UP: High Reliefs. Situated Works runs until November 11th 2017.
Where: Lisson Gallery,  67 Lisson Street, Marylebone, London NW1 5DA. Admission free.
Photo Credit: Photo by Jack Hems. Daniel Buren, Courtesy Lisson Gallery
4. Nathalie Du Pasquier: Other Rooms at Camden Arts Centre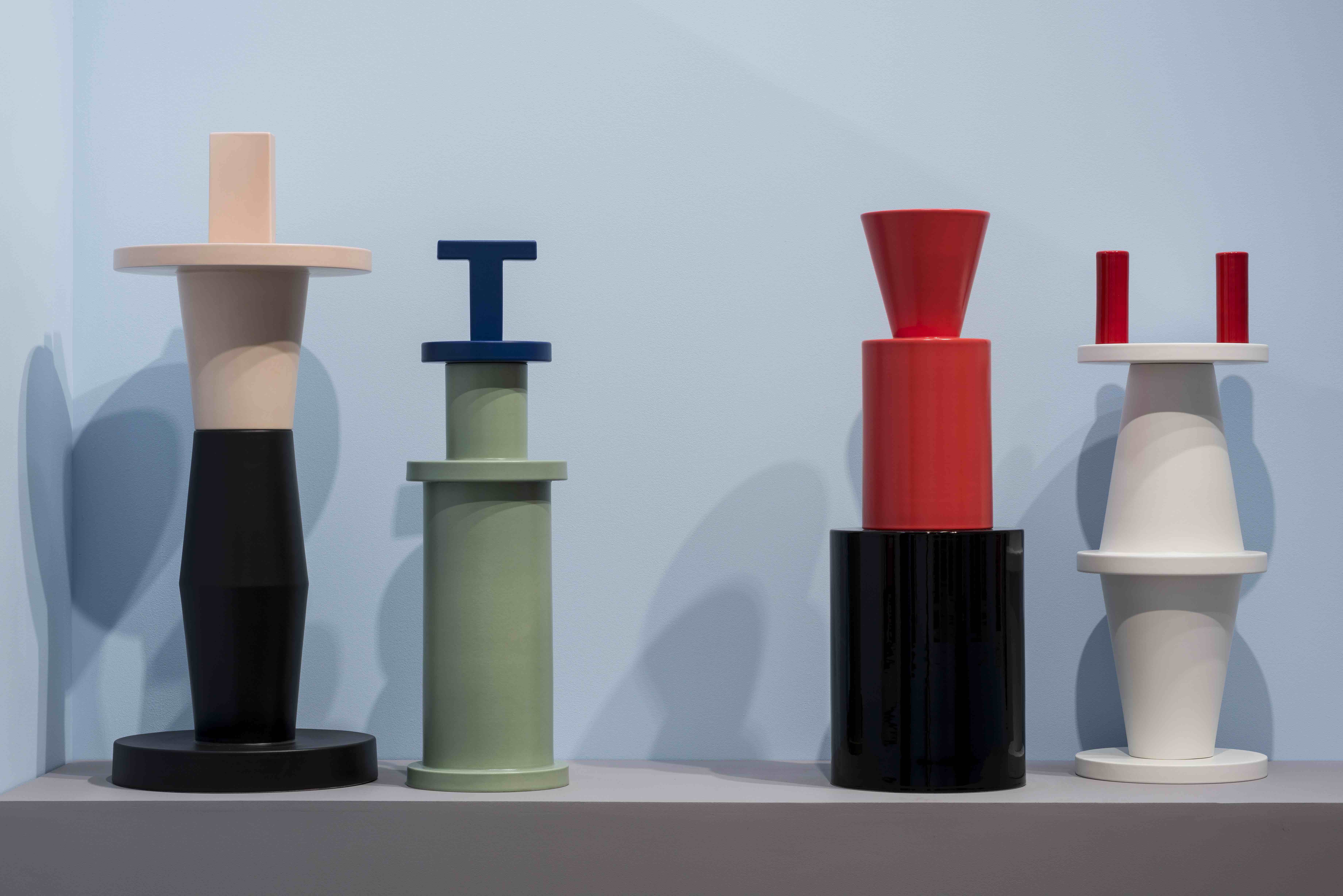 The Lowdown: Nathalie Du Pasquier is having a bit of a moment in London. Following the success of her Pace Gallery exhibition last month, Du Pasquier is now exhibiting in Camden with an even bigger, bolder, and brighter show. There are a number of the artist's design lead sculptures on show, but the real draw is her vivid murals. Beyond canvas and usual material limitations Du Pasquier covers the walls in her geometric designs, playing with space, architectural rules, and two and three dimensional form.
When: Other Rooms runs until 14th January 2018
Where: Camden Arts Centre, Arkwright Road, London NW3 6DG. Admission free.
Photo Credit: Nathalie Du Pasquier. Photo Damian Griffiths
5. Martin Puryear at Parasol Unit
The Lowdown: Martin Puryear's works are a visual delight. Take the piece above for example: slightly cartoonish, somewhat phallic, sleek, robust, and aesthetically bold. Puryear's visual language is as smooth as satin, and that delicate, abstract purity can be found in many of the works on display in North London's Parasol Unit. Don't be fooled by the perfect curves though, there's a purposely hand-made quality to Puryear's art that reflects his enduring love of craft and the natural world. Artists often hate this particular comment, but his works Instagram beautifully!
When: Martin Puryear runs until December 8th 2017.
Where: Parasol Unit, 14 Wharf Road, London N1 7RW. Admission free.
Photo Credit: Martin Puryear Photograph by Ron Amstutz. Martin Puryear, courtesy Matthew Marks Gallery
6. Torbjørn Rødland: The Touch That Made You at Serpentine Sackler Gallery
The Lowdown: Wildly talented Norwegian photographer Torbjørn Rødland shares a vaguely similar visual tone to Wolfgang Tillmans. If you liked Tillmans' major exhibition at Tate Modern this year, you'll love Rødland at the Serpentine.
Rødland's photographs are usually of highly staged, almost commercial subjects. Recurring objects include bananas, octopus tentacles, cakes, and body parts. He fetishises them with obsessive, glaring close ups that hold the viewers gaze and force the audience to sit up and interact. Often viscose fluids such as honey, paint, and gel are languidly poured over his subjects which is as unsettling as it is sexualising. The photographs are gorgeous though, and he even manages to give Paris Hilton the biblical grace and playfulness of Jackie Kennedy. No mean feat.
When: The Touch That Made You runs until November 19th 2017.
Where: The Serpentine Sackler Gallery, Kensington Gardenns, London W2 3XA. Admission free.
Photo Credit: Courtesy of Galerie Rodolphe Janssen Brussels
7. Hannah Black: Some Context at Chisenhale Gallery
The Lowdown: Some Context is the first UK solo exhibition for New York based Hannah Black. The show is very much of the moment, and, to be honest, better visited than read about. Black works around an answer to the question of art's uselessness. Positioning art as a source of comfort, an object of worship, and a method of archive. Black opens the conversation further with a programme of events running through the duration of the show.
When: Some Context runs until the 10th December 2017.
Where: Chisenhale Gallery, 64 Chisenhale Road, London E3 5QZ. Admission free.
Photo Credit: Hannah Black, Some Context (2017). Installation view, Chisenhale Gallery, 2017. Photo Andy Keate.
8. Affordable Art Fair Battersea
The Lowdown: The Affordable Art Fair returns to Battersea again this autumn, bringing with it a host of opportunities to get involved with art. The term 'affordable' is relative here, indeed there are many works below £100, but also many above £5000 – so don't necessarily expect 'cheap' prices. As with any art fair the quality of work is highly variable. You'll find galleries showing famous names alongside interesting emerging artists, but also a lot of rubbish so keep your sensible hat on if you've come with a credit card.
As always there are a number of interesting panel discussions on all manner of topics, and a well-stocked bar for mid-shopping pit stops. In a world where art fairs are often dominated by sky high prices and glitzy glamour, the AAF is a far more accessible proposition.
When: The Affordable Art Fair runs from the 19th October until the 22nd October 2017.
Where: Battersea Evolution, Battersea Park, Queenstown Road, London SW11 4NJ. Tickets from around £10.
Photo Credit: Romily Alice Walden – Utopias