Whether you're looking for a fancy dress bash, or a chance to stuff some dead animals – we've discovered 7 frightfully fun Halloween events taking place in London. Creep it real, people:
1. For an 80s Party: Hoxton Bar and Kitchen x Ouse 
What: On Saturday (28th October), head to Hoxton Square Bar & Kitchen for a Spooktacular Ouse Special to celebrate  Halloween in true 80s style. Think big hair, pinstripe suits, 80s wedding dresses and iconic Winona-goth makeup – the film won an Oscar for costume design, so no excuses.
The Run-Down: Get down early for a screening of the cult film from 6pm with wings from the Orange Buffalo, themed Beetlejuice cocktails and popcorn. You can expect spectacularly immersive production like no-other from Fables, festival production team behind Ouse, the Rooftop at Queen of Hoxton as well as production at festivals around the UK, including Houghton, Secret Garden Party and El Dorado. Musically this will be a feast for the ears and soul with a finely picked roster of cracking party starters and DJs playing the best in heavy hitting dance music in the club room all night long, while in the main bar DJs will spin an 80's inspired soundtrack of Funk, Soul and Disco.
Price: Tickets here 
Where: 2-4 Hoxton Square, London N1 6NU
2. For a Taxidermy Workshop: The Zetter Townhouse Clerkenwell  x Made From Dead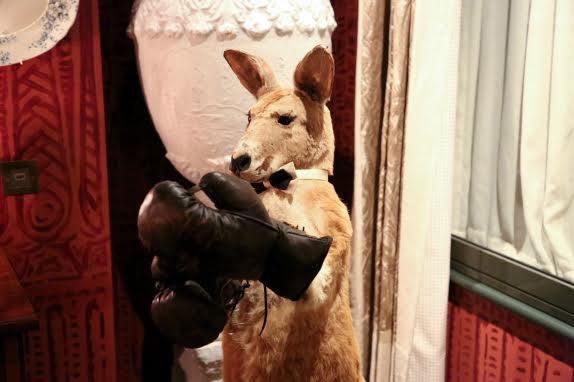 What: On Saturday (28th) October in honour of Halloween, The Zetter Townhouse Clerkenwell will be hosting their very first taxidermy masterclass with Made from the Dead's, Tonja Grung. Anyone acquainted with The Zetter Townhouse Clerkenwell will know that its fictional owner, Aunt Wilhelmina, had quite a fondness for taxidermy, stuffing the townhouse to rafters with an eccentric and curious collection, including a boxing kangaroo, a cat in a dress and various types of flounder and fowl.
The Run-Down: The class will provide a gentle introduction to taxidermy and the preservation and presentation of natural history specimens – more specifically, mice. You'll learn all the basic skills of taxidermy; from skinning and preparing to mounting and preserving. There will be a selection of props to complete your mouse's look including tiny chairs, miniature hats and Victorian costumes which guests may take home with them. The masterclass includes all materials plus a selection of nibbles (sandwiches, cakes and pasties) for you to enjoy during your break, and a cocktail to toast your new found skills after the class.
Price: £75 per person, click here to purchase
Where: 49-50 St John's Square, Clerkenwell, London EC1V 4JJ
3. For Haunted Stuff and a Hole in One: Junkyard Golf
What: This Halloween Junkyard Golf Club London is teaming up with el Jimador to transform its crazygolf labyrinth into a Day of the Dead scarefest of pant-wetting proportions. Kicking off at 7PM on Tuesday (31st October), those brave enough can expect scare actors, magicians and circus performers, all bringing the Day of The Dead festivities well and truly to life.
The Run-Down: Putters will come face to face with a series of spine-tingling performances as they make their way round Junkyard's crazy golfwasteland which will undergo a macabre Mexican makeover for one night only. Performers on the line up include jugglers, unicyclists, LED hoopers and The Magic Ball Man. Thrill-seekers are invited to don their best skull faces, pick up a club and explore the horrors in this Day of the Dead golfing freaky fiesta.

Price: A round of golf is £9.50 including booking fee – tickets available here.
Where: Old Truman Brewery, Brick lane
4. For a Jack the Ripper Tour: Discount Suit Company
What: Spitalfields cocktail bar Discount Suit Company are launching a monthly Jack the Ripper tour this Halloween with an accompanying cocktail collection and collaboration with the award-winning official Jack The Ripper Tour. Discount Suit Company is housed within a former suit tailor's workshop on Petticoat Lane, an intimate bolthole and drinking den right in the middle of Jack The Ripper's infamous East End hunting ground.
The Run-Down: The walks will commence at Discount Suit Company where guests will receive a hot toddy upon arrival, followed by a tour of the backstreets of Whitechapel and Spitalfields, led by an official tour guide who's been mentored by Donald Rumbelow ('the leading authority on Jack The Ripper'), learning about Jack's grisly exploits.  London Walks evoke that Victorian autumn of gaslight and fog, menacing shadows and stealthy footsteps, as guests inspect the murder sites, sift through the evidence and get to grips, so to speak with the main suspects. The tour will then conclude with a party at Discount Suit Company, where guests can steady their nerves and digest the grizzly details with one of two special themed cocktails: the rum and beetroot infused Requiem, or the gin-soaked Saucy Jack.
Price: Tickets are priced at £20 inclusive of two cocktails as well as the walking tour and can be purchased here. 
Where: 29A Wentworth Street, London E17TB
5. For a Makeover: Halloween Hairclubbing
What: Whether you're going out and dressing up or staying in and being spooky at home, getting ready is one of the most exciting parts of Halloween. On Friday 27th and Saturday 28th October, Blade Hairclub in Soho will host a 2-day Halloween hairclubbing party providing Londoners with the perfect start to their Halloween celebrations.
The Run-Down: Guests are encouraged to book in with friends to perfect their Halloween look; choose from a dramatic cut, colour or blow dry (or even a banshee backcomb). To get the party started, Blade will be playing tunes from classics such as Beetlejuice, Nightmare before Christmas and Screaming Jay Hawkins. iPads are also positioned at each station enabling scary film fanatics to immerse themselves in some of the best horror films that Netflix can provide, including It Follows, Babadook, Hush and Paranormal Activity.
Price: Book here 
Where: 26 Frith St, Soho, London W1D 5LD
6. For a Three Day Party: Bunga Bunga Battersea
What: This All Hallow's Eve prepare for a wicked weekend in west London as Bunga Bunga Battersea hosts a haunted Halloween celebration. The weekend will be kicking off early on Thursday (26th October) with Bunga Bunga's infamous Monster Mash Rockaoke special, where guests are welcomed to sing along to the creepiest of choruses.
The Run-Down: As Halloween celebrations begin on Friday evening, Bunga Bunga will see The Return of Dead Elvis, as the King returns from the dead for an incredible haunting tribute act from Nicky Hart to ensure you're singing the blues. As darkness descends on Saturday (28th October), guests arriving at Bunga Bunga BATtersea will need to sneak past ghoulish associates and scary spirits guarding the secret door. Enjoy a creepy cocktail as you sip on a Black Bacardi Daiquiri in the (haunted) house.
Price: Book here 
Where:  37 Battersea Bridge Road, London SW11 3BA
7. For a Fancy Dress Party: Maggie's 
What: Guests most dress to impress this Halloween as Maggie's goes big for the occasion with an evening filled with trepidation and temptation. Step off the Fulham Road and into an evening filled with surprising twists and turns as Maggie's does the 80's classic, Creep Show.
The Run-Down: Dress code is mandatory, so expect to go all out on your outfit. Great for an evening filled with endless frights, face paint, creepy cocktails as well as a selection of the scariest songs around. Be sure to dig out your most gruesome gowns to guarantee entry, and dance the night away to 80's tunes and party classics.
Price: Tickets here 
Where: 329 Fulham Road, London, SW10 9QL