Looking for some scarily-good foodie events for Halloween in London? Sorry for the rubbish pun, all the press releases have rubbed off on us. Here's 7 tasty ways to bring in Halloween in London:
1. For an Eleven Course Banquet: Sexy Fish
What: On Tuesday (31st October), Sexy Fish will celebrate Halloween with fire breathers, snake dancers and other incredible performances, as well as high-end food. Whether sitting down to the lavish eleven-course set menu or taking a front row seat at the bar, diners will be treated to the sexiest and spookiest soiree in town.
The Run-Down: Before guests hit the dance floor, those with a monster appetite will be challenged to wolf down eleven courses, created by Head Chef Bjoern Weissgerber. Featuring Japanese-inspired dishes with a unique Sexy 'Scary' Fish twist, dishes will include: Wagyu fat popcorn; spicy yellowtail sashimi paired with pickled garlic and coriander; crispy octopus served with red blood orange and sweet shishito pepper; grilled foie gras with kimchi and edamame; smokey miso marinated smoked salmon; and spicy lobster soup.
Price: General party tickets are £165 and include dinner and a Stolichnaya Elit cocktail on arrival, crazy circus acts and Jodie Harsh's DJ set, from 7.30pm – 1am.
Where: Berkeley Square House, Berkeley Square W1J 6BR
2. For a Halloween Brunch: Madison
What: This month, Madison Rooftop launches its new series of MADbrunches – kicking off with the ultimate Halloween party. Guests will be invited to dress to kill on Saturday (28th October) for Madison's all day brunch party.  The stellar line up of entertainment includes stilt walkers, creepy magicians and twisted contortionists alongside the very best tunes from Madison's resident DJs and very special guest DJ, Maya Jama.
The Run-Down: Special spooky themed cocktails created by Madison's bar team including the El Diablo featuring smoked tequila, tomato juice, spice mix and lemon will be served on the famed rooftop terrace with spectacular views across the City of London skyline. Edible treats will include pumpkin risotto served in witches' hat; smoked salmon with quail egg and devilled hollandaise; mini werewolf burger; tuna tartare and jicama ghosts; and to finish, cherry bakewell tart with blood jelly and chocolate mummies.
Price: £25 – tickets include a welcome drink (12pm – 2pm), canapés and bites. Buy here.
Where: 1 New Change, St Paul's, London EC4M 9AF
3. For a Halloween Feast: bubbledogs 
What: On 31st October, bubbledogs, the gourmet champagne and hot dog bar in Fitzrovia, will be spooking their guests with a one off Halloween party. Complete with a specially created menu of Halloween themed hotdogs and spooky sides, it's sure to be a night of treats, and most definitely tricks.
The Run-Down: bubbledogs' founder Sandia Chang has devised a menu that will give a fright to even the most fearless among us. Hot dogs include the Mexican Pitbull Dog topped with habañero salsa, blood pudding ketchup and fried crickets, as well as the Hound Dog, topped with Bourbon onions, southern barbecue sauce and cheddar cheese and the Smoky Mac Dog, consisting of smoked macaroni and cheese with streaky bacon crisps.  Guests can enjoy their hotdogs alongside some favourites such as sweet potato fries and togarshi tots, and in true Bubbledogs style, grower champagne will be flowing all evening as well as drinks from the fully stocked bar.
Price: For reservations please contact info@bubbledogs.co.uk
Where: 70 Charlotte St, Bloomsbury, London W1T 4QG
4. For Deathly Dishes: Suvlaki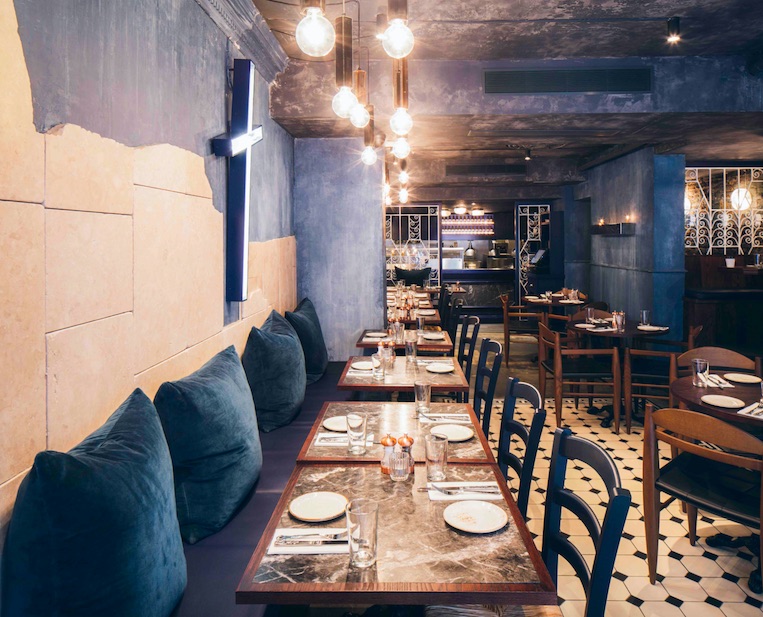 What: On the Tuesday (31st October), Suvlaki will be bringing a ghoulishly Greek Halloween to Brick Lane. Turning into 'Spooklaki' for the evening, the restaurant will be serving a number of one-night-only Halloween dishes.
The Run-Down: The menu includes Wings That Go Bump in The Night, and Fright Night Feta (who doesn't love a pun-tastic menu?). If you're brave enough to order the Spooklaki Specials, a complimentary shot of Oooooouzo will be brought to you by Spooklaki's deceased team of Corpse Brides (a deadly twist on My Big Fat Greek Wedding). Set to be a night of fright and deadly surprises, Spooklaki will be a Halloween in Shoreditch that you won't forget.
Price: Dishes from £8
Where: 161 Brick Lane, London, E1 6SB
5. For a Drag Dinner: Ivy Soho
What: On Tuesday (31st October), The Ivy Soho Brasserie will host a spook-tacular Drag Queen Dinner to celebrate Halloween night. Set within the heart of Soho, guests who dine for dinner between 6.30pm – 11:30pm will be greeted and hosted by two fabulous drag queens – Tiffaney Wells and Adora Dix – making sure the pumpkins aren't the only ones smiling.
The Run-Down: Tiffaney Wells and Adora Dix will be the Maître D' for the evening, dressed in boo-tiful outfits and performing their special interpretation of The Rocky Horror Picture Show. The Ivy Soho Brasserie A la Carte menu will be available for dinner featuring an array of The Ivy Collection classic dishes from the autumn menu, such as wild mushrooms on toasted brioche with grated truffle; chicken Milanese with fried egg and black truffle mayonnaise; and slow-roasted lamb shoulder with a mustard and herb crust, served with creamed potatoes.
Price: Call 0203 301 1166 to book.
Where: 26-28 Broadwick St, Soho, London W1F 8JB
6. For an Immersive Experience: Heddon Street Kitchen and Bread Street Kitchen 
What: This Halloween, Gordon Ramsay's Street Kitchen restaurants will unveil the dark side of dining with eerily gothic banquet experiences. From Friday 27th until Tuesday 31st October, guests visiting Bread Street Kitchen and Heddon Street Kitchen will be immersed in a unique and theatrical setting where a host of dark dishes with innovative, showstopping cocktails will be served.
The Run-Down: At Heddon Street Kitchen, indulge in a five-course banquet with a cocktail at the Kitchen Table.  Dishes include crispy pig's ears with red onion chutney; pig's head croquettes with sauce gribiche; and a whole roasted suckling pig served with apple compote and rum glazed pineapple. Those looking for the ultimate Halloween dining experience can also head to Bread Street Kitchen, where equally atmospheric décor will transport guests to the dark side. Head Chef Paul Shearing has created a menu of braised veal shin with smashed pumpkin and black garlic sauce, beautifully paired with the Twilight Tea cocktail, a goblet of Grey Goose, pumpkin purée, lapsang tea and orange bitters.
Price: To book, email: experiences@gordonramsay.com
Where: Locations here 
7. For Cocktails: Balls & Company
What: Greek Street's Balls & Company are hosting a night of trick or treat and transforming into 'Ghouls & Company' for Halloween. The restaurant will be laden with witches' cauldrons and pumpkins, where they'll be serving a set 3 course menu brimming with delicious eats.
The Run-Down: The menu includes dishes such as grubs (squid ink gnocchi) and polenta ghosts. Downstairs at The Company Below, the speakeasy bar will be transformed into a doctor's lab where the bloody medics will be on hand brewing up an array of potions such as Blood Transfusion, Eyeball Martini and the Nail Biter.
Price: Visit the website to book 
Where: 58 Greek St, Soho, London W1D 3DY