Top 7: Unmissable Bank Holiday Weekend Events in London – 26.05.17By Angelica Malin
No plans this Bank Holiday weekend? Never fear, About Time to the rescue. We've got you covered with great things to do in the capital this weekend, including street food fun, beer festivals, special dinners and more. Let's all crack open the beers and enjoy the sweet sunshine:
Friday 26th May
1. For an Out-of-Town Festival: Dreamland Margate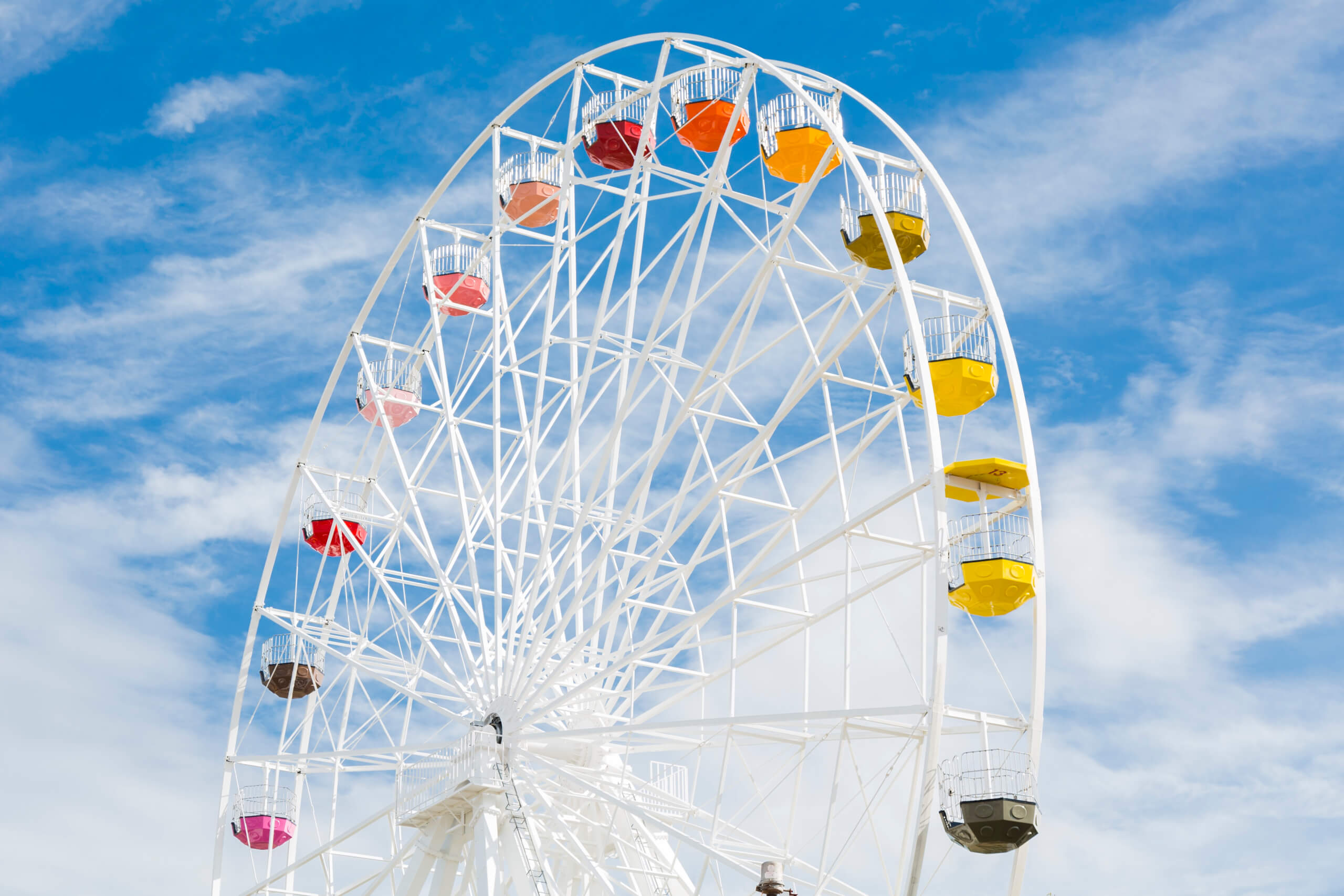 What: Not in London, but a banging event if you want to escape the city for a day or two. Dreamland Margate has reopened (26th), and has announced plans for an epic bank holiday weekend packed with entertainment and all-new attractions.
Why: Get set for seriously good times this summer as the park introduces even more vintage rides, modern art installations and becomes a heaven for foodies. Combine this with a mighty music lineup, stylish new bars and a street food offer like no other; Dreamland visitors are in for cool culture and real fun as they explore the new park. Free to enter, Dreamland will officially open its doors at 5pm on Friday 26th May, unveiling its fresh creative makeover for the first time. The evening will be a chance to check out the park's cutting edge new design, which complements the meticulously renovated vintage rides, all with an unbeatable beach backdrop.
Price: £12.50 tickets can be bought on the day.
Where: Dreamland Margate is less than 90 minutes from London by train with Margate Station only a 5-minute walk away. 49-51 Marine Terrace, Margate CT9 1XJ
Saturday 27th May
2. For All the Fun: Last Days of Shoreditch Riviera
What: Last Days of Shoreditch Riviera has arrived in the heart of East London with a sensational summer programme of beats, bars and beach life. Kick back to the sounds of XOYO DJs who will take the Saturday daytime residency each week, expect cocktails, craft beer bars alongside mouthwatering street food as well as a pop up restaurant and label takeovers.
Why: Food for the summer season comes courtesy of Nanny Bills serving up a delectable range of burgers, not to mention their signature croquettes with popular favourites including 'Pea & Feta' and 'Mac & Cheese'. Joining them are Belli Freschi, a brand new venture from the team behind Shoreditch's local hidden pearl Bottega Prelibato. Some of the music highlights include Artwork's Art's House pre-party, which will see the party starter take to the decks four times over the summer run of events, Maribou State will host an exclusive pre-party seeing the electronic duo turn up the heat while Stuart Patterson, Phil Mison and The Dr Orders will also be joining the summer pop-up amongst many more.
Price: Last Days Of Shoreditch Riviera will be open every Thursday to Saturday and is free to enter with the exception of ticketed XOYO day party takeovers on the Saturday from £10. Further information here.
Where: 288 Old St, London EC1V 9LA
Saturday 27th May
3. For a Spanish Fiesta: Feria de Londres
What: Taking place under the iconic Tower Bridge at Potters Fields Park, Feria de Londres is set to bring the vibrant and lively celebrations of Andalusia to the banks of the Thames on 27th and 28th May. It will be a heady weekend of tapas, the finest Spanish beer, wine and cocktails, sherry tastings and unique masterclasses.
Why: Feria de Londres will see brightly decorated 'casetas' line the banks of the Thames crammed with all kinds of Spanish fare, including typical tapas dishes such as Tortilla de Patata, organic Gazpacho, moreish Churros and Buñuelos. For meat lovers, Spanish 'Ham Master', Jose Sol, will be running special masterclasses around the celebrated Jamón Ibérico throughout the weekend, explaining carvery techniques and imparting his wisdom about this celebrated Spanish delicacy.
Price: Free entry.
Where: Potters Field Park, London SE1 2AA
4. For a Street Food Party: Spit & Sawdust Beer Festival
What: Street Food pop-up sensation 2 Fingers will be sticking 'em up down south at the Spit & Sawdust Beer Festival, Elephant & Castle on the 27th and 28th May. Expect 2 finger lickin' days of fun and frolics with a selection of 30 beers, live music and DJ's to wash your sarnie down with.
Why: Kick back and chillax in The Spit and Sawdust's sun soaked beer garden with 2 Fingers much-esteemed fish finger sandwiches, which come packed with sustainably sourced and responsibly caught cod loin steak, on award-winning artisan bloomer loaf. More recent additions to the new extended retro-menu include, Soft Shell Crab Burger with napa-slaw, as well as, Bánh Mì 2 with pickled Daikon radish and carrot, chilli and coriander all packed in a warm baguette. The soundtrack for the beer festival will consist of a hot mix of up and coming artists and musicians, including the likes of The Gator Dog Snappers feat. Alice Phelps, Daniel Orcese, Nico A.A., Jeremy E.Tuplin, Katharine Rose, Lo Barnes plus DJ's Domzilla and Tim.
Price: Free entry
Where: 21 Bartholomew St, London SE1 4AL
Sunday 28th May
5. For an Insect Dinner: Eat Grub x Seb Holmes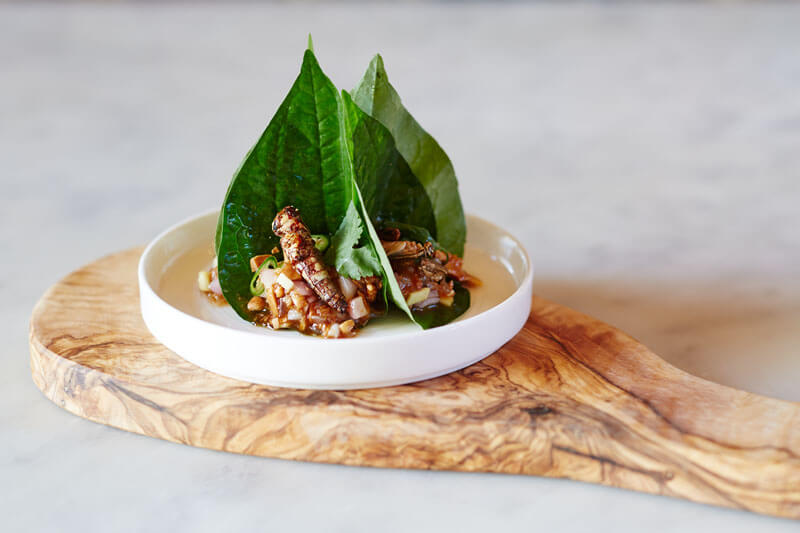 What: Edible insect innovators Eat Grub will team up with Thai street food chef Seb Holmes this May to return with its pioneering restaurant pop-up in north London, showcasing the exciting potential of cooking and eating insects. The Eat Grub pop-up will open its doors in Highbury on the evening of Sunday 28th May.
Why: Through the pop-ups, Eat Grub aims to continue championing insects – deemed as the original superfood – for their huge nutritious benefits, in particular protein.  Farming insects is also highly sustainable, requiring just a fraction of the land, feed and water needed by other forms of livestock. Expect creations such as Insect Miang, a recipe containing soy cricket and worms with flavours of coconut, ginger, chili and betel leaves as well as salted cricket and smoked tomato som tam salad.
Price: Seb's five course menu will cost £33 to include a Fourpure beer or glass of wine.
Where: San Daniele Del Friuli, 72 Highbury Park, Highbury East, London N5 2XE
6. For Big Party Vibes: The Clapham Grand
What: Party on, folks. For the upcoming bank holiday The Clapham Grand will be celebrating the 25th anniversary of Aurora's finest with theultimate Wayne's World Party. The Clapham Grand will be showing the classic movie on their huge 25ft screen in the evening, before recreating the vibes of WayneStock with one of the best club nights in town.
Why: The night will be hosted by Trev from Bogan Bingo, and there will also be the dudes from Ultimate Power providing the tunes for the club night with guitar anthems from the 80s to the present day. There'll be an 'Extreme Close-Up' photo booth and prizes for the best Wayne, Garth or Cassandra. You'll also be able to head bang to your hearts content in our Bohemian Rhapsody competition and we'll be giving out free air guitars all night – boom.
Price: Doors are at 7pm for the movie, with the after party starting at 10pm and going on until 3am. Tickets.
Where: 21-25 St John's Hill, London SW11 1TT
7. For a Shopping Pop-Up: The Wonderland Collective 
What: On Sunday 28th May, The Wonderland Collective is bringing back their delightfully unique products to West Londoners, hosted at The Broadway Bar & Grill, Fulham, London. Set to be their biggest pop-up to date, a variety of designers, makers and artisans from all across London will be showcasing their unique and individual collections.
Why: To coincide with the start of summer, The Wonderland Collective is throwing in a DJ who will be playing tunes all afternoon from 12-5pm. There will be a variety of cocktails and tasty munch from the pub to keep shoppers refreshed in the summer sun. The venue is going to be showcasing products from a variety of traders including the likes of Bottlebee, Rebecca Buttons, Ashiana and Rachel Jackson displaying their beautiful jewellery designs. Home Address, Harriet Elkerton's, Light Fixation and Happy Little Dolphins
Where: 474-476 Fulham Rd, Fulham, London SW6 1BY