Bored of watching reruns of Friends? Then it's time to get out and about – there's lots of fantastic events on in London this week, here's what to do in the capital:
1. For Foodies: Ketel One Vodka's Supper Club
What: Ketel One Vodka is inviting everyone to gather around the dining table for a series of exclusive family inspired supper clubs at the historic Brunswick House on Wednesday (25th May) and Friday (27th May). To celebrate not only the family you're born into, but also the family you make. The supper clubs provide the perfect opportunity to spend quality time with either family members or friends in a unique and urban South London setting.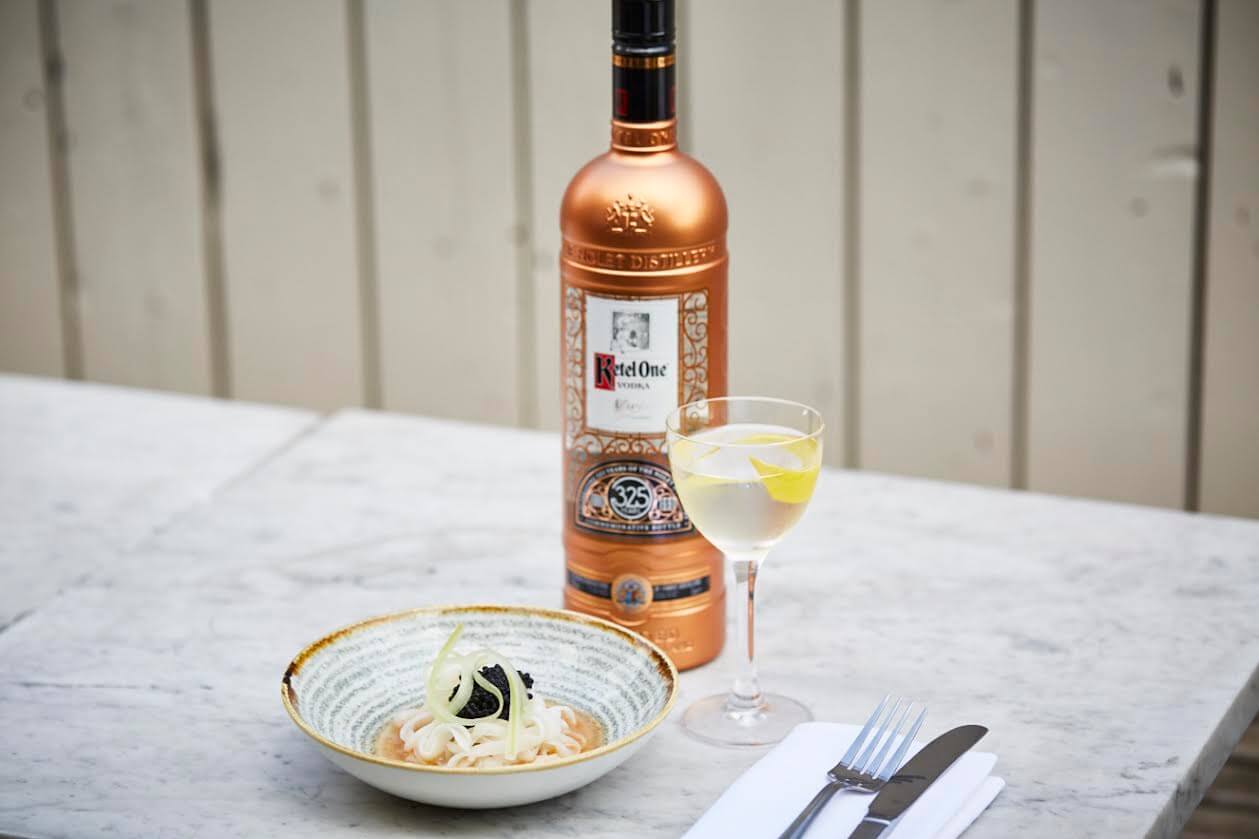 Why: Ketel One has worked with renowned chef Jackson Boxer to design a bespoke menu inspired by family dishes and the heritage of Ketel One. His menu will champion fresh, seasonal ingredients whilst featuring simple, modern takes on classics. The dishes served include Squid Alla Vodka with Caviar to start, Dry-Aged Brisket with a Horseradish Pannacotta as a main, and an Alphonso Mango with Almond Milk and Rice to finish.
Price: Tickets are £45 with all food and cocktails included and are available here.
Where: 30 Wandsworth Rd, London SW8 2LG
2. For Beer Garden Lovers:  La Terraza x Number 90 Bar & Kitchen
What: Launching on Thursday (26th May), just in time for the Bank Holiday weekend, La Terraza is a scorching new outdoor Mexican pop-up coming to Hackney Wick's canal for the summer. Open Wednesday – Sunday throughout the summer, La Terraza invites you to drink, dine and dance waterside.
Why: La Terraza will take place on the brand new terrace at Number 90 Bar & Kitchen. Featuring bottomless frozen margaritas, alongside tequila, craft beer, Mexican street food, a cricket eating competition and the coolest DJs Hackney has to offer. Hosting everything from life drawing, to yoga sessions to acoustic sets, La Terraza will also operate an open air cinema programme, inviting film buffs to watch their favourite films alfresco, with a beverage in hand. 
Price: £20 for bottomless margaritas, with food starting at a fiver.
Where: Main Yard, 90 Wallis Rd, London E9 5LN
3. For Wine Connoisseurs: London Wine Week x Disappearing Dining Club
What: In celebration of London Wine Week, the team have partnered for the first time with Disappearing Dining Club to bring a special decadent four-course tasting menu all housed in the Devonshire Square warehouse lofts. The space has been transformed into a private dining room where you can quaff top notch wines and feast on fine food.
Why: Disappearing Dining Club have thrown dinner parties in lighthouses, launderettes and abandoned music venues – so you're going to be in safe hands. There are five glorious wine banquets to choose from, with the first happening this Thursday (26th May). Be transported to the medieval town of Ribeauville, home of legendary Alsace producer, Maison Trimbach. The lightest of their menus – they're drawing on light, lemony flavours to take you to the sun-warmed vineyards of Alsace.
Price: £60. Buy your tickets here.
Where: Devonshire Square, London, EC2M 4AE
4. For Music Buffs: The Vienna Philharmonic x The Vienna Tourist Board
What: Stop the press. For the very first time, the renowned Summer Night Concert performed by world famous orchestra, The Vienna Philharmonic, in the stunning gardens of Schönbrunn Palace will be broadcast live to London. On Thursday (26th May), The Vienna Tourist Board will present an exclusive live broadcast of this eagerly anticipated performance at the Riverside Grass, adjacent to London's Oxo Tower. 
Why: From 7.15pm, grab a spot on the Riverside Grass next to the Oxo Tower. The Vienna Philharmonic will be performing under Semyon Bychkov alongside pianists Katia and Marielle Labèque on an 8x5m LED wall. Embedded in a scale model of Vienna's Gloriette, the spectacle will give the impression that they are following the concert live at the open-air event in the grounds of Schönbrunn Palace. Free picnic blankets will be available at the Riverside Grass in London, and if the British weather doesn't hold up, ponchos will also be provided.
Price: Totally free. Win.
Where: Riverside Walkway, London, SE1 9NH
Photo Credit: Richard Schuster
5. For Cheese Fans: Buchanans Cheesemonger
What: 2015 Cheese Counter of the Year winner at the World Cheese Awards, Buchanans Cheesemonger is holding a 'Beer with cheese' pairing event at its HQ in Marylebone this Thursday (26th).  The shop, established by ex Paxton and Whitfield General Manager Rhuaridh Buchanan, serves up a selection of cheeses hand-picked from some 100 producers across Britain and Europe.
Why: The event starts at 6:30pm and lasts for two hours. The masterclass session focuses on the magic of cheese and drinks matching, and the delicious moment when you get a combination just right, from classic wine to craft beer.
Price: £60. To book 020 3441 8010 or email info@buchananscheesemonger.com.
Where: 5a Porchester Place, London, W2 2BS
6. For Mexican Enthusiasts: Benito's Hat
What: This May, Benito's Hat: Burritos and Margaritas, will be celebrating all things Mexican with a #MakeMayMexican campaign. Co-founder and Head Chef Felipe Fuentes Cruz will be giving a Masterclass on Mezcal, an unusual distilled alcoholic beverage made from a form of agave and very much a Mexican specialty with Eduardo Gomez and MexGrocer.
Why: The event is taking place on Tuesday (24th May) at the Oxford Circus branch. All food and drink is included in your ticket price, so be sure to bring your appetite as you'll be finishing the evening with tamales created by our very own expert Felipé Juárez. During May Benito's Hat will offer a unique tamale menu especially created by Felipe.  Taking inspiration from his homeland of Mexico, individual tamales will include slow-simmered pork with guajillo salsa and Monterey Jack and peppers and sweetcorn with salsa verde and melted Monterey Jack for £2.50 each.
Price: £35. Book here 
Where: Benito's Hat, Oxford Circus
7. For Street Food Nuts: Lawn E1w at Tower Bridge
What: London's latest pop-up player on the food and drink scene, Lawn E1w at Tower Bridge is now open for the summer. Neighbouring one of London's most iconic landmarks, Lawn E1w @ Tower Bridge is the perfect riverside hangout, ideal for lunch, dinner or a few drinks after work.
Why: A diverse and vibrant pop-up street market, Lawn E1w at Tower Bridge offers an array of tasty food and drink including: Little Bird Gin – distilled in the heart of Battersea, a unique London dry gin with pink grapefruit, sweet orange peel, ginger and seven more botanicals to create a smooth citrusy taste, along with Banger Bros – award-winning masters of the gourmet hot dog and succulent burgers. Be sure to check out Tasty Dough – Hand crafted wood fire pizzas in 90 seconds.
Price: Free to wander.
Where: St Katharine's Way, London E1W 1LD