You guys should know the drill by now – here's 5 fantastic events that are happening in London this week. If you're a pizza lover, this guide will make all your doughy dreams come true. Happy exploring, folks:
Tuesday 20th September
For Pizza and Poppin' Tunes: Heist Bank 
What: Kicking off at 7pm on Tuesday Heist Bank will celebrate two of their favourite things – pizza and beer. Pizza and beer sounds like a recipe for a fail safe evening in with friends or a sofa-bound Netflix binge night but, as Heist Bank knows, this timeless pairing is simply the way Italians believe pizza should best be enjoyed.
Why: For this entertaining and laid back evening, the team at Heist Bank – with the help of beer experts from Fourpure, Wild Beer Co. and Wolfpack – will be embracing their beer-geekiness and pension for pizza to explore what makes this classic duo such a winning combination. Wood-fired pizzas topped with lamb and preserved lemon, culatello, fennel and garlic salami and chocolate and raspberry, will be coupled with quirky craft beers from the likes of Millionaire Milk Stout and JuiceBox IPA. Beer-enthusiasts and pizza-lovers alike will be inspired by the unusual flavour combinations and enjoy the celebration of two of the most sociable ingredients, beer and pizza.
Price: Tickets include pizzas slices and three beers to pair – £15
Where: 5 North Wharf Rd, London W2 1LA
For Gin and Good Times: TRADE UNION
What: Experiential lifestyle concept, TRADE UNION that just opened in Wapping at the beginning of the summer will launch a series of bespoke, interactive workshops on Tuesday. Londoners will be able to experience Pizza Rolling and Gin Tasting with TRADE UNION's in-house experts.
Why: Pizza rolling masterclasses hosted by head chef Tomas Zdkowswski, advisor behind TRADE UNION's authentic New York artisanal pizza offer, BUSHWICK Pizza Co, will take place fortnightly – try your hand at the skilful art and afterwards be able to sample your final product. Lead by talented Bar Manager Elliot Rengasamy, a gin cocktail masterclass will also be on offer that will draw from TRADE UNION's specialist VIP gin bar 'Great Harlot Club'. With 10 different gin based cocktails and 8 varieties of Gin & Tonics on offer, there will plenty to soak up when exploring this versatile spirit.
Price: £20 for Pizza Rolling and Gin Tasting Masterclasses, £35 for combined Pizza Rolling and Gin Tasting Masterclass. Buy tickets at reservations@tradeunion-co.uk.
Where: Trade Union, Thomas More Square, London, E1W 1YN
Wednesday 21st September 
For Photographs and People: Detroit: Against the Wind x Leica Gallery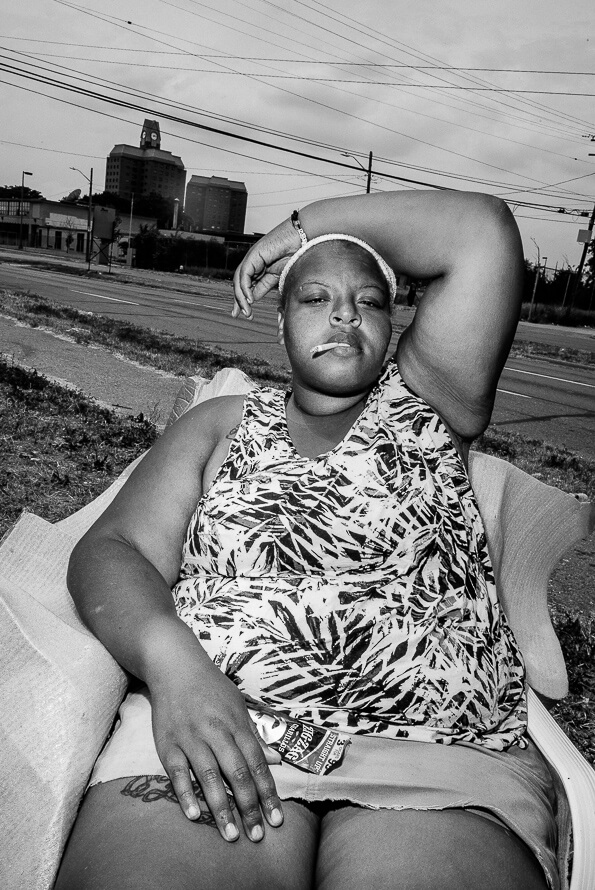 What: Leica Gallery in Mayfair has just unveiled their brand new exhibition, running until 30th September. Detroit: Against the Wind is Magnum photographer Bruce Gilden's ode to the Midwestern city and its inhabitants. The exhibition, commissioned by Leica UK, will include more than 20 new photographs taken by Gilden earlier this year, shot on the Leica S-System and M-System.
Why: Following on from his series taken in 2009 in Detroit, documenting foreclosed homes and their owners, Gilden returned to the city once more, inspired by the beauty of its neighbourhoods in disarray and the vibrancy of its people, to capture the spirit of this special American city.
Price: Free entry
Where: Leica Gallery Mayfair, 27 Bruton Place, London, W1J 6NQ
Photo Credit: Bruce Gilden
Thursday 22nd September 
For Films and Food: Institute of Light 
What: This Autumn, Institute of Light, Hackney's favourite collaborative space, launches EUROPA in it's intimate railway arch cinema –  an engaging new programme, curated by Secret Cinema's Harry Ross, celebrates the transformative nature of European film. Ticket prices range from £6 to £30, and include everything from retro airplane seating and sumptuous sofas, to a full three course meal from the rotating pop-up kitchens at IOL's acclaimed restaurant space, to be enjoyed before or after the screenings.
Why: On Thursday, Institute of Light will be screening Fire at Sea, a film documenting hundreds of thousands of African and Middle Eastern refugees who live on the island of Lampedusa, the first port of call for many refugees hoping to make a new life in Europe.
Price: Economy Class – £6, Two Seat Sofa – £18, Cinedining (Three course meal + film) – £30
Where: Arch 376, 10 Helmsley Place, London, E8 3SB
For Boats and Booze: Alfred Le Roy Twilight Cruise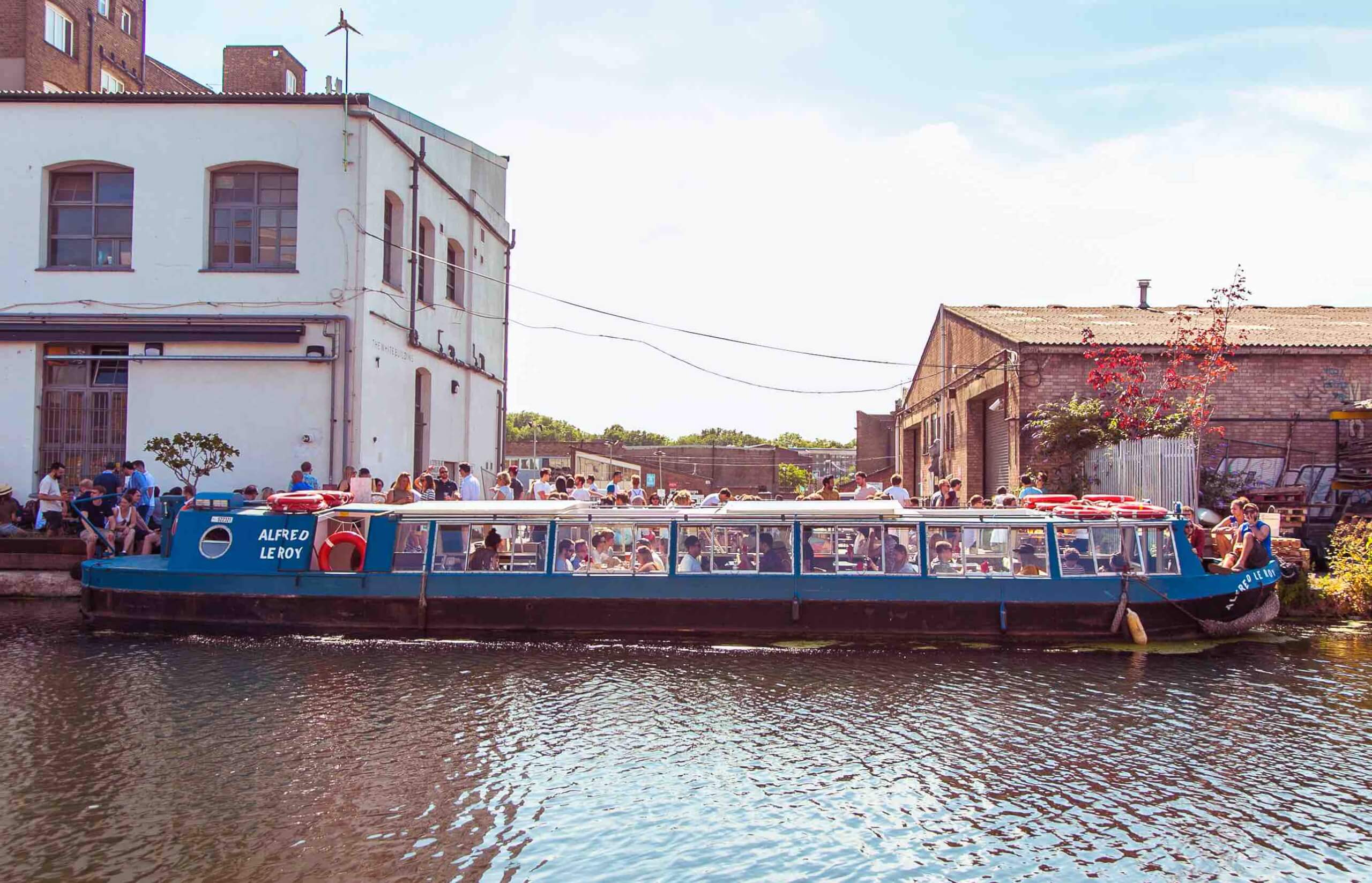 What: After launching earlier this year, the classic renovated British canal boat will be setting sail throughout September with evening twilight cruises along the River Lea. Departing from CRATE Brewery in Hackney Wick at 7:30pm, the cruise will sail down the River Lea, passing by the Olympic Stadium and Lea Valley Park, along the Limehouse Cut and onto Limehouse basin before heading back to the mooring at the brewery.
Why: Reserve booths and take in the evening sun with friends whilst enjoying complimentary bar snacks alongside a selection of CRATE beers and specialty JARR Kombucha cocktails. These include 'The White Building' – East London Liquor Co. botanical Gin, Cointreau, Kombucha, gingerbread syrup, egg white, lemon bitters – and the 'Akoya (Pearl)', made from gin, pressed apple, cranberry and lime juice, Kombucha, vanilla syrup, mint and cucumber.
Price: Tickets from £20. Buy yours here.
Where: Alfred Le Roy, Canalside Mooring, Queen's Yard, London, E9 5EN